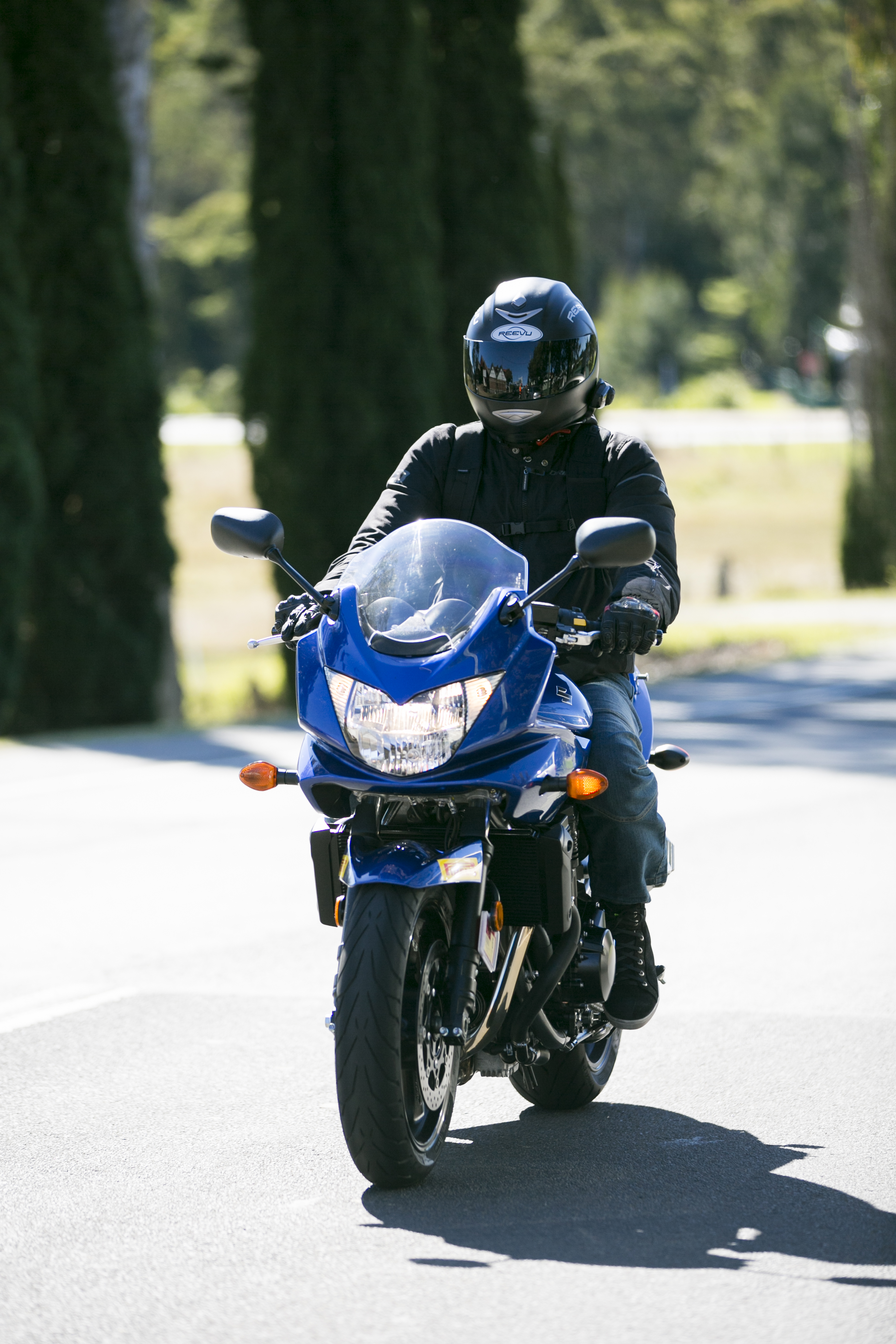 There are some bikes that scream and demand attention.
And then there are those that quietly go about their business in a calm and efficient manner.
The Suzuki Bandit is the latter.
I've always admired the "universal Japanese motorcycle" as a no-nonsense, no-frills bike and one of the best proponents of the art of UJM is the Bandit. Clean, styling, muscular straight-four engine, strong chassis, dependable and great value.
The naked GSF1250 costs $12,090 (+ on-road costs) and $12,290 for the faired version. ABS adds $500.
That's about $10 per cubic centimetre of engine capacity and makes it one of the best bang-for-your-buck bikes on the showroom floor.
I owned one a while ago before circumstances drew the relationship to a too-short ending.
Recently I rode one for most of the day on the Pirelli Angel GT tyre launch, covering about 600km.
The first thing I remembered is that the seat seems as though it is made of Japanese pig iron. I used to ride mine with an Airhawk permanently attached.
The other thing I remembered is the creamy smoothness off that lusty engine.
We rode the bike through some twisty roads, over bumpy tarmac and on to Warwick where we took it out on the Morgan Park track.
It took all of that in its stride, matching it with some much more expensive sports tourers on the market.
It will stand up to the rigours of commuting, match it with the superbikes on the Sunday morning mountain sprints and tour two-up comfortably around the continent with a decent set of luggage.
This is a bike with legendary reliability and it will suit most big-bike riders.
The 1250 Bandit features an upright riding position with a comfortable reach to the bars and footpegs to suit quite tall riders, yet a seat height that is not out of the reach of shorter people.
At the heart of the bike's appeal is the lusty transverse four-cylinder engine which is silky smooth. You can add an aftermarket pipe for more bark, but I love the menacing "woof" of the standard muffler as you blip the throttle.
Gears are evenly spaced and foolproof with no false neutrals. Anyway, there is so much torque available from the engine, you could click through to fifth or sixth and ride it around like an automatic for most duties.
Brakes are strong with a lot of initial bite and plenty of feel and the added safety of the ABS option.
Handling is fairly neutral. It doesn't turn in as quickly as some, but the wide handlebars make it easy to muscle around the tightest of courses.
Out on the highway, it is simply as stable as a rock.
There are plenty of tie-down points for luggage, a wide and generous perch with good handles for a pillion and a windscreen that takes the buffeting out of long-distance travel.
Given a lambswool seat cover, Airhawk or custom, seat replacement, it could easily do a lap of Australia two-up with luggage.
Suzuki has been making Bandit models since 1989. The nameplate started as a 250cc, then the engine capacity gradually increased until the range-topping 1200cc version was introduced in 1996.
Then in 2007 came the liquid-cooled, fuel-injected 1250cc model with ABS as an option.
Before you spend more on more expensive options, throw a leg over this trusty steed and see if its non-nonsense approach suits your riding style and your hip pocket.
Suzuki GSF1250 Bandit
Price: $12,090 (unfaired), $12,290 (faired), ABS adds $500
Warranty: 2 years/unlimited km
Service: 12months/6000km
Engine: 1255cc 4-cyl, 70.5kW/108Nm
Transmission: 6-speed, chain-drive
Dimensions: 2.1mm (length), 790mm (width), 1.2m (height), 1.5m (wheelbase),
785mm/805mm (seat height)
Wet weight: 254kg
Tyres: 120/70R17ZR, 180/55R17ZR
Tank: 19L