Suzuki in America has been successfully sued for $US12.5 over a motorcycle crash caused by a brake failure which was later the focus of a global safety recall.
Rider Adrian Johns crashed his 2006 GSX-R1000 in 2013, shattering his spine, breaking his back and leaving him with mobility problems which ended to his postal career.
He had sued for $14m, but after a three-week trial, a Georgia jury awarded $10.5 million to Adrian and $2m to his wife, Gwen. The jury found 49% of the responsibility for the crash was due to rider error.
Adrian claimed his crash was caused by a front brake defect that Suzuki knew about months before his crash, yet did not warn its riders or issue a recall notice.
Two months later, Suzuki in the USA recalled 200,000 various GSX models made between 2004 and 2013.
Suzuki Australia recalled the GSX-R1000 and some other GSX models in 2013 and again in 2015 over the same brake issue involving a fluid leak in the front master cylinder.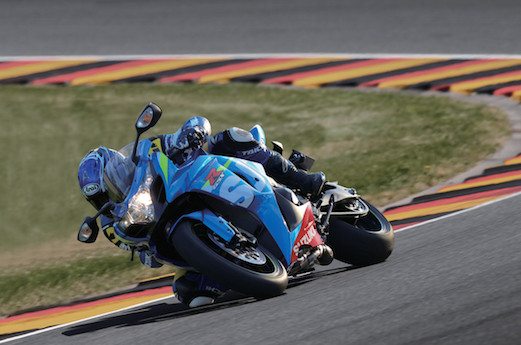 Worst case
Adrian's lawyer, Randy Edwards, said it was the "worst failure-to-warn case, not that I have ever seen, but that I have ever heard of".
"This is like a landlord not telling a new tenant that your heater spits out carbon monoxide, and a family dies the first night. This is outrageous."
The defence counsel said the rider had changed his mind about the cause of the crash after immediately blaming a patch of gravel.
However, skid marks, the evidence of a crash reconstruction expert and post-crash brake testing proved the brake failure caused the crash.
Two other crash victims who rode Suzukis also gave testimony that the same thing had happened to them.
Jurors were also shown a Suzuki internal memoranda that said the company was ordering hundreds of thousands of new parts to fix the problem, but did not issue an official recall with there US National Highway Traffic Safety Administration.
Even though manufacturers and importers contact owners when a recall is issued, the bike may have been sold privately to a rider unknown to the company.
Therefore, Motorbike Writer publishes all motorcycle recalls as a service to all riders.
In Australia, recall notices are issued by the manufacturer and the Department of Infrastructure through a voluntary industry code under the Australian Competition and Consumer Commission.
While any recall is not good news for the manufacturer, it shows that they are largely diligent in fixing problems.
If you believe there is an endemic problem with your bike that should be recalled, contact the ACCC on 1300 302 502.
To check whether your motorcycle has been recalled, click on these sites:
• USA
• UK
• Canada