Suomy Spec-1R Extreme Image Gallery
The Suomy Spec-1R Extreme has beautiful graphics and paint.
The quality of the helmet overall is excellent, although the face shield doesn't quite fit properly.
It's a bit louder than average and has a "Neutral" to "Slightly Narrow" internal shape.
An emphasis on style over substance and the seemingly obligatory use of Flash animation are the hallmarks of corporate web design.
Another prerequisite is a craftily worded history of the company and useless facts on their website's FAQ page.
Suomy lives up to these expectations with their use of website graphics, unfortunately.
But instead of a sterile made-up history of the company, their FAQ consists of a 15 section justification for their use of the BS 6658 Type A safety standard.
Now don't get me wrong: I'm not complaining (except about the overuse of Flash animation).
It's a refreshing change; it at least causes one to ponder why more motorcycle helmet manufacturers aren't as willing to discuss helmet safety and their reasons for supporting a particular helmet safety standard.
Suomy's focus on safety evolved into a strong support for motorcycle racing, which tests the boundaries of helmet design. So it's no surprise that many racers are seen wearing the brand. But Suomy is also known for some of the best graphics in the business, with off-the-shelf designs that look better than many of the custom painted helmets I've seen.
This corporate blend of safety with radical design has made Suomy one of the most desired and recognizable brands in the world.

Graphics
Suomy has one of the most diverse collection of wild motorcycle helmet paint schemes that can be found. Maybe the designs are an acquired taste; if so, there's always the "basic" Spec-1R in solid colors. But if you want a Spec-1R Extreme, you're committing to both the helmet and the graphics. The Extreme is offered in 10 unique designs, from wild to outrageous.
I'm not sure how the retailers keep all of these designs in stock, and, in fact, a local shop confirmed that this is a problem. The basic Spec-1R line includes 16 different graphic designs; the Spec-1R Extreme has 10 and the rest of Suomy's helmet models each have a few more colors, so chances are there will be something for everyone.
Surely the number of graphics offered must have an affect on cost.
As much as I agonized over which Rossi design I wanted for the AGV Ti-Tech, I had a much more difficult time choosing a color for the Extreme. In the end, I chose the Michael Fabrizio design because I liked the combination of colors. As good a reason as any, I reckon.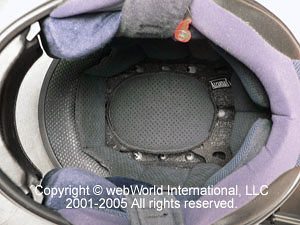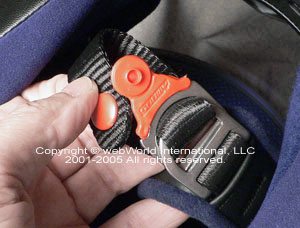 Helmet Weight
The Extreme is claimed to be "the lightest weight…race approved helmet available" by Suomy at 1250 grams, but like motorcycle horsepower ratings, watch out for the asterisk. Our size XL Extreme weighs in at exactly 1570 grams, or 3 lbs., 7-3/8 oz., so our guess is that Suomy's 1250 gram figure comes from the smallest helmet size in the range, the extra small.
Nevertheless, the Extreme is one of the lightest weight full-face and size XL helmets we've evaluated (see the wBWMotorcycle Helmet Weight comparison page for more information). It's an insignificant 12 grams (0.42 oz.) lighter than the XXL AGV Ti-Tech, and since the Ti-Tech is one size larger, we'll call this a draw.
Light weight helmets that also meet applicable safety standards can make quite a difference in comfort, especially to motorcycle racers who experience huge buffeting at extreme speeds never matched on the street.
Sizes
Unlike AGV, who decided to concentrate on a wider range of medium widths, covered by two helmet shell sizes, Suomy offers a standard size range of XS to XXXL (including XS, S, M, L, XL, XXL, XXXL). This range is covered with three shell sizes.
The use of three different shell sizes is unusual — and also expensive — but it can provide a theoretical better fit for any given head diameter. See the wBW Motorcycle Helmet FAQ page for more information on sizing and fitting a motorcycle helmet.
Our feeling is that the Extreme is slightly on the oval side of a round shape, similar maybe to a Shoei X-11 (review); almost, but not quite as narrow on top. It splits the difference between a Shoei RF-1000 (review) and the X-11, but is not as round as an Arai Quantum II (review).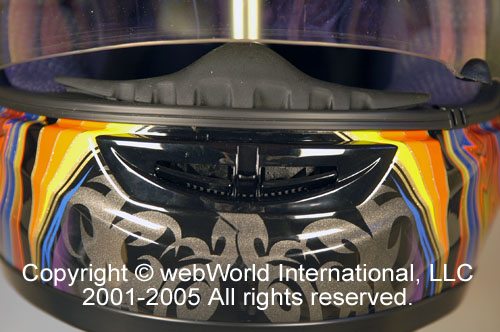 Ventilation
The Extreme has what we'd describe as a relatively standard venting package. The chin vent has a simple flip-down lever to open or close. It's intuitive (flip down to open, flip up to close), but it feels slightly flimsy. We have some doubt about how long it will last.
The flipper-style vent is actually a splitter; it splits the air coming in and directs some of it down through a wide opening in the back of the chin bar and through a series of vertical bars, down on to the lower portion of the rider's chin. We're guessing that this lower vent also works to relieve pressure under the front of the helmet when the rider is tucked in a racing position at a high rate of speed.
The upper portion of the air flow is directed through two holes directly in back of the vent and on to the rider's face about even with the lips. Some of the air also travels in front of the breath guard and on to the back of the visor, although we've been very surprised to experience more visor fogging with the AGV Ti-Tech and the Extreme than we expected. It could possibly be caused by some unusual local weather conditions, but the phenomenon seems to be absent on other helmets used during the same period.
The top vents consist of non-closable openings along either side on the upper portion of the helmet built in to a hollow appliqué that sits in a slight recess. We're not fond of this type of design, because the appliqué always looks like it was hastily glued on and they seem to be the first things that get damaged if the helmet is dropped or banged by accident.
The channels exhaust air out the back under the typical spoiler; there is no provision to close these vents either. A small exhaust is located on each side of the helmet, below and behind the rider's ear, to release air from the lower portions of the helmet.
A single air scoop sits on the very top of the helmet, with a lever that either opens or closes the vent hole. Snap the lever to one side or the other and the vent is open; snap it to the middle and the vent is closed. This clear scoop assembly also seems like it will be a prime victim for failure if the helmet is dropped accidentally.
So there's no real breakthrough in air venting on the Extreme, but it does work well. Our feeling is that the Extreme provides more air flow through both the chin vent and top vents than the AGV Ti-Tech, but still not as much as the OGK FF-3 (review) or Shoei X-11 (review). Our opinion is that the Extreme flows about the same amount of air as the Arai Quantum II (review).
However, it's all relative; any of the above-mentioned helmets flow large amounts of air and the rider would probably be hard pressed to tell the difference.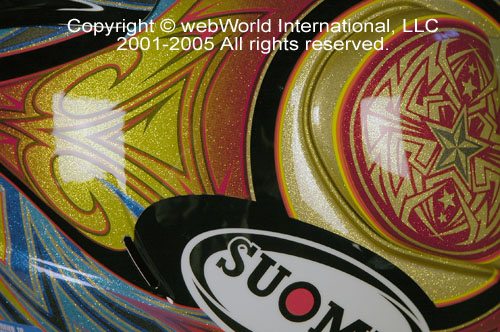 Noise Levels
Suomy race helmets have a reputation for being light weight and loud. We evaluate many helmets over the course of a year, and we're not sure that light weight necessarily has to mean poor noise control.
We remain convinced that the design of the air intake and the neck roll play are the primary differentiators in how much (volume) and what type (quality) of noise is transmitted to the rider, and both of these design features can be optimized with very little weight penalty. Besides, if it came down to a choice between quiet and a couple dozen grams of extra weight, we'll take quiet any day.
The Extreme lives up to its reputation for transmitting lots of noise, but it's not as bad as we'd expected. When you evaluate as many helmets as we do, it's all relative. And don't forget, we always wear high-quality and correctly fitted earplugs and a helmet liner during every ride (again, be sure to visit the wBW Earplugs and Hearing Protection page for more information on choosing and fitting earplugs).
The Extreme has a different type, or quality, of sound than the AGV Ti-Tech. It doesn't have the high-frequency, "whistling" noise like that generated by the Ti-Tech's top scoops; it's more of a mid-tone, loud wind rushing noise.
The upside is that the noise volume doesn't seem to change whether the rider is leaned forward or sitting upright, unlike the Ti-Tech. It's loud; probably one of the noisiest helmets we've tried, but livable with proper hearing protection. Like the Ti-Tech, the Extreme gets a pass on noise because it's primarily marketed as a race helmet.
The downside is that the Extreme seems more affected by windscreen turbulence. The turbulence seems to cause an increase in volume and a slightly deeper sound quality. It doesn't matter whether it hits the helmet in the middle or at the bottom, the volume stays the same.
See the wBW Motorcycle Helmet Noise page for more information on the causes of helmet noise and for a sample MP3 download and sine wave graphic of the AGV Ti-Tech and Suomy Extreme helmets.
Face Shield
The face shield of the Suomy Spec-1R Extreme has side plates painted to match the helmet. Suomy claims that the face shield has a "translucent Opalescent [sic] Iridium finish with a special hydrophobic coating. This supposedly allows water to easily roll off the surface of the shield, an anti-IR coating to block heat and keep the riders face cool, and a state-of-the-art anti-fog coating".
The clear face shield on our example does have a nice sheen and it also seems to possess a higher quality and strength than the rather plain visor on the Ti-Tech. The Suomy face shield includes a snap under the visor release, designed to keep the visor from raising unexpectedly at speed.
It also uses friction to hold the face shield in place when lifted. These work fine as long as the friction mechanism doesn't become loose, and it provides the rider with a much wider range of opening choices.
The face shield opening is slightly small for a race helmet. It seems larger than the Ti-Tech in both dimensions, but the top of the opening still comes into our field of view when in a race tuck position.
The bottom line? The Extreme gets our pick as the better face shield when compared to the AGV Ti-Tech.
Helmet Liner
Suomy uses an Alacantra liner in the Extreme, a suede or Chamois-like material that feels comfortable against the skin, although the Shark RSR (review) is still the overwhelming champ when it comes to liner comfort.
The top of the liner consists of a small patch that fits over the top of the rider's head; there is no liner over the channels that funnel air from the vents, probably accounting for the high volumes of air flow in that area (see photo).
Suomy has many different cheek pads and helmet parts that can be ordered to custom-fit the Spec-1R series of helmets. Overall, the Extreme gets the nod over the Ti-Tech for liner comfort.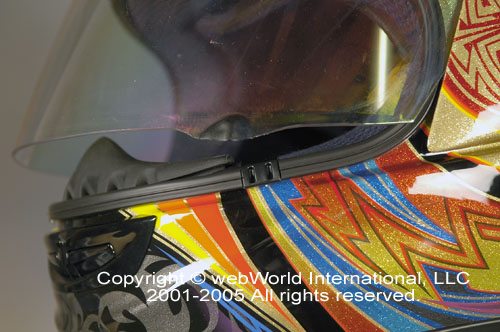 Miscellaneous
The Extreme has a D-ring retention system. The shell on our size XL seems slightly short; the bottom of my chin is just even with the bottom of the helmet. It feels like the helmet is about 5 mm shorter than it should be. Perhaps they did this to save weight.
The helmet meets U.S. DOT and BS 6658 Type A standards; visit the Suomy website for a protracted discussion for reasons why. Finally, the paint and graphics on the Extreme are top notch.
Conclusion
The Suomy Spec-1R Extreme's graphics and paint are exceptional, no doubt about it. The quality of the helmet overall is excellent. It's louder than the AGV Ti-Tech (review) and its feature set gives us more confidence that it's not just a coat of paint and a few fancy trinkets on an otherwise pedestrian helmet.
Every webBikeWorld review is subjective opinion. Since we're comparing the AGV Ti-Tech and the Suomy Spec-1R Extreme, our vote is for the Suomy. We're disappointed that it doesn't impress us as much as last year's Shark RSR (review) in several crucial areas, such as comfort and noise control.
No one will ever know which helmet will do a better job at protecting its owner's head — the primary consideration for choosing a helmet. But if we had the choice, it would be the Suomy.
w

BW

 Review: Suomy Spec-1R Extreme Motorcycle Helmet
Manufacturer: Suomy
List Price (2005): $649.99
Colors: Huge choice of wild graphics.
Made In: Italy
Sizes: XS – XXXL
Review Date: September 2005
Note:
 For informational use only. All material and photographs are Copyright © webWorld International, LLC since 2000. All rights reserved. See the webBikeWorld® 
Site Info page
. Product specifications, features and details may change or differ from our descriptions. Always check before purchasing. Read the
Terms and Conditions
!
Owner Comments and Feedback
---
From "L.M." (September 2013): "Researching light weight helmets for use in a sport riding position known to cause neck pain, I was surprised that you did not include Suomy in your list of helmets.  As an owner/user of one for the past 10 years, I can attest to 2 features your review seemed to underestimate, protection and wind noise.
Your review seemed to infer this helmet is only used by professional racers b/c of the graphics. Was I drawn to them, of course, but light weight drew me in first. Now that I'm on my 2nd helmet, I know they can protect a skull as mine hit the steel side of a 56,000 pound truck without as much as a headache.
BTW, there were no noticeable cracks either, just a scuff to the lid and face shield. As for noise, I had a Shoe X9 once upon a time which never seemed quiet and the wind bobbed my head like a dandelion. The Suomy has been a great helmet for my oval head and has allowed high speed vision and hearing to remain unimpaired.
And perhaps being an XS helps reduce my weight, but so does their 3 shell size standard, which other manufacturers need to adopt for us tiny bobble head dolls."
Editor's Reply: I'm not sure though what you mean when, referring to lightweight helmets, you say "I was surprised that you did not include Suomy in your list of helmets."? I don't recall a list of lightweight helmets on webBikeWorld (although with 4,500+ pages in 13+ years, anything's possible, it's hard to keep track of everything!).
The Spec-1R is included in our Motorcycle Helmet Weight chart, however. Our Spec-1R in size XL weighed 1570 grams, which isn't really all that light. The Suomy published weight of 1250 grams is, like most/all weights published by the helmet manufacturers, probably from an XXS or XS helmet. Our weights are actual weights taken from off-the-shelf helmets, weighed on a certified laboratory scale.
As of this writing, the Spec-1R is currently #56 on our helmet weight list of 211 helmets weighed for reviews, which means there are 56 helmets lighter than it. Perhaps the Spec-1R was light for 2005, but not in 2013.
The Spec-1R Extreme is no longer in production, as far as I can tell. If you're still wearing one — and if it really is 10 years old — it's way past time to buy a new helmet and get the latest safety technology and standards!
Our Spec-1R Extreme review was published way back in 2005 and helmet technology has improved since then — as have our helmet reviews. The 2005 review doesn't capture all of the details but I think it gives a good description of that helmet.
---
From "C.":  "I wanted to pass on some information to you about the helmet graphics used by Suomy. But first I have to say that I'm impressed to find that Suomy has made some dramatic improvement to their helmet line since they were first introduced in 1998 with their Gunwind model.
The graphics on their initial models don't exactly scream "buy me" like the newer ones do. I've meet some guys who first tried out these helmets and found them to be lemons to begin with. Too many problems came about the initial model of Suomy's helmet: difficulty with visor removal, side cover would came apart easily from light impact, chin strap 'snap button' would rip when a rider attempted to take chin strap off, etc…
Now on to the Extreme or Spec R1 model, the graphics on this helmet are eye candy!  Everyone seems to want to approach riders with the newer Suomy helmets because of the cool new designs!  Furthermore, racers and riders seem to find this helmet a delight to wear now. It is probably because of these factors that attract people to want to buy them. I believe I know what the secret to Suomy's new success is.
I noticed that you wrote this in your comparison of this helmet: "Suomy has one of the most diverse collection of wild motorcycle helmet paint schemes that can be found."
If someone wanted to get awesome graphics like the ones used on Suomy, one doesn't necessarily have to buy Suomy (not everyone's head fits into a Suomy nicely). You go to the person/company who designed the graphics who "did it" for Suomy!
This is why Suomy is regarded as the company who has the best graphics around. They contracted Chris Wood at AirTrixto make design their new helmet livery. I'm sure that the cost of having Chris paint one's helmet isn't cheap. Then again if you look at the work he does-it looks to be worth every penny.
Anyway, you can approach Chris with a Nolan, Shoei, Shark, or even a SCHUBERTH and have him make unique graphics that are like the ones one the Suomy but on a different helmet.
I figured you might like this piece of information. Enjoy!"