Scorpion EXO-R410 Sugarskull Helmet Review
We all know that riding a motorbike without a helmet is a bad choice. Riding without a helmet exposes one to life-threatening danger. Several deaths happen all over the world, every day, in which the rider could have been saved had he been wearing a helmet. Check price here.
However, for the world that is obsessed with looks and style, most of the helmets turn out to be ugly and boring. With no prints and a monochrome color on most of them, people have a tendency to "forget" wearing helmets when they leave on their motorbikes.
The good news is that the above reason is not valid anymore! And not only that, you will enjoy wearing your helmet so much that you won't even leave your home without wearing one. Yes, we are talking about the one and only Scorpion EXO-R410 Sugarskull Helmet.
Buy from a Badass Helmet Partner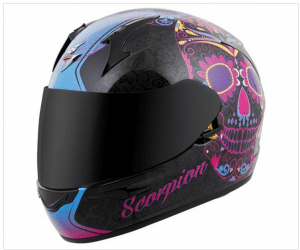 We have worked closely with RevZilla, Amazon and 2Wheel over the years to provide our testers with products to review. They are all great partners and unique in their own ways, so make sure to check out their prices. Please don't forget we may get a commission if you buy from them.
RevZillaBuy
AmazonBuy
2WheelBuy
Why Scorpion EXO-R410 Sugarskull Helmet?
Full face street helmets have now taken a stylish turn, thanks to Scorpion EXO-R410 Sugarskull Helmet. With a huge change in its looks and light weight, and with several advanced and well-thought-of features, this is a helmet that should be a must have.
Scorpion Helmets has a strong reputation to maintain as the company has a good track record of manufacturing some of the best helmets in the United States. Sticking to its objective of ensuring a safe ride, they have also added good looks to this full-face helmet. Let's analyze the features of this helmet in detail.
Striking Features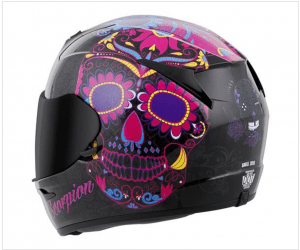 • It is made up of advanced polycarbonate shell.
• It is equipped with emergency release systems on the neck roll that allow the cheek pads to be easily removed by trained medical professionals.
• It has been approved by DOT and SNELL M2015
• It has an excellent ventilation system.
Looks
The first thing that you notice about this helmet is the attractive design and color combination. For all the riders who love an adrenaline rush but lose it upon seeing the boring helmets, this one is specially made for you!
It is available in the basic black color, but customers can choose between the prints that come in two color combinations. It definitely ticks off the good looks box on our checklist!
Polycarbonate Shell
This helmet is made of the premium polycarbonate shell that makes it an extremely strong device that is devoted to protecting that skull of yours. The team at Scorpion has passionately spent months in developing this high-quality helmet for its beloved customers. The advantage of using this material is that weight gets minimized and the impact gets distributed in case of an accident.
No-Fog Face Shield
One of the several USPs of the Scorpion EXO-R410 Sugarskull Helmet is the face shield that uses the state-of-the-art technology to ensure a fog-free game shield. But it doesn't end there.
It has an anti-scratch coating on top of the shield and 100% protection from the harmful ultraviolet rays of the sun. The face shield also gives you a wide field of view without obstructing your field of vision.
Kwikwick II Liner
This liner can easily be removed and washed. The Kwikwick II liner has an antimicrobial material that keeps your face cool and dry during the summer season and warm during the harsh, dry winters. The cheek pads of Kwikfit also allow you to have a better fit whenever you put these helmets on and can adjust according to any head shape, giving a tailor-made fit to every wearer.
Buy from a Badass Helmet Partner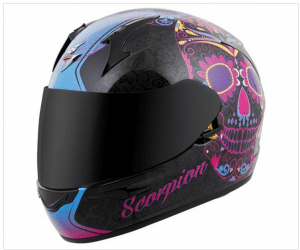 We have worked closely with RevZilla, Amazon and 2Wheel over the years to provide our testers with products to review. They are all great partners and unique in their own ways, so make sure to check out their prices. Please don't forget we may get a commission if you buy from them.
RevZillaBuy
AmazonBuy
2WheelBuy
Awesome Ventilation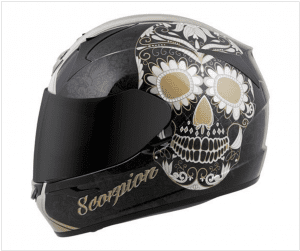 This is a major factor to consider when purchasing a helmet. You want a helmet that gives you the best ventilation and allows for easy movement of air so that you aren't left feeling choked and suffocated. Good ventilation enhances the biking experience all the more.
There are three intake points across the front portion of the helmet and four exhaust vents, maximizing the movement of hot air movement towards the outside. There are two vents on the chin bar that facilitate easy inward movement of fresh air.
Customer Verdict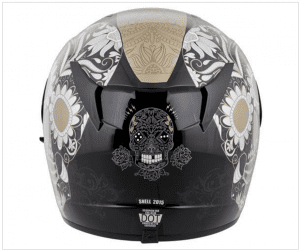 Customers have enjoyed everything about this helmet – from the way it is designed, to the way it fits on your head and protects it.
One customer says that she liked the look, fit, the wide angle and the weight of the Scorpion EXO-R410 Sugarskull Helmet. In just one week of using it, she fell completely in love with it. She was, unfortunately, involved in a motorbike accident, but the helmet helped save her life.
It was not very difficult to remove the helmet from her head, and they used the emergency strap to get it off her head. The helmet was damaged, but her head was fine. It was a grave accident and could have resulted in her death, but thanks to the Scorpion EXO-R410 Sugarskull Helmet, it did what it was meant to do and strongly protected her head.
Another advantage pointed out by a customer was that the helmet was not at all uncomfortable, even though she wore glasses underneath it.
Another customer points out that the helmet did a wonderful job of cutting out the noise and had a strong aerodynamic design that stopped the head from bobbing all the time and didn't jerk while doing lane checks. The airflow and ventilation inside the helmet are ideal.
Conclusion
The Scorpion EXO-R410 Sugarskull Helmet is as good as helmets can get. It ticks off every box on our checklist and truly is a strong and good helmet. The stylish design only makes it more attractive, and the fact that is lightweight makes us love it all the more!
Just like the other customers, you will enjoy wearing this helmet and taking your bike out for the day.
The Icon Airmada "Sugar" Motorcycle Helmet

This helmet from Icon also has an upgraded design in the Sugar Skull Motorcycle Helmet family.
Here is a great video review by dlinquencious on youtube.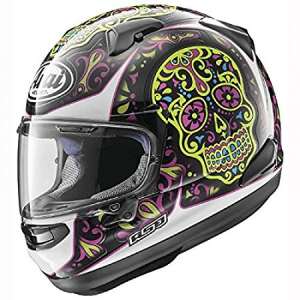 Arai also has a design in the sweet tooth helmet family called the ARAI Signet-X El Creneo Pink Motorcycle Helmet.
Sugar Skull Half Helmets
For all the fashionistas out there, wearing a helmet is something that is ugly, but necessary. So you go riding your bike mumbling why there are no stylish helmets in the market, so that all the effort that you put on dressing up wouldn't go wasted all because of the ugly, heavy helmet that you have to place on your head.
Well, we have good news for you! There is a helmet that is stylish, well-designed, has a good fit, and will look good on you, too! We are talking about Hot Leathers Sugar Skull D.O.T. Helmet that can be yours at a very affordable price.
[expand title="Why Hot Leathers?" elwraptag="div" elwrapclass="wrap-col"]
Hot Leathers has a team that is passionate about bikes and their accessories. Started by Jerry Berkowitz in the 70s, Hot Leathers aims to bring out the best motorcycle apparel to their customers at honest prices. Jerry had always been drawn to motorbikes, and with the help of his family and friends, Jerry established the much successful Hot Leathers.
In the world of motorbikes, Hot Leathers is a reputable brand that has a knack for producing exactly what the bikers are consciously or unconsciously looking out for. All its products are made of superior quality material sourced from the best suppliers and has been loved by customers all over the United States of America!
In a world where manufacturers don't think twice before ripping off their valuable customers, Hot Leathers has adopted a very different, but commendable approach of selling its products at affordable prices so that customers feel that they have not been cheated. Instead, most of the happy customers of Hot Leathers feel that they've received more than their money's worth in the purchases that they have made.
So if you're still wondering, we suggest you look it up. Look for yourself if you don't believe us! You will realize that this is a company whose products you must try if you haven't done so already.
Looks
This helmet is a stylish one, no doubt. It is matte black in color and has intricately printed classic combination of skulls and flowers in black and purple color. It is lightweight and open, making it suitable for cruising along in the city.
This helmet is also meant for any occasion – whether you're racing to reach college on time or just going on a long ride with your friend. This helmet will add some extra 'oomph' to your look and also impress the onlookers.
Amazing Features
– The Sugar Skull D.O.T. helmet comes in hot leather artwork and a classic matte finish.
– It has a fully adjustable neck strap with heavy duty fasteners.
– It meets and exceeds D.O.T standards for every United States state.
– Specially designed for riding a motorbike.
– Incorporates the latest technology and safety standards.
Pros:
– It is lightweight, making it easier to wear on long rides.
– It is a half-helmet, meaning that ventilation won't be a problem and you won't feel suffocated.
– Unlike heavy helmets, you won't have any stress or pain in your head if you wear it for long.
– It is stylish with the classic color combination as well as the intricately designed print.
– Made of highly durable ABD thermoplastic.
– Gives a custom fit to every wearer.
Cons:
– It is a half-helmet, so the front portion of your face is not protected.
– Also, it does not give the protection that big, heavy helmets provide to the users.
Why do we recommend this?
We are recommending this helmet not just because of the looks. Sugar Skull Helmets are known to manufacture strong and sturdy helmets, and this one is tougher than it looks. The helmet is made up of extremely strong and resistant ABS thermoplastic and has an inner liner that is an excellent absorber of shock and is adjustable to fit according to the different head shapes.
The makers know how important a well-fitting helmet must be and have made the necessary inclusions to give the wearer a snug fit, making her feel as if it has been specially designed for her! [/expand]
Buy from a Badass Helmet Partner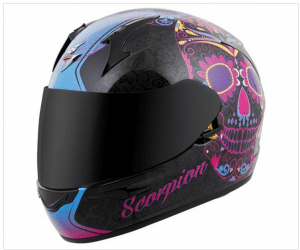 We have worked closely with RevZilla, Amazon and 2Wheel over the years to provide our testers with products to review. They are all great partners and unique in their own ways, so make sure to check out their prices. Please don't forget we may get a commission if you buy from them.
RevZillaBuy
AmazonBuy
2WheelBuy
Customer Verdict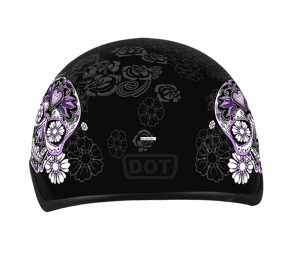 Users of the Hot Leathers Sugar Skull D.O.T. Helmet have been very happy with their helmets. Starting from the basics, they liked how the helmet looked. The color combination and design have been classic and pretty to look at.
When they put it on their heads, they didn't feel that it was heavy at all. In fact, their skull was well-protected, and they had the snug fit that they were always looking for. Being lightweight, the helmet didn't bother them either. A bonus has been how the onlookers have been impressed, and some even asked the wearers about where they had bought their helmets from!
In fact, customers who earlier complained of headaches after wearing helmets for a long period of time had no such complaints when they put on this helmet before taking their motorbikes out for a spin. They have loved the look and feel of the helmet. Another thing that they like about it is that being reasonably priced, this is a good gifting option for their motorbike fanatic friends.
Conclusion
If the big, bulky helmets are not something that you are fond of, give this a try. It must be somewhere on the top of your list of things to buy.
Everything about this helmet, right from the way it looks to the way it fits on your head is amazing. Put this on before you get on your motorbike and you will be in for a good drive without the usual stuffiness and suffocation that normal helmets tend to make the wearers feel.
Sugar Skull Facemasks: