Stylmartin is not a familiar brand to Australian motorcycle riders.
However, they were worn by former world GP champs Wayne Gardiner and Freddie Spencer.
The Italian company is still making racing boots for road and off-road use, but they have also branched into touring boots and, more recently, urban gear – that's the stuff you wear around town and on short bursts to your favourite cafe.
Their urban range is extensive with 15 models, mostly low-riding boots and sneakers.
The idea of motorcycle sneakers is that you get some protection for your feet and heels, but when you step off the bike it doesn't look like you've just stepped off a bike or are marching in the Anzac Day parade.
My favourite BMW sneakers lasted 10 years before they finally gave up the ghost.
They were the most comfortable motorcycle boots I'd ever had, great for riding to work, as well as trekking around the office and out on assignments all day.
And they didn't look out of place around the office like most bulky motorcycle boots.
But finally they went in the bin after years of doctoring and mending to keep them alive.
Since then, I've been trialling two pairs of Stylmartin urban sneakers – the canvas Miami and leather Seattle models.
They feature heal protection inside and anti-slip rubber soles.
The laces go right up to the top of the sneakers so laces don't dangle down where they might get caught in levers.
Both feature extra wear sections on the toes for the gear shift lever and, so that they don't look odd, they are mirrored on the right sneaker.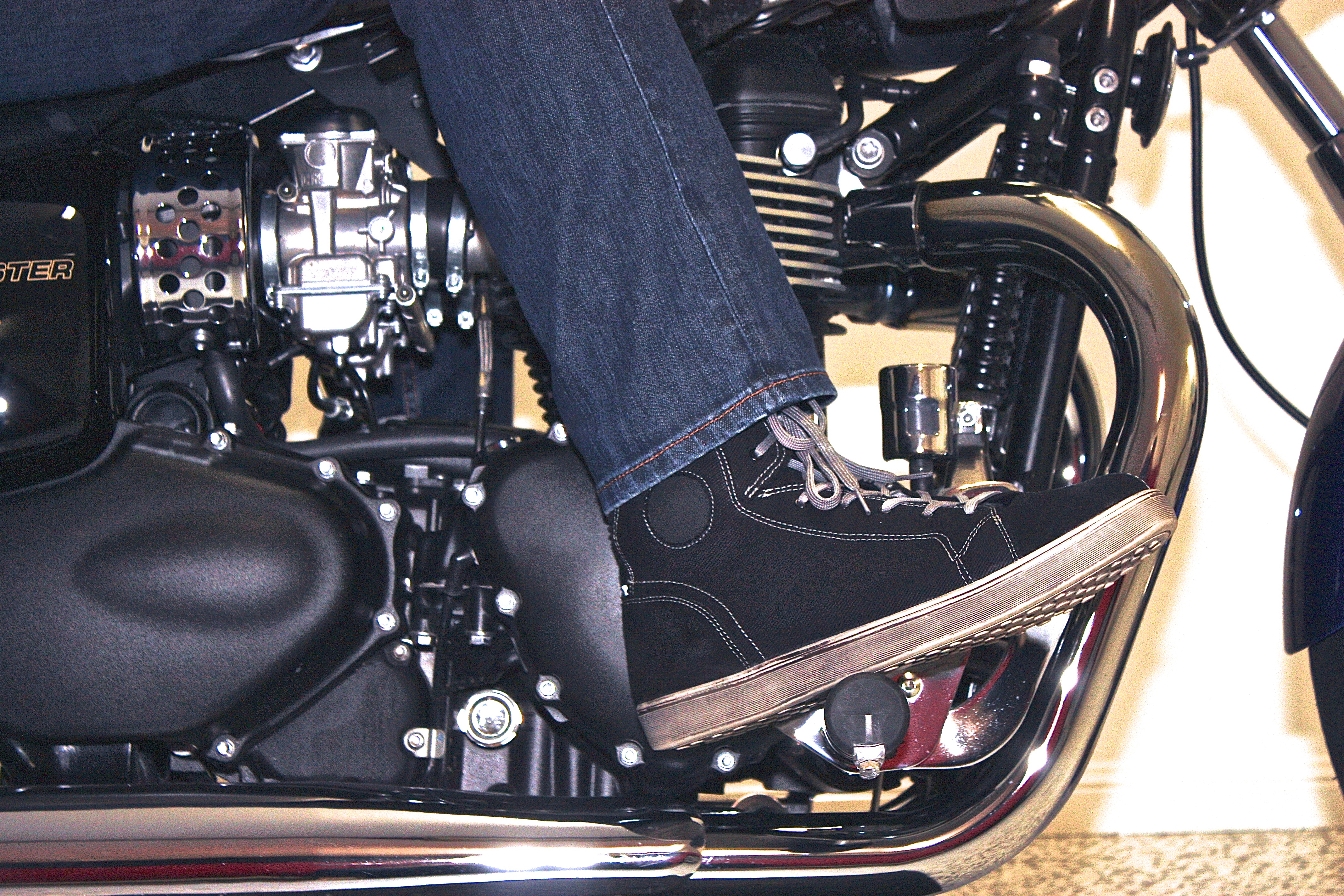 The Miami sneakers look like a Nike Jordan Air mated with a Chuck Taylor Converse high-top basketball shoe.
They have a garage grunge style with their grease-smeared white rubber edges and laces.
Being made of canvas, they also breathe really well and are great for hot days, but they're not waterproof.
As you would expect of a sneaker named after Seattle where it rains almost every day, these leather sneakers can handle a bit of rain and puddle splashes without getting your feet wet.
They have a greasy water-repellent vintage leather exterior with a waterproof and breathable virgin wool lining.
I've worn them in the rain and done a couple of small water crossings and not got wet socks.
They have a lime green reflector on the back for night riding and come with matching-colour laces. They're a bit confronting in the style department but if you don't like the look of the laces, the sneakers also come with spare black laces. Both laces are waxy and water-repellent.
Both are ideal shoes for running around the streets on your cafe racer.
They come in Euro sizes 39-46 and are available in Australia through Suus.