Australia is so important to Triumph Motorcycles, the company updated the Street Triple 660 especially for our learner-approved motorcycles (LAMS) market.
Triumph Australia flew out global export sales boss Peter Huckin for the Brisbane Moto Expo last weekend to reveal the bike for the first time to Australian riders. He says it was important for their company to "break into LAMS".
"Australia came to us because LAMS had just come out, but it took us about 18 months to two years to be able to respond," he says. "We couldn't do it straight away because we introduced seven new models last year and our research and development department was pretty busy. However, It only took six months to develop the bike."
The Street Triple 660 is not a stripped-down version of the popular 675, but a "full-blown" model. "That means it still has great handling characteristics and ABS which makes it a great learner bike," he says. "There are only some engine capacity and power restrictions to meet Australian and New Zealand specifications for learner bikes.
"There were only three things we needed to do: we shortened the stroke by 1.2mm to bring the capacity down to 660, we gave it a different inlet camshaft and a different ECU tine." (Triumph Australia technical officer Cliff Stoval confirms the ECU will not be able to be updated.)
"It was just developed for Australia and New Zealand not for any other market. The only other time we have made a special model for a country was the Street Triple with just an ECU modification for Spain which has similar learner restrictions," he says. "It shows how serious we are about the Australian market where we have about an 11% share."
He also announced Triumph would produce another LAMS bike in September 2015 when they introduce a single-cylinder model. "We will look at variants of the model but I can't give you any more details."
Peter says 2013 was their most successful year with 51,700 global sales and 3000 in Australia, but he expects 2014 to be even bigger "as we start to ramp up our presence in emerging markets of Brazil and India". Triumph will build complete bikes for those markets, then disassemble it, pack them in boxes and ship them to those countries where they will be assembled again to avoid cripplingly high import duties.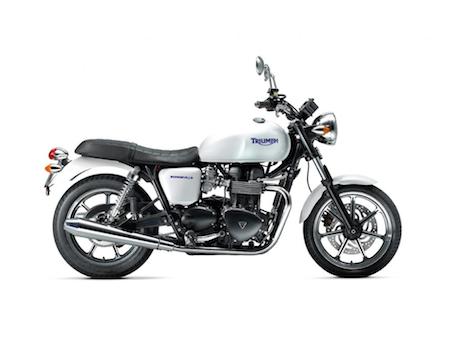 He says he can't predict the next trend and niche in motorcycling. "I would need a crystal ball to predict what is the next growth area. I see growth across the range," he says. "Sportsbike sales are down because we have to acknowledge speeding restrictions and higher insurance premiums. People are shifting away to dark customs and cafe racers and we have benefited from that with our classics range. We monitor the market trends and we will continue to actively develop our bikes and release new product. We always have a lot of projects on the go and not all go into production. We always have an eye open for any opportunities in markets such as LAMS in Australia."
Peter also unveiled the new Thunderbird Commander and LT at the Brisbane Moto Expo. "We told the dealers back in 2004 that we would average two new bikes a year and we have surpassed that with seven just last year," he says. "Even if we don't produce a new model we always try to refresh and update models every three years." Peter says new product has driven a 150% sales rise since 2004.