Why is stopping such a difficult thing to do correctly? After all, we do it all the time.
One of my friends recently asked me for tips on how to stop smoothly and not awkwardly.
I was stunned. It's such a simple thing we do multiple times every time we ride that we overlook how difficult it may be for novices. Sometimes the simplest of skills we take for granted.
I've seen loads of examples of riders waddling up to the traffic lights or cafe stop with their legs dangling, then stopping suddenly, feet going every direction and the bike almost toppling.
There's nothing quite as embarrassing as dropping or nearly losing your bike in front of your friends at the cafe stop.
So here are five steps to pulling off a more graceful and safe stop:
1 Footpegs
As we've said before, leave your feet on the footpegs until almost stopped as this gives you the most control and balance.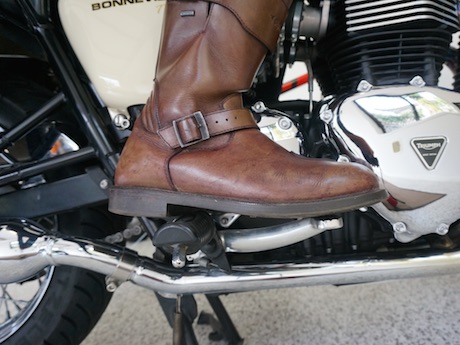 2 Brakes
Use both front and rear brakes when stopping. We assume this is not a panic stop, so as you near your final stopping point, gradually release pressure on the front brake. This will prevent the front wheel from awkwardly tucking and tipping the bike off balance.
3 Vision
Look at where you want to stop, but don't stare at the spot on the ground or you will lose your balance. Keep your head up for balance like a tight-rope walker.
4 Where to stop
Choose a flat, solid surface to stop where you can put your foot down without slipping. At traffic lights, aim for the rectangular cutting in the ground as this is the wire inductor loop that detects a vehicle and trips the lights. Try to stop right over the longitudinal cut for the best effect and detection.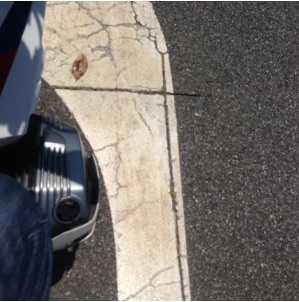 5 Left foot only
As you are about to stop, slowly move your left foot off the peg and place it on the ground as you finally stop, not before, or you will have to shuffle your foot and could lose your footing.
Practise this procedure in a quiet carpark area.
Many people slip the bike into neutral as they believe leaving the bike in gear with the clutch in will damage the clutch.
However, a motorcycle clutch is different to a car clutch, It is designed to slip at low speed without damage.
Leaving your right foot on the footpegs when stopped is also a safety procedure. If you are shunted from behind you are less likely to be pushed into traffic.
However, once stopped and the traffic behind you has stopped, you can put your right foot down for extra balance and control, especially if you have a heavy bike, a pillion or loads of luggage.