The 2019 Harley-Davidson Street Glide Special is a massive step up in technology, but not price.
It now includes the Reflex Defensive Rider Systems (RDRS) introduced in the electric LiveWire which will be available in Australia late next year.
RDRS affects chassis control, electronic brake control and powertrain technology, basically providing a safer, more enjoyable riding experience for just $500 more than last year.
And that's despite the fact that the Australian dollar has fallen more than 16% since January 2018 against the US dollar.
Street Glide Special
I've ridden Harley's Street Glides for many years now and can understand why it is their top-selling Touring model.
What makes it "Special" is the big 114-cube Milwaukee Eight engine with a whopping 163Nm of torque.
Despite all that thump, there is no clunk on start-up. In fact, it is a refined mill married to a finessed transmission where neutral is no longer difficult to find.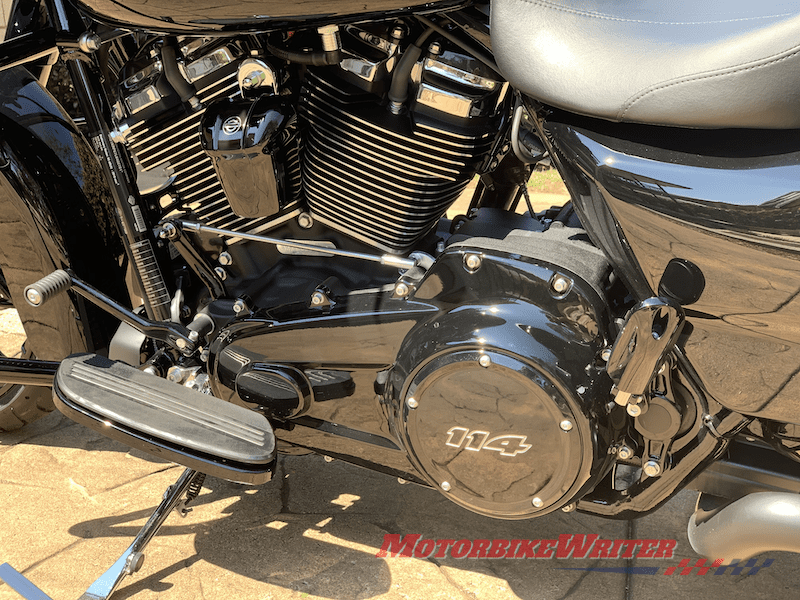 What also makes it Special is the step up in rider-aid technology.
Their RDRS features cornering-enhanced traction control, cornering ABS, linked brakes, tyre pressure monitors,  a slipper clutch (Drag-torque Slip Control System) to prevent rear-wheel lock-ups on aggressive downshifts and even assistance to prevent you rolling backward on hill starts!
The suite of rider controls combine to provide more confidence, especially in wet or slippery road conditions.
But they don't get in the way of your enjoyment.
In fact, you don't really know they are there until you need them.
On a couple of my exploratory rides through the Sunshine Coast hinterland, I ended up on dirt roads and was glad to feel the engine falter as the back wheel lost traction.
It's a soft intervention that allows a little bit of wheel spin, but not out of control.
If the conditions get extra slippery or the roads are wet, simply toggle the left switch block traction control (TC) button to bring up the blue cloud and rain symbol on the dashboard. This totally eliminates any wheel spin.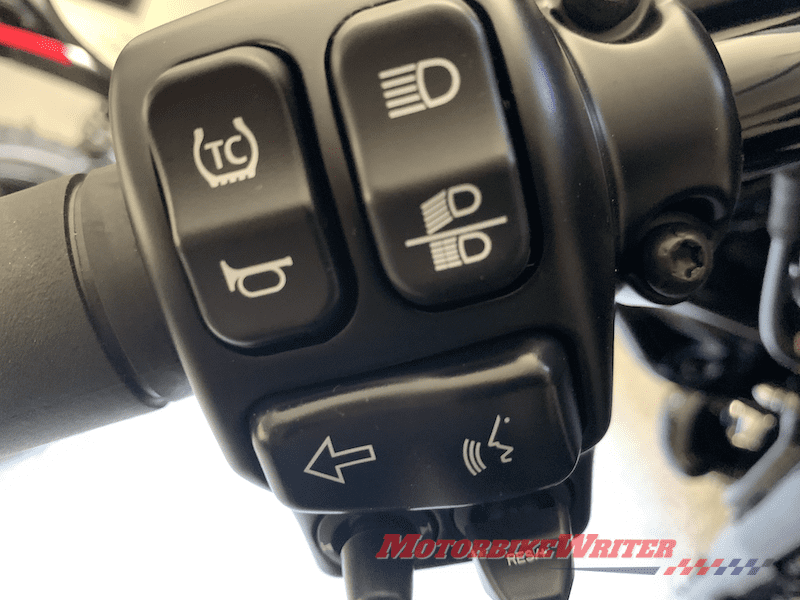 Step up to cornering aids
I also accidentally discovered the joys of Harley's step up to cornering-enhanced linked braking and traction controls on the tight and twisty Bellthorpe Range Rd.
I came around a blind corner a little too eagerly only to find a peacock strutting its stuff across the gravelly road.
My right foot was not perched ready over the rear brake to tuck the bike into a tighter line, so I grabbed the front brake, instead.
Normally this would stand the bike up and point me directly at the peacock. But because the brakes are linked and "enhanced" for cornering, it allowed me to steer around the strutting bird.
The sprinkling of gravel also activated the Cornering Enhanced Antilock Braking System (C-ABS).
While no amount of electronic rider aids is a replacement for a step up in skill levels, it does save your bacon when a bit of inattention and bad luck could otherwise have dire results.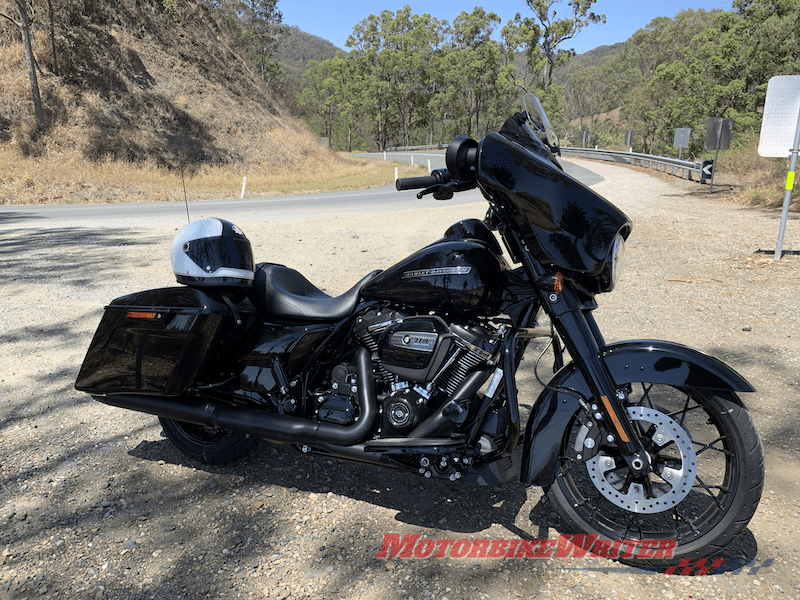 As for the Vehicle Hold Control (VHC), it's actually quite handy at the traffic lights.
All you do is add a bit of extra brake lever pressure when you come to a stop and it will hold the bike and allow you to relax at the lights without having to hang on to the brakes.
It lets go as soon as you let out the clutch or activate the throttle for a smooth and faultless hillstart. That's reassuring when you are on a steep incline with a full load and a pillion!
Infotainment
I'm not a big fan of built-in infotainment systems where the music is inaudible at anything over 80km/h.
However, the integrated BOOM! Box GTS infotainment system on this bike works well.
I love the fact that the bike asks you if you would like to guided to the nearest service station if you are low on fuel or tyre pressure.
It has a TFT display with edge-to-edge Gorilla Glass that is touch sensitive, even with gloves and in the wet.
You can also control all functions from the two handlebar toggle switches.
For an extra $300 (approx) you can fit a wireless interface module that adds Apple CarPlay for access to some of your iPhone apps.
Or you can press the speech button to activate Siri and tell the system what to do.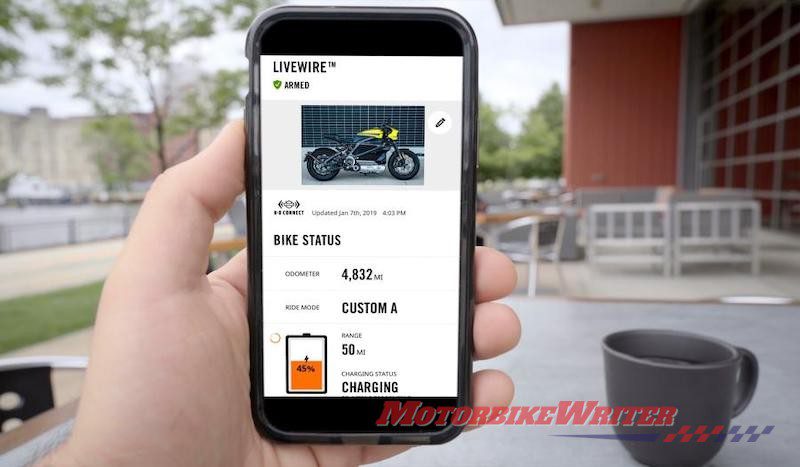 Next year, Aussie buyers will also have access to Harley's subscription-based OneConnect app that alerts the owner to tampering or theft and provides real-time tracking.
Handling
Suspension was updated the previous year.
It comes with Showa Dual-Bending Valve forks with bigger pistons for improved damping that takes away that "jackhammer" affect through the grips while retaining a sharp and light steering feel.
At the back, Harley moved from air shocks to emulsion shocks with 15-30% more preload adjustment using a single hand-adjustable knob behind the left pannier.
Ride quality is firm, but not harsh.
However, the rear shock is a bit short for bumpy roads and heavy loads, although I never got it to bottom out.
Aero
The first hint of summer arrived just in time for my test.
It's always going to be hot sitting on top of massive V-twin behind a "barn door" fairing.
However, Harley has advanced the ignition, dropped the rear header down from the exhaust port and moved the catalytic converter rearwards to make it cooler for the rider.
It still gets hot in slow traffic and your pillion's right leg cops a lot of the hot air that has been moved backwards.
Unfortunately, even the short sporty windscreen blocks a lot of cooling air.
Yet it also creates a bit of turbulence around the top of my helmet.
I'm 183cm, so shorter riders might find it ok. You can also buy taller screens.
I added a windscreen extension which reduced the turbulence but also diverted cooling air.
Conclusion
This torque monster delivers plenty of raw grunt, but with finesse.
It will also provide a step up in comfort and safety on long trips, thanks to its suite of hi-tech rider aids.
PRICING 
5
VIVID BLACK 

$A39,250 ($NZ42,250)
ENGINE
ENGINE

2

Milwaukee-Eight™ 114

BORE

102 mm

STROKE

114 mm

DISPLACEMENT

1,868 cc

COMPRESSION RATIO

10.5:1

FUEL SYSTEM

Electronic Sequential Port Fuel Injection (ESPFI)

EXHAUST

Black, 2-1-2 dual exhaust with tapered mufflers
DIMENSIONS
LENGTH

2,425 mm

SEAT HEIGHT, UNLADEN

690 mm

GROUND CLEARANCE

125 mm

RAKE (STEERING HEAD) (DEG)

26

TRAIL

173 mm

WHEELBASE

1,625 mm

TYRES, FRONT SPECIFICATION

130/60B19 61H

TYRES, REAR SPECIFICATION

180/55B18 80H

FUEL CAPACITY

22.7 l

OIL CAPACITY (W/FILTER)

4.9 l

WEIGHT, AS SHIPPED

359 kg

WEIGHT, IN RUNNING ORDER

375 kg

LUGGAGE CAPACITY -VOLUME

0.071 m3
PERFORMANCE
ENGINE TORQUE TESTING METHOD

EC 134/2014

ENGINE TORQUE

3

163 Nm

ENGINE TORQUE (RPM)

3,000

LEAN ANGLE, RIGHT (DEG.)

32

LEAN ANGLE, LEFT (DEG.)

31
DRIVETRAIN
PRIMARY DRIVE

Chain, 34/46 ratio

GEAR RATIOS (OVERALL) 1ST

9.593

GEAR RATIOS (OVERALL) 2ND

6.65

GEAR RATIOS (OVERALL) 3RD

4.938

GEAR RATIOS (OVERALL) 4TH

4

GEAR RATIOS (OVERALL) 5TH

3.407

GEAR RATIOS (OVERALL) 6TH

2.875
CHASSIS
WHEELS, FRONT TYPE

6

Gloss Black Prodigy

WHEELS, REAR TYPE

Gloss Black Prodigy

BRAKES, CALIPER TYPE

32 mm, 4-piston fixed front and rear
ELECTRIC
LIGHTS (AS PER COUNTRY REGULATION), INDICATOR LAMPS

High beam, turn signals, neutral, low oil pressure, engine diagnostics, auxiliary lighting, cruise, ABS, immobiliser, low battery voltage, low fuel warning.

GAUGES

Gauges styled to complement each vehicle. Display features odometer, trip A, trip B, range to empty and gear indicator; and larger tell-tale indicators.
INFOTAINMENT
INFOTAINMENT SYSTEM

Boom!™ Box GTS

TYPE

Full Colour TFT

WATTS PER CHANNEL

25

SPEAKERS

2

SPEAKER SIZE

6.5 inch BOOM standard

HEADSET SPECIFICATIONS (IF EQUIPPED)

16-64 ohms

FM

Standard

SD CARD, FLASH DRIVE AND MP3 – VIA USB CONNECTION

Supported

LANGUAGES

English (US/UK), German, Spanish(Mexico/Spain), French (Canada/France), Italian, Portuguese(Portugal/Brazil), Russian, Czech, Polish, Dutch, Turkish, Japanese

HANDS-FREE MOBILE PHONE – VIA BLUETOOTH

Standard

VOICE RECOGNITION LANGUAGES: PHONE FUNCTIONS ONLY

English (US/UK), German, Spanish(Mexico/Spain), French (Canada/France), Italian, Portuguese(Portugal/Brazil), Russian, Czech, Polish, Dutch, Turkish, Japanese

VOICE RECOGNITION LANGUAGES: TUNER/MEDIA/NAVIGATION

English (US/UK), German, Spanish(Mexico/Spain), French (Canada/France), Italian, Portuguese(Portugal/Brazil), Russian, Czech, Polish, Dutch, Turkish, Japanese

VEHICLE INFORMATION SCREEN (AIR TEMPERATURE, OIL PRESSURE AND EITMS)

Standard

TEXT-TO-SPEECH (TTS) LANGUAGES

English (US/UK), German, Spanish(Mexico/Spain), French (Canada/France), Italian, Portuguese(Portugal/Brazil), Russian, Czech, Polish, Dutch, Turkish, Japanese

USB

USB/MTP/iPod/iPhone

BLUETOOTH

Phone/Media Supported