StarCom1 Advance Motorcycle Intercom Image Gallery
Not perfect, but a good system for basic communications (2007 style).
Editor's Note:  Mark B., who wrote this article, kindly donated his honorarium to awebBikeWorld charity.
This is a review of my experience installing and using the StarCom1 Advance motorcycle communication system.
The kit and accessories were purchased from Jeff at Bike Effects (see below) to ride with theCollett helmet mounted units. I also have a great deal of experience using police and aviation communication systems.
Eventually, repeated problems and lack of range forced me to shelve the system. I'm not certain if my experience is unique, as I did not find many other bikers using the Collett system.
Anyhow, back to the StarCom1. I had been looking and researching all the major suppliers for several years, including StarCom1, Autocom, J&M and Baehr. It normally doesn't take me several years to figure what I want but I had no real reason to make a purchase until recently.
The catalyst was a riding partner Scott, who had purchased an Autocom system and with whom I would be riding to the BMW Rally in Finger Lakes.
I had always been attracted to the StarCom1 products mainly due to their repeated claims of "clarity at any speed". Also, their products seemed to be designed for simplicity, ease-of-use and for installation on motorcycles. I certainly wasn't basing my purchase decision on their web site, which seems to have been designed back in the stone ages of the Internet!
After reading countless reviews and touching and feeling the various products at vendor displays, I decided on the StarCom for really one main reason: remote volume control. I wanted to be able to adjust the volume without having to remove the darn seat every time (even more of a problem if you have to mount the unit somewhere less accessible, such as under the tank).
Yes, Autocom and others will tell you that once the volume is set, it never really has to be touched again, as they all automatically adjust to background noise levels. They do, but it isn't perfect and there are times when being able to adjust the volume on the fly is invaluable — more on that later.
So, I placed my order and everything received as a few weeks later (shipment had to cross a border). The order consisted of:
StarCom1 Advance
2 x open face helmet kits (we have Shoei Multitec helmets)
Push-to-Talk (PTT) 03
Remote volume control
Bulkhead fitting kit (cables and plate for remote mounting the jacks)
Interface cable for a two-way radio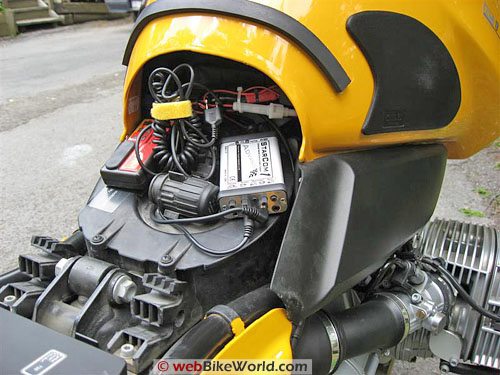 Installation
The StarCom1 Advance kit comes with the unit, a music lead, headset extension cables, instructions and various other bits and pieces needed to install and mount the system. Mine was to be installed on my 2001 R1150GS.
I won't go into the details of the installation other than to say the longest part was choosing where to mount everything. You can see from the pics how it ended up.
What you don't know is that I first installed the PTT under the grip. This worked great….up until the point where I needed to signal a left-hand turn!  Sigh, good 'ol BMW turn signals.
Owners of other motorcycle models may need to make some adjustments to the various brackets depending on the diameter of the surfaces where the bits will be mounted.
I had to cut the sleeve off the volume control strap in order to get it tight enough. I then had to add a layer of rubber under the bulkhead strap to also get it tight. After the components are mounted, it will be obvious what might be necessary to make any required adjustments, if any.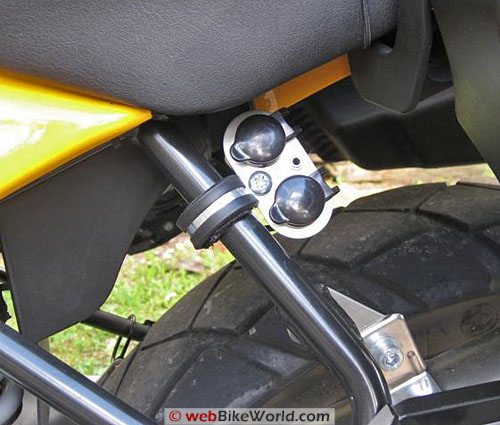 There are a couple of dip switches inside the unit that must be set before the unit is installed. I left numbers 2 and 3 in the OFF position and moved 1 and 4 to ON as I wanted the rider and passenger to have sidetone.
Switch 2 just enables sidetone for the two-way radio (if you've left the master rider sidetone switch 1 in its default OFF position). StarCom has an online manual that explains the procedure.
Since I had mounted the helmet kits the night before, I was ready for the first test. It had taken me about 30 minutes to figure out the best way to mount the kit in the first helmet and it took me about 10 minutes to do the same in the other helmet, a Shoei Multitec. I had purchased the Open Face kits as I wanted to be able to use the microphone even when the helmet was open.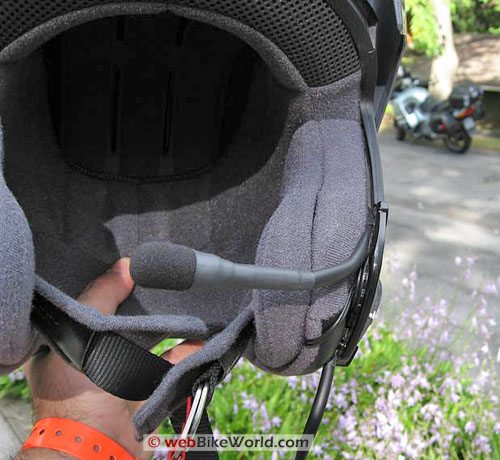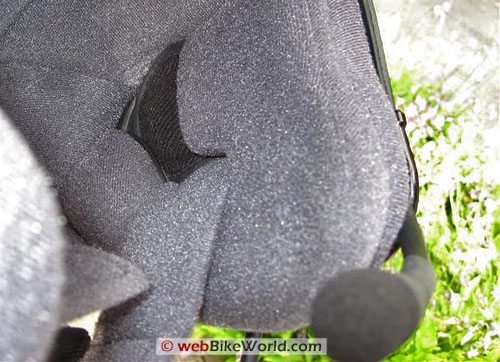 Experience
Now came the test. I plugged in the rider headset, my trusty iPod and pressed play.
Hey! It works and the music sounded great. I played around with VOX, the volume settings, balance, mic sensitivity and then went for a ride. Although the recommended settings worked pretty good, owners may still want to adjust VOX and mic sensitivity to suit their riding style (how loud you speak, how fast you ride with the helmet in the open position, etc).
With my custom moulded earplugs in, the music was clear and kept good tone up until about 100 kph. After which, the music became less tonally perfect and was relegated to more of a background distraction than a concert in my ears. This is due to the terrible wind noise behind the fairing of a stock GS. At any rate, even at speed, it was still pleasurable to be able to listen to tunes.
So, over to Scott's house (the guy with the Autocom) to go for a ride with his two-way FRS radios. Note that in order to have bike-to-bike communications, FRS radios must be connected to the StarCom intercom with the radio inputs.
We selected the same frequencies for the two-ways and went riding. You should be aware that when you select an FRS channel on a 5 watt radio, your radio will limit you to max 1 watt transmission power. So, if you have a multi-band radio, select either GMRS or a non-FRS frequency band for the best range.
We first went riding around town and got used to the radios. I recommend setting the StarCom1 volume to a little less than half and then set the radio volume to a level where it can be clearly heard when the bike is stopped.
Everything worked great around town and I quickly got used to the PTT, as I did not want VOX enabled for the two-way. Now, for the real test, a high speed run down the Autobahn known in our area as Highway 416:
80 kph: conversation clear as a bell.
100 kph: conversation clear as a bell.
120 kph: conversation clear as a bell.
150 kph: conversation clear as a bell!!!
Ok, now I'm ecstatic! The music is muting as it should, I can hear Scott and he can hear me. All is well with the world. We then did some range tests and figured that we could get about a 5 km range in non-FRS mode and about 1 km using the FRS frequencies. So, if most of your riding is with partners that ride at normal spacing, FRS should be fine.
A few days later we went on our trip down to Watkins Glen for the rally. It was really great having the radios so we could coordinate stops, change routing if we wanted, talk about what we wanted to do at the rally, which winery to stop at, etc. As most of our trip was on back roads, the music was clear and sounded as good as is possible with helmet speakers. Scott used in-ear speakers so his music quality was a bit better.
I am pleased enough with the music quality from the supplied helmet speakers that I am going to stick with them and not bother with my Etymotics earphones.
The automatic volume adjustment on the StarCom1 worked flawlessly. The volume was the same stopped as it was at highway speed. I never had to adjust the volume except as noted below.
Now, to tell you why remote volume control is so important. There were three of us on this trip and the third rider did not have a comm. system. When we were stopped at a light, I would raise my helmet to talk to the other rider and since VOX was off (see Problem # 1 below), the music would not mute and I would not be able hear him. Well, I would just turn the volume down while talking and we could converse just fine.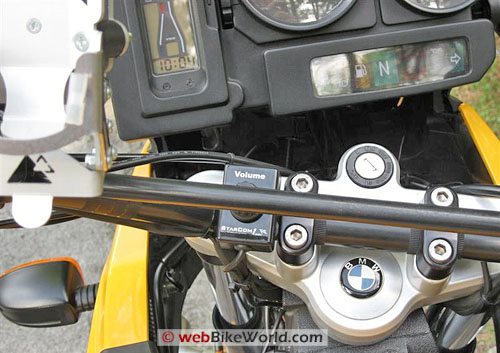 The other reason why being able to remotely adjust the volume is a must becomes obvious on a short trip without earplugs. Believe me, the volume adjusted for when you are wearing earplugs is WAY too loud for when you aren't wearing them. A third reason is that not all songs play at the same level. With the remote volume, I turn up the soft tunes and turn down the loud ones.
Scott with the Autocom was not able to hear me on one part of the trip. Here's why: before we got on the highway for the last part of the trip back, he took out his in-ear earphones and went to the helmet speakers. As he had adjusted his volume for the in-ear speakers, it was not adjusted loud enough for the helmet speakers plus moulded earplugs. I could hear him but he could not hear me once we got some speed going.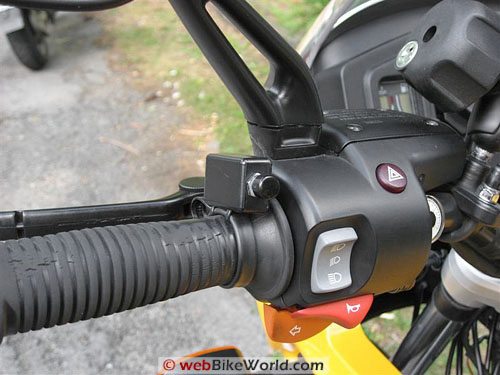 Problems
I got my other half to plug into the passenger jack. She could hear me but I couldn't hear her. Hmmm, is this something I should fix?  I then tried swapping jacks; she plugged into the rider jack and I plugged into the passenger jack. Yup, that worked. So, I asked myself what the heck would that signify!
Another problem arose when I determined that even with the PTT 03, my radio would still transmit when I was just talking to a passenger or even just to myself (with VOX on). The PTT 03 is supposed to disable VOX transmission over the two-way.
I notified Tecstar, the manufacturer of the push-to-talk of the problems and they sent me two new kits and a new PTT 03. I was very impressed as they shipped the parts all the way from the UK via UPS air and I had everything here in Canada within a couple of days. The new helmet kit solved the problem of the passenger not being able to transmit but the replacement PTT 03 has not solved the issue of VOX conversations being transmitted over the radio.
So for now, I've shut off VOX which is not a big deal. Whenever I have to mute the music, I'll just turn the volume down and auto music muting feature still works when I am transmitting or receiving over the two-way. I believe a cell phone conversation would also mute the music as both radio and cell have the same priority.
The only time this will be an issue is when I have a passenger. Although VOX is not needed for rider to passenger communications, the music will not mute. Since I don't ride with a passenger very often, this will not be an issue and I will continue to work with Tecstar to get the problem resolved. I suspect that I will need a replacement unit.
Although this is not meant to be a comparison article as I did not evaluate the features of the Autocom, I can tell you there are a couple of ways where in my opinion, the StarCom1 is better.
The StarCom1 is connected directly to the battery and powers up when the rider plugs in. The Autocom is always on so must be connected to a switched power source. The disadvantage is an Autocom equipped bike has to be running in order to listen to music or communicate. Not a big deal but when you are sitting in line at customs or running tests on the system, it is a pain to have your bike running and possibly overheating.
The other advantage is in size; the StarCom1 Advance is considerably smaller than Scott's Autocom unit (he has the SuperPro AVI) so mounting on space challenged motorcycles has the advantage going to the StarCom1. The third advantage is in accessories. There are a few items such as the bulkhead fitting kits and remote volume that aren't available from Autocom.
Midland GXT 800 GMRS/FRS Radios
I did something quite unlike me. Knowing that there was no way I could order in any radios before our trip, I ordered the StarCom1 with the interface cable for my friend's iCom radios. Then, I went hunting on the Internet for radios that used the same cable. I know, a very backwards way of shopping!
Anyway, ended up at the Midland web site when I discovered they use the same interface cable as that supplied for the iCom. I received the radios after the trip and had the opportunity to test them on an hour long run a couple of days ago.
Using my Midland (Scott kept his iCom as the StarCom1 supplied cable worked with both the iCom and the Midland, his Autocom cable only worked with the iCom), we found that clarity was as good as the more expensive iComs and the range perhaps a tad better. Highly recommend these radios too as you can turn on the "roger" beep which lets your riding partners know when you have finished transmitting. Best of all, they are waterproof so you can mount them to the handlebar.
Conclusion
I am very pleased with the StarCom1 and would highly recommend this unit to anyone looking for a complete communications package. If your main interest is music and two-way, there is, in my opinion, no better package out there.
If you want more flexibility in determining audio priorities or need to plug in more than four devices, this may not suit your needs. However, the remote volume control, small package, great helmet kits and value for money are hard to beat.
Is it perfect? No, of course not. The user guide is full of errors and even the latest version I pulled from their web site gives contradictory instructions for setting passenger volume on page 2 and on page 15. What they call balance is really a fader and having to take the unit apart to change switch settings is not a great design.
There is a new fully digital version ($429.00 US) that automates most of the adjustments, keeps the same form factor and adds four more inputs for a total of eight. I haven't had the opportunity to test that unit so I can't recommend it.
w

BW

 Review: StarCom1 Intercom
List Price (2007): $287.94 USD
Review Date: October 2007
Note:
 For informational use only. All material and photographs are Copyright © webWorld International, LLC since 2000. All rights reserved. See the webBikeWorld® 
Site Info page
. Product specifications, features and details may change or differ from our descriptions. Always check before purchasing. Read the
Terms and Conditions
!
Owner Comments and Feedback
---
From "P.S." (5/10):  "My StarCom1 Digital KitB arrived this morning. I am migrating from an Autocomm System 7, which I felt had not lived up to my expectations, especially in the VOX and ambient noise areas.
Here are my first day's evaluation:
PROS:
Love the ignition independent power ON whenever the rider is plugged in
The switched 12V output, which could be used to power GPS or Bluetooth module or MP3 player
Metal enclosure
Handlebar remote – option
Dust protection plugs on all 3.5mm sockets
Extension lead for helmet connection
Dust cap for unused connector, e.g. pillion's
CONS
Helmet speakers more tinny than Autocomm's
PC PS2 Keyboard type in line connectors use thin pins which are much more susceptible to bending and damage than the 7 pin DIN used by Autocomm
12V supply line didn't have in line fuse, which described in manual as supplied
No dust caps for 2 unused PS2 sockets on main box
iPhone lead doesn't have microswitch to answer/terminate calls. This should be a push to ground mic lead and is imperative for iPhone as there is no Auto answer setting on phone!
iPhone lead's Audio should be plugged into AUX input, but this isn't described. Also this gives only mono music from iPhone. If Audio input used it doesn't mute other sources when call comes in.
Aux input mono only
Too few inputs (for rider – i.e. pillion can have different music and phone, but would like more inputs for rider)
Remote control is water resistant, but has ordinary unprotected 3.5mm socket! This is rain exposed!
Overall I feel that product is good, but would be better if CONS were dealt with. Ride comparisons in near future, these were based on just installation on 1st day."
Follow-up from P.S. (6/10):  "The audio quality is simply exceptional, in terms of no wind noise or crackling or noises when cutting in or out. 10 out of 10!
I also love the power-on by rider's helmet idea and having a switched output for GPS/MP3 Player is just icing on the cake!
However here is my list of niggles. I have provided a possible solution, whenever I could.
1. iPhone Lead

PROBLEM: My biggest gripe: the iPhone cable, which I paid Aus $60 does not come with a momentary push button to answer or terminate a call. In contrast I can buy a Griffin iPhone lead complete with built in mic and switch, for Aus$35!  As you are probably aware the iPhone cannot be operated with a gloved finger, so your over priced lead is next to useless.
SOLUTION: PLEASE change it and add a PTT style button to short the mic lead to ground. That is all that's required!
2. INPUTS
PROBLEM: I need more inputs, I am sure I am not alone in this, but here are my audio sources:
i. GPS with STEREO music output (HINT Aux seems to be mono input).
ii. Bike's AM/FM Stereo radio.
iii. iPhone, again Stereo.
iv. Bluetooth module's i/o – mono is ok, but stereo would be better.
v. Intercom – mono.
vi. CB Radio – mono (I don't need this one, but others might).
SOLUTION: As a suggestion, I would like to re-program the unit and forego independent pillion music input and use that as a stereo input for both rider and pillion.
3. Audio Connectors
PROBLEM: The PC PS2 Keyboard/Mouse connectors that are used for the audio cables use very thin pins and are definitely not designed for frequent reconnections. My wife simply refuses to plug her headset in, because she is scared of bending the pins, so I have to plug her helmet in for her.
SOLUTION: The DIN plugs used by other brands are much more robust and would be preferable, at least for connections that are not on the central comms unit.
4. Remote Connector
PROBLEM: The digital remote is normally mounted where it is exposed to rain. It may well be rain resistant, but the 3.5mm socket is certainly not.
SOLUTION: A simple solution would be to have a "mouse tail" wire, say 6" with an in line socket, which could then be protected by a plastic bag, or whatever.
5. Central Unit Weather protection
PROBLEM: The main control unit connectors are quite susceptible to weather and dirt, as they use thin pins in the connectors.
SOLUTION: Simply recommend that the box be mounted inside a weather proof bag. I used a plastic bag with tie wraps – simple.
6. My product arrived without the in-line fuse, just a straight red wire. That is just a QA issue.
Overall, I am very pleased that I got the StarCom1 Digital system and feel that it is a great contribution to my riding experience. I am very pleased that I had chosen a wired system, and not have to worry about keeping devices charged up, and power running out on a long trip."
---
From "E.B." (November 2012): "I purchased the unit so that my wife and I can talk while riding on our 2008 Kawasaki KLR 650. As other reviewers has recounted the connectors are wimpy, such that it's easy to bend or break one of the pins. I've had to purchase two replacement cables so far and I won't let my wife plug her helmet into the unit, nor does she want to.
Wind noise is terrible! My wife's mic will pick-up wind noise such that I need to unplug my ear buds or risk going deaf. I opted for the headset with both speakers and mini stereo jack since I like to wear custom ear plug when I ride. I've tried turning down the gain on her mic to no effect, had her cover up her mic with no relief.
Also, when we are on the move, the volume is so high, I gather that the Starcom1 compensates for road noise by increasing the volume, that when she speaks it's painful. To the point that she needs to make a conscious effort to speak softly. When I speak, I hear a scratchy version of myself and yet I did not activate the side-tone feature. Also, the unit get so hot that it's painful to hold in a bare hand, the unit needs a great deal of cool air to keep the temperature down.
I was hoping to have the unit stored in my tank bank such that I could use it on the KLR or the BMW, when it's back together, but I'm concerned with the unit cooking itself and the other stuff in the tank bag. As such, to make sure that it has sufficient cool air I needed to mount it on top of the tanks bag's clear map pocket; meaning that when it's starts raining I'll need to unplug and shove it in the tank bag. Luckily it does not rain that often in SoCal.
Also, the control are so small that it's impossible to the volume of VOX with a gloved hand, requiring that I pull over remove the gloves to adjust the volume of VOX. The mic gain is impossible to adjust without using a slim screwdriver. If you can't tell by now, I'm very disappointed with this intercom and cannot recommend it."
---
From "A.Y." (6/08):  "I've been going through a terrible experience with the StarCom1 Advanced unit and dealing with the Tecstar folks too. I'm not sure that it's gauged for a V-twin. I have an '02 Yamaha Road Star with Cobra Low Shot Gun exhaust. The passenger mic picked up the exhaust pulse so it was always hot. At no point was there any wind noise cancellation – there was excellent wind noise amplification.
At one point I had my passenger totally cover the mic and it still picked up horrible wind noise. I tried tuning it for 3 days before emailing Tecstar. I got an email back and tried their suggestions for another 4 days which didn't stop the problems. When I emailed them I was not satisfied I'd like a refund I got this "we don't have problems with out units" so send it back and we'll test it on one of our bikes (like we don't give refunds or something).
I sent it back to them on 11 June and haven't heard anything yet. From the review it sounded like they were on the up. My experience so far has been unfriendly."
UPDATE From "A.Y.":  "Just wanted to pass on that Tecstar did complete the refund. They emailed back with their intentions to honor the refund with the comment that the unit I sent back was working on "their" test bike. I feel it was the loud pipes that kept the VOX on 100% all the time, but I couldn't figure out why the wind noise was so bad. I had read the entire article on your site but wasn't impressed enough to keep trying to make it work @ almost $500.00. Oh well thanks for keeping a great web site!"
---
From "JPMGC":  "I just read your StarCom review. It's right on!  I've had mine for two riding seasons and have had no problems. My wife and I enjoy crystal clear intercom from rider to passenger without the snapping and popping of a vox turning on and off (like my prior Chatterbox unit).
I use an iPod for music and an FRS radio for bike to bike. I am going to order the cell phone interface cable next. I have not had a problem with my lips not touching the mic bud. Mine has worked fine with the mic 1/4 to 1/2 inch from my mouth. I would recommend this product. It's a good comm system for the price."
---
From "C.B.":  "I read (the) review & I had to wonder if this was the StarCom Advance intercom system that I bought 2 years ago. I installed the same unit on my 1999 BMW K1200LT & could NEVER get it to work worth a hoot. The passenger mic would never mute so I was treated to none stop noise through my speakers. The factory was of NO help & kept telling me they had not any complaints of this sort.
After 8 weeks of adjustments I was able to talk them into sending me a replacement headset to try which took 2 weeks to arrive. Lousy service in my book!
I noticed in the review that the intercom was used very little for rider to passenger communications. Too bad.
By the way, you should point out that for the mic to mute, by the factory's instructions, they MUST be in contact with the users mouth. This is a major annoyance in my book & is effective in sucking any moisture out of your lips.
I would not recommend this unit too anyone who intends to use it as a rider to passenger intercom. The only good thing I can say is they eventually refunded me the entire purchase price & I ate all of the shipping."
Mark's Reply:  "Sorry to hear of your bad experience with the unit. I have had good response to my questions (from StarCom) and suggest that you try again if that is, you haven't switched to something else by now (it sounded like you returned the unit).
As for the positioning of the mic, I have not had to have it touching my lips to get good performance. The rider to passenger testing was enough to tell me that it worked very well at all legal speeds. My passenger hates having anything touching her lips (well, except maybe my lips!) so it was about 1/4 inch away and it worked fine. Thanks for the comments."