The island nation of Sri Lanka off the southern coast of India is a rider's paradise as well as an excellent introduction to riding in Asia and the subcontinent region.
Half way through a 13-day Hidden Sri Lanka tour ($US4950) of the fascinating equatorial island with Extreme Bike Tours and I am in rider heaven.
I did not expect there to be such a wide variety of roads here. There are billiard-table smooth asphalt roads that wind through the hills, dramatically tight hairpin turns that drop down a step at the apex, bumpy and gnarly mountain goat tracks and everything in between.
And all with hardly a straight in sight.
While you could ride some of the roads on a superbike, you might need an adventure bike for some of the others.
However, Extreme Bike Tours employs Royal Enfield Classic 350s, not only because there is a 400cc limit on motorbikes in the country, but because it is such an iconic subcontinent bike and is suitable for a wide variety of road surfaces.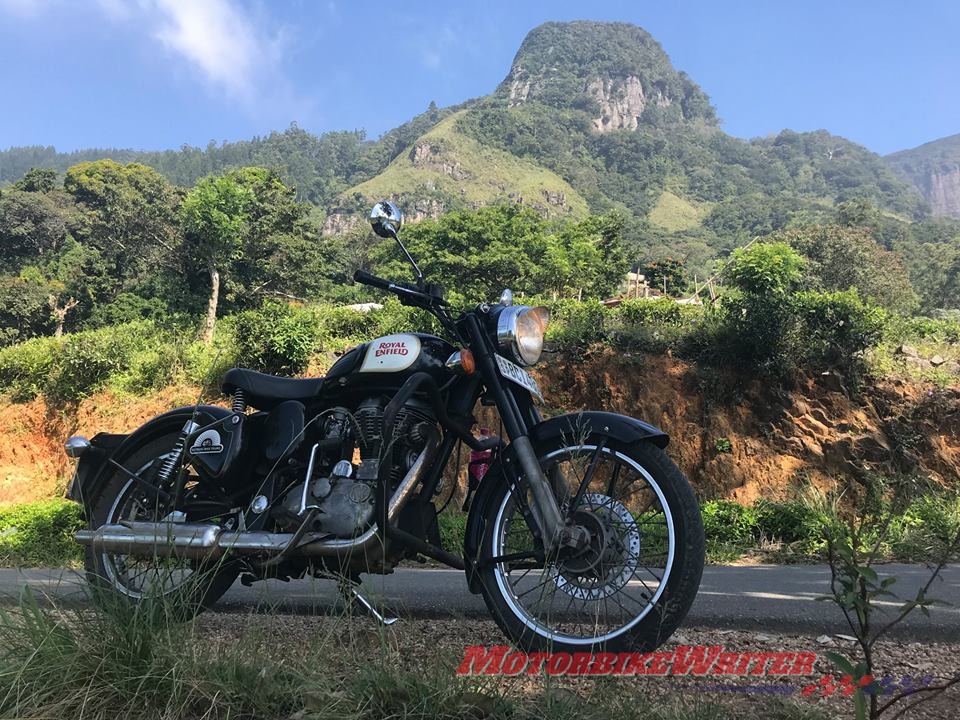 Sri Lanka is 'India lite'
One of the tour company's owners describes Sri Lanka as "India lite", meaning it is a more accessible riding environment than the chaos of India.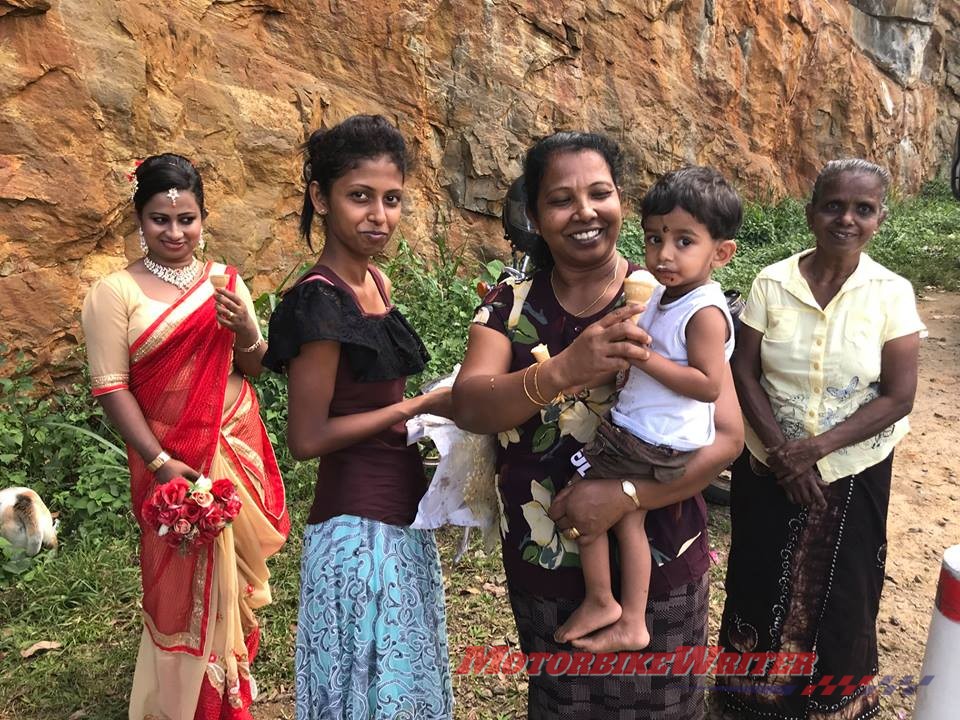 There is still plenty of chaos in the towns and cities, but Extreme Bike Tours avoids most except the ancient former capital of Kandy.
Once out of these busy and vibrant centres, you head for the hills, coast, national parks and villages where the traffic is much easier to negotiate.
Sri Lanka tourism
There is a lot to see in Sri Lanka if you can only peel your eyes off the gloriously challenging and diverse roads.
Extreme Bike Tours part-owner Souhaine has not only chosen his favourite riding routes, but also takes us through a wide variety of terrain and into several national parks.
From idyllic palm-dotted golden beaches to tangling jungle forests, rugged mountain ranges and manicured hillside tea plantations, there is a host of natural beauty in this largely untouched country.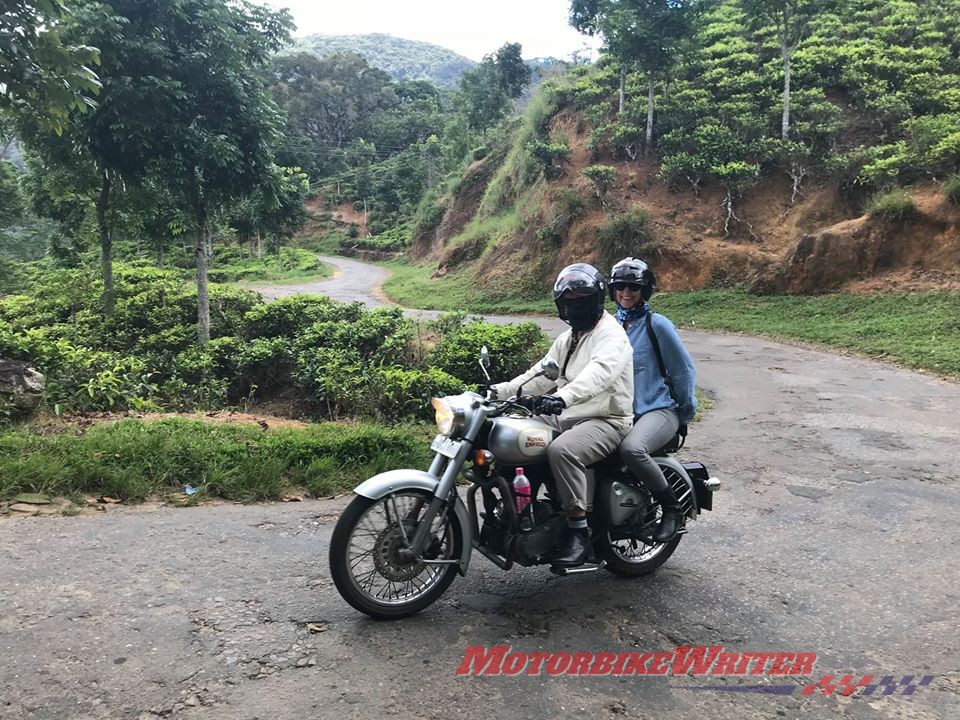 Then there are the man-made attractions of giant hilltop Buddha statues, bright coloured Hindu temples, old British colonial buildings and chaotically busy streets and marketplaces.
And finally there are the surprising roadside animal sightings. So far we've seen elephants, monkeys, sambar deer, myriad birdlife, bats, buffalo, giant land and water monitors (lizards) and a couple of massive pythons slithering across the road … the entire width of the road!
Sri Lanka food
The term "India lite" can also apply to Sri Lankan food.
While it is similar to Indian, it is lighter, fresher and more varied.
Part-owner John says they have never had any of their customers come down with diarrhoea from eating or drinking in Sri Lanka. (However, one rider claims they were ill for a day after eating mainly Western food at an international hotel. Should have stuck to the Sri Lankan cuisine!)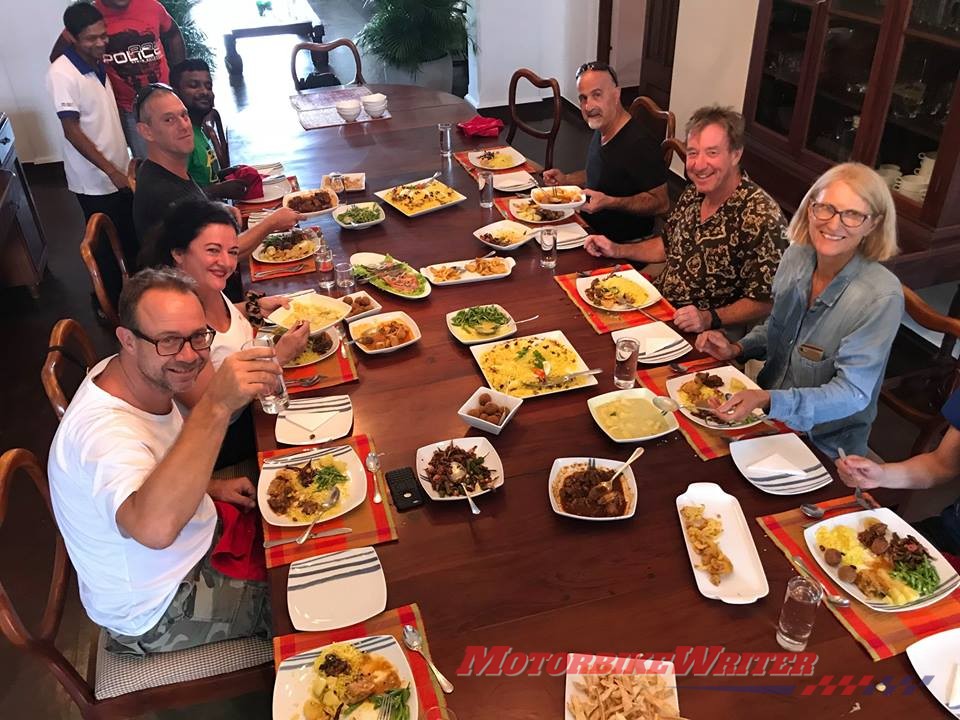 While the tap water is not drinkable, Extreme Bike Tours provides bottles of water which are carried on your Enfield's crash bars. The top-quality hotels along the way also have free bottled water in your room.
While many bike tours include breakfast and dinner, Extreme Bike Tours throws in free lunches which are not just roadside takeaways, but usually the equal of their top-quality evening meals.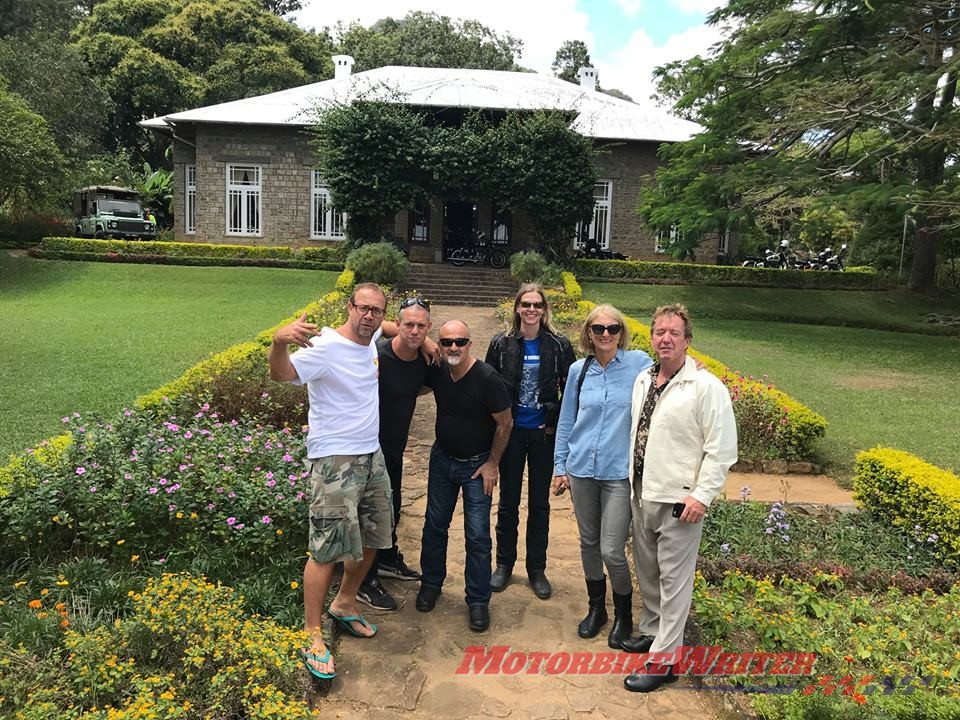 Sri Lanka accommodation
Third company part-owner Ben says they like to ensure their customers are well rested in top-quality accommodation.
Every hotel and eco tourist resort we have stayed in, including Souhaine's own Banyan Camp lakeside jungle resort, have been top quality and clean.
Free wifi is available in most places, mobile phone coverage is strong and a local SIM card is cheap by most standards.
Tour logistics
Ben and John have known each other since their school days in Oxford, while Souhaine has become a close friend as well as business associate. They all love riding bikes and are quite skilled riders.
The first day they eased the customers into the tour with a short ride before turning up the degree of difficulty over the next few days.
A couple of the customers were a little surprised by the challenge of some of the more bumpy and tight roads.
However, there is the option of being a pillion for these tough sections or riding in the accompanying luggage Land Rover with diligent mechanics Damien and Dhanushka.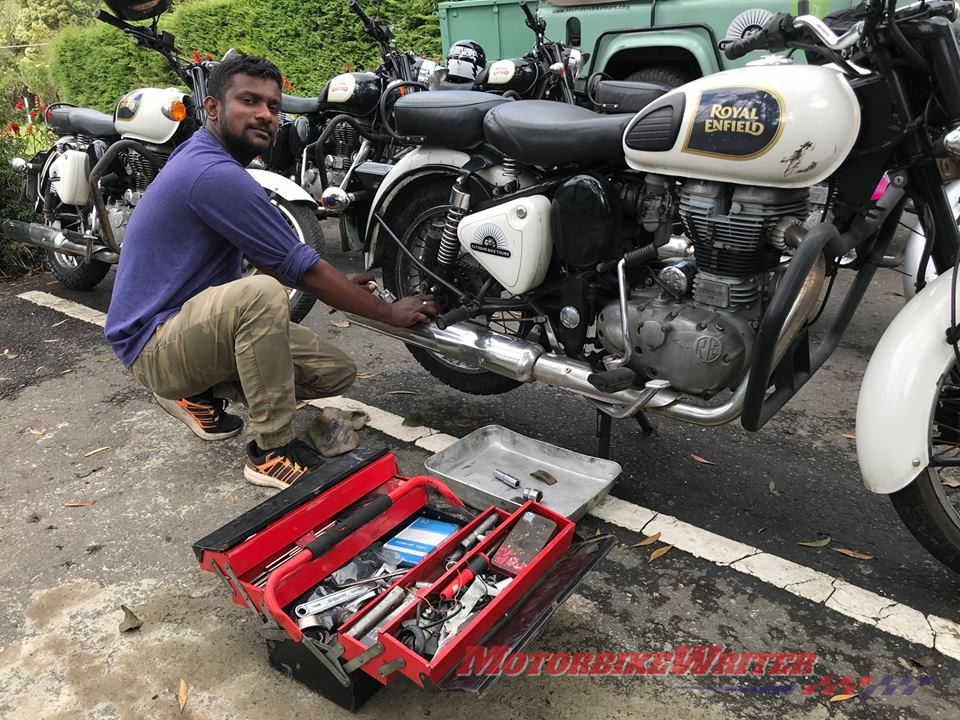 The mechanics have quickly tended any problems with the bikes and even took up their rest day in Kandy fitting more free-flowing exhausts for a better note and even more torque up the hills.
Tsunami and war
It's difficult to believe that this island's southern coast was devastated by the 2004 Boxing Day tsunami caused by an earthquake in the sea off the coast of Sumatra.
While 200,000-300,000 people were killed in the catastrophe, most of them in Indonesia, Sri Lanka lost more than 30,000 lives. Some 1000 people were killed when the waves knocked a train off its tracks.
Sri Lanka wasn't directly in the path of the initial tsunami waves, but the waves battered the eastern coast then whipped around to the western with equally devastating effect.
However, the jungle vegetation has regenerated and the resilient Sri Lankans have rebuilt this vibrant nation.
Now the coast is dotted with elegant resorts nestled among massive coconut trees towering over the beaches.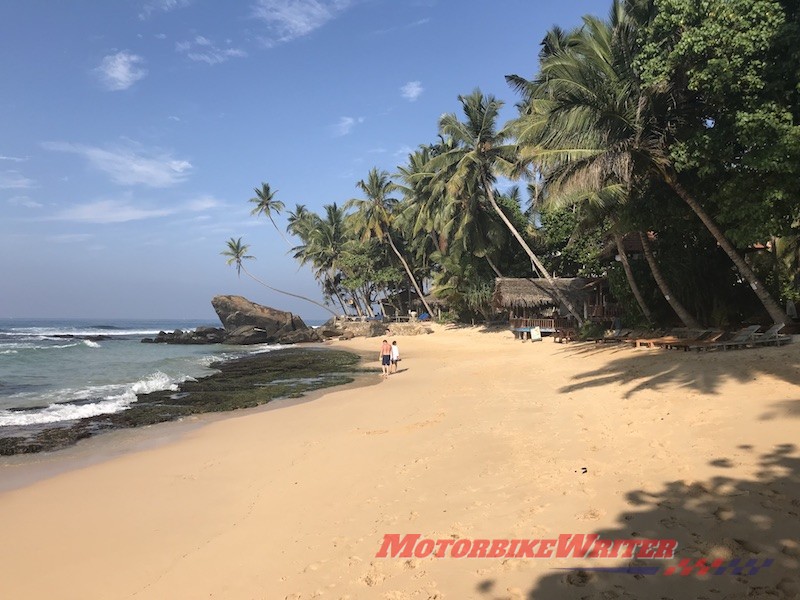 Thousands were also killed in the 25-year Tamil War that ended in 2009.
Now there seems no visible tensions, especially in the southern and central regions where this tour rides.
We rode out of Kandy during the nation's local elections and it was unusually quiet and peaceful.
Conclusion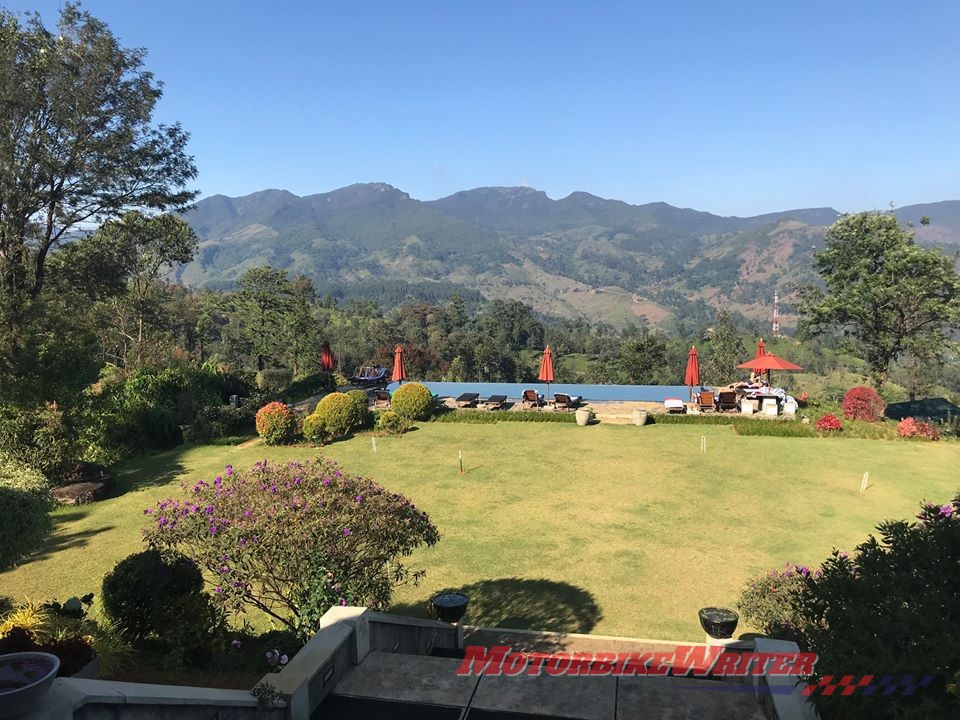 There are still a few days to go, but already the tour has proved challenging and exciting.
If you are looking for a wide variety of challenging roads, sights, foods and experiences with a professional tour operator, sample this hidden gem before too many riders discover the secret.
But practise your tight turns and rough-road-riding techniques first!
Click here for all details for the Extreme Bike Tours Hidden Sri Lanka Tour.