Appears to be high quality and more robust than other disc locks of its type.
The shackle may not be long enough to fit around some brake discs.
Trying to find statistics regarding motorcycle theft in the U.S.A. is like trying to find the formula for changing lead into gold.
I have no idea why this information is so hard to obtain; apparently no one bothers to track motorcycle theft at the national level.
This has led us to create a new "Motorcycle Theft" page on webBikeWorld to store information that might be useful to others who are interested in researching this topic.
During our research for this article on the Squire Motorcycle Brake Disc Lock, I was able to find information that indicates that approximately 44,000 motorcycles were stolen in the U.S.A in 2001.
This was the most recent information I could find.
It would not be surprising to learn that the incidence of motorcycle theft is now much higher, either in real terms or as a percentage of registered vehicles.
However, the recovery rate for stolen motorcycles has remained constant though at only 30%; that is, only 3 of every 10 bikes stolen in the U.S.A. are recovered.
My guess is that the low recover rate could be an effect of the active custom motorcycle scene in the U.S.A.
Stolen bikes can be easily disassembled and it isn't hard for dishonest builders to use the parts to assemble other custom bikes.
Another theory that I've often heard is that the Police just don't seem to place the same emphasis on recovering stolen motorcycles as they do for stolen automobiles.
The recovery rate in the U.K. is only slightly higher at 40%, which is also not good news.
The bottom line is that motorcycles, scooters and mopeds can be and are stolen anywhere, any time, any place and by a variety of thieves, from organized gangs to opportunistic joy riders.
It's bad enough to have your pride and joy stolen, but even if you haven't directly experienced that sinking feeling when you've been violated by a theft, you're still affected by this problem.
How's that?
Well, don't forget that the motorcycle insurance industry takes it out on all of us and makes up for their losses by increasing the rates we are charged for motorcycle insurance.
Many public organizations have developed tips on preventing motorcycle theft, and we've listed some of their links on the webBikeWorld Motorcycle Alarms, Locks and Immobilizer Reviews page.
But one of the best ways to prevent motorcycle theft is to use the layered security approach. Most thieves have two things in common: they're nervous and they're in a hurry.
My theory is that any type of theft protection device is 100% better than none at all.
And the simultaneous use of a diverse and layered assortment of devices such as disc locks, chains, padlocks, steering column locks, alarms and immobilisers will convince the vast majority of thieves to look elsewhere.
Some time ago, we published a review of the OnGuard "Beast (review)" motorcycle chain and padlock combination and also a review of the Master Lock Python (review), a lightweight cable lock for securing motorcycle helmets and jackets to a bike during short layovers.
Both of these devices could be used in conjunction with a disc lock in the layered approach, although the OnGuard "Beast" is probably better suited for home use due to its weight.
Our current plans are to focus more effort on motorcycle theft prevention in several future articles.
The Squire Disc Lock review that you are currently reading is the first of a series; we'll continue with a review of the monster Squire SS65CS padlock and equally mammoth MC4 chain (which weighs 15 lbs.!).
All three of these products have received the Sold Secure "Gold" rating, which means they withstood a variety of test attacks for a period of 5 minutes (more on Sold Secure on the wBWMotorcycle Alarms, Locks and Immobilizer Reviews page).
Sold Secure is a non-profit corporation in the U.K. that provides testing of locks and other anti-theft devices for a variety of uses and rates their performance; they're sort of comparable to a Snell Memorial Foundation, but for theft prevention devices.
The testing is done in a laboratory using the tricks that motorcycle thieves would use in the real world. The results of these tests are usually promoted as one of the best ways to compare retail products.
We're also working on a review of a combination motorcycle alarm and immobilizer, which should be ready in a couple of weeks.
Of course, we can't duplicate any type of "scientific" testing for our webBikeWorld articles.
So in this case, we're relying on the Sold Secure ratings, the advice of the UK's Ride magazine (which also gave the Squire products a "Recommended" approval) and our own experience and the experience of others to develop our opinions on the Squire locks.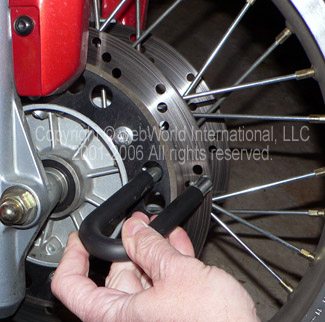 Squire Disk Lock
Squire Locks are well known in the U.K. and they are well respected in the motorcycle sector.
Henry Squire and Sons Limited have been manufacturing locks and theft prevention devices in England since 1780, so they have 226 years of experience in this business, which is a long, long time.
Think about it: Squire has been making locks just about as long as the U.S.A. has been independent from British rule!
The Squire ML2L Motorcycle Brake Disc Lock is made in England, and it carries a 10 year guarantee.
The disc lock is heftier than most, weighing in at 1.25 lbs., or 567 grams. It's a hefty lock, more so than some of the dinky little disc brake locks we've seen that plug into one of the lightening holes on the brake disc.
Squire claims that the ML2L has 78mm of clearance under the shackle, but we measured 80mm.
Although it's supposed to fit on most modern brake discs, we could not fit it on several bikes.
The photo (above) illustrates the ML2L next to the brake disc on our '98 Triumph Tiger test mule.
You can see that the lock will not fit over, through or around the disc. So you may want to carefully measure the brake disc on your bike before you purchase this type of lock.
We would have probably been better off choosing the Squire Paramount Plus "D" disc lock for the Tiger, which is available with either a 105mm or 260mm vertical shackle clearance.
It is possible, however, that the ML2L could be positioned around either the wheel spokes or around a spoke on a cast wheel, depending upon the configuration of the spoke(s).
The ML2L comes with two keys. Each key has a type of plastic or Nylon coating over its head.
The lock is opened by inserting the key and turning it 180 degrees. This allows the coated shackle to be completely removed and (theoretically) slipped over the brake disc or spoke.
The shackle can only be inserted one way into the body of the lock.
The key must then be turned back 180 degrees to secure the device.
I wish that there was some type of notch or mark on both the shackle and the body of the lock to indicate the correct orientation for inserting the shackle, because there's a 50/50 chance that the shackle will be inserted the wrong way.
The shackle is made from 13mm diameter boron steel. Squire claims that it will resist up to 9 tons of pressure with a bolt cutter and up to 10 tons of pulling force.
The body of the ML2L is made from a type of undefined hardened steel, and it's claimed to resist hacksaws, hammers and drills.
There has been some controversy recently about poorly designed disc brake locks whose lock could be picked with some simple tools, like a Bic pen.
I have no idea how to do this, but the Squire ML2L is claimed to have a "high security" anti-pick lock, and there are 117,000 different key combinations, so the chances are low that someone else will have the same key combination.
Conclusion
I admit that I don't have much experience with motorcycle brake disc locks, but I never feel comfortable leaving my bike parked where I cannot continuously keep an eye on it.
A disc brake lock is an easy to carry, simple device that is also relatively visible, and should give the casual thief a second thought. It is but one layer of defense in the multi-layered approach.
The Squire ML2L motorcycle disc brake lock appears to possess a higher level of quality and more heft than many others I've seen.
And the reputation of Squire and the Sold Secure ratings give me some confidence that the product will perform as advertised.
We purchased our Squire locks from the recently established Squire U.S.A. website, which is (no longer operative as of October 2015).
Next: Squire Motorcycle Lock and Chain Review  |  Squire Paramount Wheel Lock Review
w

BW

 Review: Squire Motorcycle Brake Disk Lock
Manufacturer: Squire Locks (UK)
List Price (2006): $46.98
Colors: Yellow
Made In: England
Review Date: February 2006
Note:
 For informational use only. All material and photographs are Copyright © webWorld International, LLC since 2000. All rights reserved. See the webBikeWorld® 
Site Info page
. Product specifications, features and details may change or differ from our descriptions. Always check before purchasing. Read the
Terms and Conditions
!
Owner Comments and Feedback