Big Cruiser, Big News
We recently reported that Triumph likely has a new 2020 Rocket III cruiser in the works. Well, now you can see it in all its glory thanks to spy shots showcased at Motorcycle.com. The shots show the new bike in all its hulking glory.
The current Rocket III has been out in the U.S. since 2004, so it's due for a redesign. The monster, three-pot-powered cruiser is loved by many and hated by some. It's a torque monster, though, and the new one should be more of the same, only better.
The new model appears to stay close to the original Rocket III's form. The bike has a similar engine configuration and similar overall shape.
What the Images Show
The new bike should get a big 2,500cc three-cylinder engine. It looks bigger on the new bike. The new exhaust system is shorter with both exits on one side as opposed to one on either side like the old bike.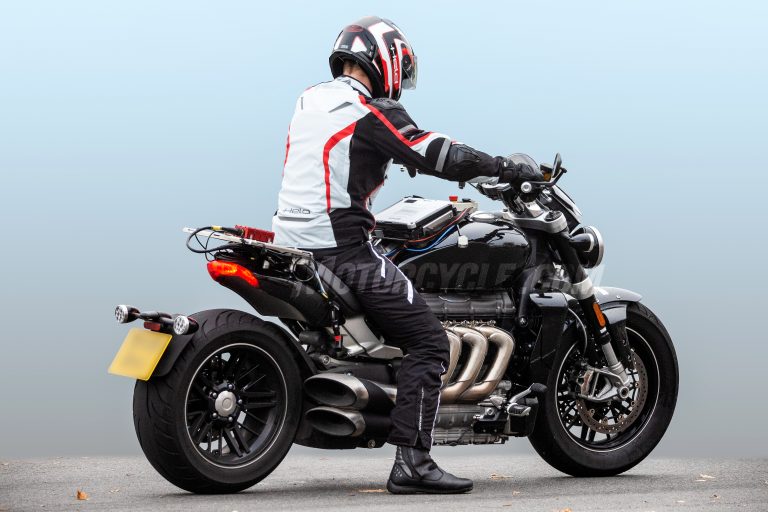 The bike now gets a large monoshock, and Motorcycle.com notes new rear suspension means it has a new frame. It also has beefier front suspension with inverted forks. The bike will remain shaft driven, and the shaft drive fits inside a single-sided swingarm. Brembo brakes are also there.
Overall, the bike looks more muscular than the previous model. This should help it compete with other muscle cruisers like the Ducati Diavel.
It's a good looking bike, and I'm pretty pumped to see it up close and in person some day. Also, I can't wait to find out what kind of torque that big engine puts out.