Sprayway Crazy Clean Image Gallery
Manufacturer's Information
Category:  Motorcycle cleaner
Type: Spray Can, 19 oz. (539g)
Made In: U.S.A.
Retail Price: $4.95
Claims – "Spray on – Wipe Off".  Cleans and Deodorizes (!)
For Use On – Motorcycle plastic, windscreens, chrome.
Claimed Features – All-purpose cleaner.
Application –  Spray on, let stand for several seconds, wipe off
Our Opinions
The original Sprayway Glass Cleaner is one of our all-time favorite motorcycle cleaners.  There's always a can in the garage and it's perfect for cleaning the bugs off helmets, visors and windscreens.
So when we discovered Sprayway Crazy Clean in a tiny pilot's hardware shop at a local grass strip airport (where we also purchased the wonderful All Kleerwindscreen cleaner), we had to give it a try.  Besides, it's got that same '50's look Sprayway label!
There is a difference between the two products; Crazy Clean smells a bit like, well, like an airport bathroom cleaner.  Which shouldn't be a surprise, because it's really designed for cleaning — you guessed it — bathrooms!
So what's it doing on the shelf in a pilot's curiosity shop in an airport (if you can call it that) where the biggest plane seats four people?  Apparently, it's used by pilots to clean up airplane interiors and Plexiglas windows.
But Crazy Clean is actually fairly popular and it can be found in auto parts stores, motorcycle shops, and even in camera shops, although what use a professional photographer would have for it is beyond me.  No, wait — I know: cleaning!
Believe it or not, we discovered that it cleans motorcycle chrome very nicely.  Which again shouldn't be a surprise, since there's plenty of chrome in a bathroom…
Crazy Clean immediately foams up when it's sprayed on, much like Sprayway Glass Cleaner, but Crazy Clean quickly turns into a nearly clear liquid with a slightly oily feel.  This is what seems to make it work so well on chrome — it adheres to the surface and the oily feel is probably some ingredient that's designed to polish metal.
While Sprayway Glass Cleaner has a sort of dry feel to it and cleans off almost immediately (which makes it perfect for cleaning helmets and visors), Crazy Clean leaves a tiny bit of oily residue, which must be buffed with a clean cloth to bring out the shine.  But the product works really well on the BMW's chrome mufflers, as you can see in the photos below.
The first set of photos illustrates the process and the results of using Crazy Clean on the BMW mufflers and the end result is obvious.
The second set of two photos illustrates the use of Crazy Clean on the BMW's clear plastic windscreen.  There doesn't seem to be much of a difference in the before and after photos, so our recommendation is to use Sprayway Glass Cleaner for cleaning clear plastic.
As always, remember to ask yourself the question "Compared to what?" when evaluating motorcycle cleaners, polishes and wax.  Any of these cleaning products have to be compared to a control product; after all, who knows how shiny the mufflers would look if they had been cleaned with, say, plain water instead?  Nevertheless, Crazy Clean does a pretty decent job of cleaning up around the bike.  We give it a 3 out of 5 rating.  Crazy Clean is available at Aircraft Spruce.
Sprayway Crazy Clean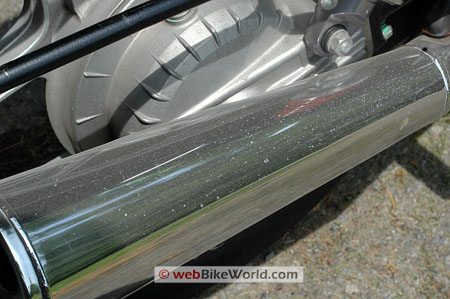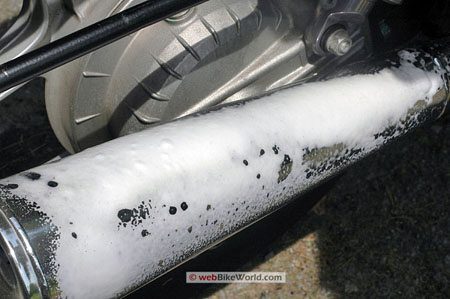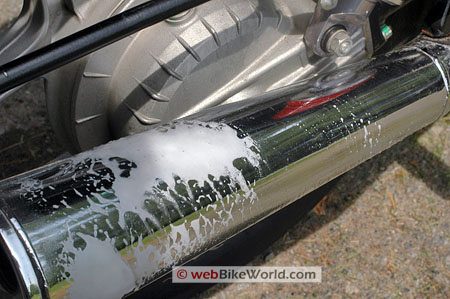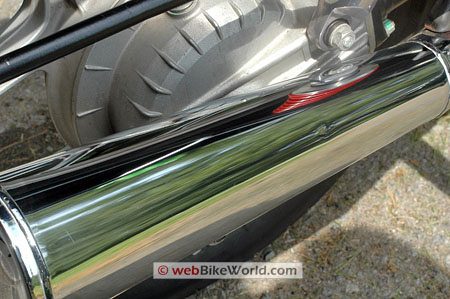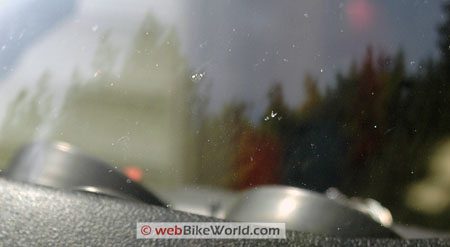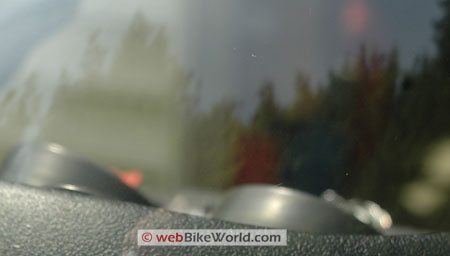 Review Date:  May 2007
Note:  For informational use only.  All material and photographs are Copyright © webWorld International, LLC – 2000-2011.  All rights reserved.  See the webBikeWorld® Site Info page.  NOTE:  Product specifications, features and details may change or differ from our descriptions.  Always check before purchasing.  Read the Terms and Conditions!