Sport/Street Gloves for Women and Men
The Spidi STS-R gloves come in a variety of colors for women and men. They're racy looking and the price seems reasonable for all the features they have. They are also very comfortable, well constructed and have technical features, but there's something missing: a wrist retention strap. When I think of Spidi gear, the first thing that pops into my head is one-piece leather race suits.
Doing a little research on the Spidi website, the first thing that caught my eye was my name in big letters in the banner: DONNA. I was just wondering how they could possibly know it was me, when I realized I couldn't read anything else on the page. It's in Italian and Donna means woman in Italian. Clicking on the language setting for English, I found the assortment of sport, adventure touring, and cruiser gear. But gloves were how the company started and they've been making upscale motorcycle clothing and technical gear ever since.
---
Where to Buy Spidi STS-R Gloves
Check Reviews & Prices on Amazon
Check Reviews & Prices On RevZilla
Also: Motorcycle Jackets, Motorcycle Gloves, Motorcycle Boots, Motorcycle Pants
---
Style and Comfort
I don't own any other motorcycle gloves that fall into the "sport" category, so this was a first for me. With their hard knuckle protection and all the other extra material on the STS-R gloves, I expected they might feel uncomfortable, but they're not. That's because the body of the glove is made out of cow and sheep hide that is super-soft and pliable, so as soon as you put them on all of the protective features seem to disappear.
The liner is listed as a polyamide/nylon material and it feels very cushy and soft, adding to the comfort level. And the liner stays put when you take the gloves off. There is nothing I hate worse than trying to stuff the liner back into the fingers of a glove because it turned inside-out when you removed them.
On the bike, that soft leather curves effortlessly around the grips and I was able to ride for hours at a time in complete comfort.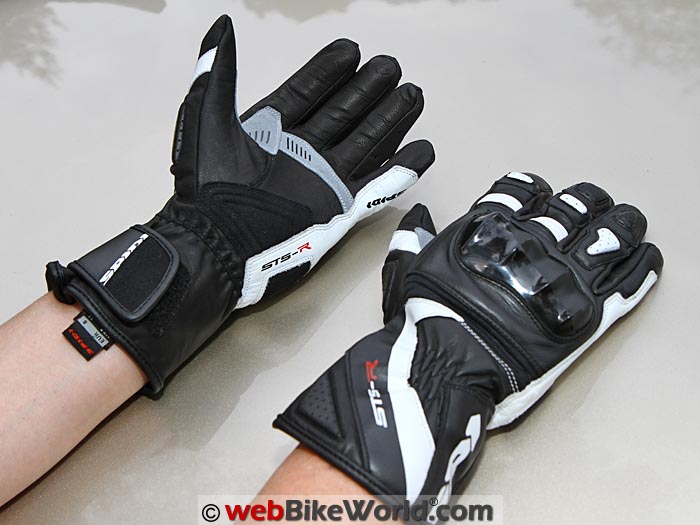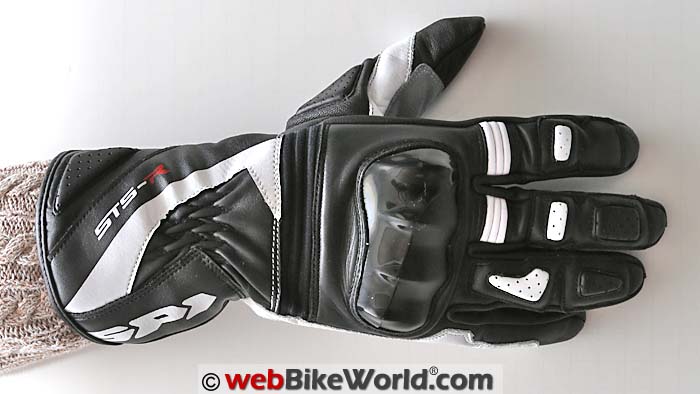 Construction
I own a lot of motorcycle gloves but I must confess most of them are leather or mesh cruiser type that don't have much protection other than the material itself.
None of them approach the technical features of the STS-R gloves, so bear with me while I go through all the extra bits and pieces.
The body of each STS-R glove is made from 0.7 mm thick cowhide on the back of the hand and 0.6 mm sheep hide on the palm.
The sheepskin is noticeably softer and more pliable and that gives great feel on the controls.
The two halves are sewn together with hidden seams that cannot be detected or felt from the inside. Added material is double- or triple-stitched with small, neat stitches for added security.
On the back of the hand is a strip of accordion pleated textile material below the knuckle protector for flexibility and a band of elastic around the wrist to hold the glove on your hand.
The gloves are very easy to get on and off, something that is often problematic for me with my arthritic joints.
The gauntlet is medium length and it can be adjusted with a thick piece of leather that is the flap and a hook-and-loop closure.
The gauntlet is large enough to fit over the sleeves of my summer mesh jacket and the Spidi Stormy jacket (review).
Specifications
Spidi states that the STS-R gloves are "a sports glove suitable for racing use".
The gloves are constructed from cowhide and goat leather. The cowhide leather on top is 0.7 mm thick, while the goat leather palm is 0.6 mm thick.
The main knuckle protector is the "Powertech" type.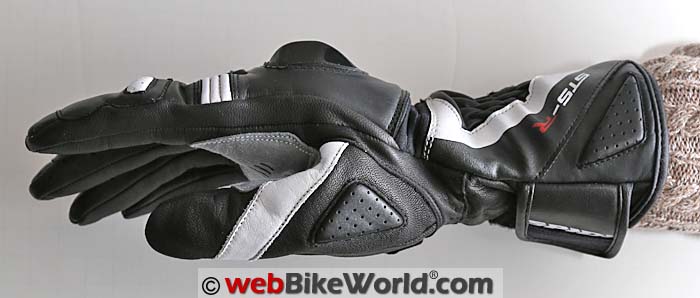 Finger Construction
The three longest fingers are made with a "box" type of construction with a top "roof" and a bottom "floor".
The sides meet in the middle on the fingertips with a center seam.
The little finger is made with three pieces of leather with the top and bottom pieces sewn together along the outside of the finger and the thumb has just two pieces with a single seam that goes up the outside, across the top and back down the inside.
The index finger has an extra pad over the middle knuckle covered with a perforated piece of leather with a tiny pillow of EVA foam cushioning material underneath.
It also has an extra piece of double stitched leather at the base of the finger that is also found on the middle finger.
Moving on to the middle and ring finger, both have pads over the first and middle joints covered with the same perforated leather.
These pads are attached with a single row of the tiniest stitches I've ever seen.
Next, the little finger has an extra piece of double-stitched leather on the outside that runs from an inch below the fingertip down to the wrist. This large piece of leather adds great protection to the vulnerable pinkie area.
And finally, the thumb has a triangular pad sown on over the proximal (base) joint.
So most all of the finger joints have some sort of extra protection, either extra layers of material or EVA foam pads.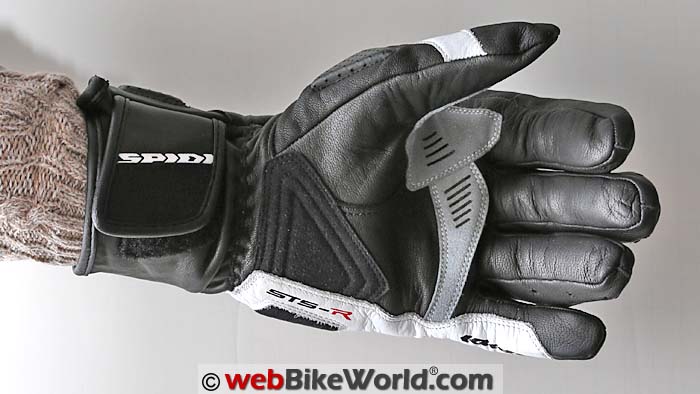 ---
Where to Buy Spidi STS-R Gloves
Check Reviews & Prices on Amazon
Check Reviews & Prices On RevZilla
Also: Motorcycle Jackets, Motorcycle Gloves, Motorcycle Boots, Motorcycle Pants
---
Protection
The back of the glove has a large polyurethane knuckle protector that gives good coverage over the knuckles on all four fingers.
It's very rigid but from the inside of the glove you can feel that it is nicely padded underneath.
It also has a little bit of flair to it with a section of matte black separated from a section of gloss black by a curved ridge.
The outside of the glove has an extra bit of Clarino microfiber (a synthetic leather-like material) protecting the base of the hand and the gauntlet has a triangular pad on the outside.
The gauntlet pad is a little high up to protect my wrist bone but would probably provide some slide protection.
Sewn on top of the palm leather are 3 extra pieces of Clarino: one provides extra wear protection in the saddle between thumb and index finger and another runs along the base of the fingers.
Both are double-stitched and have silicone injected grip strips for extra feel on the bike.
The third piece covers the heel of the palm and is triple stitched to provide great slide protection to that area.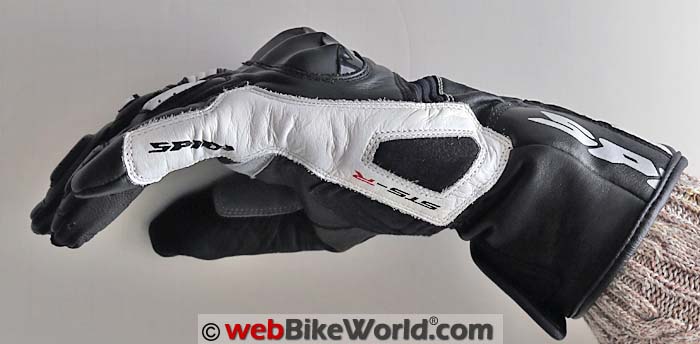 What's Missing?
Now let's touch on a couple of things they don't have.
I can't get anything to light up on these gloves so apparently no reflective materials have bee added.
However, on this white and black version the white sections are quite visible at night so I really don't miss having any reflective striping.
The other thing that's missing is a retention strap at the wrist; it's too bad because they could really use one.
I fear that the elastic at the wrist, while very comfortable, is not tight enough or strong enough to hold the gloves on my hands during a crash.
That little bit of extra width in the body of the glove doesn't help here either.
I can't replicate the violence of a real accident to test them but I can tell you that even with the gauntlet tightened all the way I can still pull them off pretty easily.
Ventilation
The STS-R gloves have ventilation holes spaced evenly between the fingers.
I do feel air blowing through them, especially when I spread my fingers a little to cover the brake or clutch lever.
I've worn them in 80-90 degree (F) type weather and my hands have not felt overly hot.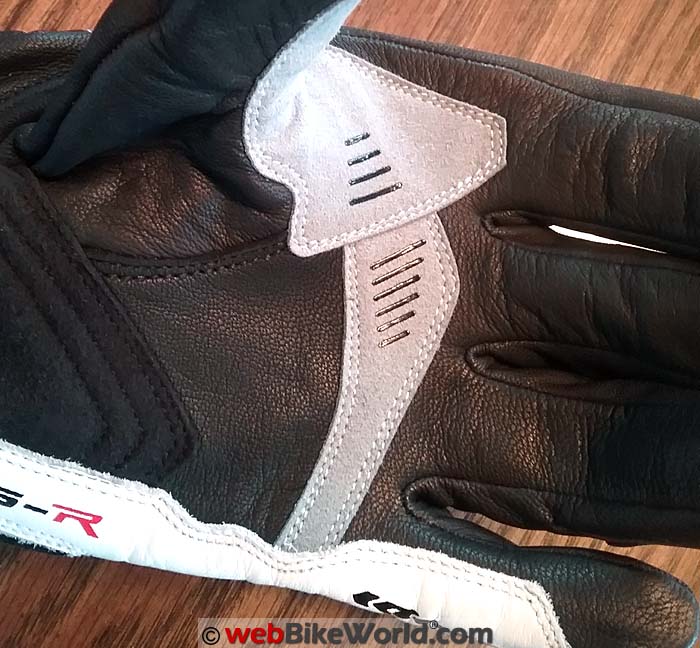 ---
Where to Buy Spidi STS-R Gloves
Check Reviews & Prices on Amazon
Check Reviews & Prices On RevZilla
Also: Motorcycle Jackets, Motorcycle Gloves, Motorcycle Boots, Motorcycle Pants
---
Sizing and Fit
All my gloves are a size medium (these are labeled as both medium and European size 8), so that's what I ordered from Spidi.
The finger length is excellent; they don't put any pressure on my fingertips when riding.
However, the STS-R gloves are a little wider through the palm area compared to my other gloves and this is even more apparent after wearing them for a few weeks.
So this translates into some extra space for my thumb and little finger.
The only time I notice this when I'm riding, however, is when I'm covering the brake. But when my hands are curled around the grips, this extra roominess inside the gloves disappears.
I thought about trying a smaller size but I didn't want to sacrifice finger length, since this pair feels so comfortable when I'm on the bike.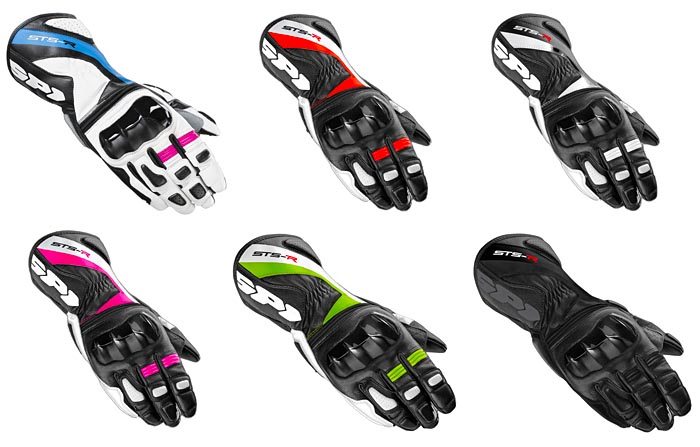 Spidi STS-R glove colors.
Sizes, Colors and Price
The Spidi STS-R gloves come in four different colors for both men and women, although the color choices vary slightly.
For women, the STS-R gloves come in black with white accents as shown in this review; a white version with black accents that also has a small splash of pink and powder blue, a black, red and white version and a version with black, pink and white.
Men get basic all-black; red and black; the black and white shown in this review and black with Kawasaki green.
These gloves are pretty racy looking with the different color combinations and the Spidi logo splashed across them.
I felt faster just wearing them!
Sizes run from XS to XL in women's sizes and M to 3XL in men's sizes.
That's a good range for both women's and men's gloves and they have a list price of $109.90, which is really quite inexpensive for all the features included.
But, both the men's and women's versions are currently on sale through this webBikeWorld Affiliate link to RevZilla for $84.92 with free shipping.
Conclusion
The Spidi STS-R gloves are really comfortable, well constructed, technically superior gloves that are just a retention strap away from being a nice lightweight racing glove.
w

BW

 Review: Spidi STS-R Gloves
List Price (2016): $109.90
Colors: Black w/black, red, white, green.
Sizes: XS-XL (W). M-3XL (M).
Review Date: December 2016
Note:
 For informational use only. All material and photographs are Copyright © webWorld International, LLC since 2000. All rights reserved. See the webBikeWorld® 
Site Info page
. Product specifications, features and details may change or differ from our descriptions. Always check before purchasing. Read the
Terms and Conditions
!
---
Where to Buy Spidi STS-R Gloves
Check Reviews & Prices on Amazon
Check Reviews & Prices On RevZilla
Also: Motorcycle Jackets, Motorcycle Gloves, Motorcycle Boots, Motorcycle Pants
---
Owner Comments and Feedback
Other WebBikeWorld Gloves Posts