Spidi Avant Garde Lady Gloves Review Summary
Spidi Avant Garde Lady Gloves Image Gallery
The new Spidi Avant Garde gloves are about as comfy as you'll get in a motorcycle glove.
The leather is super-soft sheep and goat hide with dress glove feel.
The interior is lined with soft and fluffy micro-fleece, just like ski gloves.
But don't let the looks fool you; there's a pliable main knuckle protector under that soft exterior.
The Avant Garde gloves are also waterproof and breathable with an H2Out membrane lining.
Warmth is maintained via the 100 grams of thick Primaloft insulation and elastic knitted cuffs which combine to keep the cold air at bay.
There's a wrist strap with snaps and maybe some hook-and-loop would have been better.
But the Avant Garde gloves are very comfortable and waterproof for cool-weather city riding, commuting or touring.
In case you haven't noticed, the hottest thing in motorcycling recently is "Urban Style" — street-look clothing designed for motorcycling.
This is protective gear that you'd never know was protective and it looks darn good.
The big clothing companies are leading the way — Spidi, REV'IT! and others. Their Urban clothing looks so good, we're told that even non-motorcyclists are buying the jackets.
We have reviewed some of this "dual use" street-or-ride gear and there's lots more to come.
Examples include the textile Spidi Master Combat jacket (review) and the leather Spidi Firebird jacket (review), the REV'IT! Jersey and Philly jeans (review) and more.
The Spidi Avant Garde gloves fit right in with this new philosophy and they're also an excellent match for the Spidi jackets we've reviewed.
But like all properly designed Urban motorcycle gear, the Avant Garde gloves aren't just about style. They work for touring, general street riding, commuting and, yes, off the motorcycle too.
In fact, they're probably better than any cool-weather street dress gloves you own, because they're fully waterproof, breathable and I'd bet they're also warmer and more comfortable.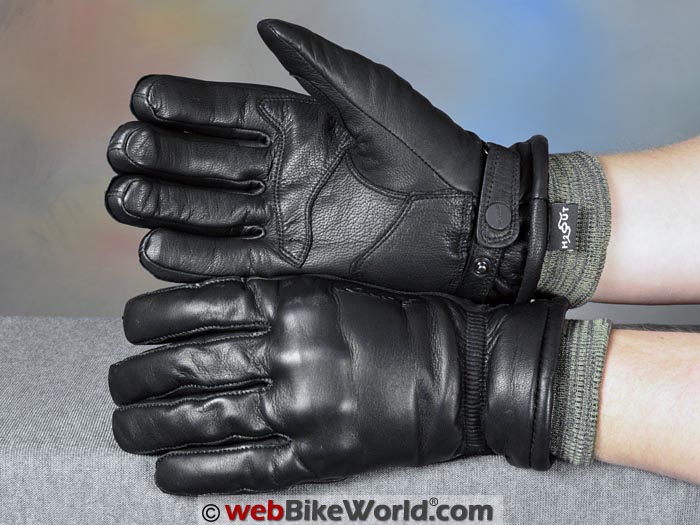 Like all of the Spidi gear we've seen, the Avant Garde gloves are beautifully made and combine style with substance.
The first thing you notice is the ultra-soft leather. Spidi uses 0.7 mm thick sheep hide on top and the same thickness of goat hide on the palms.
Sheep leather is a first for us; I don't remember seeing this used before in motorcycle gloves. But I know a little about it and the leather used by Spidi appears to be from hair sheep, which have more fibers per square unit of area than wool sheep.
This makes a very smooth, very soft and pliable leather when properly conditioned.
The Olympia gloves website says of hair sheep leather that "The main attributes are a very smooth and soft/supple grain combined with light weight and extreme tensile strength."
The underside of the Avant Garde gloves is goat leather and the difference in texture and grain is immediately noticeable. The goat hide is also very soft but nothing like the buttery goodness of the sheep skin.
Stitching and Construction
The Avant Garde gloves are very nicely made, with a combination of dress gloves and motorcycle gloves stitching, hidden, single and double.
The fingers use the "box" type construction for plenty of room, which is necessary also due to the thick Primaloft insulation, which covers even the fingertips.
The entire top and bottom halves of the gloves are single sections, with the sheep leather on top and goat on the palm side.
This means that no stitching is needed there other than on the palm, which has an extra abrasion section of goat leather covering the heel of the hand and a section at the palm.
Both of those added sections are double-stitched.
Each glove also has an elastic cuff sewn in, which keeps the cold air from entering and gives the gloves an added feeling of security.
Wrist Security
Spidi uses a strip of elastic sewn into the back of the wrist and a leather wrist strap on the bottom of each of the Avant Garde gloves.
The wrist strap does not use the typical hook-and-loop system. Instead, it has just two metal snaps to secure the strap.
The snaps could have been located a little farther out towards the edge, at least on these size large gloves, because no one will use the first snap and the second doesn't quite make the glove tight enough.
With some effort, I can pull a secured glove off my hand, but it does take a bit of doing, so the wrist strap does add some security.
Protection
Let's discuss protection next, because that's the most significant compromise you'll be facing with any Urban motorcycle clothing choice.
It's obvious that the Avant Garde gloves won't be worn by Jonathan Rea or Chaz Davies in a World Superbike race.
And there's the argument that just because you're on a scooter or doing some urban commuting, you still need good protection…and maybe more.
But the reality is that you're much more likely to ride a two-wheeled conveyance to work or other chores if you can wear some clothing that isn't going to make you look like Rea or Davies when you get there.
If you've been riding motorcycles as long as I have, you know that back then we didn't even have dedicated motorcycle wear with protectors, much less waterproof and breathable membrane liners.
As we've said before, it's a compromise and each rider has to make their own risk vs. reward calculation.
That's not to say that the Avant Garde gloves are without any protection at all. Besides the natural abrasion protection of leather, there's a soft main knuckle protector floating underneath the upper surface.
It's hard to tell what it is and Spidi doesn't have any technical details that we could find, but it's something anyway.
There are no other hard or soft protectors on the gloves, so it's up to the leather and the rather thick Primaloft insulation to cushion the rest.
Again, you won't be wearing these on track day, so for general low-speed putzing, cruising and commuting, you should be fine. Which is exactly what the Avant Garde gloves are designed for.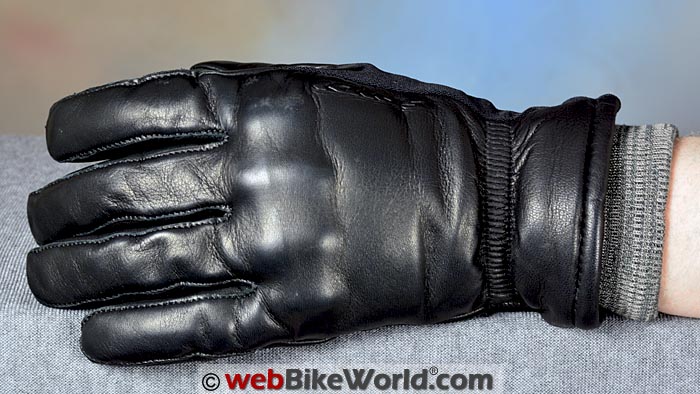 Ventilation
The Avant Garde gloves are designed for cool weather, with the 100 grams of Primaloft insulation under the H2Out liner. There are no vents anywhere on the gloves.
The H2Out is a waterproof and breathable membrane and leather has natural porosities, so that takes the place of the vents that won't do much anyway.
Let's face it — unless a motorcycle glove has a lot of mesh surface area, vents are fairly redundant.
Waterproof H2Out Liner
The most surprising thing to us with the Avant Garde gloves is that they really are truly waterproof. Between the design and the stitching and the overall purpose, we just didn't think they'd pass the "Bucket Test".
But they did, no problems at all.
In fact, the fine grain of the sheep and goat hide has a natural tendency to resist water intrusion and the leather didn't feel soggy after 3 minutes completely submerged and the gloves also dried very quickly.
The Primaloft insulation does such a good job and is so expertly stitched around even the fingertips that my hands didn't feel the cold from the water in the outdoors bucket at all, another surprise.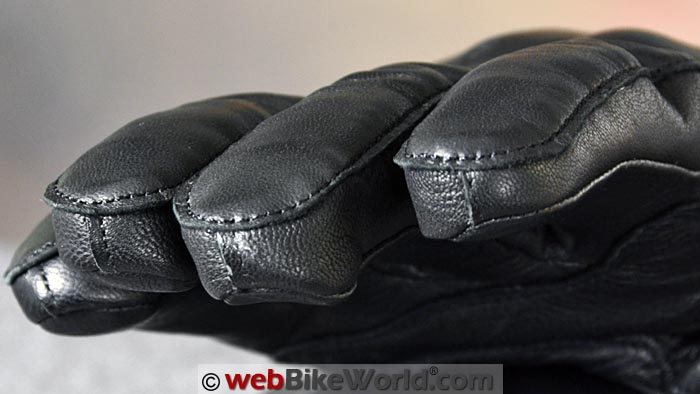 Sizing
The Avant Garde gloves start in size M and go all the way up to 4XL. That corresponds to a U.S. size 8 up to a size 12, which is pretty big.
The gloves shown here are size L and they fit about 1/2 size big, with some extra room in the fingertips.
The interior is a soft micro-fleece and it does "stick" a little bit when my hands are sweaty or wet, although the lining has not turned inside-out as sometimes happens.
But some caution is advised when taking the gloves off; it's best to hold the fingertips with the opposite hand as each glove is removed.
Riding With the Avant Garde Gloves
I've been wearing the gloves during the winter, in temperatures down to about 40 F (4 C) and they're nice and warm, so no issues at all with that.
The H2Out liner also blocks the wind and cold air and the thick Primaloft insulation is very efficient.
The very soft leather combination and absence of hard protectors makes for a very comfortable experience.
It's quite different from the very protective type of motorcycle gloves but not unlike most winter motorcycle gloves, which typically prioritize warmth over protectors.
It's actually a different feeling and reminds me of the leather work gloves we used to wear back in the day…
Although we'd usually have to buy those unlined gloves a size or two big and wear those dark brown cotton uni-sized throwaway gloves underneath for warmth.
Believe me, the Spidi Avant Garde gloves are light years better than that old combination!
Conclusion
The Spidi Avant Garde gloves don't just look the part — they actually perform, probably better than most of the other cool weather gloves you own.
The fact that they proved absolutely waterproof in our "Bucket Test" is amazing in and of itself.
These gloves are about as comfortable as you'll find, even when compared to pure street or dress or ski gloves.
It may take some mind changing to think that you can buy a pair of gloves that not only look good but are very comfortable, very warm and offer a bit of protection for motorcycle riding.
But the Avant Garde gloves aren't that far removed from your average winter motorcycle glove when it comes to protection, so it's not really that big of a mental leap.
And like all well-designed Urban motorcycle gear, you could wear these gloves on the street, off the bike and no one would blink. In fact, you'd look pretty stylish and that's what the Urban motorcycle clothing movement is all about.
The Spidi Avant Garde gloves are brand new and just entering the retail distribution chain, so look for them soon.
Also: Spidi Avant Garde Lady Gloves Review
w

BW

 Review: Spidi Avant Garde Gloves
List Price (2016): $139.90
Made In: Indonesia
Colors: Black
Sizes: M-4XL
Review Date: March 2016
Note:
 For informational use only. All material and photographs are Copyright © webWorld International, LLC since 2000. All rights reserved. See the webBikeWorld® 
Site Info page
. Product specifications, features and details may change or differ from our descriptions. Always check before purchasing. Read the
Terms and Conditions
!
Owner

 Comments and Feedback