Spartan SL-1 Gloves Image Gallery
The Spartan SL-1 gloves have outstanding quality, comfort and a real-world fit. They have "box" type fingertips not always found on race-style gloves. The stitching on the Spartan SL-1 gloves has to be the best I've ever seen. I'm not fond of the use of real stingray hide for abrasion resistance, however. Surely there is a synthetic material that can be used instead?
When the Editor handed me these Spartan SL-1 gloves before leaving for the EICMA show in Italy, I was immediately impressed. I wasn't familiar with the company, which also specializes in custom-made leather race suits. But if the suits are made anything like the gloves, they should be super. The Spartan SL-1 gloves were impressive right out of the box and the first thing I inspected was the fingertips, usually a good indicator of both construction quality and comfort in motorcycle gloves.
They passed with flying colors. Then after slipping one on, I realized I'd be in for a treat. Spartan Leathers is located in Charlestown, Indiana, just north of Louisville, Kentucky. The company specializes in custom-made leather suits, with 13 different designs in the current lineup, including a leather suit designed for women. I only know as much about the company as I found on their website and through my impressions whilst wearing the SL-1 gloves over the past few weeks.
In addition to their leather suits, Spartan designs and sells custom fitted jackets, pants and accessories like back protectors. They currently list two different styles of gloves, a race type (the SL-1 shown here) and the spartan "Charge" gloves for street riding. The leather suits are apparently designed by Spartan and then made to their specifications in Pakistan. Now while this may be surprising, there shouldn't be a worry, because Pakistan is basically the world hub for leather clothing manufacturing and many world-famous motorcycle clothing providers have their products made there.
We don't usually review the really inexpensive, no-name brands on webBikeWorld.com, so I can't comment on the quality of cheap leather goods that come from Pakistan or anywhere else. But I'll be frank and say that there is probably some bias against products coming from Asia, but in talking it over with Rick and Bill, we realized that based on our experience, we have nothing but respect for the leather crafters from that country.
In today's globally integrated supply network, you can pretty much have anything you'd like made to your exact specifications anywhere in the world and many of the very high-end leather clothing retailers do just that, with a tight supply chain.
Of course, there's the issue of outsourced jobs, but I'm not referring to that issue — I'm talking about the technical quality of the goods. And all I can say is that the quality of these Spartan SL-1 gloves is outstanding.
Now some might say that perhaps Spartan sent us a hand-picked sample, but that would be pretty foolish, as I'm sure that sharp-eyed webBikeWorld customers would quickly discover the ploy.
So I have to assume that the gloves I've been wearing are representative of the lineup.
Spartan SL-1 Gloves
Handling as many different products as we see in a year's time sort of fine-tunes that all-important first impression, which often yields an excellent insight for on-bike performance.
Of course, first impressions can also mislead, but being serious about product evaluations and reviews means setting aside emotions — as much as possible — to render a neutral, objective judgment. But in this case, the performance matched the expectations.
First is the use of all kangaroo hide in the SL-1 gloves. I never thought much about differences in kangaroo leather quality or types — thinking that kangaroo was kangaroo.
But Spartan says the leather used in the SL-1 gloves comes from Packer Leather, apparently a leading source for quality Australian kangaroo hides.
The SL-1 gloves are made from 0.8 mm thick hide, according to Spartan. Many race gloves use kangaroo leather in the palms and cowhide elsewhere but the use of kangaroo for the entire glove seems unusual.
Kangaroo leather is said to be lighter but more abrasion-resistant than cowhide and for that reason it's frequently used in higher-quality motorcycle gloves. It also usually provides better feel for the grips, a plus in racing.
For more information about this type of leather, Packer has an interesting explanation of thebenefits of kangaroo leather, along with photographs and illustrations, on their website.
The kangaroo leather feels immediately broken in and very soft and pliable and the SL-1 gloves provide excellent feel for the grips.
The gloves are unlined on the palms and palm side of the fingers, which gives the good feel. The top half of the gloves are lined with a comfortably soft Kevlar fabric for extra protection.
Safety and Protection
The SL-1 gloves have another unusual feature: titanium main knuckle protectors. This is different from the usual carbon fiber, plastic or even steel protectors often found on motorcycle gloves.
Titanium has a unique matte/gloss finish with a darker gray color and, of course, it's a very light weight material.
I think the lightness can be felt in these gloves, between the kangaroo hide and the titanium, it makes a difference with each size large glove weighing only 174 grams.
The titanium does seem to become easily scuffed, but it also has that special titanium "self healing" property. Small scratches and abrasions can disappear over time from the surface of titanium, having something to do with the oxidation process peculiar to this metal.
It can also be polished with a "Cape Cod" cloth
 or a fine textured Scotchbrite for the fussy.
The knuckle protectors on the fingers of the SL-1 gloves are made from TPU (Thermoplastic Polyurethane). These cover the middle knuckles on the first and second fingers and both the middle and top knuckles on the third and fourth fingers.
The third and fourth fingers are also joined together with a leather strip (photo above), as is the fashion on some race gloves, to hold the pinky finger to help prevent it from rolling under during a crash.
The top knuckle protectors on the third and fourth fingers are sewn onto a floating leather section for added flexibility.
This is a minor but important point, as those fingers have less muscle power than the index and second finger and the floating protectors provide more flexibility, which helps to keep my hands from getting tired when holding the handlebars.
Stingray Abrasion Protection?
The other main protective feature of the SL-1 gloves is the use of stingray hide for abrasion resistance. This material is sewn on the heel of the gloves, extending slightly to the outside.
Two smaller sections are located at the outside of the wrist.
Spartan claims that stingray are not over-fished or threatened and the "skins are a by-product of the fishing industry and if not used as we are using them otherwise would normally be wasted".
Now I realize this may seem hypocritical because I'm not complaining about the use of leather in motorcycle gloves, but cows are by no means threatened and the hides are a byproduct of the incredibly huge meat industry.
Kangaroos I'm a bit more hesitant about, although I'll go with it.
Some say they're pests, but I'll have to assume the Packer Leather is using some type of sustainable kangaroo and that the Australian government has adequate controls over the management of this resource.
(See "Commercial Harvesting of Kangaroos in Australia", Tony Pople and Gordon Grigg, Department of Zoology, The University of Queensland, 1999).
But stingrays, well, I'm not so sure. First of all, what proof is there that stingray is any better for abrasion protection than, say, Kevlar, TPU, metal or any of the other synthetic materials often used in motorcycle gloves?
And second, since there is no such thing as a stingray farm, how do we know if the stingrays used in the gloves are being harvested in some type of sustainable manner?
Also, the question about the viability of stingray species is far from settled. In fact, there isn't enough data for most of the species to even make a guess.
You can visit the International Union for the Conservation of Nature (IUCN) "Red List of Threatened Species" and search on stingrays to learn more.
Personally, I'm a bit hinky on using stingray for abrasion protection, especially when there are many other proven synthetic products that could be used instead.
So I'll have to leave that one up to you; my preference would be for Spartan to discontinue the use of this material and I don't think it would make a bit of difference to the effectiveness of the gloves.
Fit and Fastenings
The size large SL-1 gloves have a roomy fit and the box-shaped fingertips definitely help. Many race gloves have tapered fingers but the construction used on the SL-1 gloves seems more like the type that might be found in a touring glove.
Where some or most (or at least many) race gloves feel tight and many seem to run small, these may even be slightly big.
No complaints though, as the extra room allows for swelling of the hands and also helps when the hands become sweaty.
The leather is perforated on the sides of the fingers and along the forefinger and this does allow some air to pass through. It can be felt if the outside air is cold, but it's a subtle type of ventilation that is also effective.
Overall I think the lighter weight of these gloves and the use of kangaroo hide also helps prevent that steam bath feeling.
The gauntlet is adequately sized to fit over a motorcycle jacket sleeve cuff, although like most gloves, it could probably be just a touch longer and wider.
The top of the gauntlet has a very nice-looking accordion pleated section that feels like it may have some elastic underneath. It stretches about 20%, which helps.
The gloves have a separate wrist closure on the underside that is also nicely attached and does not feel like it binds when the wrist is bent.
The gauntlet has the usual large hook-and-loop flap for a cover.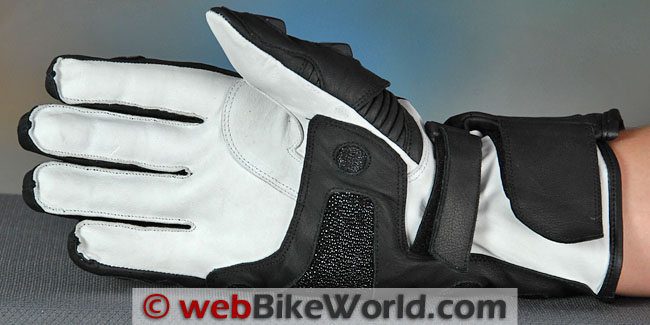 Riding With the Spartan SL-1 Gloves
The slight amount of extra room in the SL-1 gloves along with the surprisingly comfortable Kevlar lining and the kangaroo hide makes them a pleasure to wear.
The finger design is especially nice because of the additional room created by the "box" construction. I look at these gloves as a sturdy pair of sport/race gloves with the comfort of touring gloves and I can't think of another pair that combines the two so nicely.
Motorcycle gloves often feel good in the store but too many times, after I've been on the bike for 15 minutes or so, I can feel my fingertips or fingernails pressing into the tips of the gloves.
Or, the fingers fit well but the thumb is too short (or too long).
Not so with these; the fit is perfect for my hands and gives me the flexibility and room that I need without feeling too loose.
I'm hoping this will not change over time as the gloves become worn in, but I think I should be fine.
The stitching and construction is what really gives the SL-1 gloves a different appeal than your average race glove.
The combination of double rows and hidden seams is perfectly executed and again I'll say that these look like they're made better than any other pair of motorcycle gloves I can think of.
Spartan says the thread is Coats brand "high strength bonded nylon thread", so hopefully that's the good stuff that will keep it all together — certainly much better than cotton thread.
Rick's Additional Comments:  I have to agree completely with Burn's review; I was able to inspect the SL-1 gloves more closely upon my return from EICMA and the quality of the stitching on these is the best I've ever seen also.
It's perfectly lined up and every section of leather is perfectly cut and fitted, so congratulations to Spartan on this product.
The specifications of the gloves are also very high end, yet everything is functional.
These are very comfortable gloves, especially for "race" gloves. The fingers feel too big at first because of the box "touring" style construction.
But as soon as I bend my hand over the grips, I completely understand the strategy, because the fingers tighten up perfectly.
This is unlike some of the other race gloves that have a tapered cut on the top portion of the fingers, which makes them snug to start and then too tight when the hand is on the grips.
One more thing not mentioned is a strip of 3M Scotchlite across the back of each glove, which lights up pretty nicely when illuminated at night. I give the Spartan SL-1 gloves my highest rating, outstanding!
Conclusion
Speaking for the local crew, we are all very impressed with the quality, fit and comfort of the Spartan SL-1 gloves and the attention to detail and use of higher-spec bits to put these together.
The question of where the gloves are made is made irrelevant because Spartan has apparently found a leather fabricator who really knows what they're doing and has an obvious pride in their work.
And — based on this one example at least — Spartan seems to have good control over the final product.
So what started out having us think that these would be just another pair of generic motorcycle gloves made by an anonymous factory in Asia now has us wondering if this same attention to detail carries over to the Spartan leather suits.
If it does, I'm sure Spartan will be a name that you'll be hearing more from in the near future!
I can give the SL-1 gloves my highest recommendation, except for the use of stingray, of which I don't approve.
w

BW

 Review: Spartan SL-1 Gloves
Manufacturer: Spartan
List Price (2010): $199.99
Made In: Pakistan
Colors: Black with white.
Sizes: S to XXL
Review Date: November 2010
Note:
 For informational use only. All material and photographs are Copyright © webWorld International, LLC since 2000. All rights reserved. See the webBikeWorld® 
Site Info page
. Product specifications, features and details may change or differ from our descriptions. Always check before purchasing. Read the
Terms and Conditions
!
Owner Comments and Feedback
---
From "S.G." (06/2011):  After much research, and after reading your review of the Spartan SL-1 Gloves, I checked out the Spartan Leathers company and ended up purchasing their older model "Charge" gloves at a discounted $75.
After over 1000 miles with them, I could not be happier. They appear to have every feature that the $200 SL-1 gloves have, with two notable exceptions.
The main knuckle protector is plastic, not titanium, and they do not use stingray hide (which Burn was against anyway).
Everything else is there: Floating knuckle protector and thumb.
Outstanding fit and construction (cannot say enough, truly amazing!). External finger stitching. Kangaroo palms. Kevlar lined. Double securing straps. Perforated leather between fingers to keep cool (and it works!). Connected pinky finger. Coats brand nylon thread.
Combine all that with the fact that right now they offer this model with red or blue accents at a closeout price of $50, and you have a bona-fide STEAL!
With your recent review of low-priced gloves, I had to mention these. I feel 100% protected with them and they are as comfy as a second skin."