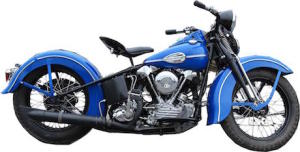 Now that the Sons of Anarchy series has gone out in a puff of exhaust smoke, the motorcycle and other memorabilia from the show are being offered in an online auction by Screenbid.
The makers at FX are selling 700 props, costumes and motorcycles from the seven-season series with proceeds going to various charities. But you'll have to be quick as it finishes today.
One of the highlight items is the 1949 Harley-Davidson that Jax rides off in the final scene after bidding farewell to Able, Thomas and Wendy.
The seven-year series became a huge hit with worldwide recognition and more than 9 million Americans tuning in for the final on December 9.
The Kurt Sutter series' final season was the most watched season in the history of its Fox-affiliated network, with an average 7.54 million viewers each episode.
Merchandise form the show proved very popular, in particular t-shirts. In one notorious incident, a man wearing a Sons of Anarchy t-shirt was harassed by Queensland Police in Mt Isa.
In the aftermath of the Queensland Government's draconian VLAD Act and other anti-bikie and anti-association laws, police became confused, thinking SAMCRO was a real outlaw bikie gang.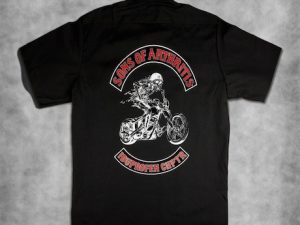 The police were left very embarrassed about not knowing the difference between a fictional outlaw bikie club and real motorcycle clubs.
Other merchandise has been spawned by the show, including joke t-shirts with "Sons of Arthritis (Ibuprofen Chapter)" on them and featuring a decrepit skeleton.
Here are some other suggested SAMCRO rip-off logos:
Sons of Aggro (Lithium Chapter)
Sons of ADHD (Ritalin Chapter)
Sons of Apathy (Who Cares Chapter)
Sons of Agraphobia (Closet Chapter)
Sons of Agony (Panadol Chapter)
One of the controversies from the ultra-violent show included Sons of Anarchy star Mark Boone Jr saying the show "saved Harley".