Electric motorcycles charged from mains power are starting to make inroads into mainstream production, but an African university is already ahead of the pack with solar power.
Three students from the University of Nairobi have built a system they call Ecotran, which captures the sun's energy, stores it in batteries, and uses it to charge a motorcycle's electric motor.
The technology is already being used in Nairobi motorcycle and scooter taxis.
As much of western Kenya has no grid electricity and many towns and cities have frequent power disruptions, solar energy is a promising alternative.
Not only is it cheaper than paying for grid power, but it's also the cleaner option for countries that burn coal to make mains power.
The three students have set up a company called Pfoofy Solar and established a "fuelling" station with 40 photovoltaic units, each generating 250-watts of electricity.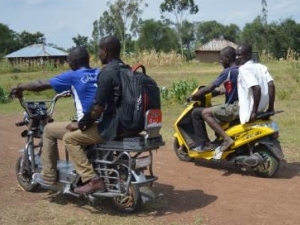 The energy is stored in batteries before being transformed by powerful inverters into the alternating current needed by the motorcycle.
They developed their system in 2014 at a climate change innovation centre at Strathmore Business School in Nairobi.
The United States African Development Fund and Power Africa have now granted them $US100,000 to further develop their project with new motorcycles imported from China.
Other solar-powered motorcycles include Arizona inventor Richard Gryzch's Solar Flyer motorcycle with flexible solar panels coating its outer skin and a bike with panels on its roof invented by Mustafa Mohammadi a young Afghan student.
It shouldn't be long before the major motorcycle companies turn their attention to the sun.