Solar Joos Battery Charger Image Gallery
The Solar Joos Orange is a portable solar battery charger.
It's designed to charge cell phones, tablets, GPS units, MP3 players, digital cameras and more.
It's a very rugged unit with a polycarbonate and metal body and encapsulated or "potted" solar cells.
The charger has one rather strangely located hole, which can be used to secure (lock or chain) the unit.
However, attaching it to a motorcycle luggage rack, to the luggage itself or to the upper part of of a top box is difficult.
The charger really needs a few D-rings or some other type of attachment system to make it more useful both on the bike and off.
The charger is waterproof rated to NEMA 6P, which provides some degree of water resistance (it can be left out in the rain).
The Solar Joos Orange charger takes about 12 hours of full sun to reach a 100% charge.
It can also be charged from a powered USB port.
Very small red and green blinking LEDs give some indication of the state of charge and the current status of the unit, but the lights can be confusing, because if no LEDs are blinking, that can mean either a full charge or zero charge.
The mini-USB port seems relatively weak and should be used with care and owners have complained about this issue.
It's very difficult to provide an accurate estimate of charging times due to varying amounts of sunlight.
But in my experience over the last 4 months in my latitude in winter weather, it takes about 2 days of full sun to completely charge the Solar Joos Orange unit.
Unfortunately, getting two full days of sun during the winter of 2013-2014 is a miracle.
The full charge then provides enough juice to bring two smartphones from around 10-20% charge to full charge.
The Solar Joos charger comes with two USB cables and a handful of USB/port adapters. One cable is use for charging a device from the Solar Joos charger, while the other cable is used to charge it from a powered USB port.
The second (white) cable can also be used with a free app that is available for download.
The app shows the state of the battery, current charging rates and more.
But the app is not available for smartphones or tablets, which is very strange, considering that the charger is sold as a highly portable unit for rugged outdoor use like camping, boating, motorcycling and more.
Overall, the Solar Joos Orange solar charger works well and has been reliable. Whether it really helps the environment is questionable. You'll need patience, because it takes a couple of days worth of sunshine to bring it up to full charge.
But, the Solar Joos charger may be the only solution for small device charging when no electricity is available. As long as you have a few sunny days and your device doesn't need a top-up in as long, you should be OK.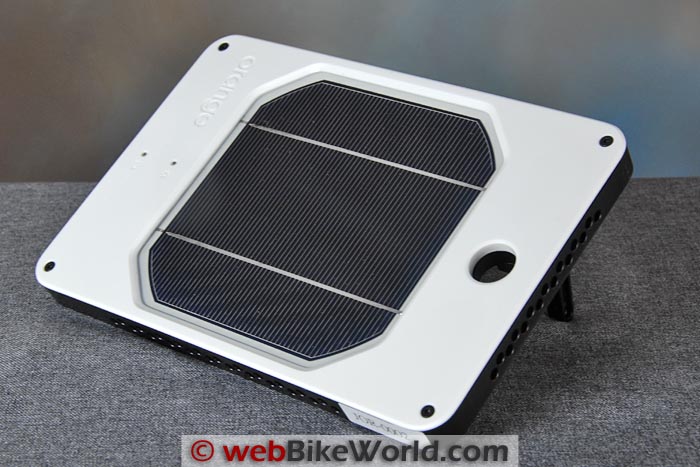 I was looking for a solar battery charger I could take on motorcycle trips and backwoods treks because I wanted an easy and free way to keep my cell phone, GPS and camera charged up and ready to go.
Solar panel technology has improved quite a bit over the last decade, although not nearly as much as some would have hoped.
But the technology advances have led to the introduction of quite a few portable solar chargers, although many of them are too clumsy for motorcycle use or outdoor trekking.
My criteria included small size, rugged build quality and, of course, fast charging (both ways). As it turns out, you can get A and you can get B, but C is a goal yet to be reached by any of the current batch of small, portable device chargers.
So I searched around and read a bunch of reviews and decided on the Solar Joos "Orange" charger.
I had never owned a solar charger before, so I had to depend on what the online masses have said about it — always an iffy proposition because you never really know how the product is going to perform for your specific requirements until you fork over the dough and tear open the box.
(Editor's Note: See the webBikeWorld PulseTech Solar Battery Charger Review)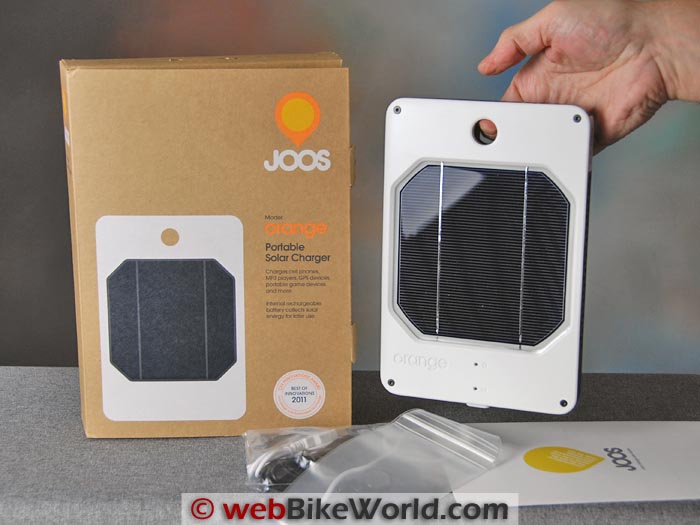 The Solar Joos "Orange" Solar Charger
One of the features that impressed me was the rugged build quality of the Solar Joos (pronounced "Juice") charger — an important feature for motorcycle use and/or off-road knocking about.
It sure is rugged — it's probably twice as heavy, maybe twice as thick and 30% bigger than most of the other small solar portable device chargers (SSPDC, a new acronym?).
The charger measures 145 mm by 218 mm and it's 20 mm thick, or 5-3/4″ by 8-5/8″ by 3/4″ thick in old money. This is a lot bigger than the other solar chargers I considered.
The Solar Joos charger tips the scales at 702 grams, or 1 lb., 8-3/4″.
The body is heavy-duty polycarbonate covering what appears to be a metal backbone or skeleton. It's put together with nice-looking metal Phillips head and hex screws and the metal frame is perforated along each of the sides, I assume for cooling purposes, since the charger is designed to be placed in the hot sun.
The solar array is epoxied into the unit and recessed by about 2 mm to keep it protected. In the rear, two fold-down arms snap firmly into position through three detents to hold the solar array at an angle to the sun.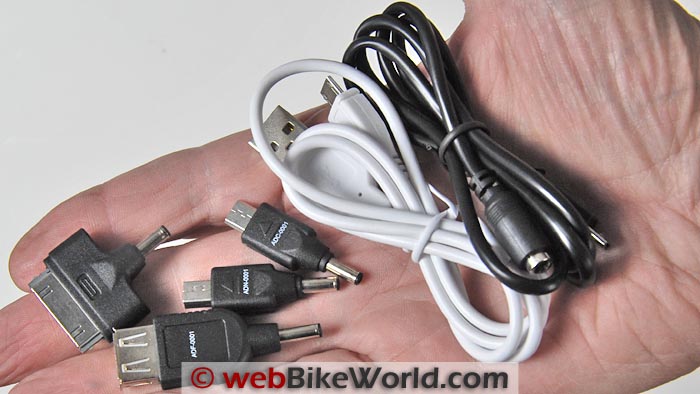 The charger comes with two USB cables; one is for connecting the device to be charged, and it comes with 4 different types of connectors.
The other USB cable is white and it is used only to connect the Solar Joos charger to a computer, either for charging via a powered USB port or to connect the charger to use the free Solar Joos "myJOOS" software, a free app that runs only on computers or laptops and not smartphones or tablets.
I'm very surprised that, considering the market and the demographic for this type of device solar charger, that the company doesn't also provide a smartphone app.
Who wants to carry a laptop out in the field to check your solar charger battery life?
Fortunately, the app really isn't necessary, as long as you can remember the somewhat confusing red/green LED light signals, which I'll describe in a minute.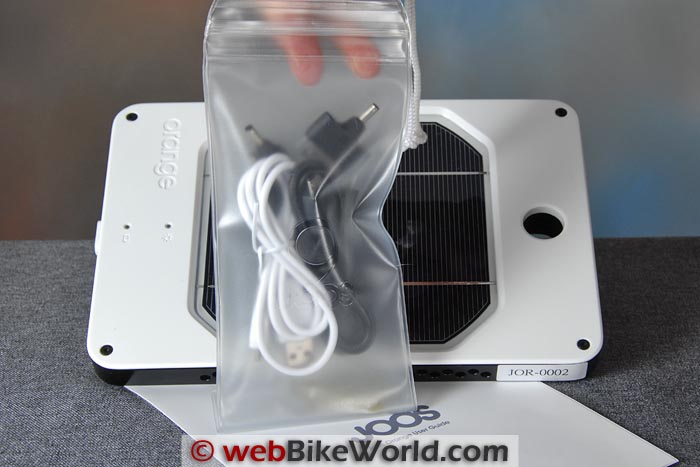 Waterproof Rating
The Solar Joos Orange charger is rated using the NEMA, or National Electrical Manufacturers Association Enclosure Type (.pdf) rating of 6P rather than the IP ratings motorcyclists are more familiar with.
With regards to water resistance, a 6P rating is defined as "provide(s) a degree of protection with respect to harmful effects on the equipment due to the ingress of water (hose directed water and the entry of water during prolonged submersion at a limited depth)".
Again, I think the USB port cover is the weakest link here. I would absolutely not feel comfortable in dipping the charger into water, dropping it overboard or hitting it with water from a hose.
I'd really like to see a stronger USB port cover, because the current design barely grips the body of the charger and I'm not sure at all how anyone could say the device is waterproof.
The mini-USB port is covered by a rubber stopper on one end.
It's a bit flimsy and I think they should have at least mounted the attached rubber (or silicone) strap so that it is anchored on the top, rather than the bottom of the charger, so that rain or water would drip down over the strap and the plug for better protection.
The plug isn't a very good fit into the recess covering the USB port, so you have to be careful to make sure it's tight (or as tight as you can get it) to prevent water from entering the USB port, which is probably the weakest link in the chain.
That said, I have definitely left the Solar Joos Orange charger out in the rain, snow and ice many times. As long as it's angled up on the deployed feet and the USB port cover is as secured as it's possible to make it, I've had no problems.
I've also left the charger outside overnight in temperatures down to -16 C (4 F), brought it in the house in the morning and plugged in my cell phone for a charge.


Specifications and Charge Time
Solar Joos says the Orange charger uses the "highest efficiency commercially available monocrystalline solar cell with silicon nitride, anti-reflective coating solar cells connected in parallel".
The battery is rated for 1,000 charge cycles and puts out 3.7 Volts.
It has an owner-replaceable lithium-ion polymer battery (definitely a good feature) and the charge time is rated at 20Wh (5400mAh).
The time to go from zero to a full charge is claimed to be 12 hours of direct sunlight or 8 hours when connected to a powered USB port.
I think that's about right, because here at about 39 degrees of north latitude, it takes about two full days to bring the charger up to a full or nearly so charge, and that's placing the charger out facing the sun first thing in the morning, around 7:00 a.m.
Don't forget, you also have to take into account sun angles during the day and passing clouds.
Security and Mounting
The Solar Joos Orange charger has a big 20 mm hole at one end that's supposed to be the security feature; you can put a cable or wire tie or something through there to secure the charger to hold it and prevent theft.
It's kind of a strange feature, although it works for theft prevention, it doesn't work very well for securing the charger to, well, anything.
I really wish there were maybe four D-rings on the charger, two on either end, that could be used to strap it down to a piece of motorcycle luggage, a luggage rack or top box.
My original idea was that I'd be re-charging the solar charger whilst riding and have power to charge my smartphone or GPS at night. I envisioned having the Solar Joos charger attached to the top of the top box.
But as it is, it's pretty difficult to attach the charger to anything, although many owners have done so by placing the straps over the white part of the top of the charger.
I have to say, I haven't messed around all that much with strapping it down, preferring instead to lay the charger out in the sun when I'm not riding.
There are two tapped holes on each of the long sides of the charger; these are metal and designed to hold an accessory reflector that supposedly helps to speed up the charging.
It probably wouldn't be too difficult to rig up something to bolt into the threaded holes that could hold a set of D-rings or angle brackets or something to hold the charger. One of these days, I'll have to try it.
w

BW

 Video: Solar JOOS Solar Charger
LED Charge Indicators
If you're not going to use the myJOOS software app, it's important to understand the red and green LED light indicators and what they're telling you about the Solar Joos charger.
The weirdest thing in my opinion is that when the lights aren't blinking at all, it means both no charge or a full charge. That's just plain strange. You look at the LEDs, they're not blinking. Is the thing fully charged or fully depleeted?
Instead, they should have made it so that something like both the red and green lights blink maybe once every 5 seconds or so when full and nothing blinks when it's empty.
The "nothing happening" thing has occurred more than once when I went out in the evening after a full day and didn't know whether the thing was fully charged or something had happened and it never charged at all.
Otherwise, while it's in direct sunlight, the red light blinks 7-8 times fast and then you watch for the green light to tell you how much charge has been accumulated:
1 blink = <20%
2 blinks = 20-40%
3 blinks = 40-60%
4 blinks = 60-80%
5 blinks = 80-100%
You can also attach a device and it will charge as the Solar Joos charger is also charging. It does take a pretty powerful, clear amount of sun to get the thing percolating.
On a cloudy day or even if a cloud passes over, the red light will blink slowly, which indicates "low light charging mode". It's not really clear what that means or if the charger is really pushing any juice into the battery when it's in this mode.
The battery doesn't charge in normal indoor room light and it takes a couple of powerful LED flashlights, like two of the Clearwater 800 lumen LED flashlights (review) or the mind-bendingFandyfire UV-S5 flashlight (review) to get the green LED to blink.
Conclusion
I've been using the Solar JOOS Orange charger for several months to keep my cell phones and other devices charged. It's easy enough to use — open the box, put the charger out in the sun and that's it.
The only real issue is that it takes a couple of days of full sunlight to bring the Solar JOOS charger up to 100% capacity.
Although it doesn't need to be at 100% to charge a device (but I've found that it should at least have 20% or more battery charge indicated before attaching a device).
I've left it out in rain, snow and sleet with no problems; just be sure that the USB port plug is inserted.
My original plan of attaching it to the motorcycle sort of fell by the wayside at this point, but I haven't given up hope just yet. I've tried attaching the Solar JOOS charger to the luggage rack with limited success.
I plan on trying to fettle together a D-ring or some type of attachment system using the four threaded holes in the charger.
The best use of the Solar JOOS charger is to carry it along and deploy it at base camp. Having a solar charger really does come in handy, like during our recent power outage after a severe ice storm.
If you're planning a long off-road adventure, the Solar JOOS charger may even be a lifesaver, or at least you can listen to music on your MP3 player as you're scouring the woods looking for berries.
wBW Motorcycle Battery & Charger Reviews  |  Maintenance & Repair Articles
Also: iStart Portable Charger Review  |  PulseTech Solar Charger Review
w

BW

 Review: Solar JOOS Orange Solar Charger
Available From: Solar JOOS
List Price: $149.00
Colors: White/black
Made In: China
Review Date: March 2014
Note:
 For informational use only. All material and photographs are Copyright © webWorld International, LLC since 2000. All rights reserved. See the webBikeWorld® 
Site Info page
. Product specifications, features and details may change or differ from our descriptions. Always check before purchasing. Read the
Terms and Conditions
!
Owner Comments and Feedback