Snap-On LED Work Light Image Gallery
The Snap-On LED Work Light (part number 922261) puts out a claimed 2,000 lumens.
It's nicely made and it's rugged enough for garage use.
The light has 46 LEDs and the output is nice and wide with no hot spots.
It's not quite powerful enough to use as your only work light, unless you hang a pair of them on something like this adjustable work light tripod stand.
The stand idea is good even for one light, otherwise you'll have to place the Snap-On light on a shop cart or tool box.
If it's on the floor, the light casts a lot of shadows, which isn't optimal for working on a motorcycle.
The best thing about the Snap-On LED Work Light is that it runs very cool compared to those old halogen work lights.
The halogen lights run so hot they're actually pretty dangerous to use in a garage, especially around a motorcycle and/or fuel.
In fact, I trashed mine as soon as I realized how much cooler the Snap-On light is when it's on.
Some assembly is required for the Snap-On light; you'll have to attach the base, but that's easy enough.
The light tilts back and forth but the one criticism I have is that it can't be angled forward far enough.
I was walking around Costco one day and found this light for $29.99.
In the U.S.A., Snap-On is known for very high-quality and very pricey professional grade hand tools, so the familiar Snap-On red packaging immediately caught my eye.
If it's Snap-On, it has to be good, right?
Actually, the instruction manual lists Alltrade Tools, the privately held holding company that owns the Snap-On brand, as the manufacturer.
I grabbed one, thinking it was some kind of promotion that would quickly expire, as often happens at Costco.
But as far as I know, Costco members can still score one for that price, although you'll have to pay five bucks shipping if you don't buy it at the store (it's currently still listed on the Costco website).
30 bucks is a screamin' deal, but non-Costco members can also buy it through this link to Amazon.com (webBikeWorld Affiliate), where it gets 4.7 out of 5 stars from 576 reviewers as of this date.
On Amazon.com, it's currently going for $37.88, which is still a good deal (made even better if you can meet the $49.00 free shipping total).
For some reason, this work light doesn't show up on the Snap-On website or the Alltrade Tools website (both of which have absolutely awful internal search engines and search results).
So who knows if it will last? If you want one — and you should — grab it while you can.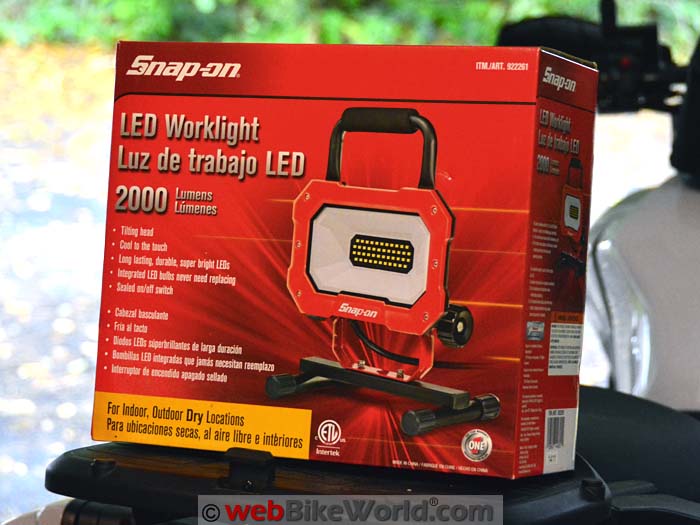 The Snap-On LED Work Light
The light is very well made, unlike most of the cheap 'n' cheesy junk you find at this price, made by some fly-by-night company in who-knows-where.
It's probably not a Snap-On "pro" level of quality, but definitely good enough for us nimrod wrenches to use in the garage.
The light is made mostly from some sort of very heavy-duty plastic, although the base parts and the reflector are metal (and the LEDs are covered by what appears to be a polycarbonate clear plate).
There's not much to running it: plug it in, turn it on, it lights up.
Oh, but first you'll have to attach the base, which has 4 washers including two lock washers which, curiously enough, go on the head side of the bolt rather than the nut side, according to the instructions.
Once tightened, the base is very sturdy and it has 4 rubberized feet for good grip.
It's also easy to loosen the two big friction dials on either side to tilt the light. Unfortunately, it doesn't tilt very far forward, while it tilts almost all the way back (see photo), which isn't as useful.
If it tilted farther forward, you'd have a more useful light when you mount it on a light stand or shelf. The tilting issue is due to the design and the way the light body is molded.
The instruction manual is way more detailed than you'd expect for a product like this and it's printed in English and Spanish.
It has a heavy-duty grounded three-prong, permanently attached electrical cord with a quality connector where it enters the back of the light housing.
The on/off switch is in the rear, it's a bit difficult to access and it's covered by a clear plastic square that maybe keeps out errant drips of fluid, but the light is definitely not water-resistant.
It could probably take a few sprays of something but don't mix water and electricity.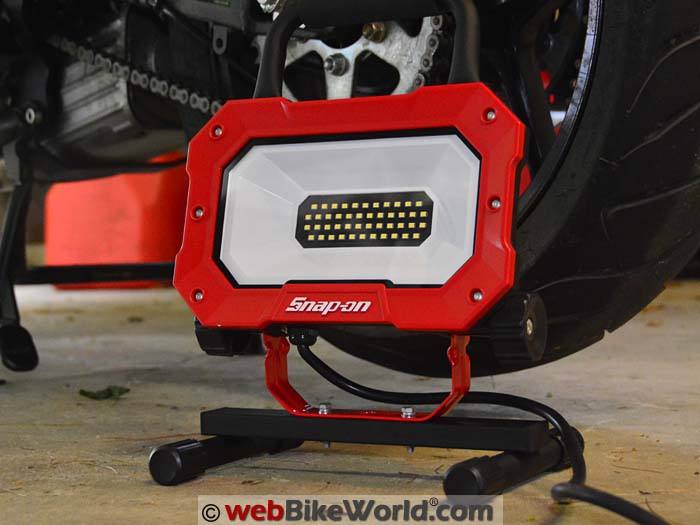 Specifications
Here's a table of specifications, gleaned from the instruction manual:
Output: 2,000 lumens
Wattage: 25 Watts
Voltage: 120 V at 60HZ
Number of LEDs: 46
Color Temperature: 5000 K
Working Temperature: 32 F to 122 F
Plug Type: Grounded 3-Prong
It's interesting to note that they actually include the color temperature. 5,000 Kelvin is right around noon daylight, which is a good range for viewing and for photos.
And here's more info:
Weight: 4 pounds
Dimensions: 11 x 10 x 4 inches
Model Number: 922261
Warranty: 1 year
Snap-On Light vs. Halogen
Overall, the light works well, it puts out a nicely distributed amount of light with no "hot spots" that's better than the cheap halogen work light I've owned for years but rarely use.
The main reason I don't use the halogen is because the thing quickly gets so incredibly hot that it's dangerous. You definitely do not want to touch any part of it or get it near the bike.
This makes it difficult to re-position the light if needed…which is difficult to do anyway because of the cheap and ineffective friction positioning screws it has.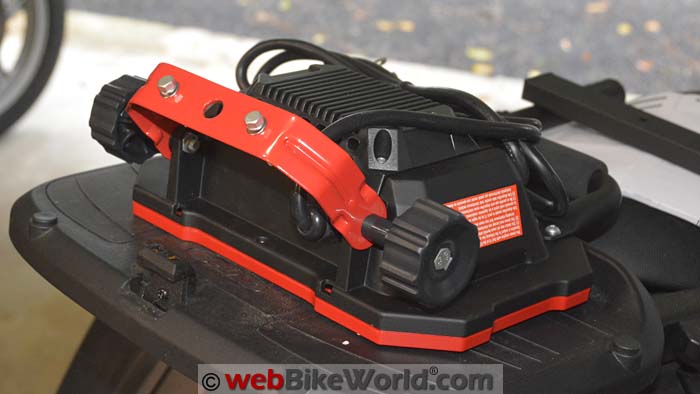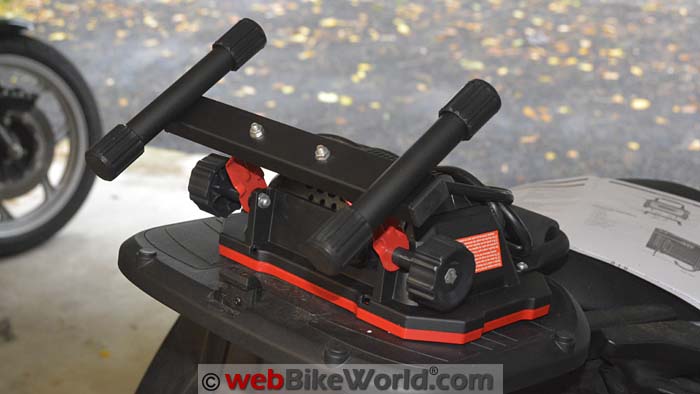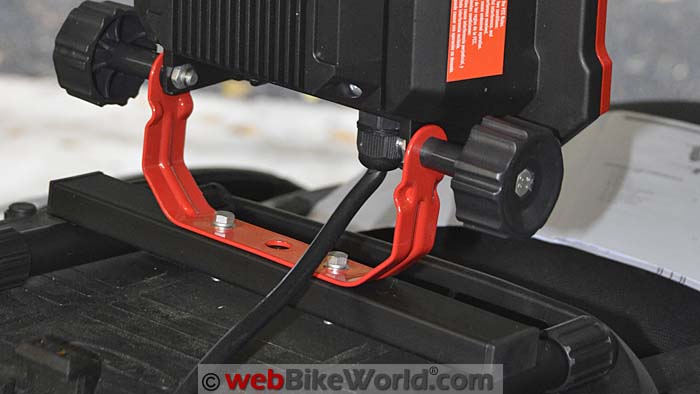 Positioning the Light
The Snap-On light has a completely different physical shape, which also gives it some positioning issues.
If the base is installed, the light is designed to sit on the floor or on a table or rolling tool cart or maybe a ladder or something to raise it to working height.
The problem with that is something I mentioned before — the light doesn't tilt forward as much as I'd like.
So if you have it mounted up higher than the bike or work area, you can't really angle the light down enough to help.
This is where a light tripod helps.
Even though a tripod may not have the ability to angle the light, at least you can raise the light to working height.
Then, the Snap-On light can be tilted forward, which should be sufficient to illuminate the work area correctly.
Also on positioning, some owners have recommended pointing the light at the ceiling to bounce the light, making it more even and giving it a broader spread.
But I haven't found this to work very well, even though the garage ceiling and walls are completely painted white.
The light output is probably too broad to begin with, so bouncing it just spreads it even further and there isn't enough light for me to work comfortably on the bike.
Perhaps if you used two or three Snap-On lights all bounced off the ceiling, it might work, but again, you'd be better off buying a work light tripod and using that for mounting the light instead.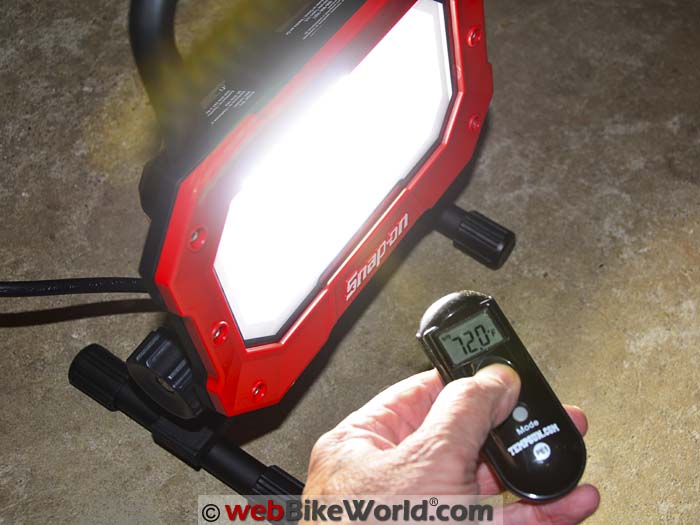 Cool Running LEDs
But probably the best feature of the Snap-On light — besides its light output — is that it runs very cool compared to a halogen or incandescent work light.
LEDs generally burn a lot cooler than other types of light technologies, but the electronics do generate heat; LEDs aren't perfectly cool.
In fact, some of the newer high-powered LEDs can actually generate significant heat, although they're still a lot cooler than equivalent halogen.
Halogen is one of the worst when it comes to heat output and incandescent isn't much better…but nobody uses those any more, right?
I measured the direct temperature of the face of the Snap-On light using the very handy Temp Gun Mini digital infrared thermometer (review).
The light puts out only around 72 degrees Fahrenheit (22 C), which is basically room temperature. You can see that in one of the photos I have included.
The low temperature is not only a safety factor, it also makes it a lot more comfortable working around the light.
On/Off Switch
The only other quirky feature of the Snap-On light is the on/off switch, which could be larger or easier to operate.
It's sort of hidden behind a protective barrier and it has a clear plastic water droplet cover over the top.
Both of those features make it difficult to find the switch without looking and to figure out which side to press to turn it on or off.
There's also a slight delay when the light is first turned on, which was disconcerting at first because I thought something was wrong. But so far, after several weeks of use, it hasn't failed, so I guess that's normal.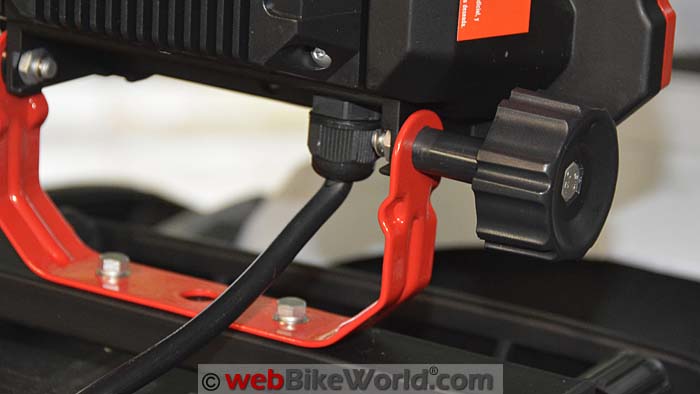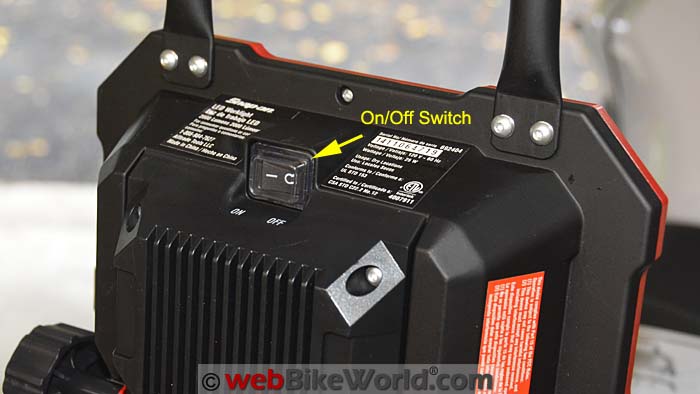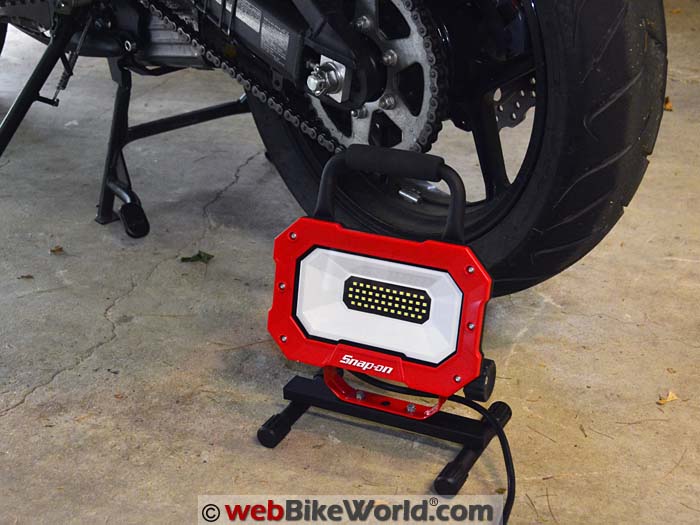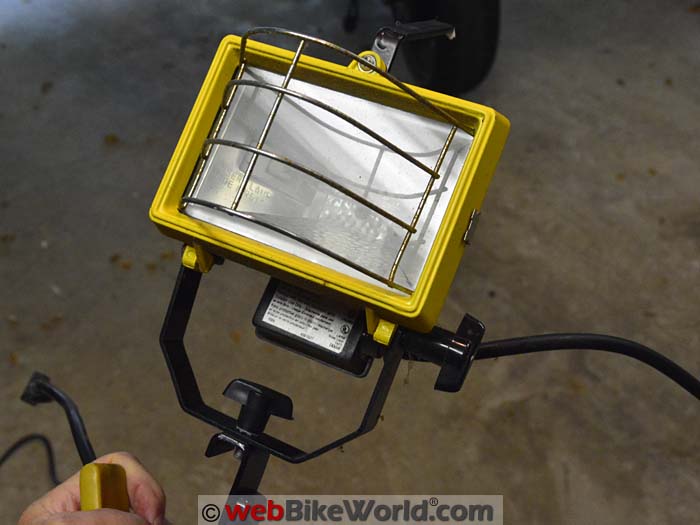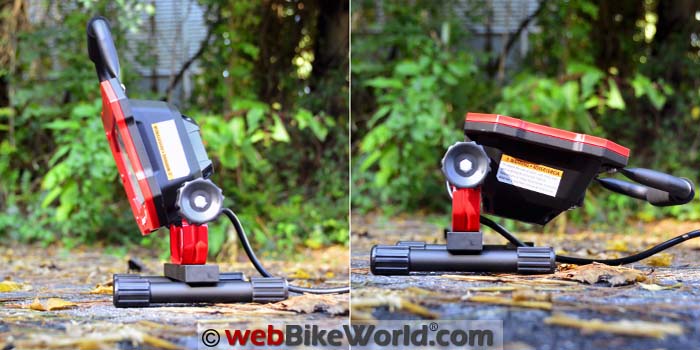 The tilt range of the Snap-On LED Work Light.
-On LED.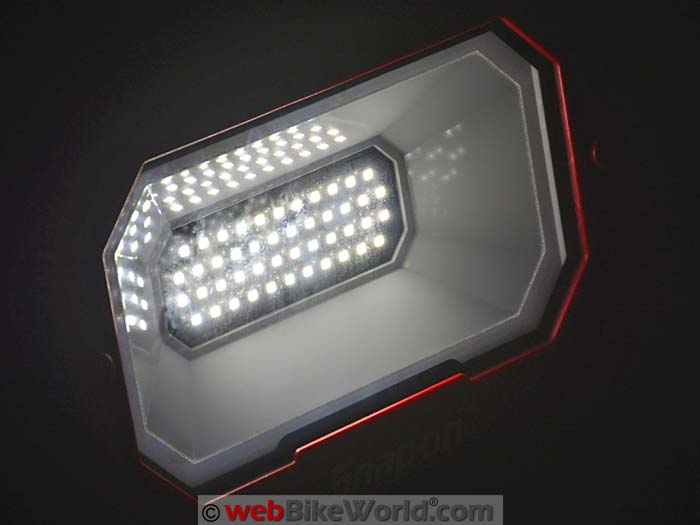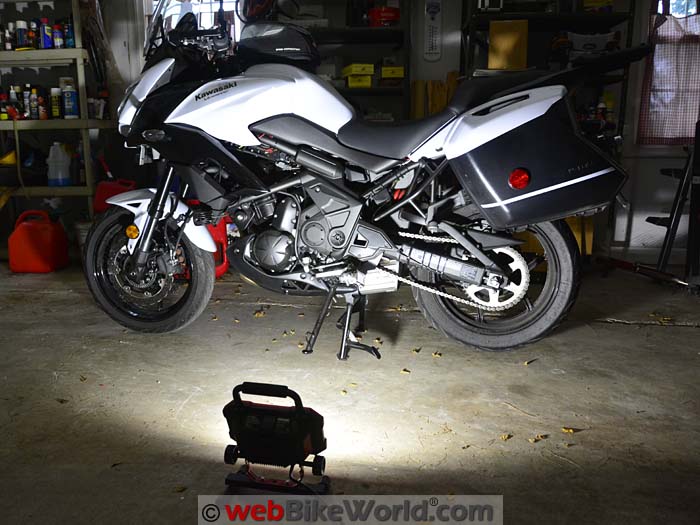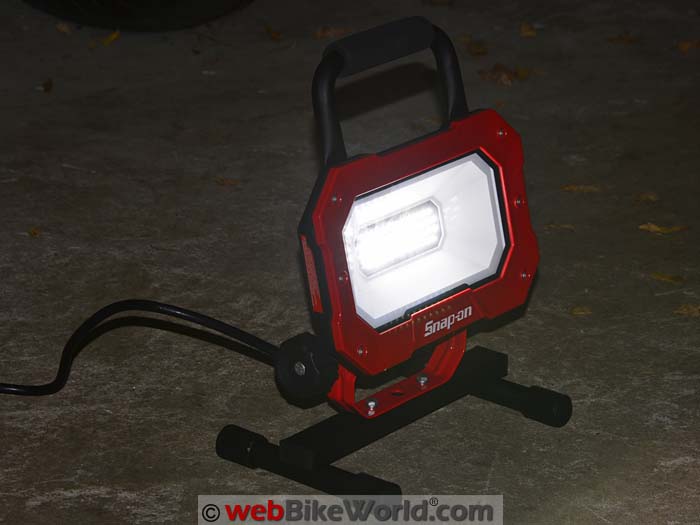 Conclusion
Overall, the Snap-On LED Work Light is a very useful tool in the garage. It's nicely made and has better quality than other work lights I've seen or used for around the same price.
The light output is broad and even, although you will have to figure out a way to raise the light because sitting it on the floor just isn't very effective for working on a motorcycle.
The light is very cool when in use, which is a significant benefit.
For roughly 30 bucks, the Snap-On LED Work Light is a good bargain and a useful tool for the shop.
w

BW

 Review: Snap-On LED Work Light
Manufacturer: Snap-On Tools
List Price (2016): $39.99
Colors: Red/Black
Made In: Unknown
Review Date: October 2016
Note:
 For informational use only. All material and photographs are Copyright © webWorld International, LLC since 2000. All rights reserved. See the webBikeWorld® 
Site Info page
. Product specifications, features and details may change or differ from our descriptions. Always check before purchasing. Read the
Terms and Conditions
!
Owner Comments and Feedback
---
From "E" (October 2016): "I work in home construction and on bikes and cars and have friends that do.
I've purchased 3 for myself, one is screwed to the ceiling over my workbench. I've bought 8 or more for blue collar friends.
They don't mess up a radio station either, 88.5 FM Philadelphia.
After a while, the cord end separates from the cord showing bare insulated wires, no big deal.
They flop low enough to slide under cars. I'm nearing 60 and enjoy great lighting more now.
Home Depot/Lowes/Sears sells some really cheap similar stuff with tripod legs, junk compared to this."