Smart motorcycle mirrors that adjust to your riding position have received several innovation awards and are about to go to a crowd-funding campaign to raise money for production.
The Zercado mirrors detect your smartphone or small sensors in your breast pocket, recognise your body position and adjust accordingly via two electric motors in each unit. The result is you have no blind spots, even when you move around on the bike.
Andrew Zercado contacted us to tell us about his product saying they "enhance awareness and safety".
They were invented by Bartosz Ambrożkiewicz after an accident which Andrew says could have been avoided if Bartosz had better spacial awareness and wider rear vision.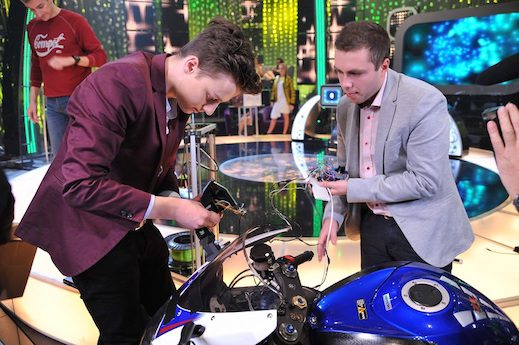 Bartosz is now CEO of the company which will start a Kickstarter campaign in September to raise enough money to take his invention into production.
Meanwhile, you can take up their VIP pre-order with a $5 deposit and get a $25 discount when the Kickstarter campaign begins.
Like car drivers, many motorcyclists adjust their mirrors to see the back of their bike or what's directly behind them instead of adjusting them out to see what is in their blind spots.
While nothing replaces a shoulder check, properly adjusted mirrors will remove most blind spots.
HOW TO CORRECTLY SET YOUR MIRRORS
However, even if well-adjusted, they are useless once you start moving around on your bike.
These electronically controlled smart mirrors are designed to adjust as you move such as leaning off for cornering, but will not move far enough for adventure riders standing up in the pegs.
"The whole system can be calibrated so that mirrors work in sync or they can work separately," Bart says. "Furthermore, the mirror surface is aspherical which almost eliminates blind spots."
"We use your smartphone's gyroscope or our dedicated sensor that you can put in your front pocket (most motorcycle jackets have it) – in both cases we use Bluetooth to communicate with the mirrors."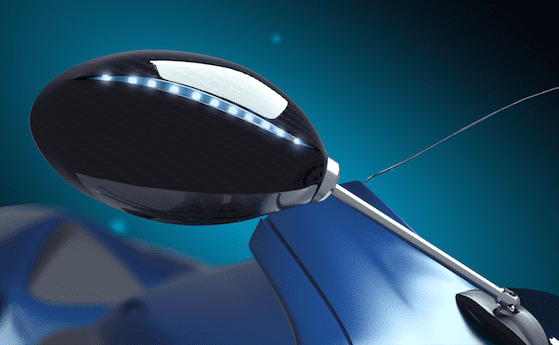 The Zercado units weigh only 100g more than standard mirrors and look smart in carbon fibre with indicators included in the cowling.
Bart says the two small electric motors in each unit are fast and "most importantly resistant to vibrations".
He says the smart mirrors are compatible with most sport, adventure and naked motorcycles, but not MV Agusta or cruisers.  
They hope to raise about $100,000 in their coming Kickstarter crowd-funding campaign and it will cost about $US250 for supporters to pre-order.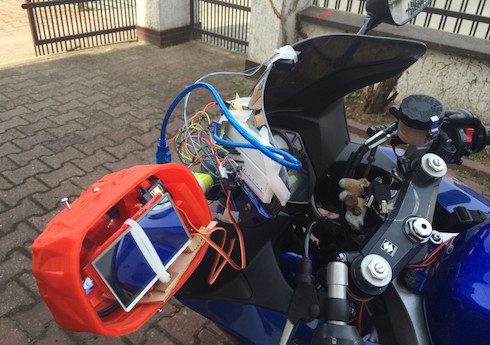 They have developed two prototypes and now have a new design, new functionalities such as "smart indicators", and patent-pending technologies for the production model.
It's already an award-winning design including gold medals in the 2014 International Warsaw Invention Show and Belgian International Trade Fair, 2015 Inventions Geneva and Microsoft Imagine Cup and 2016 Swiss Automobile Club Prize.