Regional speed limits should be reduced up to 30km/h and riders slugged with a levy to fix rural roads, according to a new Austroads report.
The worrying proposals are included in the Guide to Road Safety Part 5: Road Safety for Rural and Remote Areas.
It points out that motorcyclist deaths have remained stable in major cities over the past decade, but increased in regional and remote Australia by up to almost 50% in recent years.
The report suggests "safety improvements on popular motorcycle routes" potentially funded by a levy on compulsory third-party injury insurance for riders as well as speed limits aligned with "road attributes".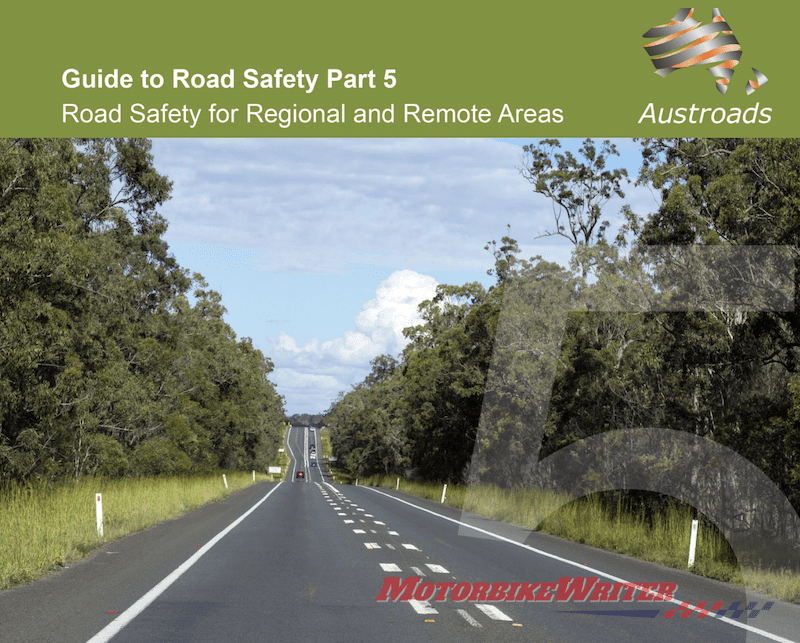 Poor-quality regional roads
Since regional roads are in such a poor state, that means speed limits would come down if Austroads had its way. (Austroads is the prime research authority advising Australian and New Zealand governments and transport authorities.)
The Austroads' report suggests speeds be set to "minimise the effect of a crash given the current road infrastructure".
It notes that the ability of riders to survive a crash "decreases rapidly" above 30km/h and says speed limits should be set "within these tolerance limits".
The report points out that speeds limits in Sweden and the Netherlands are based on "harm minimisation principles in contrast to those set in Australia".
| | | | |
| --- | --- | --- | --- |
| Road type | Australia | Sweden | Netherlands |
| Local streets | 50km/h or more | 30km/h | 30km/h |
| Other streets | 60km/h or more | 50km/h | 50km/h |
| Undivided road (low quality) | 100km/h | 70km/h | 80km/h |
| Undivided roads (good quality) | 100-110km/h | 90km/h | 100km/h |
| Motorways/divided roads | 100-110km/h | 110km/h | 120km/h |
It follows a similar suggestion at a Victorian Road Trauma Summit to reduce speed limits on unsealed country roads from 100km/h to 80km/h.

This has been a hobby horse of Victorian Assistant Police Commissioner Doug Fryer for several years as this 2017 video shows.
Rider numbers increase
The report does acknowledge that the increase in regional motorcyclist fatalities is largely due to the increase in the riding popularity.
Rider registrations are up 5% a year while estimated kilometres travelled is up 4% a year.
It also notes that motorcyclist fatality rates per registered vehicle and per kilometre travelled actually decreased by 0.9% from 2008-10 to 2016.
However, the report points out a shift from urban deaths to regional deaths over the same period:
Regional motorcycle fatalities increased 15.4% and remote deaths were up a whopping 49.3%;

59% of motorcyclist fatalities occurred in regional and remote Australia during the four-year period 2012-2015, an increase of 53% over the previous four years;

Most regional motorcycle crashes were riders running off the road and hitting a tree, barrier, sign or other roadside hazard;

The typical motorcycle fatality or hospitalisation in regional and remote areas is a male motorcyclist who is riding recreationally during daylight hours on the weekend and is involved in a single-vehicle crash; and

Motorcycles are over-represented in crashes with animals with more than 80% involving kangaroos, but it also noted an underreporting of animal-related crashes.
Speed management
The report admits a lack of data on motorcycle crashes.
Yet it says speed limits in regional and remote areas are "high and do not necessarily reflect the risks of travelling on a given road (eg unsealed surface), or the existing infrastructure (eg unprotected trees close to the road)".
"Speed management is necessary in the absence of adequate infrastructure," it says.
"The primary means for speed compliance is via enforcement, which is inherently difficult in regional and remote areas due to expansive road networks and a lack of resources."
It suggests "vehicle-based speed management technologies" which could include speed limiters.
"Any gains in speed management are beneficial," it concludes.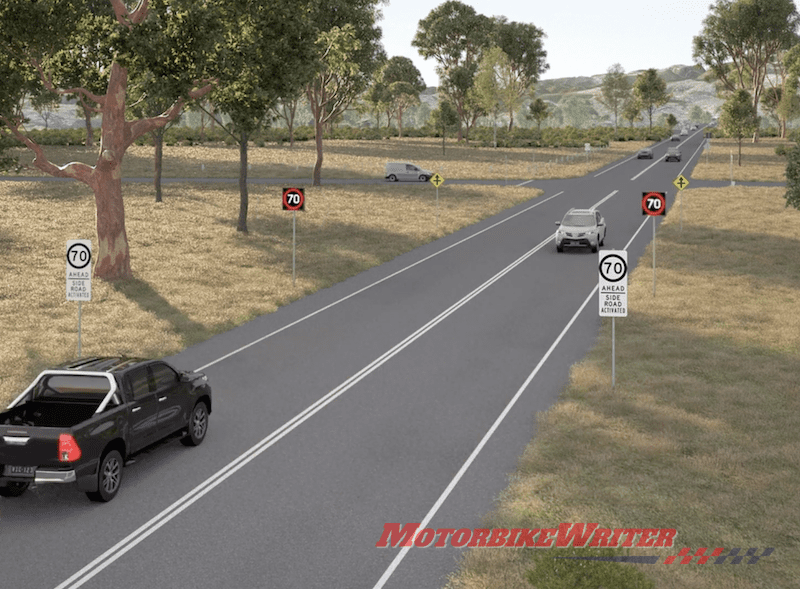 Safety 'initiatives'
Austroads reports that "initiatives" to improve motorcyclist safety have included:
Safety suggestions
Apart from a reduction in regional speed limits, the report calls for a number of other moves, particularly targeting riders:
National mass media campaigns targeting motorcyclists;

riders encouraged to ride bikes with ABS and emerging autonomous emergency braking (AEB) technology that detects imminent forward collisions and reacts by automatically applying the brakes without rider intervention;

motorcycle blackspot/black programs for regional areas;

use more flexible roadside barriers and signs;

install more under-rails on existing barriers;

audit regional road hazards for motorcycle-specific hazards, particularly by motorcycles such as Queensland's award-winning instrumented bike; 

Queensland's road audit bike

improve regional emergency services crash response times (click here for more details); and

examine more graduated restrictions for novice riders including a minimum period with a car licence before motorcycle licensing as in Queensland and "licensing options" for returning riders.
The report states that AEB technology reduces low-speed rear-end crashes for passenger vehicles, but notes that it is not yet available for motorcycles.
"Once AEB technology has been improved and is readily available in Australia, its benefits should be promoted to motorcyclists in regional and remote areas who are looking to purchase a new motorcycle," it states.