Cambox V4 Pro is a slim action camera that fits around a helmet's visor aperture to give a more accurate viewpoint of what you see when riding.
Unlike the many bulky helmet cameras that fit on top, below or beside the helmet, this curved unit fits close to your eyes for a more "normal" viewpoint. It will also fit any type of helmet or even a hat.
It easily fits to your helmet with a self-adhesive velcro system.
The Cambox V4 Pro is the latest development of their slimline Cambox cameras.
This new model is claimed to be up to three times lighter than most other cameras at 65g.
It should also have less wind resistance and less likelihood of damaging rotational forces on your neck in a crash.
Since it is so small, you can fit it inside the visor aperture (so long as there is room) so it does not protrude outside the helmet.
We know South Australian and Victorian police don't approve of cameras on helmets, but let's see how they deal with this!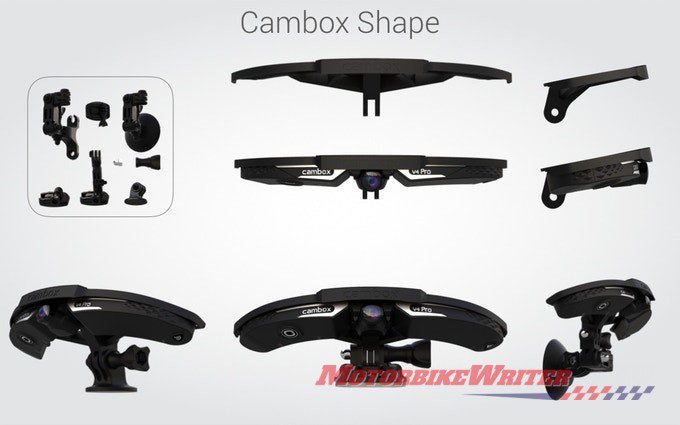 Cambox crowd funding
The French developers have launched a Kickstarter crowd-funding program to go into production with the Cambox V4 Pro available in January 2020 for €499 (about $A810).
Early supporters of the crowd-funding campaign can order one for a 38% discount at €309 (about $A500) in black, blue, red or green.
Apart from its slimline design, it still does most of the things other action cameras provide.
It has 4K/60fps, 12 megapixels video with a 150-degree lens and slow motion option at 240fps.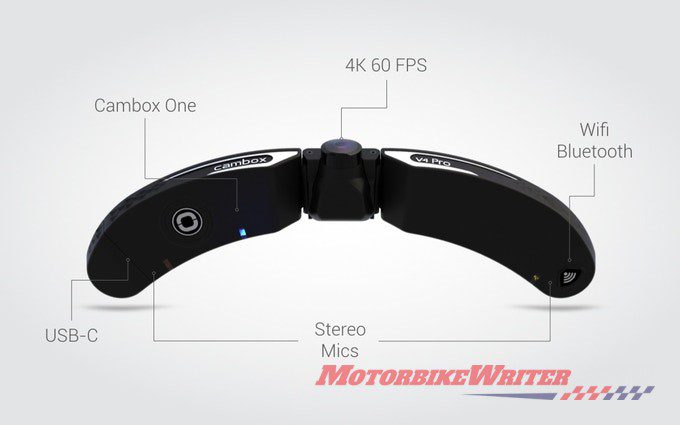 They also claim it has stereo sound from two mics at either end, although we are not sure how much that will separate the sound.
It has wifi/bluetooth connectivity to your phone so you can view your videos or share them straight away on social media.
Cambox V4 Pro is powered by a rechargeable lithium battery that has more than twice the power of their V3 model which had 75 minutes of recording time.