The distinguished Skram riding sunglasses have been designed to allow riders to continue to ride on into the night.
They have been designed by Distinguished Gentleman's Ride founder Mark Hawwa and the three different designs certainly do look distinguished.
Mark says Skram Motorcycle Eyewear is "a product that as motorcyclists we wanted to wear" and was a joint effort by him, colleague Rocco Repice and optometrist Elias Combes.
The flexible sunglasses cost $199 with a choice of brown tortoise shell ("Havana") or black frames.
They are claimed to have 100% UV protection with shatterproof polycarbonate lenses that makes them the "most protective" sunglasses on the market.
Skram glasses are also available in clear and yellow photochromic lenses that transition to a tint when exposed to the sun.
Prescription lenses are also available for an extra $159.
Mark says they "searched for years testing over 50 different lenses until we found the set that we could put all of our trust into".
He sent us a pair of Moto Ones to test and here are our results.
Skram Moto Ones
Skram Moto Ones arrived in an elaborate box that was way bigger than the glasses themselves.
Inside is a handsome leather carry pouch, cleaning rag, distinguished keyring with leather tag and a useful keyring tool.
The tool unscrews to reveal two small screwdrivers for tightening the arms of the glasses as well as other uses.
These lightweight glasses have sturdy and flexible frames that don't get bent out of shape as you put them on. They actually become more pliable the more you use them.
However, the arms are a little thick and may pose a problem with some helmets. They can also be uncomfortable against your ears in a tight helmet.
We tested the acetate lenses with a UV sensor and found they give pretty good protection.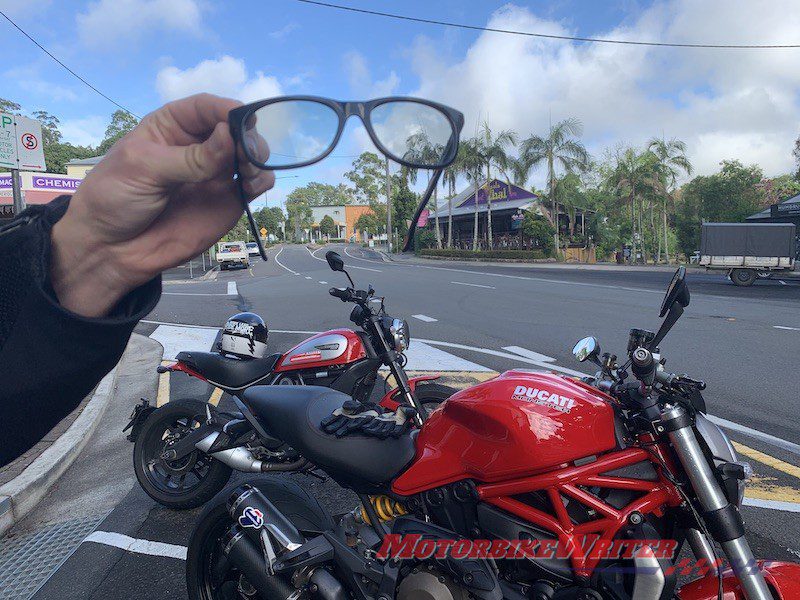 The photochromic tinting effect is quite slow to transition from clear/yellow to tint which means you will come out of a tunnel into broad daylight and squint for a few seconds.
Vice versa, if you ride into a tunnel you have to wait several seconds for the full tint to disappear so you can see clearly.
They also won't tint to the maximum level if you are wearing a full-face helmet, even with a clear visor or a tinted visor open as helmet visors reduce UV rays.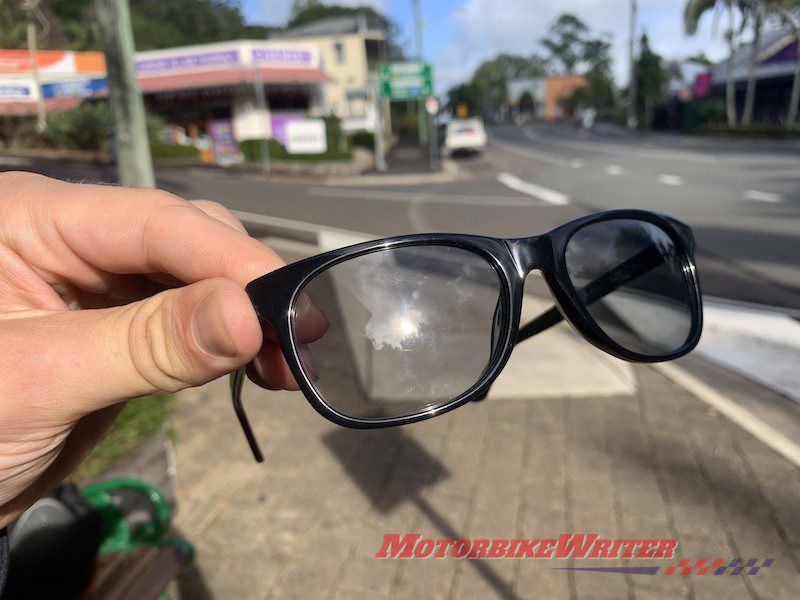 You need direct sunlight on the glasses.
We found even our Biltwell Gringo which has no visor prevented sunlight because of the thick "brow" overhang.
A peak will also shade the glasses and prevent them fully tinting.
The instructions say it takes a few wears to reach the full photochromic effect. That's what we found too. Right out of the box, they weren't great, but after a couple of weeks they improved.
However, they never really got all that dark, compared wth our normal sunglasses.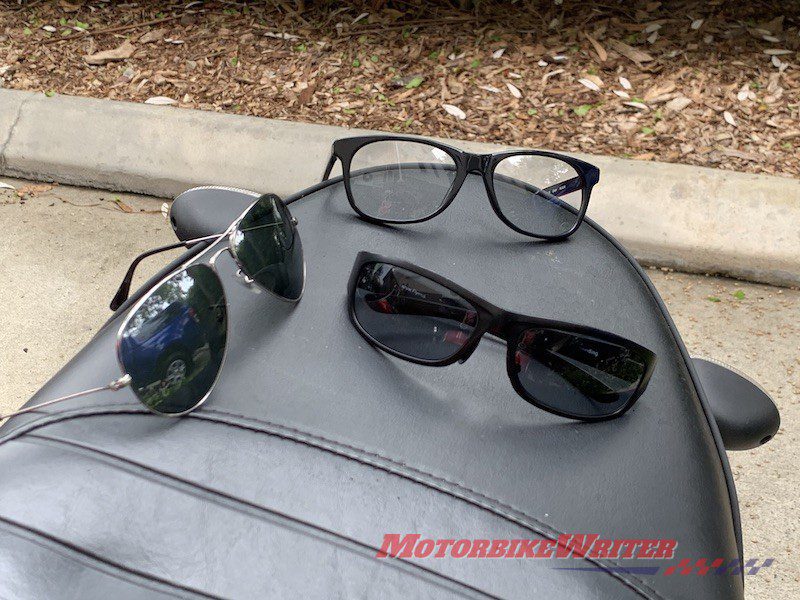 They claim they will tint to 80% darkness in full sunlight and meet Category 0 to 3 sunglass standards with 0 legal for night riding.
Mark says the glasses are "perfect for those who wear open-face and 3/4 helmets as well as those who like to ride with their full face helmet visor open".
We couldn't test the shatterproof ability of the lenses, but they aren't scratchproof. We lightly used the tool on the corner of the lens and it easily left a small scratch line.
While they do work better with an open-face helmet, they are not wrap-around, so over about 80km/h you get a lot of wind in your eyes.
This can lead to windburn over time which can promote dry, itchy eyes and, in extreme cases, possibly blurred vision.
And despite all the wind that gets in behind the glasses, we found they fog up fairly quickly on a rainy day, even with an open-face helmet.
Conclusion
These are certainly quality, stylish sunglasses, but they aren't much use for most riding conditions.
However, they work ok around town on a fine day. For example, they would be an excellent pair of glasses to wear on a DGR ride … so long as it isn't raining!
Website: www.skram.cc
Facebook: www.facebook.com/skramcc
Instagram: www.instagram.com/skramcc