SJCAM SJ4000 Review Summary
SJCAM SJ4000 Image Gallery
The SJCAM SJ4000 action camera is a pretty close copy of the GoPro Hero series.
But it's about 1/3 the price.
I'm guessing neither GoPro or SJCAM will like that comparison, but there it is.
In fact, the SJ4000 is so close in shape, size and format that it fits in GoPro housings and uses GoPro accessories.
That said, the SJ4000 — here in the WiFi edition — has features the GoPro should have had a long time ago.
The built-in WiFi works surprisingly well and much better than anyone would expect for a camera that costs less than 70 bucks.
And that includes a waterproof housing…
The "Sports" kit shown here adds a bunch of adapters and mounts and even a plug-in wall charger.
The SJ4000 has an easy-to-use menu system or you can also use the free app to change the settings.
The app provides a live view, as does the small color LCD monitor on the back of the camera.
The camera even allows dash cam loop recording!
Overall, the SJ4000 takes pretty good video — not outstanding and not as good as the better GoPro cameras.
But if you're looking for a square format action camera that works with many accessories also available for the GoPro, the SJCAM4000 is a darn good deal.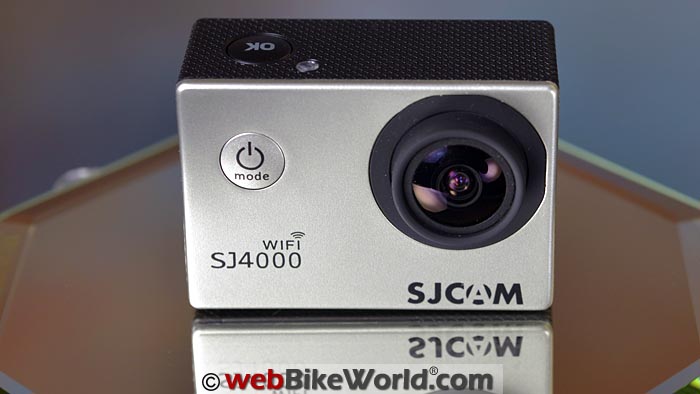 Background
"Imitation is the sincerest form of flattery…", or so the saying goes. But the acerbic Oscar Wilde added this kicker: "…that mediocrity can pay to greatness."
Back around, oh, a dozen or so years ago when we first started reviewing what are now called "action cameras" (and even before the era of the HD format), GoPro came out with a funny-looking camera that was fairly revolutionary for its time.
Since then, the square GoPro format camera has become very popular.
And as one might expect, the explosion of cheap action cameras over the last few years has included many no-name brands cashing in on the GoPro design.
Actually, that's not really a problem because — as motorcyclists well know — this type of competition helps to lower prices and creates better products.
SJCAM is one of the better-known manufacturers and they've recently greatly improved their marketing presence and even their website, which now appears much more professional than it did in the past.
Their product line has also expanded recently, beyond the standard square-shaped cameras and into new realms.
For example, SJCAM now makes a cute little "cube"-shaped action cam called the M10, which is a riff on the Polaroid Cube we reviewed a couple of years ago.
And how about the strangely-shaped M20 (something like a modern version of the AEE HD50 we reviewed in 2011)?
The fact is, there are dozens or even hundreds of small, cheap and pretty good action cameras available today that can be used on a motorcycle.
I'm not sure how GoPro maintains their lofty pricing strategy but for general fun-style motorcycle use, posting videos to Facebook, Vimeo or YouTube, you don't need an expensive action cam.
Buy a couple of el cheapos and stick 'em all over your bike and helmet and you can easily become a pretty darn good videographer and the envy of your friends.
And the SJCAM SJ4000 is a pretty good place to start…
Which SJ4000?
SJCAM has improved their market presence recently with an updated website and several new products.
The SJ4000 now comes in three different flavors: the base SJ4000, the SJ4000 WiFi version shown here and a new SJ4000+ action camera with up to 2K (2560×1440) recording format.
If you're looking for basic HD video recording for general motorcycle use and you plan on posting to social media or a website, the SJ4000 is perfectly fine.
Forget the 2K recording; you really don't need it for those cheesy motorcycle clips 99.99% of us will make.
And to be honest, WiFi doesn't add all that much to the mix, since the SJ4000 has a live view anyway.
The remote WiFi live view capability only really helps when you're aligning the camera on a helmet or elsewhere, because you can see what the camera is pointed at before you start the ride.
But the menu system built into the SJ4000 is so easy to use, we actually prefer it to the app.
Why?
Because even with the very quick and flawless (so far for us) pairing time between the SJ4000 and your smartphone or tablet, it's still faster and probably easier to make the changes using the SJ4000's built-in menu system.
So you can easily buy the base model SJ4000 for $79.00 list (about $68.00 street price), which comes with the waterproof housing, and you're good to go.
The WiFi version has a list price of $99.00 and the SJ4000+ lists for $139.00.
One more thing: be careful what you're buying and make sure you read the "what's included" part (and make sure the box specifically states "WiFi" if you're looking for that version).
We've seen SJ4000 kits of all different types, some with more included accessories than others. You've been warned…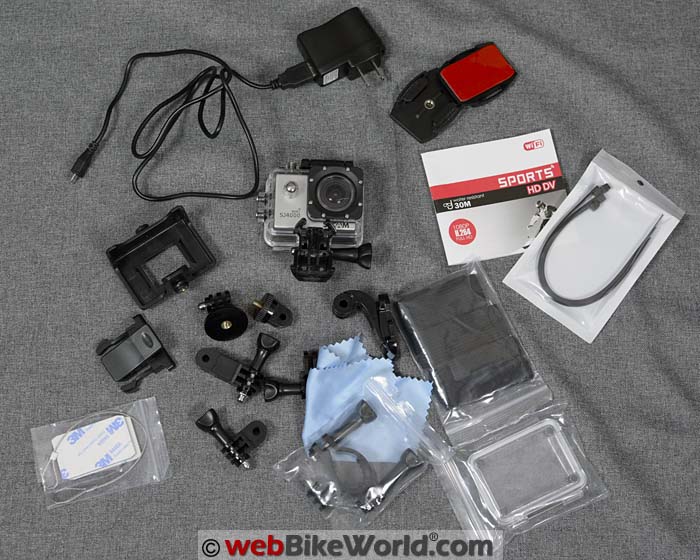 In the Box
We lucked out — just by chance, we picked the SJ4000 "Sports" kit before we realized there are multiple versions of the SJ4000 action camera kits.
The SJ4000 WiFi Sports kit (our Amazon.com affiliate link) includes a bunch of accessory mounting brackets for the waterproof housing (the housing is included with every SJ4000 version).
As we've always said, one of the most important features of a motorcycle action camera is how it's mounted, so you can't have too many options here.
The square format with waterproof housing (you can't really use the SJ4000 or GoPro on a motorcycle without it) makes mounting a bit more of a challenge on a helmet or bike, don't forget.
The SJ4000 WiFi Sports kit includes:
The SJ4000 camera with waterproof housing.
A bicycle handlebar mount.
Various base mounts and clips for the waterproof housing.
A USB Cable and wall outlet charger.
A basic multi-language instruction manual (.pdf).
A microfiber lens cleaning cloth, some hook-and-loop strips and cable ties.
New Sports kits apparently also now include a bonus 32 GB Transcend microSD memory card, already installed in the camera. This was not included in our kit, however.
Note that 32 GB is the maximum recommended capacity for memory cards in the SJ4000.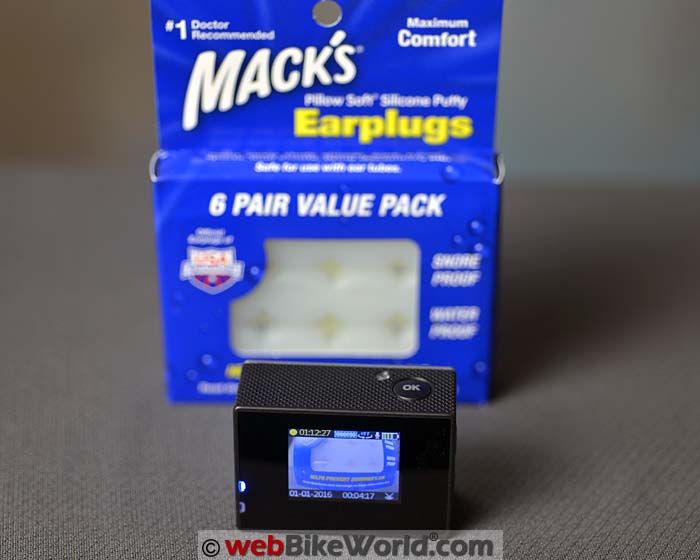 Feature Highlights
The SJ4000 records HD video using the H.264 format in .MOV files.
Video formats include 1080p/30fps; 720p at 30fps or 60fps (confirmed that the 720p/60fps is interpolated, not actual, as we stated in our video below); and 480P (848×480) at 60fps.
Some highlights of the SJ4000 feature set include:
The camera also takes still photos but, like most of the other action cameras we've reviewed, your smartphone probably does better at that.
The camera kit also includes a 900mAH removable Lithium-ion rechargeable battery, which to be honest doesn't really keep the camera running all that long — maybe an hour or so — depending on usage.
The camera can be powered as a webcam but it would be impractical to do that while riding because you can't use the waterproof housing at the same time.Note, however, that there is a special waterproof housing available as an option that has a built-in connection for a car charger.
Continuous Shooting Burst Rate of 3, 5, 10 photos in a burst.
Time Lapse mode: 3 seconds, 5 seconds, 10 seconds, 30 seconds or 60 seconds.
Interesting SJ4000 Features
The SJ4000 has a fairly extensive menu system for this type of camera (and better than most, considering the price range).
While perhaps not as extensive as the cool little Mobius action cam (review) with its large user base and extensive customization ability, the SJ4000 allows a few interesting customization possibilities, available directly through its 7-page on-board menu system:
Field of View: Sort of an undocumented feature (not mentioned in the SJCAM marketing literature that we found) is the ability to change the camera's field of view from wide (170 degrees) to "medium" and "narrow".
Also available is an "off" function for FOV but we're not sure what that does.
ISO Equivalents: Not usually available in action cameras, the ISO can be set to auto (default) or 100, 200 or 400 ISO.
White Balance: Another uncommon feature is the ability to modify white balance from auto to cloudy, daylight and for incandescent lighting.
Exposure Values: The SJ4000 allows exposure changes from +3.0 to -3.0 EV in 0.33 step increments, a very uncommon feature in this type of camera.
We left the exposure and all the settings on default for our videos because that's what most owners will do, but the exposure adjustments will come in very handy on this camera as you can see in the video because the default setting overexposes by about 1 stop.
Sharpness: Sharpness of recording can be set to "soft", "normal" or "strong".
Dash Cam/Loop Recording: Yes, the SJ4000 can even be used for loop recording as a dash cam, although mounting and powering the camera is challenging, so this feature isn't as valuable as it could be.
Underwater Setting: Not sure what this does (probably accounts for light color changes under water) but it's there as an on or off setting.
Motion Detection: The SJ4000 can be set (on/off) to start recording whenever motion is detected in front of the lens. Handy for all you stealthy Philip Marlowe types.
Miscellaneous Features: Button sounds on/off; screen dimming off/30 seconds/1 minute/3 minutes/5 minutes.
Frequency: Check to make sure the frequency is set correctly for your country (50 Hz or 60 Hz) before you connect the SJ4000 to a TV set. Ours was set at 50 Hz even though we use 60 Hz in the U.S.
Using the SJ4000
Back in the old days (and they were not really the "good old days", despite what others have told you), using an action camera was as difficult as using a Bluetooth motorcycle intercom system. Translation: it was a PIA.
Today, however, if you can turn the SJ4000 on, you pretty much know how to use it.
Insert the battery and microSD card, charge the camera (it takes much longer than you'd like) and press the on/off mode button in front.
Next, push the record button on top and you're recording. Push again to stop.
Push the mode button in front a second time to access the still photo feature (and then press the button on top to snap a photo).
Press again to play back the stored photos and video on the microSD card.
Press once more to access the menu system.
There are 7 pages of menu choices and you can scroll down using the up/down arrow buttons on the side of the camera.
Push the "OK" button on top to select your choice, then scroll again to your desired setting and press "OK" again to save.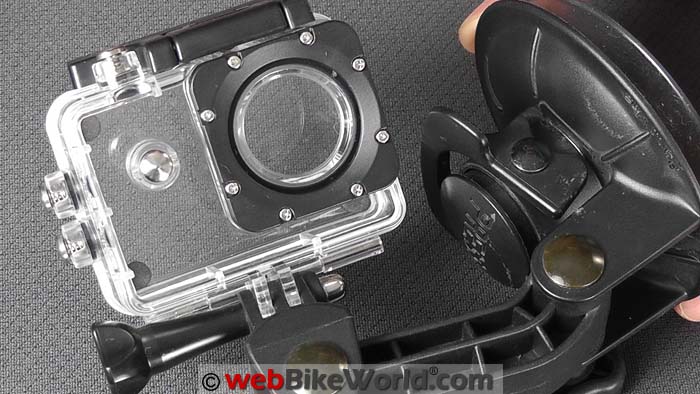 Waterproof Housing and Mount
The SJ4000 comes with a waterproof housing that for all the world looks identical to a GoPro housing and indeed, they are interchangeable as we discovered.
The SJ4000 is missing one key ingredient though: the suction cup mount with articulated arm.
We have reviewed several action camera mounts and then reviewed more action camera mounts.
But we trashed most of them and kept this $20.00 Sony suction cup mount because it has multiple degrees of freedom for positioning the camera.
You'll need something like it for the square format of the GoPro and SJ4000.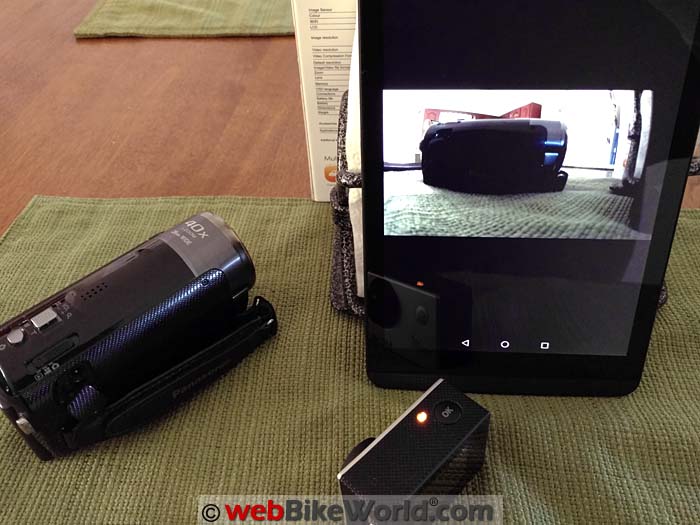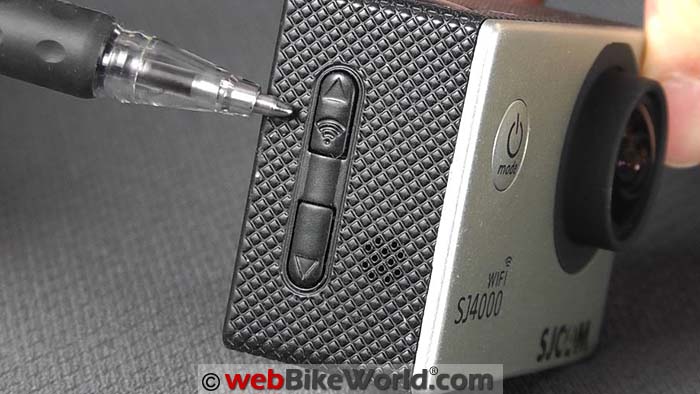 SJ4000 WiFi
The SJ4000 WiFi version, as its name implies, has a WiFi connectivity feature.
What's surprising about it is that the WiFi connectivity is not only easy to use, it actually works — the first time and (so far) every time.
We absolutely did not expect this, because too many of the "connected" action cameras we've reviewed in the past have so many problems and issues with both initiating and maintaining a connection.
There's a little homework to be done before the first connection.
First, start the WiFi system in the SJ4000 by pressing the "up" button on the side of the camera (the up button also has a WiFi pictogram).
Of course, you'll need a smartphone or tablet and you'll have to switch the WiFi connection from your home router or wherever it's currently connected and select the SJ4000.
A password is displayed on the SJ4000's live view screen (hint: you can actually change the password if you'd like by using the menu system). Enter the password on your smart device and you're in.
Again, this was surprisingly — dare we say shockingly? — simple, fast, easy and it works every time.
Press the WiFi button on the side of the camera once, connect with the phone or tablet (if the password is saved, it doesn't have to be re-entered) and it works.
But…it's not a necessity by any means for using and enjoying the SJ4000.
Once it's set up and running, the SJCAM app (available here for download) can be used to change the camera settings and get a live view.
Other than using the live view to aim the camera if it's mounted on a helmet or the side of the bike, the WiFi connection isn't really necessary and, in fact, burns up precious battery life.
Bottom line? The WiFi connectivity is fun to play with but not really necessary.
w

BW

 Video: SJCAM SJ4000 Overview and Sample Video
NOTE:

 Select 1080p under the "gear" icon in the YouTube video for best results!
View the SJCAM SJ4000 Video on the webBikeWorld Vimeo Pro channel.
▪ Download a 1080p Raw Sample (converted to .AVI format)
Video Quality
The best way that we found to enjoy the SJ4000 video is to record at the 1080p/30fps setting.
Using 60fps is usually better for motorcycles because more frames make for a smoother video.
But the SJ4000's 720p/60fps setting is interpolated from 30fps and we found that the quality of the 720p/60fps video isn't as good as the 1080p/30fps versions.
The 1080p video is sharp and clear and the exposure is good, with some noticeable switching back and forth as the camera enters shadows and light.
Some minimal modifications to exposure can be made in the menu system, as noted in previous sections, but don't expect anything like DSLR style customization.
For general motorcycle use and posting to Vimeo, Facebook, YouTube, etc., it's perfectly acceptable.
One other thing: we noticed that when the camera is in the waterproof housing with the solid clear back installed, the sound is recorded without wind noise (albeit at a lower volume). So this is something of an extra bonus.
Conclusion
The SJCAM SJ4000 is easy to use — easier, in fact, than the last GoPro we tried.
The price is very reasonable, although you'll need some type of accessory mounting system and the square GoPro-type camera format can be a but clumsy to use on a helmet or motorcycle.
Also, many of the existing GoPro accessories can be used with the SJ4000 — and there are plenty of those available today.
If you're into a square format motorcycle action camera, the SJ4000 is a, well, square deal at something like 1/3 the cost of a GoPro system.
And honestly, no one will be able to tell the difference in your YouTube videos.
More webBikeWorld: 
▪ Video Action Camera Reviews
▪ Intercom and Radio Reviews
w

BW

 Review: SJCAM SJ4000 WiFi Action Camera
List Price (2016): $79.00-$139.00
Sizes: HD
Review Date: October 2016
Note:
 For informational use only. All material and photographs are Copyright © webWorld International, LLC since 2000. All rights reserved. See the webBikeWorld® 
Site Info page
. Product specifications, features and details may change or differ from our descriptions. Always check before purchasing. Read the
Terms and Conditions
!
Owner Comments and Feedback
---
From "H.S." (October 2016): "Good review of the SJ4000 WiFi. I think it's a credible entry into the world of action cams, and it's certainly a bargain.
I've owned a GoPro Hero4 Silver (review), my second action camera, for a year or so now. My first was the Liquid Image Ego 727 I reviewed, more of which in a bit.
The Hero4 Silver — now itself superseded by the recently introduced Hero5 series — offers some advantages over the SJ4000 WiFi.
Whether it's worth about four times the cost of the SJ4000 is dependent on a user's requirements and budget, certainly.
In thinking about this, here's what I came up with.
Hardware: The GoPro can accept a 64 GB microSD card, vs. 32 GB for the SJ4000, if max capacity matters.
Next, the GoPro has several FOV settings. Those fisheye effects may be appropriate for some sports videos, but I seriously prefer the "medium" setting, and use it for my videos.
I believe the GoPro's 60 FPS recordings are not interpolated, which may be important in some situations.
Last, based on some of my videos, I think the GoPro handles the combination of sunlight and shade a little better than the SJ400. That is, I think it has a greater exposure range.
Software: The smartphone app for the Hero4 seems more polished, at least on the iPhone, than the SJ4000 app. And, like you, I've never had a problem connecting the Hero4 to the phone.
Firmware updates have been released regularly.
This is one area in which the Ego 727 fell short: Liquid Image stopped releasing updates, and it's not as if the firmware was somehow, magically, perfect at the time.
The maker of the SJCAM series, Shenzhen Hongfeng Century Technology Co., Ltd., seems more serious about updating software. Whether this practice will continue, and be on a par with GoPro, remains to be seen.
Aftermarket Hardware Compatibility: You note that SJCAM offers an optional waterproof case that can also keep the SJ4000 charged. I'd want that, if I had an SJ4000.
As it turns out, I bought a similar product from 3BR Powersports for my Hero4, their "X-PWR All-weather external power case". I added their special USB cable and their Panel TAPP.
As with the Hero4 itself, the 3BR products are more expensive than the SJCAM offering (in fact, more expensive than the SJ4000 WiFi itself). However, the 3BR suite is end-to-end waterproof, unlike the SJCAM's termination with a cigarette-lighter style plug.
Caught in the rain, I'd much rather have the 3BR products.
Last, I wonder about the compatibility of some of the GoPro products that mount on their stock case. For instance, I've used some of the GoPro underwater filters; these slip over the GoPro case, and I'm not sure whether they'll work with the SJ4000.
Aftermarket Software Compatibility: For many of my videos, I use a priced version of a product called TrackAddict on my iPhone.
TrackAddict can start the GoPro's recording, while simultaneously starting the phone's collecting GPS-based data such as speed and altitude.
I think this an interesting capability, and this synchronization also eliminates the need for buying additional hardware (unless you want a higher GPS sampling rate). I employed this in my two recent on-track videos (on Vimeo), for instance, here and here.
The data was merged with the GoPro's video using "Race Render 3".
Unfortunately, this aspect of TrackAddict seems limited to some GoPro cameras, the Garmin VIRB (review), and 360fly models.
This may be a factor of market share, or it may be the result of the FJ4000's hardware and software — I have no idea.
HP Tuners, the maker of TrackAddict, is not the only player in this game. I suspect that you'll find similar compatibility limitations with competitive products.
Summary: That's it, from my experience. I don't know whether these differences justify the cost of going with the market leader, but I hope it gives you something to think about if you consider the purchase a long-term investment.
For just getting started, however, it certainly seems like the SJ4000 WiFi may be just the ticket."
Editor's Note: Simplicity and ease of use is most important, according to feedback from webBikeWorld readers.
Thus, the SJ4000 and especially the very easy-to-use Sena Tube (review) are among the top picks if all you want to do is "press and go" and get some quick video for social media.
---
From "P.S." (October 2016): "Just read your review for the SJ4000. Glad you did, cause I bought one a year or so ago and didn't know how it fared against the big gun of GoPro and such.
Also, I just found out that their might be an update for the software, will be checking this. Some features I didn't know about (instruction from a year ago are lousy at best) which I will explore.
AAs for the connectivity… Well for me it doesn't go that easy. I used it with and iPad and an iPhone and it doesn't repeat, it lags, bugs, lose image and so on. I've kind of gave up on that feature.
Maybe the software update will help, but I was wondering if your experience was with Apple product or Android?
Was also wondering if the 480/60 frame was a 30 frame extrapolated?
As always, great work, always a joy to read you Keep up the great work, I like you a lot!"
Editor's Reply: No Apple products are used here so the connection was with an Android phone and Android tablet.
You do have to stop the home router WiFi connection first, then connect the SJ4000 WiFi only, as a single WiFi connection to your phone or tablet.
But, I'm not sure how this would work on an Apple device.
Also, I think the 480p/60fps is interpolated also, that's probably one of the things that keeps the cost low.