The brand Simpson delights bikers who want style and comfort in their biking gear. The Simpson started building gear for drag racing in 1950. After the successful launch of the Simpson line of products, the brand entered the motorcycle market.
The gear was originally created for bike racers in 1979. Slowly, Simpson expanded its line of products to cater to the needs of bike enthusiasts. Now, Simpson has various lines of helmets suitable for different types of bikers.
The Bandit series is especially popular with different variations at different price points. In the Simpson 6200018 helmet review, the features that make this helmet special are revealed. We uncover the realities so that you can purchase the right helmet for you.
Benefits
The Simpson 6200018 helmet is a premium helmet that requires you to shell out around $450. At this price range, you expect the helmet to be rigid, comfortable, safe and good looking. Not surprisingly, the Simpson Bandit helmet caters to all these requirements. This one looks stylish, and gives you that extra charm.
It is a solid helmet that provides the sturdy look you are hoping for. If you want to look like an aggressive biker, you need nothing less than a Darth Vadar look and the Bandit helmet delivers the exact same thing!
Features
The Bandit helmet is a full face helmet that weighs around 5.2 pounds. There are other lightweight helmets, but if you want a shell that is thick enough to protect you during a collision, you should go for solid helmet build.
The Bandit helmet is available in a couple of different shell sizes to suit bikers of different sizes. The Bandit helmet runs slightly large, and you should choose your size accordingly.
The intermediate oval fit will fit most face shapes unless your face is very long and narrow. This helmet is not designed just to be a regular motorcycle helmet; it is ideal for go karting, driving stock cars and drag racing.
Comfort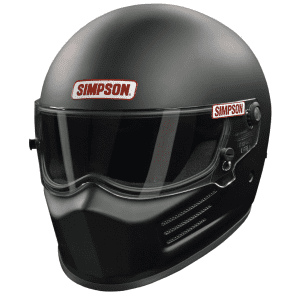 The Simpson helmet fits comfortably if you choose the right size. If you are between sizes, you should select the smaller size for Bandit helmets.
The cheek pads resemble memory foam as they take the shape of your face. They provide much needed cushioning so that your helmet doesn't create pressure against areas in your head. The bandit design provides some room in the temples, and there is no annoyance even when you wear for long riding hours.
The aerodynamic design in the Bandit helmet is simply outstanding. Even at high speeds, the helmet is stable. When you use the helmet, you can understand that Simpson designs dedicated helmets for motorcycle racing. The exceptionally good aerodynamic design enables you to ride at high speeds without your helmet wobbling.
Build Quality
When you are trying to get yourself a good helmet, you sure want one that can withstand accidents and falls. This one doesn't seem to disappoint. The Bandit helmet is made of composite fiberglass shell which guarantees high quality. The gloss and matte black helmets are quite popular because they are truly high-quality helmets. You can find the helmets in a few different sizes, and the shell is quite thick.
When you are in a collision, helmets with a thicker shell will provide maximum protection. The visor flush fits creating a perfect seal to keep dirt away. The painting job is awesome, showing that care is taken to build each helmet.
Ventilation
The Simpson 6200018 helmet has vents only in the chin area. If you have used other types of helmets, you know that the absence of top vents and exhaust vents can be annoying.
Surprisingly, the Bandit helmet provides excellent airflow through the chin area. Even when you ride in hot conditions, the chin vents provide sufficient airflow, preventing you from cooking inside the helmet.
The vents are not adjustable which is a drawback. It can be a problem when you ride in cold weather because too much cold air inside the helmet can make the visor fog up.
Visor
The standard visor that comes with a Bandit helmet is a clear visor which is inherently fog resistant. The key benefit of the visor is a larger eye port which provides a clearer view. If you have used a helmet with limited view, you know the importance of having an enlarged eye port.
The visor closes to create a seal that prevents external elements from affecting your vision. It is crucial if you enjoy racing on your motorcycle. Optionally, you can purchase a smoke visor for sun protection. However, you can easily manage using sunglasses with the clear visor.
Safety
The Bandit helmet is DOT and Snell M2015 certified which proves that it is one of the safest helmets. The credentials in the certification requirement ensure that the helmets are worth the price you pay. During a collision, this helmet will protect your head to prevent fatal injuries.
Other Factors for Consideration
Even though you pay a premium price for the Simpson 6200018 helmet, you get the essential features. The D-ring snap provides protection and comfort. There are not a lot of adjustable options with this helmet.
However, when you want to concentrate on the road, all you need is a high-quality standard helmet. The features available in this helmet are undisputed, and there is nothing more you can ask for.
The Simpson helmets are popular among bikers for a reason. They are stylish, comfortable and safe – the three most important factors you want in any helmet. It is ideal for bike racers, but they are also suitable for your regular commute. If you want to make heads turn with your biking gear, you should buy the Bandit helmet.
More Simpson Motorcycle Helmets for Sale: