Dakar Rally racer Simon Pavey will lead a three-week motorcycle tour across the top of Australia from east to west through four world heritage areas in August 2016.
The Australian-born racer has competed in the Dakar Rally 10 times and finished seven. He also famously trained Charley Boorman and Ewan McGregor for their Long Way Round adventure and again trained Charley for the 2006 rally and the TV show Race to Dakar.
With all that experience and training knowledge, the Compass Expeditions Savannah Way tour in August 2016 should not only be a great adventure, but also an incredible learning experience for participants.
Simon has previously trained riders for Compass Expeditions in the Flinders Ranges and has an off-road training school in Wales where the expat Aussie now lives.
I've done two off-road training courses with Simon and found him a patient, pleasant and encouraging teacher who has the ability to get you to do things on a bike you never thought possible.
The 21-day Savannah Way tour rides from the Coral Sea to the Indian Ocean, crossing four world heritage areas.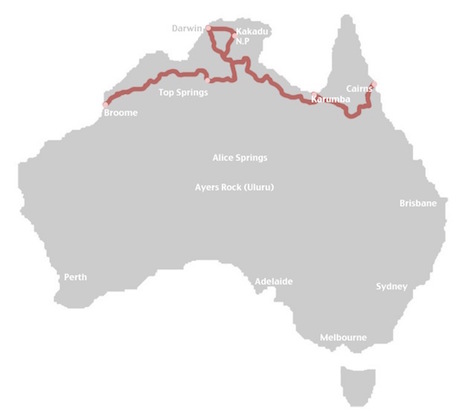 Simon rode his 2009 Dakar BMW X-Challenge on the reconnaissance trip from Cairns to Broome which included tracks that have not been used in 30 years, according to the locals.
"This is an incredible ride that needs to be shouted from the mountaintops," says Simon. "This certainly isn't a wide-open, flat-dirt-track tour of Australia."
Compass Expeditions co-founder Mick McDonald says the tracks Simon found are "not super technical or enduro, but unused".
"Some go through private cattle stations and some we made ourselves."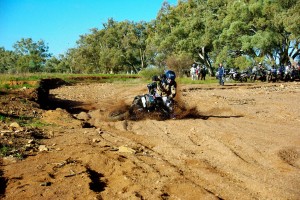 The inaugural Savannah Way tour leaves Cairns on August 1 and ends in Broome on August 21 with accommodation along the way a mix of camping and hotels.
Each day will have a "Special" section in it, a bit like a Dakar Rally!
The tour is graded at 4 out of 5 for difficulty with 45% on-road and 55% off-road.
Road surfaces vary from single lane tracks with sharp shoulders and deep potholes to sharing smooth wide highways with massive road-trains.
The dirt tracks vary from fast gravel to sandy sections with deep corrugations and shallow creek crossings. Bull Dust holes are also common.
However, Compass Expeditions warns that Outback tracks can change on a week-by-week basis.
A qualified chef will accompany the group preparing lunches and dinners.
The tour costs $9900 if you bring your own bike and more if you hire a bike.
Bike transport to Cairns and from Broome has been arranged for those wishing to bring their own bikes for an extra single fee no matter where you live in Australia. However Tasmanian riders will need to get their bikes to Melbourne where Compass will take care of the rest.
Click here for more tour information.