SIDI Gavia Gore-Tex Review Summary
Review Summary
The SIDI Gavia Gore-Tex boots are sleek, flexible footwear with enough protective measures built in to fill the basic needs of touring and commuter enthusiasts. Adequately warm in the cold, these high-cut boots vent moisture and heat when temps climb and are comfortable enough to walk around in when you're off the bike. The Gore-Tex liner keeps all water out as advertised, but the real icing on the cake is how affordable SIDI made these boots at $250 USD.
Pros
Quality design and materials
Comfortable in normal riding temperatures
Armor within is discreet
Lightweight
Sole provides good traction
Utterly waterproof
Tougher than they appear
Easy on, easy off side zipper opening
Gavia Lei available for women
Reasonable price for high quality
Cons
Don't form to your foot easily or quickly
Narrow Toe
Reflective badging isn't located well
Limited degree of protection
SIDI Gavia Gore-Tex Image Gallery
I've been wearing a pair of SIDI Adventure 2 Gore-Tex Boots for the last year and appreciate them for all the reasons outlined in the review we did two years ago. They did exactly what I wanted for the long ride on gravel I took last June to Tuktoyaktuk and have been excellent to this point.
Those ADV 2 boots have substantial protective measures built-in as a result of an enhanced armor system. However, all that armor makes shifting anything other than Adventure bikes challenging due to the rigidity that naturally comes along with it.
I needed something different for the 5 days I was about to spend testing the 2019 Gold Wing DCT and 2019 Indian Chieftain Limited in California. I got a hold of Jason Kilroy at MotoNation to see what he could supply me with from the sport touring boot category to review. The Gavia Gore-Tex sounded like the right one and even though it's been a popular seller for MotoNation since 2016 it has somehow missed being tested by us until now.
It's high time to rectify that with a thorough riding session spanning 1200 miles, two countries, and temperatures ranging from 28 F (-2 C) up to 90 F (32 C).
First Impressions
The Gavia boots showed up on my doorstep not long after speaking to Jason and I took them out of the box for inspection.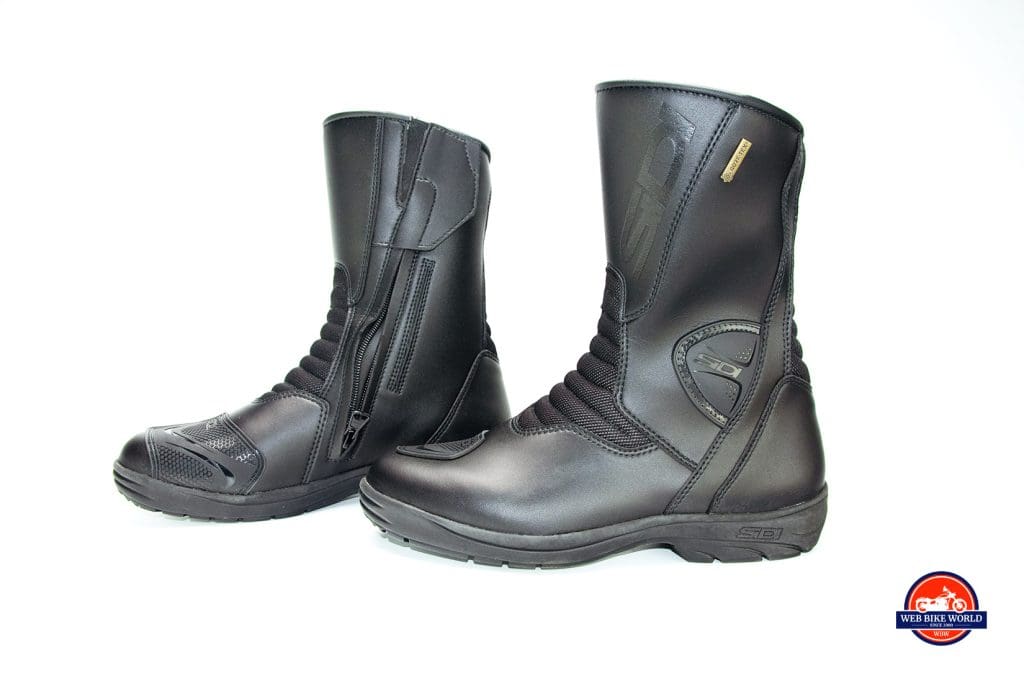 SIDI, in general, pays such close attention to detail that it's rare to notice stray stitches or imperfections of any kind with their products. They must have QC down to a science because the quality workmanship is apparent in the Gavia too.
There were only a couple of loose strands that popped out around the velcro closures after 1200 miles of testing these boots as shown in the photo below. I'll melt them off with a lighter at some point and be rid of them for good.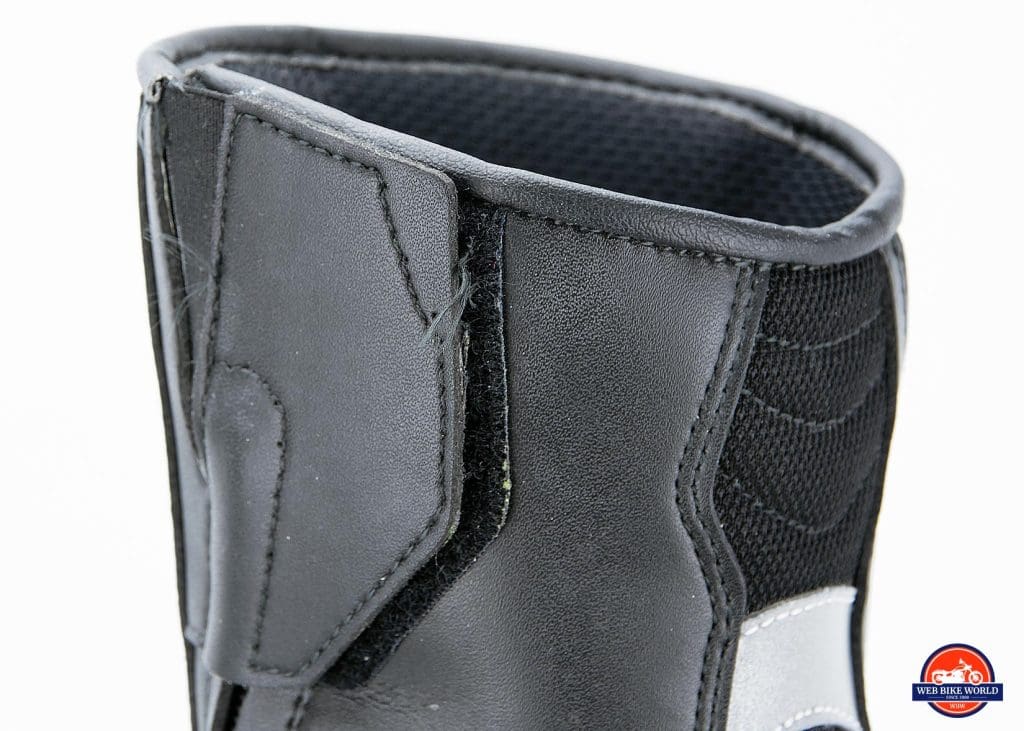 Style
I like the clean-cut styling and how they look all business without fancy frills. They remind me of something you'd see boxers wear in the ring with how slim and utilitarian they look.
The side zipper is a most welcomed feature as I picture putting these on and taking them off with little time and effort required.
Feather Light
These are strikingly lightweight to hold in my hand, especially compared to my ADV 2 clompers. The Gavia doesn't feel much heavier than one pound in my hand. That makes me wonder how much protection they can provide as such. Then again, carbon fiber is light yet strong too…
Should I Be Concerned?
The bonding between the sole and the upper concerns me a bit too because I see no visible stitching holding them together. Will it stand up to some tough riding or let go and cause the boots to start leaking when it rains?
Here are all the features of the Gavia Gore-Tex from the SIDI website:
Features
Full-grain microfiber leather upper and lower outer material
Lined with a Gore-Tex waterproof-breathable membrane and Cambrelle anti-odor/bacteria/mildew material
Nonslip soft rubber sole
Velcro and zip closures on the inner ankle/shin of each boot
Zipper elastic panel to allow flex around ankle ball for easier opening and closure
Breathable textile bands on top of each ankle (accordion style)
Full-length inner gaiter for waterproofing
Soft padded shin plate

Plastic Urethane Ankle armor and CE safety rated
Internal ankle padding
Rear reflective strips
Toe shifter protective pad on both boots
Nylon inner sole and removable arch support pad
What is Full Grain Microfiber Leather?
From Quora, "What Are The Differences Between Leather & Microfiber?":
"The full name of the Microfibre leather is "microfiber-reinforced PU leather", which is an artificial leather made of PU leather (polyurethane) added with microfiber, and its toughness, abrasion resistance, and air permeability are improved."
So the short answer is that Full Grain Microfiber leather is high-end "pleather".
This nickname may have some negative connotations, but on the contrary, full-grain microfiber leather is superior to natural leather in every way other than perhaps breathability from what I found researching it for this review. It reminds me of the synthetic engine oil vs dinosaur oil debate.
Microfiber leather is about half the weight of natural and because it's synthetic isn't limited by the size of the animal it was harvested from. This should also appeal to riders who feel strongly about not harming animals when selecting their riding gear.
Exact Weight
I put one of the boots on my scale to see how close I was with my guess and the Gavia comes in at 1 lb 6 oz. Most of that weight comes from the rubber sole I'm sure.
Sizing
I don't have big feet by any standard, and I'm not a big guy at 5'7" and 175lbs. I usually fit size 8 to 8.5 US but when it comes to SIDI boots I'm a 7.5 US or 41 Euro.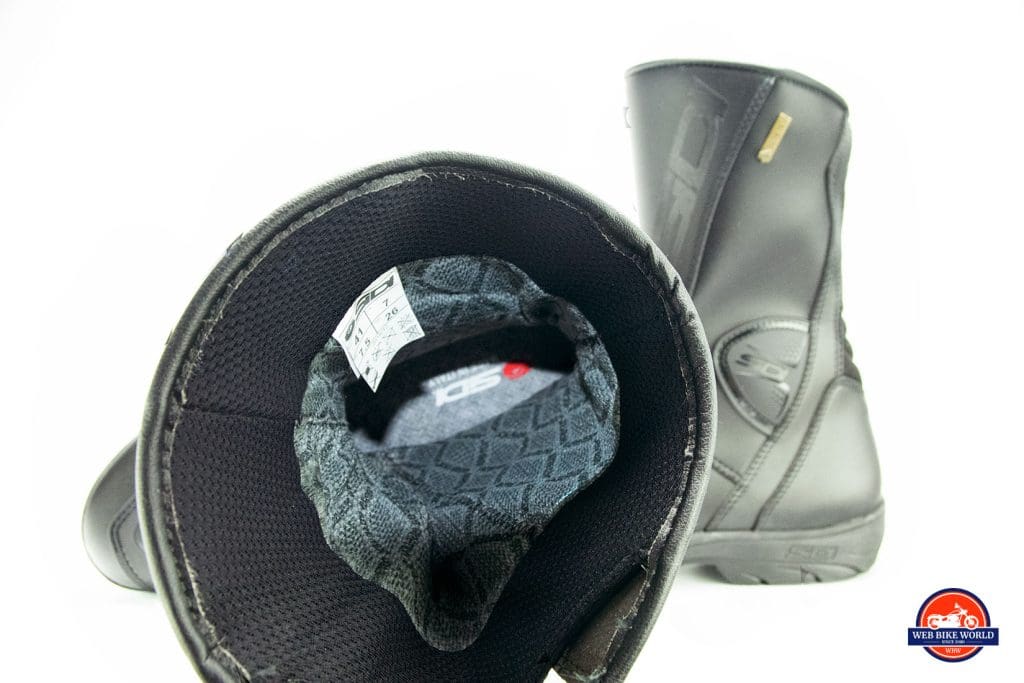 Other people have reported the SIDI sizing to be bang on with US equivalents, but I believe it's worth it to take the time to try some on before you buy.
Worthy of note: SIDI makes the Gavia Gore-Tex Lei which is a women's specific version of the Gavia Gore-Tex. They cost the same $250 US but have a pink heart on a tag sticking out of them to indicate the difference at a glance (photo below).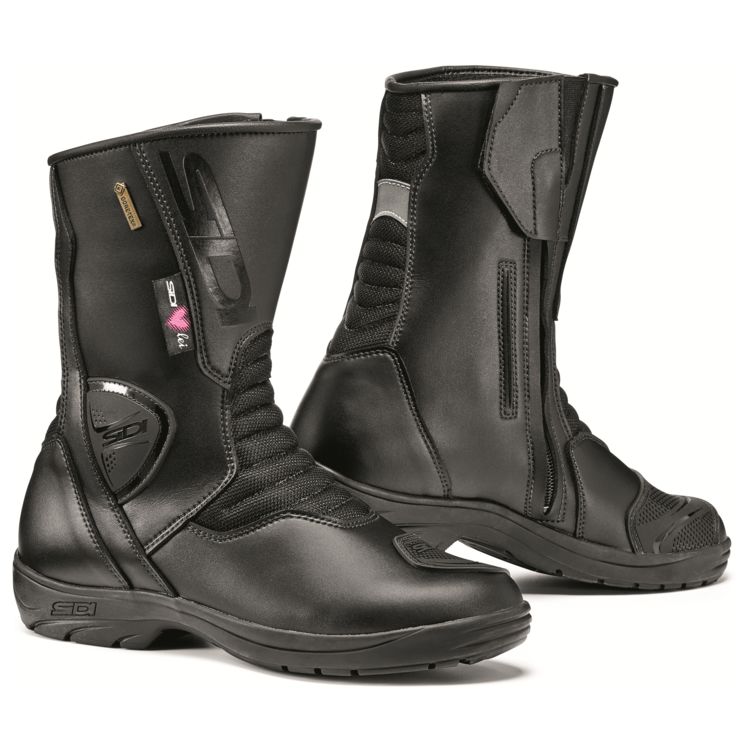 Photo from SIDI
Reflective Striping
On the back of each boot, there's a patch of reflective material about 1.5" wide by 1" long. It's an excellent idea and would work well if you wear your riding pants tucked into your boots.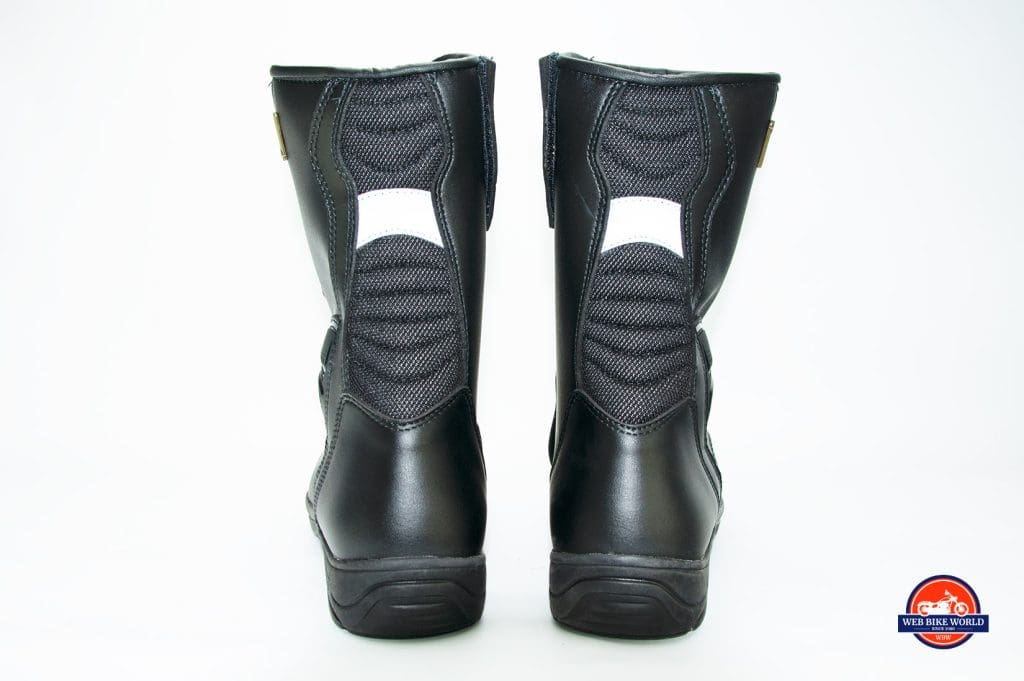 I tuck them in and so I lost all the benefit of this hi-viz feature because they were hidden under my riding pants.
Walking Around Testing
I pull the Gavia boots on for a test drive walking around the house and then go out to run some errands in an attempt to speed breaking them in.
These are stiff as expected and I find there's an uncomfortable amount of room surrounding my heel while my toes are being squished together by the pointy end opposite. I feel like my feet are being coaxed forward because of the slight forward slope of the insoles, thus adding to my discomfort.
Initially, it's enough to make me wonder if these size 41 Euro are incorrect for my clodhoppers, but I know better since my ADV 2 boots fit much the same way at first, but now fit me perfectly. I resist the urge to ask for a bigger size and mosey around in the Gavia for about 3 hours indoors and outdoors.
They didn't break in one bit during that time. Microfiber leather is well known for being slow to give and mold to your foot after all. This is going to take some time and endurance.
Spoiler Alert: After 4 full days of riding the Gavia boots finally relaxed to the point I would dare to call them reasonably comfortable. If I'm totally honest they aren't as comfortable as my ADV 2 boots are though. That's the difference between Microfiber leather and natural leather, in the end, I think.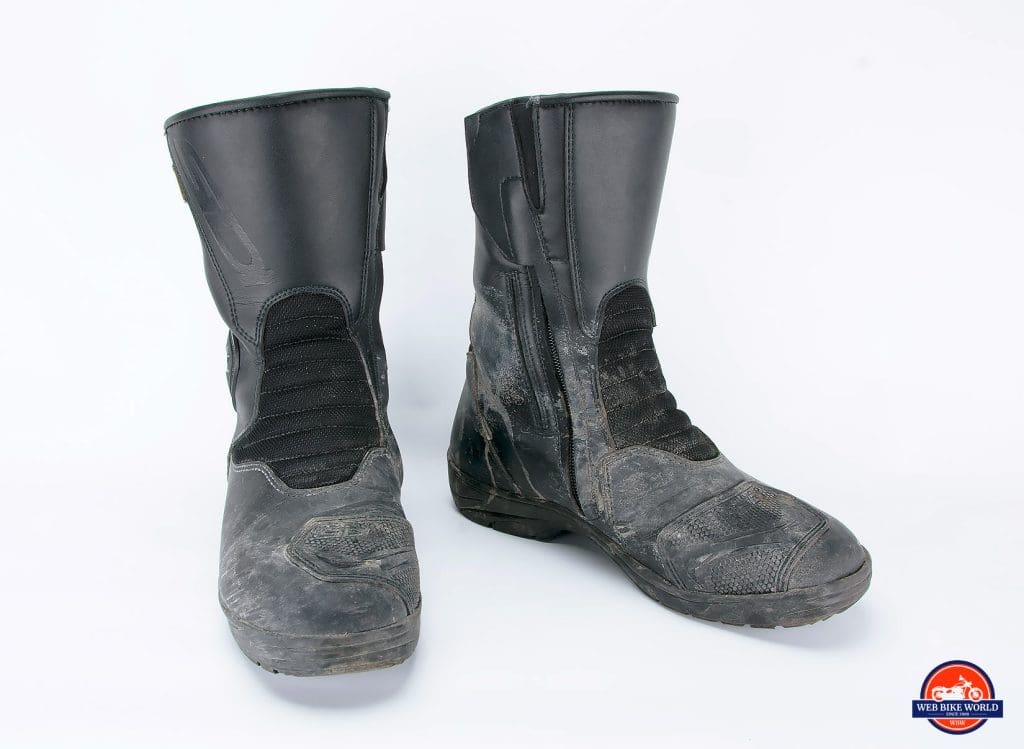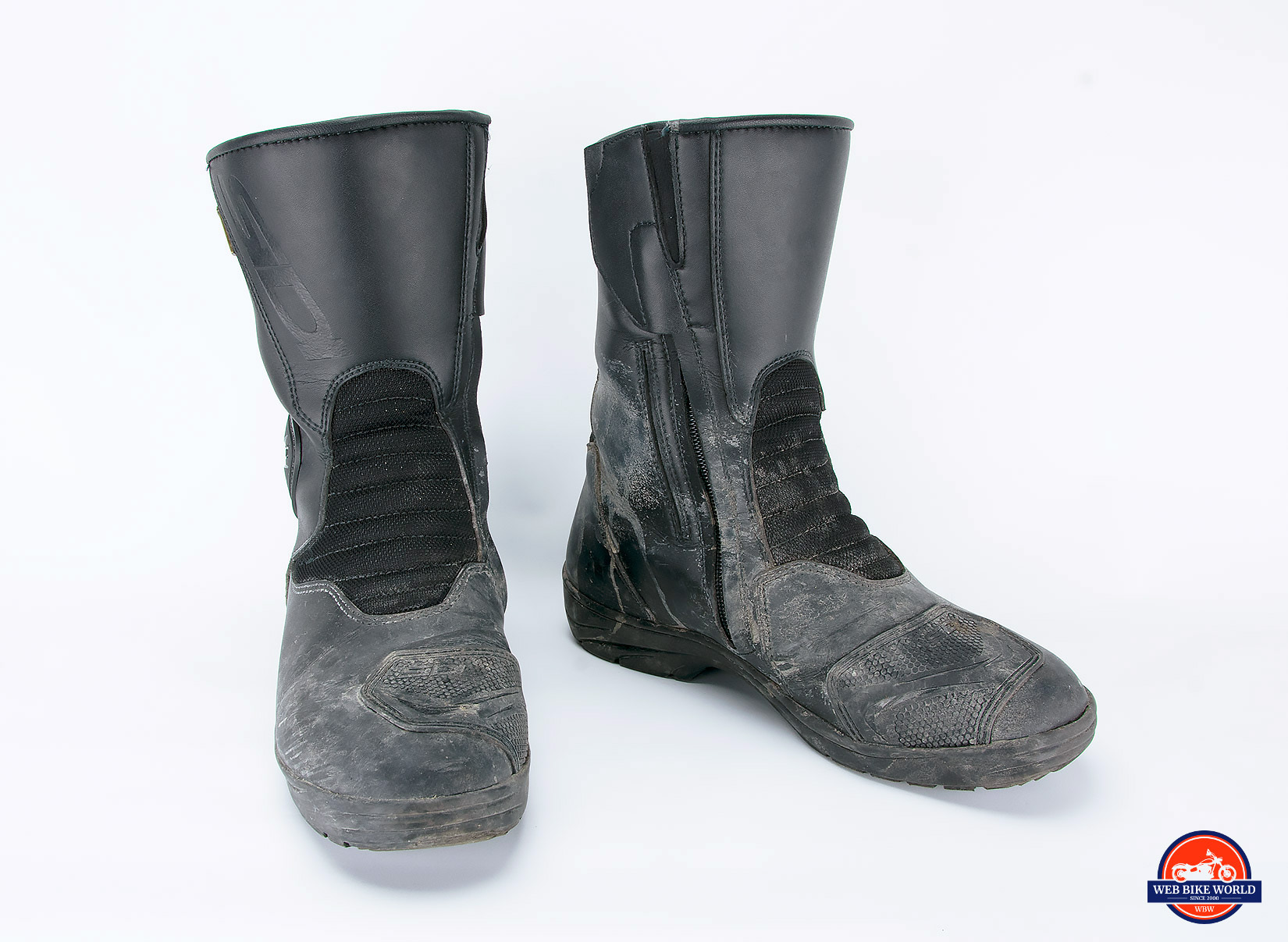 The gap around my heels is gone and I don't have anywhere near the pressure I did initially on my toes, but there is still some unwanted contact on both my little toes.
Particularly interesting to me is how when I'm on the bike or just walking around I don't notice any discomfort, but if I'm sitting on a chair while wearing the boots only then do I feel discomfort on my little toes.
No Rubbing or Chafing
I'm happy to report the boots never rubbed anywhere while walking in them. I never knew the pain of blisters or anything else like it which again speaks to the quality workmanship of SIDI footwear.
Stomping Noises
While walking in the boots I was struck by the fact they "thud" when I step down. How can such lightweight boots with a soft rubber sole be noisy to walk in? The reason is they're built strong with hidden armor inside and the soles are tough.
There's more to these than meets the eye.
"Sole" Train
It's winter here in Alberta and there's plenty of ice and snow on the ground. I was impressed with the grip of the Gavia rubber on frozen or hot terrain. Even when I encountered pea sized gravel on concrete the traction coefficient was where it needed to be. SIDI did their homework on how to choose the right mix of grooves and bumps on these boots.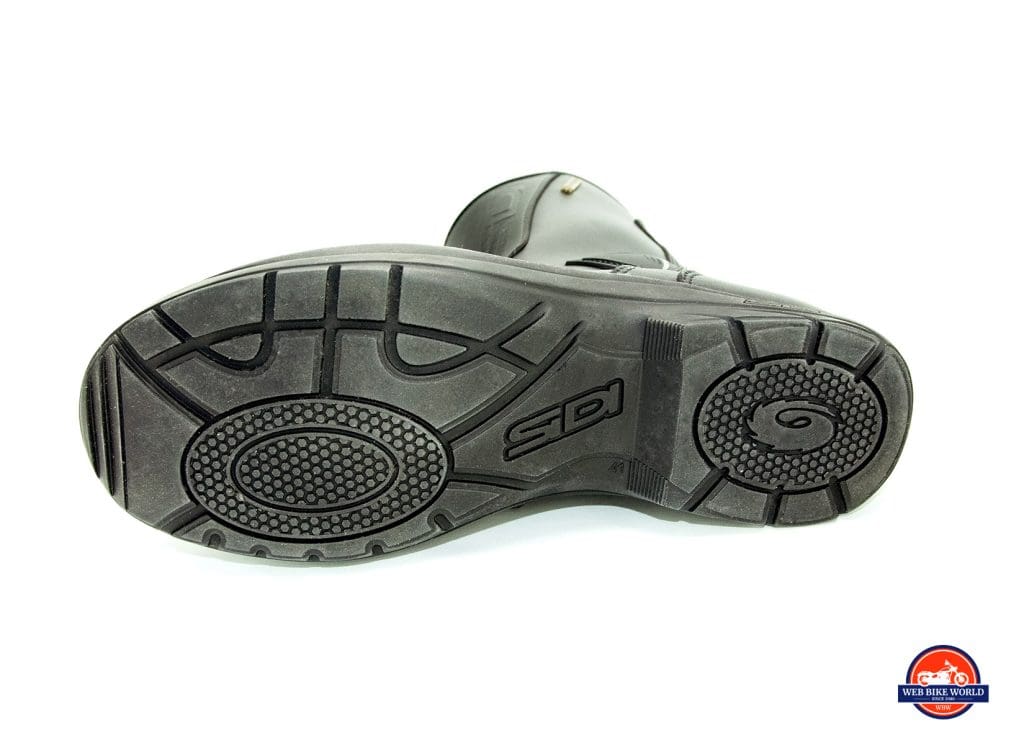 They also don't wear quickly. As mentioned I now have over 1200 miles of riding time on these boots and I don't notice any premature wear on the sole. See the after photo below.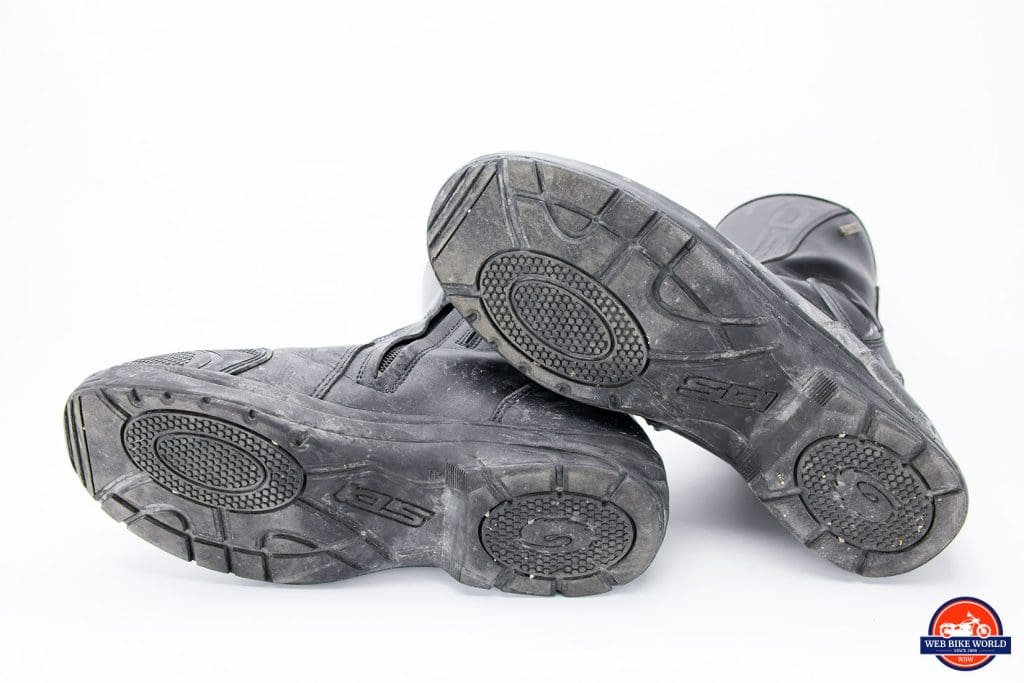 On The Plane Testing: Breathability
I decided to wear all my riding gear – including boots – on the 3hr plane ride to Los Angeles in order to better gauge breathability in warm temperatures.
The boots really came through and even while wearing jeans under my Motoport USA riding pants my feet didn't sweat much in the stuffy, 75 degrees F (23 C) cabin over a 3-hour flight.
YKK Zipper Openings
I was grateful right away for the side zippers on the Gavia when I was "randomly" selected to undergo enhanced security screening at the airport. The zippers allowed me to quickly doff and don the boots to show the TSA agents I wasn't hiding anything in them.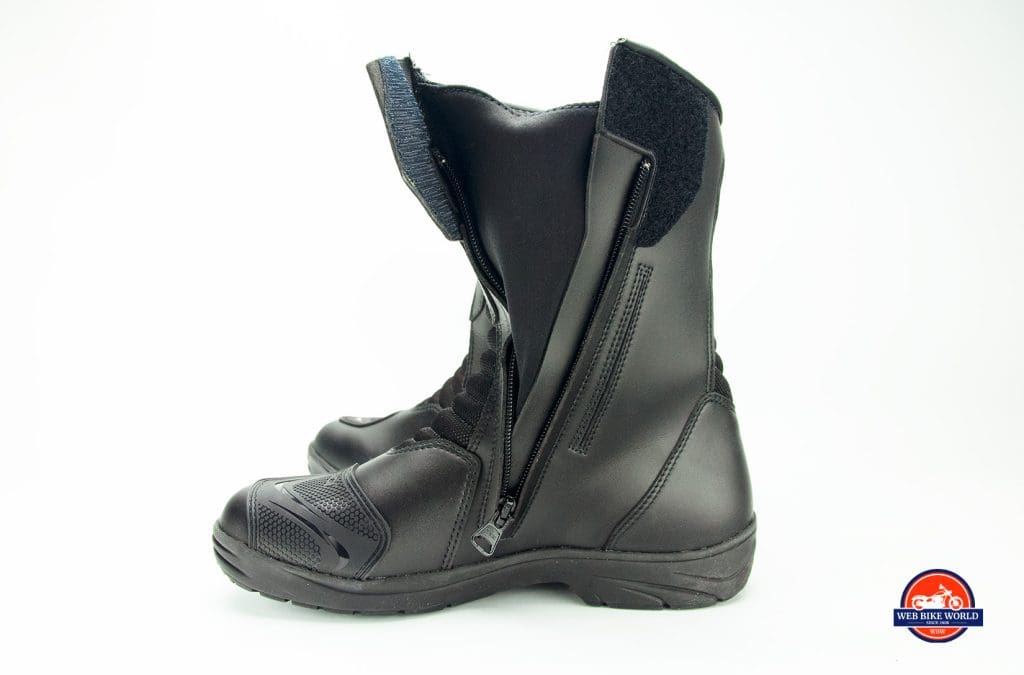 The elastics built-in on the sides of each ankle to give some flex in the boot work fairly well aiding in pulling up the zippers. You still need a bit more than a simple tug to do the boots up, but if those relief elastics weren't there the task would be way more difficult.
I do feel tempted to squirt some WD40 on the zips now that I've been wearing the boots a long time during testing. They aren't catching on anything, but I think some dirt has infiltrated the teeth making it tougher to zip up now than when the boots were brand new.
On The Road Testing
These boots make shifting a breeze, especially after they've been broken in. I have no issue flexing my ankle whatsoever and I can even slightly feel the shift lever through the protective toe cap unlike on my ADV 2 boots.
It's just the right combination of protection and feel in the Gavia for running motorcycle controls.
Cold Temperature Transfer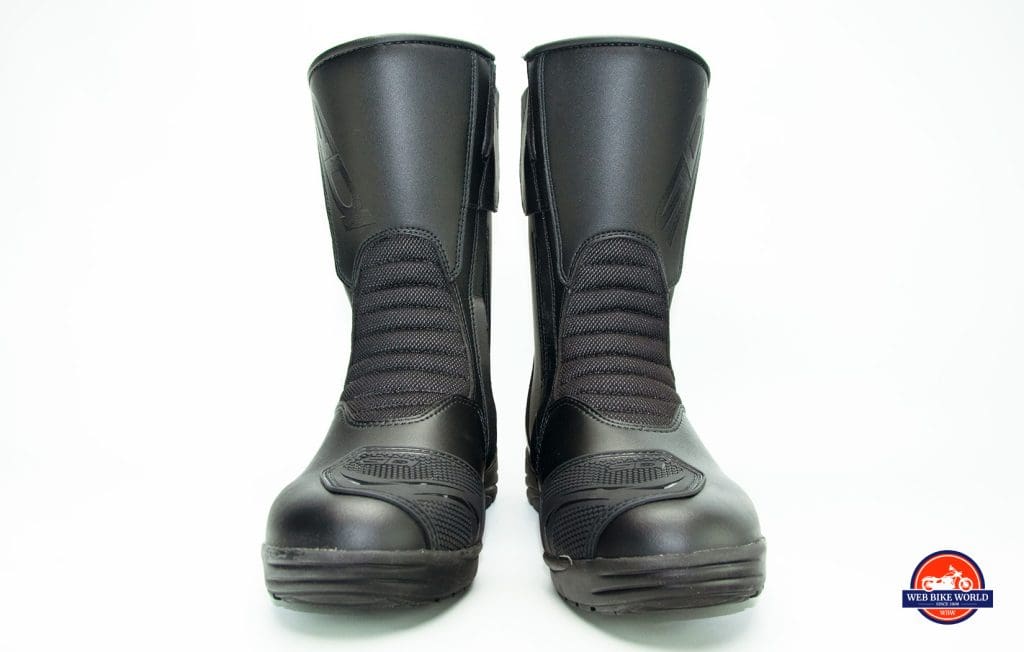 One other complaint I have with my ADV 2 boots is how the shifter toe protector cap transfers cold directly to my big toes when the temperature drops below 41 degrees F (5 C). I was expecting the same problem with these Gavia boots, but surprisingly they don't do it nearly as bad.
It was only after riding around freezing 32 F (0 C) for a prolonged period that I began to notice a cold sensation in them. I don't know what the difference would be between the two, but it's a big win for the Gavia there. I think the cap on the ADV 2 boots is twice as thick so that might be the reason.
In the cold, the Gavia boots hold up pretty well. I wasn't wearing any special kind of wool socks to compensate but I felt comfortable right down to temperatures most sane people won't ride in.
Warm Weather Riding
The hottest temperature I tested the Gavia in was 90 F (32 C). I was comfortable even just standing around in the boots at that temperature. My feet don't sweat a lot typically in anything other than rubber boots, but I credit the Gore-Tex and Cambrelle lining design fully for this excellent performance more than my individual perspiration levels or lack thereof.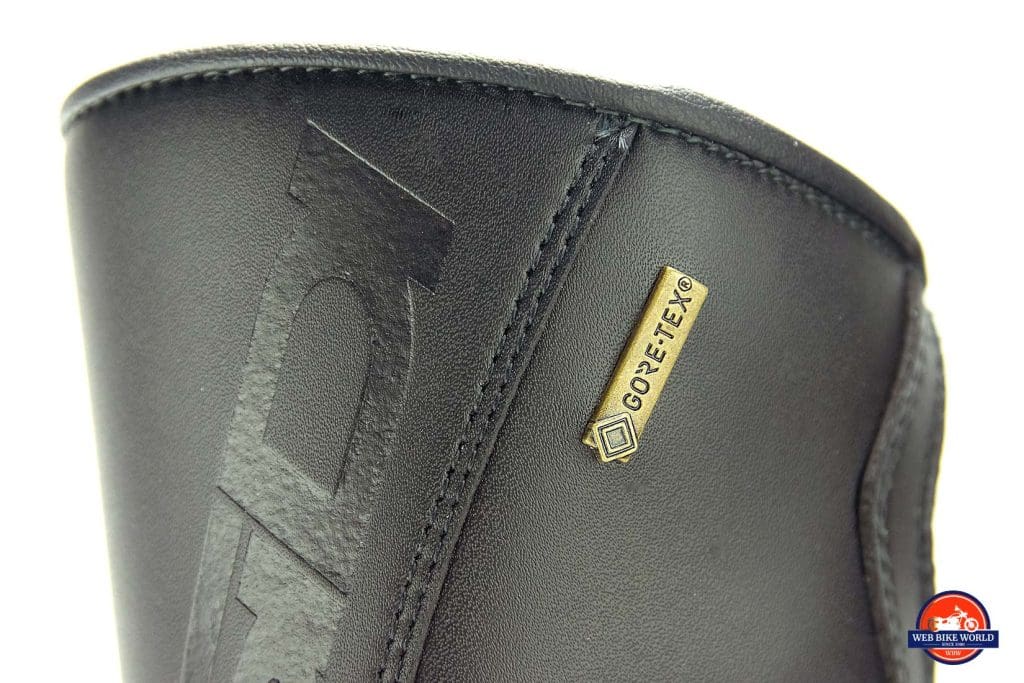 The "accordion" style textile patches on top of the ankle and in the back above the heel area probably are the design elements responsible for cooling my feet.
Toughness and Protection
Toughness
If you look closely at these boots you'll see nothing except tight, uniform double stitching everyone on them. They are built to last using painstaking precision.
Oops…
While taking off from a stop on the Gold Wing DCT I made a mistake with my foot placement and ended up with my left toe getting forced down into the asphalt when my heel jammed against the left luggage compartment.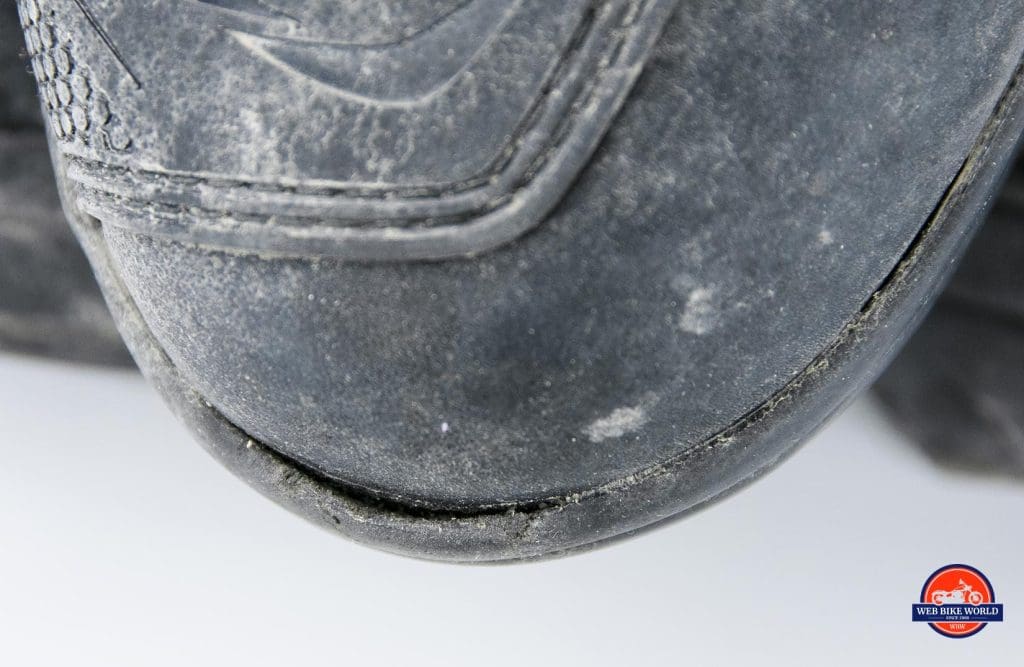 This happened to me twice during the course of the testing time I spent in California. Consequently, those nosedives into the asphalt forced back and slightly separated the top edge of the rubber sole for about ¾ of an inch on the left boot toe (photo above). I'm happy that it held up to these two scrubs and the damage is minimal to the boots.
Protection
The minimalist armor in the Gavia is good enough to protect in a slide on asphalt slightly better than an average pair of leather boots from what I can tell.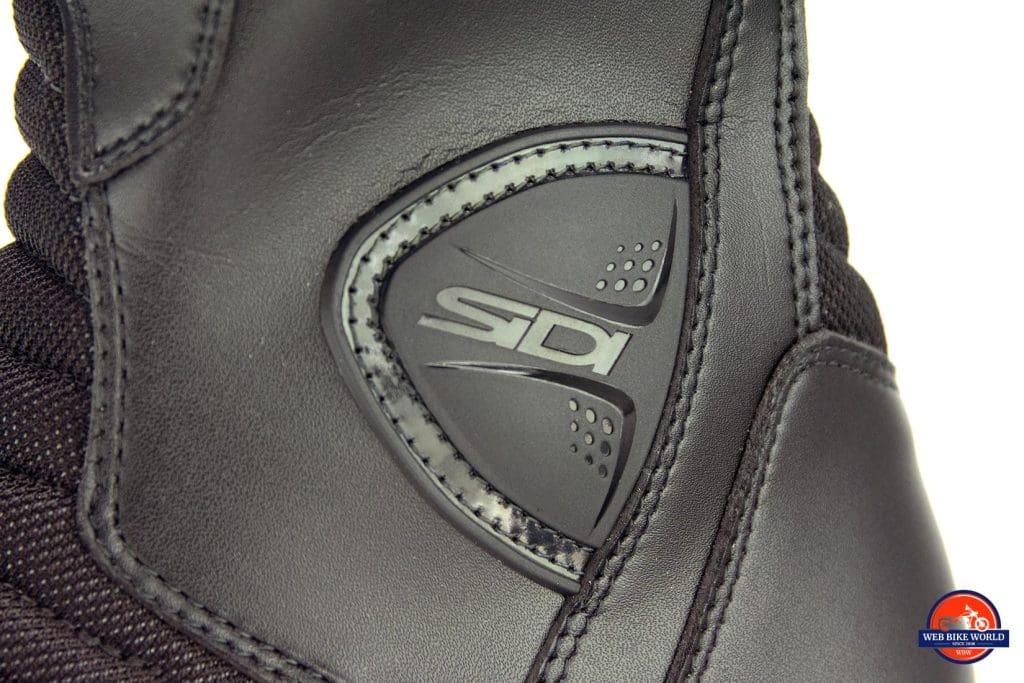 In particular, the large polyurethane cap covering each ankle bone would be effective in saving your skin and protecting from side-impact forces to a limited degree. Combined with the Microfiber construction the boot is stiff enough to help protect against ankle sprains, but these boots don't protect well enough to save your ankles or feet in a more serious impact or scenario where your foot would be hyperextended.
I don't believe it would be much good in a collision scenario where you became airborne and landed on your feet. You'd need to upgrade to a more heavy-duty design like the SIDI Armada Gore-Tex for example. See our review of that boot here.
Still, for how lightweight the Gavia is it's decent enough for the average asphalt warrior. The basic CE safety rating on the Gavia is legit but Level 1 is really nothing to crow about in reality.
Waterproof?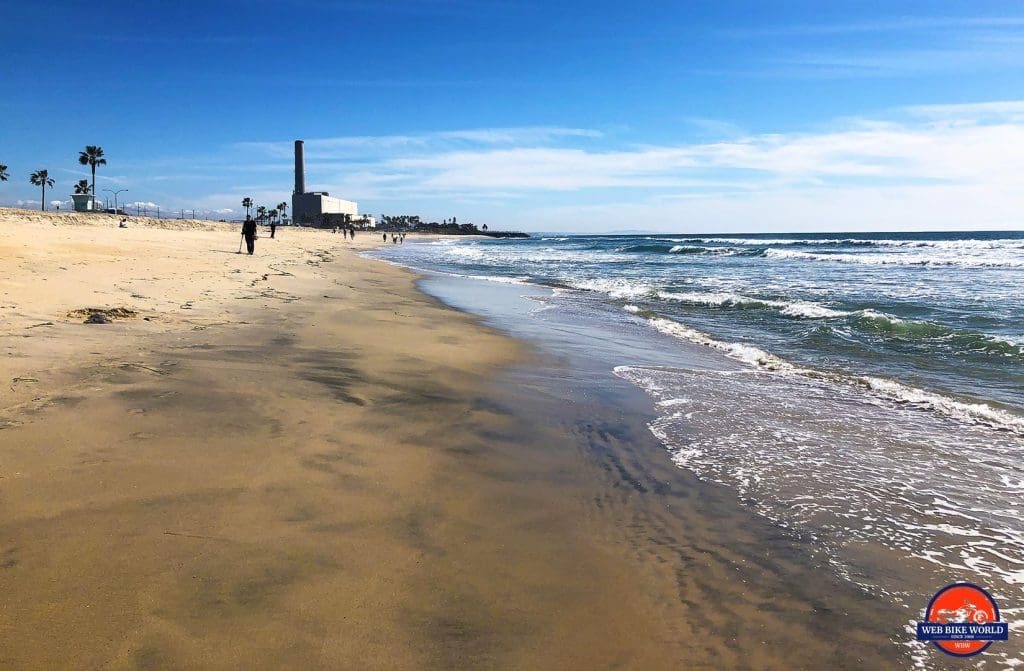 The big question on my mind after scrubbing the left toe twice was whether those hits had compromised the ability of these boots to keep my feet dry when the going gets rainy. I didn't encounter any substantial rain during my 5 days in California so I needed a different plan to test these boots out properly.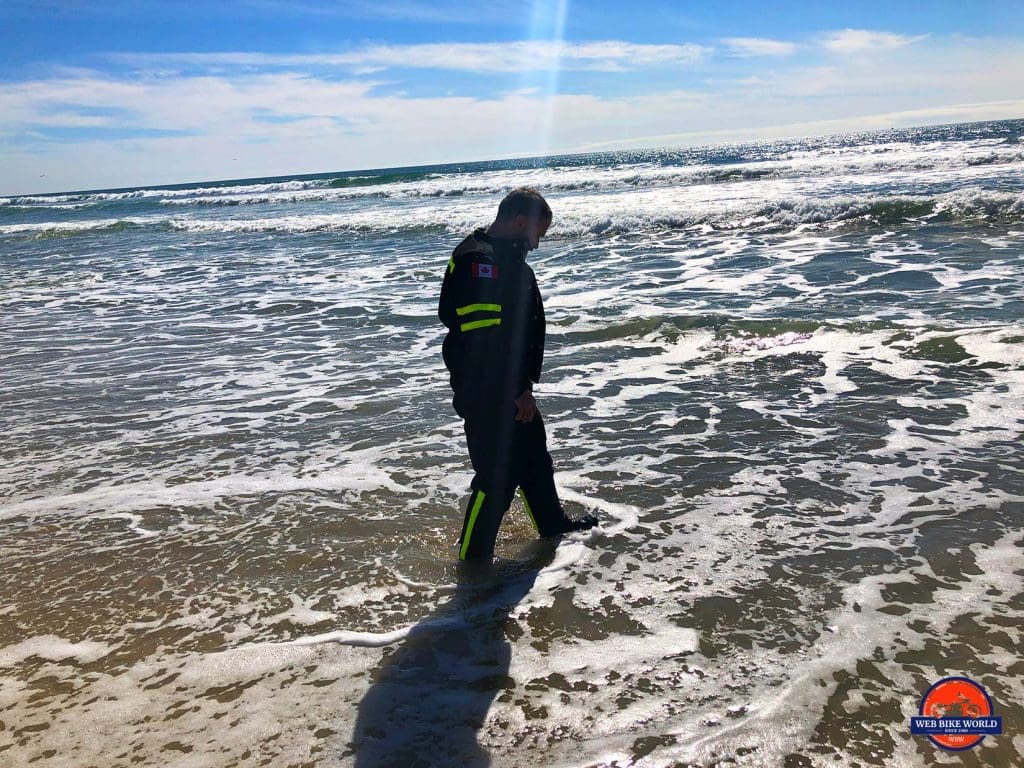 I headed down to Carlsbad beach to find out. I spent a good 25 minutes frolicking in the waves generally enjoying myself whilst staring at the ocean. It's not something I often get to do living in landlocked Alberta… especially in February!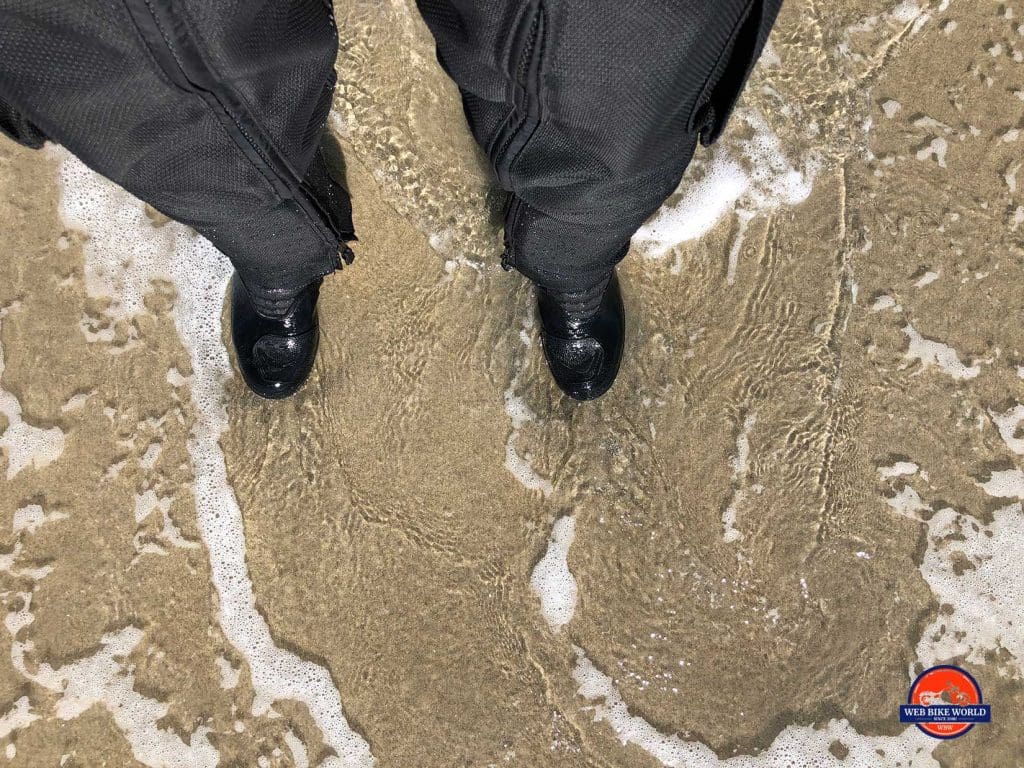 I was wearing my Motoport USA Stretch Kevlar riding pants with the waterproof liner installed to test them at the same time.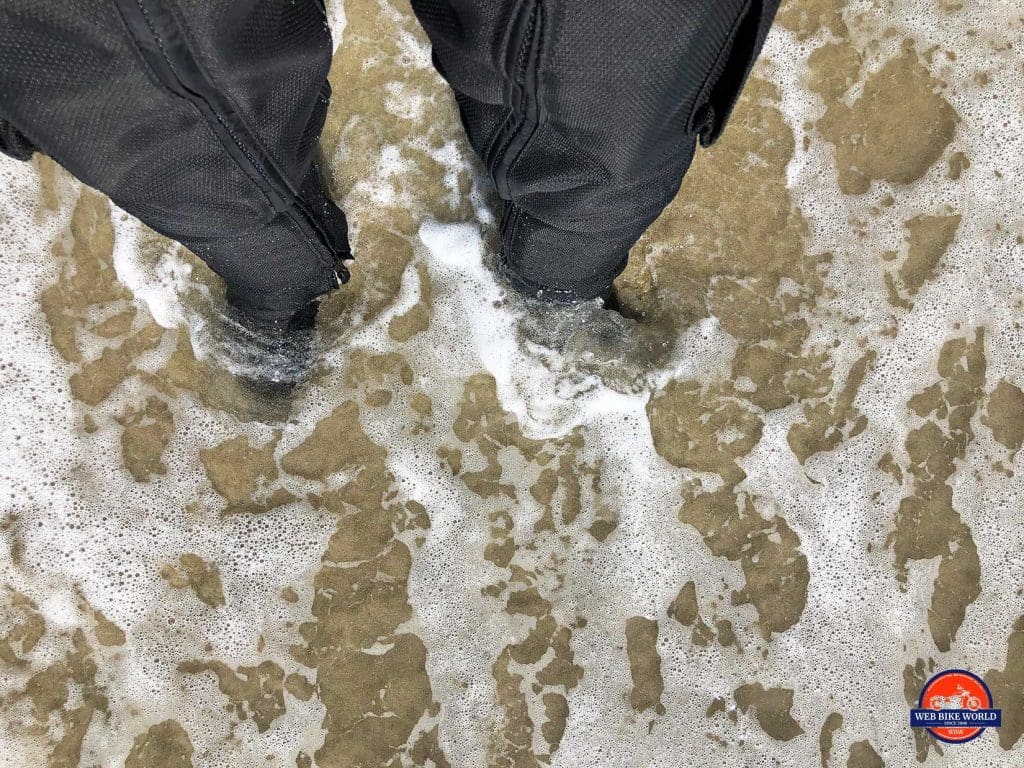 At first, I managed to keep the water below the top of the boots consistently, but as you probably know waves change height regularly in the surf and I got buried up to my knees more than a few times as you can see in the photos.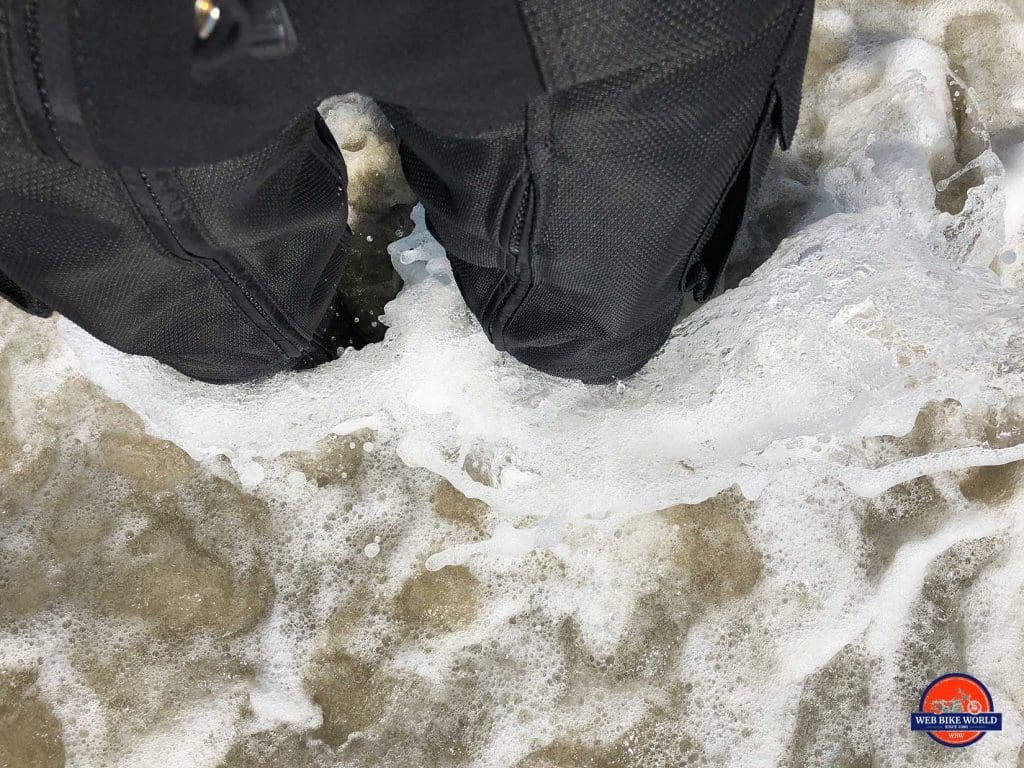 The combination of Gavia boots and Motoport pants stopped all water from entering! Even when they were completely submerged for 5 to 10 seconds at a time while I scrambled to get out of the deep water.
Wow!
The Final Verdict?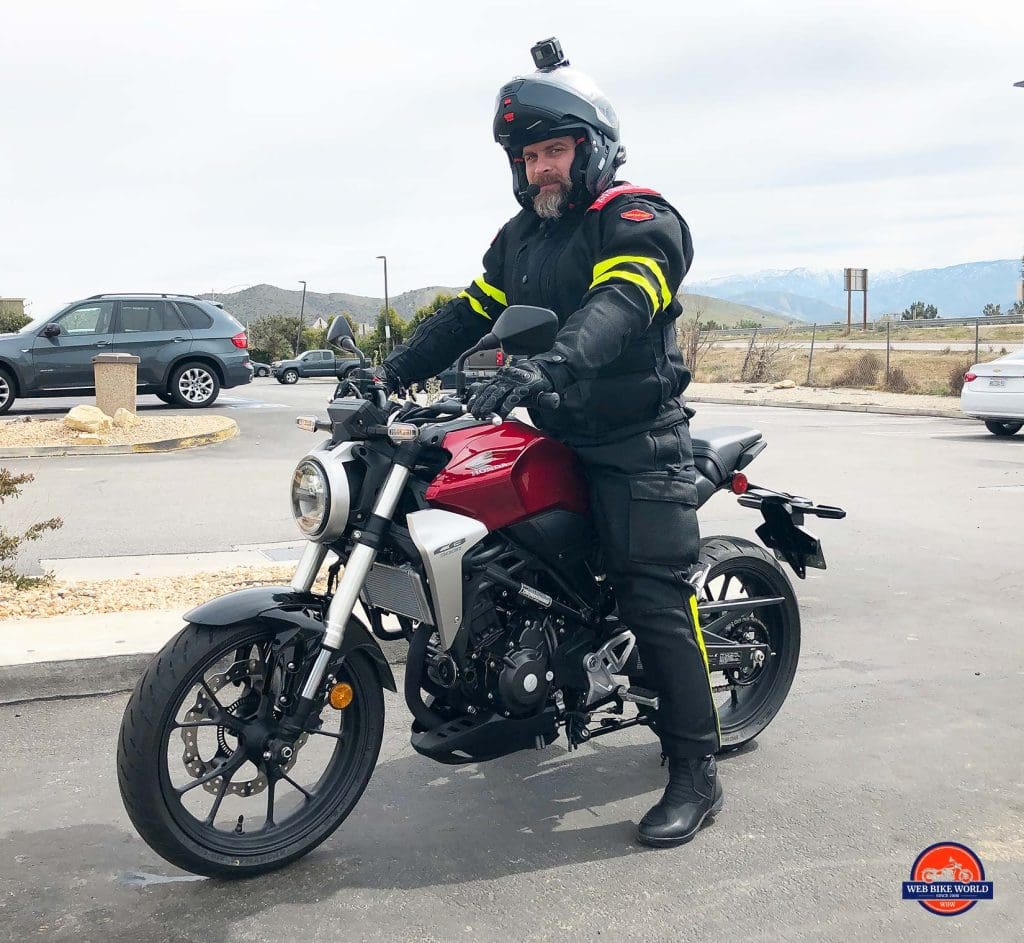 There's little question in my mind as to why the SIDI Gavia Gore-Tex boots have sold well over the last 3 years. I fully expect them to continue to based on my experience with them.
They perform as advertised and are a bargain considering how tough, waterproof, and lightweight they are. You'll be hard pressed to find another boot with Gore-Tex in it with this level of quality build for $250. SIDI has done an excellent job with these and I expect to be wearing mine for many years to come when I'm not adventure riding.
They would be slightly more comfortable for me if they let go just a smidge more than they have already at the toes. On the other hand, I would rather they stay as they are now rather than relax too much leaving my foot to slide around inside.
If you're looking for a sport touring or commuter boot these ones come highly recommended from me. They're a winner.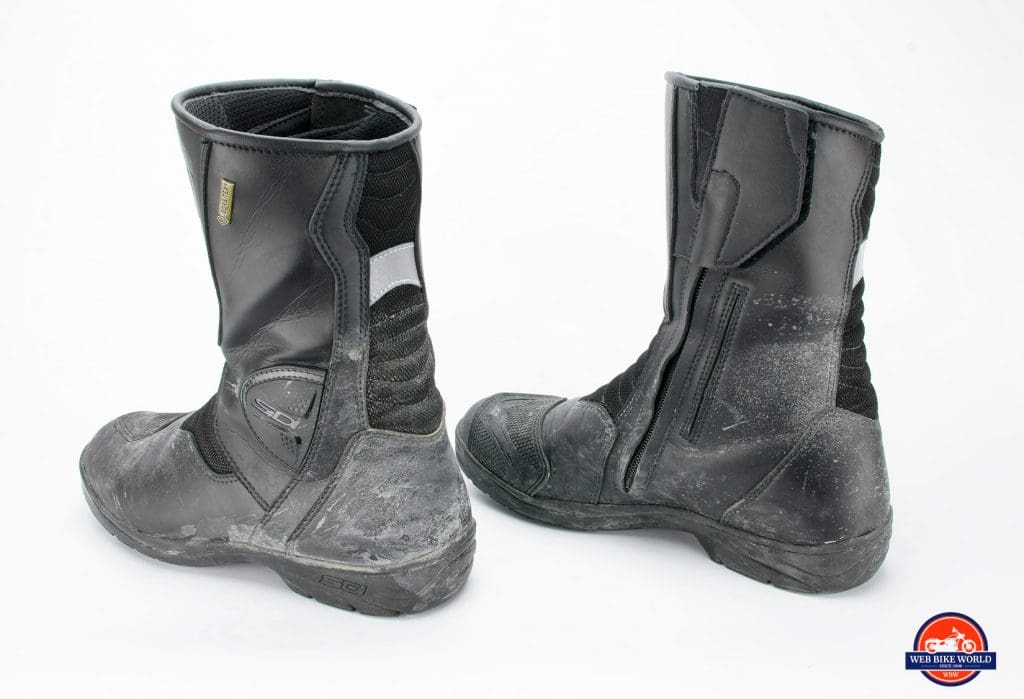 Pros
Quality design and materials
Comfortable in all normal riding temperatures
Armor within is discreet
Lightweight
Good traction
Waterproof
Reasonable price
Tougher than they appear
Easy on, easy off side zipper opening
Women-specific model available
Cons
Don't conform to your foot quickly or easily
Narrow Toe
Reflective badging isn't located well
Limited degree of protection
Specs
Manufacturer: SIDI Motorcycle Boots

Price (When Tested): $250 USD

Made In: Italy

Sizing: Mens sizes 7.5 to 15 and Womens sizes 5.5 to 10.5

Colors: only black

Review Date: March 28, 2019