Sidi Adventure Gore-Tex Boots Review Summary
Sidi Adventure Gore-Tex Boots Image Gallery
The Sidi Adventure Gore-Tex boots are the top of the Sidi Adventure-Touring boot lineup.
They're a quality piece of riding gear and they're not inexpensive, but serious riders may discover that these boots will probably outlast lesser types.
The height of the Adventure Gore-Tex boots doesn't work on my BMW K1200LT touring bike.
But it's perfect for off-roading on my BMW R1150GS and Suzuki DRZ400-S.
So far the boots have been perfectly waterproof…except when the water is deeper than the boot is tall!
On the first day of Motorcycle Safety class, I teach about protective gear and one of the topics is proper footwear for motorcycle riding.
The curriculum mandates that a rider wear "sturdy, over the ankle boots" during the class, but unfortunately, I see too many riders wearing sneakers and even flip-flops on the road.
Even if you only intend to cruise around town, your choice in footwear must provide adequate protection for your feet and ankles should you have any sort of mishap.
A proper pair of boots will also help to protect your legs from possible burns in addition to providing a more confident grip on the pavement and foot pegs.
Personally, I prefer to wear motorcycle-specific boots that are built to provide protection for all of the above.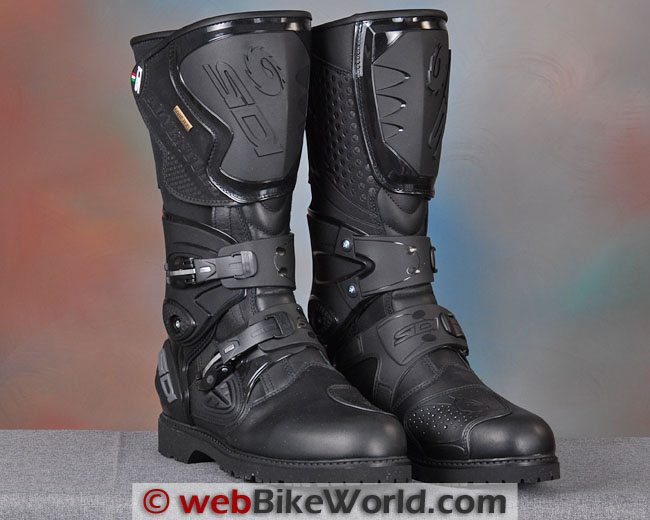 What Boots?
Over the past 13 years and with more than 250,000 miles on motorcycles, I've gone through several pairs of boots.
These include including a pair of Oxtar Matrix boots (review), now made under the TCX name, and a pair of Sidi Typhoon Gore-Tex boots.
The Typhoon Gore-Tex boots, which cost $325 back when I bought them, have been my regular everyday boots for the last 5 years.
Since then, they have stood up to daily 100 mile round-trip commutes, several cross-country tours, a trip on the Trans Labrador Highway and also the first half of the Trans America Trail, from Tennessee to Colorado.
I'm usually good about taking care of my gear and equipment, but for some reason my boots get overlooked.
I guess it's the old "out of sight, out of mind" thing…
But despite the abuse, the Sidi Typhoon boots have protected my feet and ankles during several mishaps, they never leaked a drop of water and the only failure was when a sole came loose on one boot somewhere on the Trans-America Trail last summer.
I'll blame the weather for that, since it was over 100 degrees F (38 C) nearly every day for two weeks straight, combined with a fair amount of standing on the pegs.
This was resolved overnight with some Gorilla Glue in a motel room, although the glue oozed out and ended up attaching the sole to the carpet… But the Typhoon Gore-Tex boots lasted the remainder of the trail ride and I'm still using them today.
I'd say that about five years of outright abuse speaks volumes for a pair of boots, so when the Editor asked if I was interested in reviewing a new pair of the Sidi Adventure Gore-Tex boots he received an enthusiastic YES!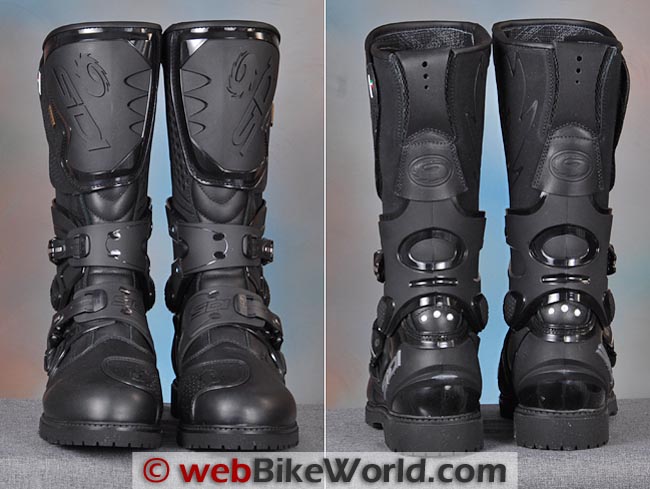 Sidi Adventure Gore-Tex Boot Features
The Adventure Gore-Tex boots are the current top-of-the-line Sidi dual-sport or adventure-touring boots.
Also in the lineup are the Sidi Adventure Rain boots for $100.00 less list price, then the Sidi Armada Gore-Tex boots (review), which have a "convertible" street to dual-sport design.
The Adventure Gore-Tex boots in size 45 (11 US, 10.5 UK) must be very popular, because it took about 7 weeks before the factory could ship a pair. But let me say — they were well worth the wait!
Fresh out of the box, the Sidi Adventure Gore-Tex boots are beautifully made and they look great…but it didn't take me long to change that.
Based on the success of the popular Sidi Adventure Rain boots, the Adventure Gore-Tex is made from real "top grain" leather, according to SIdi, bonded to a full Gore-Tex liner to provide the waterproofing with breathability.
Of course, the boots also have the full Gore-Tex Waterproof Warranty — a plus.
Amazingly enough, the Adventure Gore-Tex boots are even taller than my Typhoon boots by about 1.5″ (38 mm), but I prefer a tall boot so that's fine with me.
Starting at the bottom and working up, the Adventure Gore-Tex boots have a nice thick rubber Vibram-type lug sole, typically found on hiking boots, and they provide a good grip on both the foot pegs and the ground.
The downside of the sole thickness for me at first was that they made it a bit difficult to feel what was underneath.
For example, on a couple of occasions my bike was slowing down for some unknown reason, when I discovered that my right toe was resting on the rear brake pedal.
Some of this, of course, is because of the stiffness of a new pair of heavy-duty dual-sport boots, but I just wasn't used to that much material between my foot and the lever.
However, as I've worn them more and the boots became broken-in, I have adapted to the feel.
The leather uppers of the Adventure Gore-Tex boots are stitched onto the sole with a Goodyear welt type construction.
Years ago, this was the norm in shoe and boot design, but you just don't see much of any more; most soles are glued or bonded on.
Welt construction makes it possible to replace just the sole, which is what most often wears out first for me.
Replacing just the sole can increase the life of a shoe or boot beyond that of a one made in the usual "throw away" design that's so common today, provided the upper has been taken care of.
Of course there's the obligatory shifter pad on the toe of each boot and the stitching throughout the Adventure Gore-Tex boots is beautifully done, as you would expect of Sidi boot.
Rather than only using hook-and-loop fasteners across the front, as with the Typhoon boots, the Adventure Gore-Tex boots have two cam lock buckles, one over the instep and the other above the ankle.
These keep the foot securely in the boot without going overboard with too many buckles, like an all-out motocross boot such as the Sidi Crossfire boots (review).
With a considerable range of adjustment available in the straps, the amount of tension can be fine-tuned to fit your foot and riding style.
There were no instructions in the box for adjusting the straps, but after playing around them for a while, the system suddenly made sense and was easy to adjust.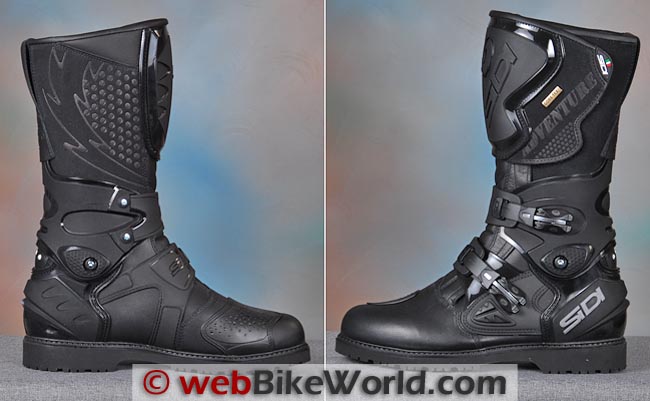 Inside and outside views of the Sidi Adventure Gore-Tex Boots with upper protector installed.
Transitioning From Adventure to Touring
This is the first time I've worn a pair of motorcycling boots with the Sidi "CamLock" system, and I wondered about catching one of the cams while on the trail and releasing the lock.
But I noticed the boot has a little triangular wedge just forward of the lower latch that I suspect is placed there in order to prevent an object (rock, branch, etc.) from getting underneath and releasing the cam.
The CamLocks across the front are each attached to each boot via two screws and a bracket, which are replaceable items along with the straps.
They're shown in four different colors as a Sidi spare part and they're called "Stone Buckles" for some reason.
Thermoplastic Polyurethane (TPU) is used for the straps, the heel and the ankle bracing system, which uses a single pivot on each side.
The ankle bracing wraps around the boot is also replaceable; it's called the "Charger Central Strap" although there was no information in the box that indicated this.
I tried to remove the retainers with a small set of "e-ring" pliers, but it looks like you'd better get a new pair of retainers first since they're likely to get damaged during removal.
As with the Sidi Typhoon boots — and pretty much every other boot I've owned — the top of the Adventure Gore-Tex boots is held closed with a large section of hook-and-loop material.
This allows for a lot of adjustment around the calf, either for the your leg size or how much you want to limit movement in the top of the boot.
The front of the upper part of the boot has a hefty section of TPU armor to protect the lower shin. It has the Sidi name and logo nicely embossed in the material.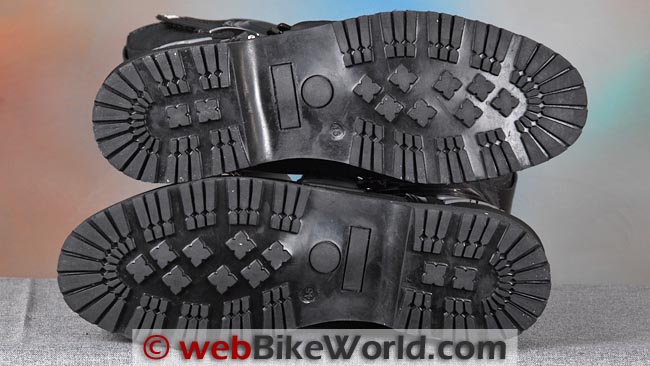 Sizing, Fit and Comfort
The size 45 boots fit just as expected for a U.S. size 10.5 to 11.0, so no problems there. The Editor also reported that a size 44 also fit as expected, so we can assume that the sizing on the Sidi Adventure Gore-Tex boots runs true.
Inside, the boot is lined with a comfortable Cambrelle fabric which helps to wick moisture away from the foot and through the Gore-Tex lining where, the moisture is then transported away from the foot.
OK, at this point I bet some of you are thinking that this is going to be a hot boot in warm weather?
Other than a pair of ventilated boots, every motorcycle-specific boot I have owned is hot when the ambient temps get above 80 F (27 C) or so.
What will affect the comfort level more is how much air flows over the boot and whether your feet and legs are located behind any type of heat exchanger, like a radiator or cylinder head when riding.
As an Automotive Technician, I stood on concrete for 40+ years, which caused a host of foot problems; as a result, I have to use orthotics in all of my shoes.
Because of this, my feet are very particular with regards to fit, to achieve any degree of walking and standing comfort.
I found the Sidi Adventure Gore-Tex boots to be comfortable straight out of the box. Yeah — they were a bit stiff at first, but doing some heel raises with my toes on an edge (like the stairs) loosened them up some.
I wouldn't want to hike the Appalachian Trail in these boots, but walking in them is surprisingly comfortable.
Just don't try to sneak up on anyone, because they squeak a LOT. The included information suggests using a silicone spray to resolve the noises. But, the squeaking doesn't bother me…
Conclusio
Is a pair of $500 boots really that much better than, say, a $150 pair? I guess it depends on what you're going to ask of them during their life span…and how many $150 boots you might go through during that time.
It's taken a bit of trial and error over the years, but I've come to understand the value of a quality piece of riding gear. Y
eah, it's hurts to shell that kind of money, but often the item will outlast the cheaper choice, especially if you're a serious rider.
The height of the Sidi Adventure Gore-Tex boots precludes me from comfortably wearing them when riding my BMW K1200LT touring bike.
But these are dual-sport boots and they are perfect on my BMW R1150GS and my "new" (to me) Suzuki DR-Z400S (blog), especially when I'm riding off-road.
So far the Adventure Gore-Tex boots have been perfectly waterproof — except when I put my foot down once and discovered that the water was deeper than the boot is tall!
These boots will be put through the paces on the western section of the Trans-America Trail in just a couple of weeks. I suspect they're up to the test and I'll be sure to report back when I return.
UPDATE: Sidi Adventure Gore-Tex Boots on the Trans-America Trail
(September 2013) OK! I'm back from completing the western half of the Trans-America Trail wearing the Sidi Adventure Gore-Tex boots and I have to say I'm darn glad I had them on.
Along the way we encountered rain, sleet, sand (too much of it my liking), rocks galore (mostly sharp), really sticky mud, water crossings, flash floods, cold and heat just to name a few.
In every condition these boots were the "Cat's meow", keeping my feet and ankles dry and safe even with a couple of minor "offs".
On two occasions my right boot was trapped under the bike, but because of the high level of construction with these boots, neither my foot nor ankle were injured.
One of those I was able to raise the bike just enough to free the foot, the other required my riding companion Glen's help because I could not get enough leverage to lift the bike.
Regardless of the conditions I always had secure footing except when we got mired down in some nasty mud that stuck to everything including the soles of my boots.
I had no issues with the boots other than grit and sand getting in the latches making them tough to close at times.
In my opinion, the cost of these boots is money well spent. We were WAY off the beaten path and had I injured my foot or ankle it would have been ugly getting out of there."
w
BW
Review: Sidi Adventure Gore-Tex Boots
List Price (2013): $500.00
Made In: Italy
Colors: Black
Sizes: 42-47 Euro (8.5-12.0 US)
Review Date: August 2013
Note:
For informational use only. All material and photographs are Copyright © webWorld International, LLC since 2000. All rights reserved. See the webBikeWorld®
Site Info page
. Product specifications, features and details may change or differ from our descriptions. Always check before purchasing. Read the
Terms and Conditions
!
Owner Comments and Feedback
---
From "D.P." (April 2016): "In the last 2 1/2 years I've used these boots for over 50,000 miles of riding on Backcountry Discovery Routes, north to Inuvik, four trips to Mexico, and plenty of places in between.
These boots are expensive, but get the job done in pretty much all conditions.
However, in torrential rains recently, the left boot soaked up water, resulting in squishy socks and cold feet. I contacted Sidi and although sympathetic, the one year warranty was history.
On a tip from RevZilla, I contacted Gore-Tex and then shipped the boots to them for 'evaluation'.  They concluded there was a material failure, asked for reordering information and Gore-Tex ordered and shipped a new pair of boots.
I'm pretty much amazed by the Gore-Tex 'Guaranteed To Keep You Dry' policy, but in this case, it's all good. In this case, get what you pay for holds up."
---
From "M.M." (December 2015): "I love these boots! The protection here is great. The squeaking problem was fixed with some cheap (Walmart) DuPont  Teflon chain lube.
A few blasts to the offending areas and problem solved.
This is my 3rd pair of SIDI boots and they more than measure up to my expectations. Fit and finish plus a replaceable sole make these boots ideal for my style of riding. I live in Alaska and these are real adventure style boots you can actually walk in comfortably."
---
From "G.N." (June 2015): "I got one pair of these last year after reading your review of them.
They were barely used specimens owned by a friend who sold them to me at less than half price because he had stopped riding not long after he got them.
So they were a size 44 instead of my usual 45, but Sidi boots seem to have a lot of "give" (maybe just particular to this model?) that I still find them comfortable.
The squeaks are definitely there but I can live with them.
Also, a bit of background, I live in a tropical country with a lot of rain, but I don't find these to be too hot, even in totally dry days. The average temperature where I live is 32-34 degrees Celsius.
During the rain they are awesome, as long as my pants are worn outside the boots.
One time I was caught in the rain on a long ride while wearing simple riding jeans inside them and the jeans do get wet but my feet don't — that's Gore-Tex for ya.
They also have the grippiest soles among all the boots I have ever worn.
I only have two minor gripes: First, they are definitely less flexible than most boots, but it is to be expected from an adventure model.
I can still use them as daily boots so far, and walking around with them does not feel tiresome, but knee-down cornering is a bit more difficult when your feet can barely bend with these on.
Maybe if I got size 45s which is my normal size this wouldn't have been an issue.
Second, the toe area is very tall and hardly fits the space between the shifter/rear brake pedal and the footpegs on my two bikes, a Suzuki GW250S and a road version of the Yamaha XT225, but there is no problem with the same situation on a Versys 650, a bike that I'm planning to get next.
I've started getting used to shifting up by "swiping" the shifter with the inner side of the toe area instead of "kicking" it up, which I know is a less than adequate way of shifting, but hey. So maybe the solution is I should get a bigger bike?
So overall, I'm very happy with the Sidi Adventure Gore-Tex boots and will recommend it for any tourer and adventure rider out there.
It definitely can be used for daily commuting and even to work but you'll have to adapt a bit. Thanks for the great review and the great site, it has been my go-to place for all my gear purchases."
Editor's Note: You may want to see if you can re-position the shift lever (sometimes it's pretty easy to do) or buy a bike that can take a different shift lever.
---
From "J.H." (October 2013): "Appreciated the product review. Sounds like the Trans-America trail was a pretty good test.
Did you find the toe protection to be good when bashing into those rocks? That seems to be the final concern I have before purchasing a pair.
Chris' Reply: I had no problems with the toes even when my foot got caught under the bike on some rocks. With the way the boots are constructed the toe box is quite rigid. The toes on my boots are now thoroughly scratched up, but have lost no strength in that area. I don't think you'll be disappointed.
---
From "C.R." (September 2013): "I concur completely with your excellent review. My last pair of boots were some mid-grade Joe Rocket sport-touring model, which were nice, but I much prefer the Sidi boots in both comfort and quality.
On the "squeakiness" of the boots, I tried graphite, silicone spray, some PTFE Teflon oil spray, and unicorn blood, but nothing will stop the squeaks longer than a few days. You basically have to lube your footwear when you lube your chain (if you ride a chain-driven bike) or everyone within a two-block radius will know when you're walking.
That being said, the squeaking is only a mild annoyance; almost inconsequential in comparison to how much I enjoy wearing these boots."
---
From "K.H." (July 2013): "Another great wBW review of the Gore-Tex version of the vaunted Adventure DS boot!
I personally just got a pair of these recently. I've been wearing them in the house to break them in and am eagerly awaiting the nicer, cooler weather of fall and early winter that lies ahead. I can vouch for the "squeak", so stock-up on the silicone spray lube if this bothers you.
Personally, I doubt the concerns voiced in the review and/or comments regarding these being too warm for >80 degree F use will be a problem for me as they really weren't purchased for hot weather usage.
They were purchased as a "cooler weather" alternative to the US-made leather steel toe-equipped Chippewa Engineer Boots I wear every day to work and have ridden with since the 90's.
While the Chippewa's are ultra high-quality, are extremely sturdy, comfortable, look good and are very protective (they saved my right foot during cornering when my foot was dragged off my floorboard and heel trapped by my rear crash bar resulting in my foot being bent backwards under the bike!).
They leave something to be desired when it comes to shifter feel, cold/rainy conditions (i.e., no thermal lining and not waterproof), riding on anything other than paved surfaces, and being able to fit under most bike's toe-only shift lever.
Obviously, the smooth sole doesn't work in loose terrain either.
One perk of being an MSF RiderCoach is eligibility for various safety gear discounts: we're not only motorcycle safety "ambassadors", but also "walking" ("riding"?) advertisements for the various safety gear OEM's and distributors.
As such, having "sponsored rider" status assigned by the US Sidi importer does have its advantages. I now have SiDi boots for every riding style, condition and weather applicable to me.
While I'm not yet totally convinced these boots are truly worth $500 MSRP, you do get what you pay for. How much are your feet and ankles worth to you?
Other than riding with steel-reinforced ultra-stiff dedicated motocross racing boots, you're going to have a difficult time doing better protection-wise from hazards and the elements off-road for DS riding. Likewise for street riding.
Sidi Vortice boots (review) (and their ilk) may offer better protection on the track at high-speeds, but you wouldn't want to even attempt walking around the restaurants, tourist traps or the Black Hills with either style of boots on!
I sprung for the $100 MSRP up-charge for the Gore-Tex version of the highly-rated Adventure Rain as I have other Sidi W/P boots with their proprietary Lorica outer/ lined W/P membrane inner (i.e., Strada Rain, etc.) , and find them to be durable, comfortable and functional, but not the best for dealing with foot perspiration.
The Gore-Tex Cambrelle-lined membrane and proprietary W/P leather system should prove to be better in this regard. These are going to see plenty of duty on my Ducati Multistrada 1200ST as well as my two Harley Touring bikes.
So they won't look as cool on the CVO Ultra as the Chippewa's did, but with my riding pant legs over the boots, they won't be too noticeable.
Certainly, the look will be superior compared to the less protective "road-race-style" rain boots I wore all last winter in a vain attempt to keep my feet warm. Here's to hoping that I never have to test the superior protective features of this boot, but it's nice to know they're there."
UPDATE (March 2014): Just a bit of clarification: I just bought another pair of these, this time for a riding buddy, and they have seen an increase in price for 2014 by $50, bringing the MSRP to $550.
A curious observation: I source all my Sidi purchases through the US Importer, Motonation, as I get the 40% Elite Rider Status discount only via direct online ordering through them.
They're still listing the Adventure in all its iterations as available in their online store, and I've found them on most of the major online retailers.
Where they are completely absent is on the Sidi Italia parent company website! I'm not sure if this means they're N/A, discontinued, etc. Considering they're the premium ADV/DP riding boot on the market today, I'm wondering what's going on with this perennial best seller.
Keep up the great work! webBikeWorld.com is an invaluable asset and reference for all riders!"
Editor's Note: The Adventure Gore-Tex boots are listed in the "Touring" section of the Sidi IT website.
---
From "H.S." (August 2013): "Excellent article on the Sidi's. I'm currently looking for new boots. The Sidi Armada boots (review) seem like a superior protection boot also.
Here in So Cal we have a awesome Dainese store in Costa Mesa. While I was there the sales guys told me whatever/whoever's boot I choose, don't get them with Gore-Tex.
They said here in So Cal my feet would cook with Gore-Tex lining. They said they have never worn a Gore-Tex lined boot that didn't feel too warm, even in our winter..
That makes the choices limited because it seems like all the companies are using Gore-Tex linings in most of their boots nowadays. What is your take on this subject?
Editor's Reply: Back about 5-6 years ago, Gore-Tex seemed different and did not breathe the way we thought it should or as it was claimed to. In fact, there are a few reviews on webBikeWorld that mention this issue from those years.
But it seems like they've improved it over time and it now does a good job at keeping out water and allowing moisture to escape.
Here in the Mid-Atlantic, it gets very hot and very humid in the summer and Chris (the owner of the boots who wrote the article), hasn't complained about the Gore-Tex.
However, if you really want good ventilation, it's difficult to find in a good pair of protective boots, but Sidi makes a few with true ventilation. I don't mind the Gore-Tex at all, I don't really notice one way or the other that it's too hot.
If you don't get much rain in SoCal, then why go with Gore-Tex anyway?