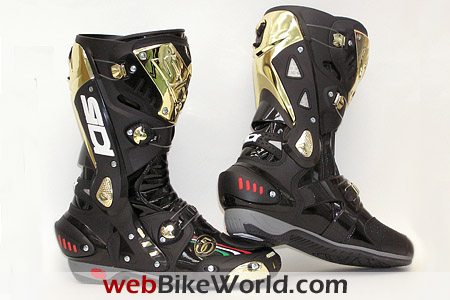 Sidi 50th Anniversary Vortice Boots
In commemoration of the 50th anniversary of Sidi Boots, Motonation is offering a very limited edition, one-time, built-to-order production run of the famous Sidi Vortice road racing boot (review).
The 50th Anniversary Sidi Vortice boots will come in the special "Vernice" color scheme shown here.
The retail price is $550.00 USD for the pair. The boots will be produced in May and delivered to dealers in the U.S.A. in July.
If you want a pair, act now, because the special boots will only be produced to order and once the production run is over, there will be no more!
The Anniversary boots are available in metric sizes 41 thru 48 in the special color shown here only. Unfortunately, because of the very limited manufacturing run, no spare gold-colored parts will be available.
Motonation said that all orders for the Anniversary Vortice boots must be submitted to them through Sidi dealers by March 1, 2010. After that date, no more orders can be accepted and the orders that are in place at that time are firm (no cancellations after March 1) to ensure the correct numbers for production.
For additional information please visit Motonation.
Like-new clothing, helmets and accessories
used in wBW reviews at super discount!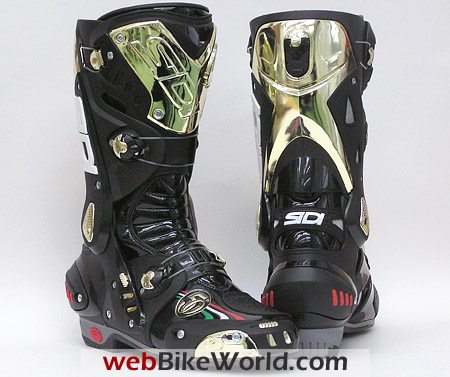 Note: For informational use only. All material and photographs are Copyright © webWorld International, LLC since 2000. All rights reserved.