Shoei Hornet Review Summary
Shoei Hornet Image Gallery
Our review of the Arai XD was way more popular than we anticipated.
And that tells me that there's a huge market for what we're calling "dual sport" motorcycle helmets!
I'm not sure if it's the enormous popularity of the BMW R1200GS or the maybe-it'll-be-here-someday Supermoto fad that drives the interest in this type of helmet.
But I do know that you'll probably never see a cruiser or sportbike owner wearing one!
I don't want to know how that would look…
But the enduro styled helmet is perfect for adventure riders.
One of these helmets and a 3/4 length jacket like the Rev'it! Cayenne complete the look atop a Triumph Tiger, KTM Adventurer or maybe even an old Moto Guzzi Quota (remember them?).
Although the Arai XD is a popular choice, we were disappointed us yet again with its underwhelming quality and elevated noise levels.
Some of you wrote to suggest we take a look at the Shoei Hornet, which isn't currently available in the U.S.A. but can very easily be ordered from its home market in Japan through Helmet Pro (see below), and here it is.
We were surprised to find the Hornet could be purchased and shipped to the U.S.A. without hassle and at a relatively inexpensive price (all things considered).
The helmet arrived faster than some other helmets we've purchased at stores located only a couple of states away.
As near as we can tell, Shoei has no plans to distribute the Hornet for sale in the U.S.A. perhaps they're afraid it might compete with the VFX-R Air motocross helmet?
But that's a pure off-roader and it doesn't have a visor, so it's really in a different market.
Unfortunately, the Hornet shown here is JIS (Japanese Institute of Standards) and MFJ (Motorcycle Federation of Japan) certified but is not DOT safety standard, so if you do buy one, you're on your own.
Meantime, the Shoei Hornet is our favorite enduro style helmet.
This size XL Hornet weighs in at 3 lbs., 6-5/8 oz., or 1542 grams. This puts it in the lowest quarter percentile of helmet weights from those we've reviewed.
See the wBW Motorcycle Helmet Weights page for our helmet weight comparison table and chart to get a better idea at how the Hornet compares with the 50+ other helmets in our database of reviews.
The Hornet feels light, as I guess it should, considering its wide eye port which eliminates a lot of mass. The light weight adds to its comfortable feel when riding.
Internal Shape
The Hornet seems to have a round to neutral internal shape. It fits my round head very nicely and is maybe just a tad snug at the very bottom where the liner meets my lower cheeks.
But at least one other person who tried the helmet complained about a tight fit on the sides that caused pain on the upper jaw. Those with "earth" shaped head may want to try on a Hornet before buying it to make sure it fits.
I'd say that the Hornet runs about 1/2 to 1 size smaller than expected. We expect that other size Hornets will have the same internal shape and will run relatively comparable in terms of size.
Matching your head shape to the way the helmet fits is crucial for both comfort and safety; see the wBW Motorcycle Helmet FAQ page for more information on finding the right fit.
Helmet Fit and Comfort
All of the enduro styled helmets that I've tried are pretty comfortable. I think this is due to two things that represent the hallmarks of this style: plenty of room in the chin area and a huge eye port, which provide great visibility.
It's too bad that "normal" full-face street helmets don't have the same visibility, because it does seem to make a difference for the rider's safety and confidence.
The Shoei Hornet's liner seems a bit rough to me; that is, it feels slightly scratchy against my face, although it doesn't seem unusually harsh when I run my fingers over the liner.
The scratchy feeling may be exacerbated by the very hot weather we've been experiencing lately. The last thing I want rubbing against my forehead and neck in 95+ degree weather is something that feels like burlap.
But overall, the Hornet is pretty comfortable. The liner and cheek pads are removable, but I don't think the cheek pads are sold separately, which means that they can't be custom tailored to provide for different fits.
Quality, Fit and Finish
As far as I'm concerned, it doesn't get much better than Shoei for quality. The Hornet is a good example; I can't find a single flaw in the construction or the materials on our example.
We barked about the rough spots on our Arai XD, but everything on the Hornet is just right.
The "Pulse" graphic shown here is a nice design and the darker areas have a multi-colored metalflake which looks great but doesn't quite show up in the photos.
The vents snap open and closed as they should, although I will say that the top vents in back of the overhanging visor do seem slightly fragile for this type of helmet.
But since I mostly leave the vents open all the time anyway, I don't have a problem with their design and I haven't experienced any issues yet.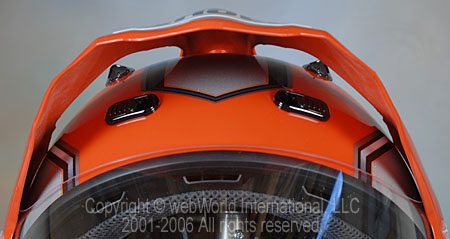 Venting and Air Flow
The Hornet has plenty of cooling power, typical of this type of helmet. Lots of air flows in up under the extended chin bar whether the chin vent is open or closed.
The very tip of the chin is covered with a vent assembly that includes an "on/off" switch that allows air to flow directly through a screen-type filter and on to the rider's face with a large volume of air.
There are two sliding covers that open the two brow vents, located just under the overhanging visor (don't know what else to call it?). Although I can't see a direct path from inside the helmet through these holes, they seem to flow a decent amount of air.
These brow vents are aided by two more vents on top of the helmet, just in back of the overhanging visor. These have a "push/pull" sliding door-type switch to uncover the holes located at the rear of the scoops.
The Hornet also includes two exhaust vents in the rear, covered by a smoke gray plastic spoiler. They open and close with a sliding switch. Finally, there are two non-movable exhaust vents in the back of the helmet on both sides near the bottom.
The venting system works to provide a large volume of air flow over the rider's head, but my feeling is that the top venting could be better, considering the quad vents in the front of the helmet.
Nevertheless — miracle of miracles — all of the vents are actually pretty quiet, with none of the extremely annoying whistling noise that comes through the top vents on our Arai XD.
 Noise Levels

The Hornet seems fairly quiet, especially for this type of helmet.
Again, I'm surprised that there's no whistling noise coming from the scoop vents up top. These type of vents are sometimes the cause of lots of high-pitched noise that can be annoying.
I've worn the Hornet behind several different types of motorcycles.
It seems very quiet behind the big full fairing of Burn's BMW K1100LT, and it also doesn't bother me when riding an unfaired bike.
There is some wind noise around the bottom of the helmet on certain bikes with shorter fairings, like the '98 Triumph Tiger.
The turbulence that hits the lower portion of the helmet can create some noise which isn't attenuated because the open area around the chin minimizes the amount of padding in the neck roll.
Shoei does offer a cloth draft guard that fits the bottom of the helmet. We have one on order and we'll report back after we've tried it.
But overall, the Hornet is relatively quiet, in my opinion, and it's certainly not as noisy as several other full-face helmets I can think of. See the wBW Motorcycle Helmet Noise page for more information.
Remember also that we always wear correctly fitted ear plugs when riding. See the wBW Earplugs and Hearing Protection page for more information on choosing and wearing ear plugs and for a list of ear plug reviews.
Face Shield
The Hornet's clear face shield works well and raises and lowers without problems.
The shape of these enduro styled helmet face shields seems to make them seem more flexible than the face shields on most full-face helmets, and the Hornet is no exception. Tinted face shields are also available from Shoei to fit the Hornet.
It doesn't quite snap closed, so it may take a push with the left hand to get it to seal tightly enough against the eye port gasket. But this seems to be a problem inherent in the enduro helmet design, and all of them are prone to it.
The Hornet uses Nylon screws to hold the overhanging face shield in place, and they must be removed to replace the clear face shield.
We complained about these on the Arai and the Shoei is no different, so I guess we'll just have to live with it, as several of you have suggested!
The screws may be made of Nylon or plastic so that they allow the overhanging peak to break away easier in a crash.
Chin Strap and Miscellaneous
The chin strap feels comfortable and has a longer than normal section of padding that sits against the chin. The Hornet uses a D-ring adjustment system and it has the typical Shoei snap to secure the extra length of strap to the metal cross bar of the D-ring.
Note: Our Shoei Hornet was a Japan-only model, sourced from Japan before the helmet was sold in the U.S.A. and it meets JIS and MFJ safety standards only. The 2008 Shoei Hornet sold in the U.S.A. meets both DOT and Snell safety standards.
Conclusion
It's taken me a while to get used to wearing this helmet style, and the Shoei Hornet is definitely my favorite.
It has typical Shoei quality, it's relatively quiet, fits well and I don't notice any undue buffeting or lift from the overhanging visor. It's definitely the helmet to wear when riding our Triumph Tiger, and the color even matches!
More wBW Shoei Hornet DS Review
wBW Review: Shoei Hornet Helmet
List Price (2006): $466.00
Made In: Japan
Colors: Various solids and graphics.
Sizes: S-XL
Review Date: July 2006
Note: For informational use only. All material and photographs are Copyright © webWorld International, LLC since 2000. All rights reserved. See the webBikeWorld® 
Site Info page
. Product specifications, features and details may change or differ from our descriptions. Always check before purchasing. Read the
Terms and Conditions
Owner

Comments and Feedback
---
From "J.S." (6/09):  "I think I would be important to note that Shoei left very little room for helmet speakers in this helmet. I wish I had thought of this before purchasing the helmet.
In order to make room so the speakers are not pressing against my ears, I would have to cut the inner plastic liner of the shell. I haven't decided if I will do this yet.
I use Starcom1 system and the speakers are slim, about 3/8ths of an inch thick. I've since found similar comments on the web from others with this same problem, different communication devices. Other than this problem, the helmet is great."
---
From "M.L.":  "I've been fighting (with no responses) with Helmet Pro (in Japan) over a purchase I made recently. Their web site now says that they will not ship internationally — though, they had little trouble taking my money with an international shipping address.
This is very fine print, which you can miss if you are not careful.
The site also seems to be lagging with functionality. You might want to warn your readers to stay away from this.