Shinko tyres review by tyre expert Dale Schmidtchen
The standard tyres on our long-term review CFMoto 650 MT have been my only real complaint about the hardy bike which is now coming up to 4000km.
It came fitted with Chinese-made Cheng Shin Tire (CST) Adreno radials which worked well on dry sealed roads, but were inadequate on any other surface.
Shinko tyres
I had been looking around and there wasn't much on the market that actually fitted the bike as a matched pair.
Wheel size was the main problem with a 17-inch front (unusual on an adventrue bike) and the odd 160/60R17 rear combination.
However, Bruce Collins Enterprises came to the rescue with the suggestion of a pair of South Korean Shinko 705 Series Adventure Touring tyres.
Shinko Tyres bought the almost new radial tyre plant from Yokohama Tire Japan in the late 1990s.  They have since become one of the most versatile and innovative tyre manufacturers in today's market.
So we chose a 120/70R17 front ($147) and 170/60R17 rear ($212).
Ivan and Louie at Tyres4Bikes, Brisbane, handled the fitting duties with their usual professional and friendly service.
They settled on 34psi in the front and 38psi in the rear for pressures.
The 705 Series tread pattern gave the bike an instant look of aggression, credibility and capability.
First thing I noticed as I rode home was that the steering was more stable and turns were more deliberate.
Much of this feeling comes from the wider rear, combined with a flatter tread pattern which is common with adventure tyres.
Tyre tread noise is a little louder, but not a major issue. Added vibration from the aggressive tread is not noticeable above 25km/h.
Shinko advise that the tyre is biased towards "80% road" use, and while they perform well there, I also can report excellent off-road manners.
Front and rear braking is now possible on unsealed roads with good feedback and confidence.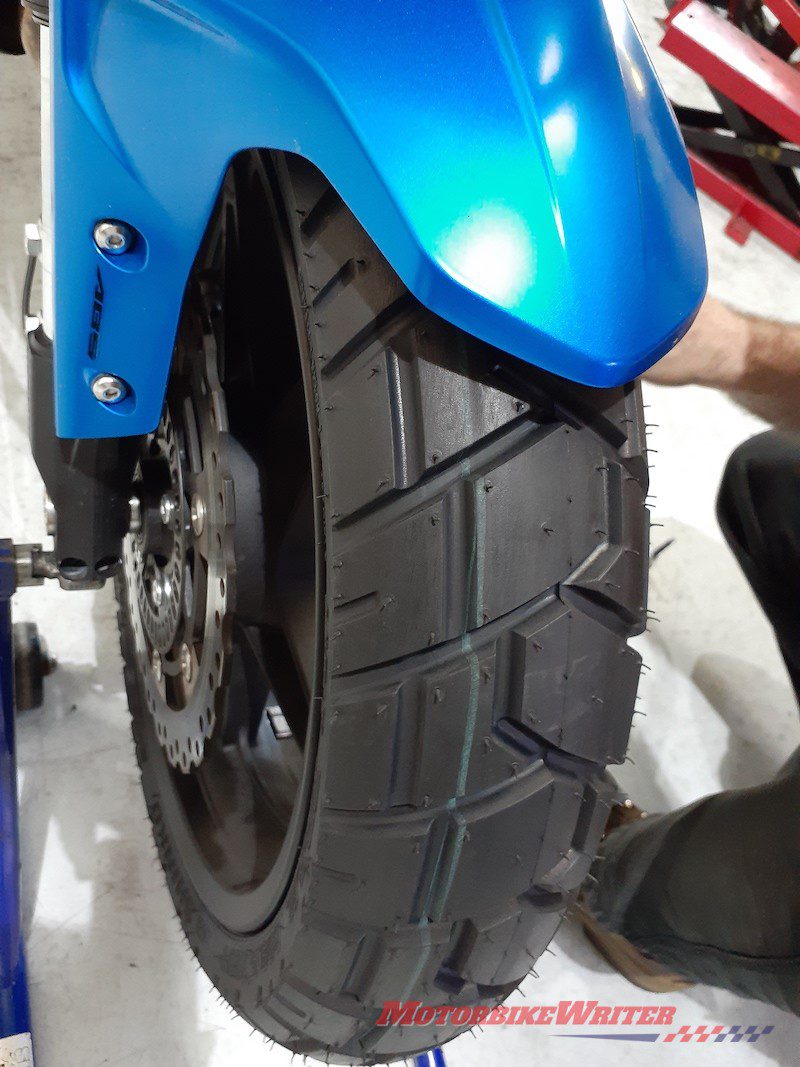 On a recent dirt/tar run out to Mount Berryman and Schultz Lookout, I was soon able to power slide out of gravel corners and really start to enjoy this bike in its intended environment.
After a few hundred kilometres, wear hasn't shown itself to be a problem. We will update later with another review.
Surprisingly, I have noticed a small improvement in fuel economy over the past three tanks of unleaded. That's unusual as the tyres are noticeably heavier than the road tyres they replaced.
Shinko 705 Series tyres would suit most Adventure riders on mid to large bikes.