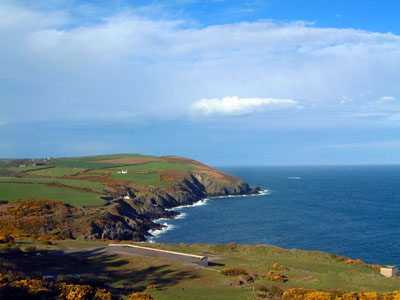 When I was a boy, I read about racers like Bill Lomas, Geoff Duke, John Surtees and Mike Hailwood.
The races they competed in, and the photos of the bikes they rode captured my imagination.
I watched a Pathé News clip at the cinema and was totally entranced – I wanted to be Mike Hailwood and ride a Mondial.
I subsequently read and watched the news films about the Isle of Man Tourist Trophy (IOM TT) and desperately wanted to go but there was not much chance of that for a 13 year-old with my background.
First run as a 'formal' bike race in 1907 (although motorcycles did race here in 1905), the history of the TT is packed with famous motorcycles and famous racers.  It used to be part of the Grands Prix calendar – the likes of Hailwood, Surtees, Agostini, Sheene et al had no choice but to race there and it was not a popular venue with some riders.
The TT has been described as, "…the most dangerous mongrel of a road race in the world, a place so alienated from mainstream motorcycle racing that it had produced, mainly by a process of elimination, a special breed of iron-arsed riders who were absolute specialists."  (John Britten by Tim Hanna. Craig Potton Publishing).  Read all about it and be amazed.  As I was at 13 years old.
Over the years, the ambition to go to the TT never waned but life sort of got in the way.  I traveled with my work and was never in the right place at the right time.  Until 2005 that is, when I grabbed the opportunity with both hands.
"The greatest road race in the world"?  I have to admit that I was unprepared for what I was to encounter during the TT week and it exceeded my expectations a hundredfold.  To capture the essence of the TT and explain it to someone who has never experienced it is not easy but I will try.
Getting There
I had been on a fishing holiday in Scotland the week before the TT and I got back home at about 22:00 after a 600 mile drive.  I had planned to get a few hours sleep before riding to Liverpool but in the event, I was like a wee boy at Christmas and too wired-up to sleep.  I gave up at 03:00, got dressed, got on my bike and rode off into the dawn towards Liverpool and the ferry.  My pilgrimage had begun.
Travel is via 'Steam Packet' Ferries out of Liverpool and Heysham when traveling from the UK mainland.  Well-versed in carrying motorbikes (they must get more practice at it then just about any other ferry company in the world), the service is fine but can be a little 'vague' at times.  During my week there, people were booking tickets 1 and 2 years in advance for future TT's.
The Boyo's
People had traveled from the 4 corners of the earth for the week and I was camped near a mixed group who had gone across with Biketours UK.
Notable amongst them was Shrek the Fireman (who had more than a passing resemblance to his namesake and had acquired the nickname during the previous years TT), various othe UK riders, some Germans, 2 Americans (one of whom was a total biking lunatic with a pink Mohican stuck to his helmet) and 2 Kiwis, Charlie, an ex-racer who is a university lecturer and Dave, an airline pilot.  We all got on well after discovering we had a common philosophy; bikes, TT races and drink.
The Isle of Man
It is a beautiful and unspoilt place with a rich history.  The people are down to earth, friendly and proud of their island.  I did not come across a rip-off all week.  Even though I am a scruffy biker without any sartorial pretensions whatsoever, and usually have a bad case of 'helmet hair', I was treated with courtesy and respect by all of the locals I met.  Fairly rare nowadays unfortunately.
The Atmosphere
How to describe it?  I discovered a comradeship rarely experienced these days.  Everyone talks to everyone else.  Sit at a bar, in a café, at a race or practice and you get talking to whoever is next to you, whether they are locals or visitors, and the talk is not always about bikes either (well, not always).  An air of excitement, of a common purpose abounds, that of worshipping at the altar of the greatest road race in the world.  Everyone is here to see speed, derring-do, bravery, and believe me, these racers are brave.
You can get into the pits, talk to racers who are generally approachable, down-to-earth and obliging (just don't expect too much immediately before a race) and who are usually happy to sign autographs or just pass the time of day.
Each evening the road along the seafront in Douglas is closed for displays of one form or another.  Rolling burnouts leave marks across the road and over the tram tracks. Did I mention that the trams are pulled by horses?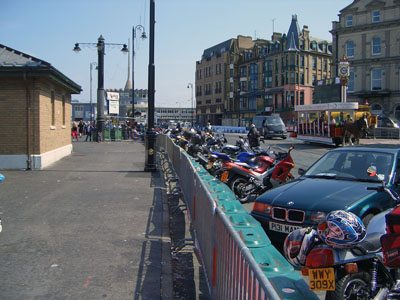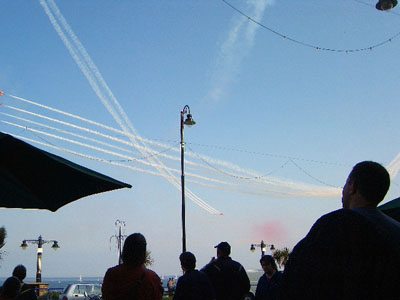 Mad Sunday (yes, that really is the official name) when for a couple of hours, the course is opened for one way traffic only (clockwise, the race direction) and there are no speed restrictions over the mountain section.  You can ride your bike as fast as it, or you, can go.  Mad, bad and dangerous.  Awesome.
The Course
It is 37.73 miles long, running through the center of Douglas, the Capital, and Ramsey in the North of the island.  The mountain section is simply beautiful and the remainder can be complex and difficult as it twists and turns through country lanes and villages.  Depending on the type of race, between 3 and 6 laps are run giving a maximum race distance of 226.38 miles.
The TT is run on public roads, complete with drain covers, manhole covers, lumps, bumps and uneven surfaces. For practices or for the actual races, the TT course is closed to the public.  Race direction and marshalling are superbly organized and I believe the new rules mean that each marshal can see the next both up and down the track.  That's a few more Marshals than Wyatt Earp had.  There are also rider Marshals who do a lap of the circuit both before and after each race / practice.  They are all ex-racers and they go round at near race speeds. These guys know every inch of the track and are pretty spectacular to watch.
Racetracks have run-off areas, gravel traps etc.  The TT doesn't.  The only protection is straw bales round things like telephone boxes, telegraph poles, bus stops etc.  Dropping a bike on a racetrack can turn out OK but at the TT, the consequences of a rider coming off really don't bear thinking about.
Listening to an ex-racer (Steve Parrish) on TV talking about the TT, he reckoned that although riders are supposed to be riding at only 95%, he wasn't sure about this.  Let me tell you, if they rode at 75% on this course, they would still all deserve medals.
The first race day dawned cloudy with rain.  The first solo race of the week was delayed for 1hour then a further 3 times due to the track being wet which identified a bit of an enigma for the organisers: bikes have got much more powerful over the years and now, it is not safe to run a race like the TT on a wet / damp track on slicks.  Wets / intermediates are out of the question due to the speeds as they would overheat and shred which boils down to this: racing can only be done in dry conditions.  In the event, the week turned out dry so there were no further postponements.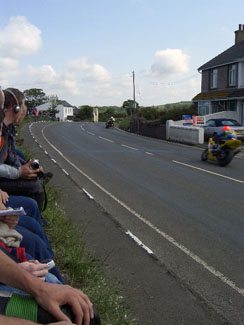 Spectator Vantage Points and the Racing
The following are the ones I tried.  Shreck being an old TT hand, suggested them and I was not disappointed. It's a bit subjective really.  There are so many to choose from, it would take you many TT's to try them all.  The TT visitors guide / race programme is superb and gives you all the information you need if you have never been before.
Kirk Michael – (White House Farm / Pennybridge stables) Superb viewing points.  Riders come up a rise out of Kirk Michael village at about 140mph.  Over a blind brow without backing off, using only a telegraph pole as an aiming-point.
One or both wheels off the deck then settle the bike and immediately into a RH curve and nearly touching a garden wall.  To watch riders fighting a wriggling, squirming machine under throttle is pretty hair-raising stuff.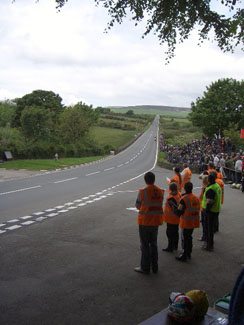 A small blind brow then into a LH bend with a cottage on the apex. Right on the apex.  Get the line wrong and you have nowhere to go but hard places such as walls etc.  At these speeds, there is no room for error.  One rider drifted a bit wide when setting up for the LH bend.  A collective gasp went up from the crowd.  Excruciating excitement.
Creg-ny-Baa, Brandish and Hillberry – Excellent spot.  Fine action as the bikes hurtle down towards the Creg. Round a tightish R Hander, then a fast section to Brandish, a L Hander then the long, really fast straight down to Hillberry, then through the 'S' bends and away to Cronk-ny-Mona.
Ballaugh Bridge  –  Everyone told me it was a great spot but I am not convinced.  However, you should visit it once if only for historical purposes.  What you hear at this spot is the approaching howl of the engines as the riders change down through the box as they slow for the bridge.
Fairly slow over the hump-backed bridge into the village then they wind it on as soon as both wheels touch down. Occasionally, you see bikes fly through the air at the same height as the railings, especially if the rider is pressing on hard. Usually at least one wheel comes up off the deck.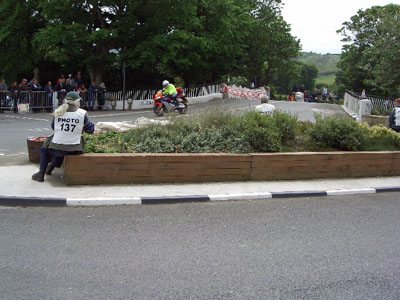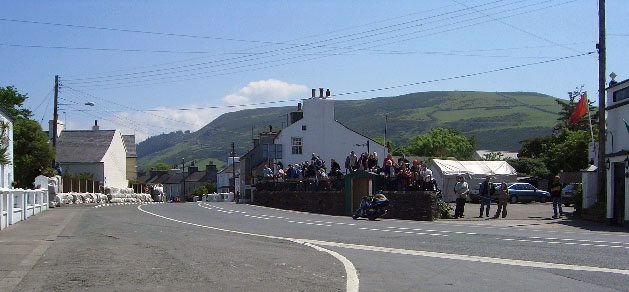 Union Mills  – There is a superb viewing point in the church grounds.  The riders come down the hill, through a R. Hander past 'The Locomotive' pub, then a L. Hander past the Post Office and at the garage, they lift the bike and pile on the coals, the bikes sometimes squirming under power through the small 'S' bend and away up the hill towards Glenlough Farm.
As the race progressed, we watched them drift further and further over the L Hander towards the kerb as the tyres went off or they pushed harder.  Some heart-stopping moments.  If they get it wrong, then they either collect a Post Office or a telephone kiosk.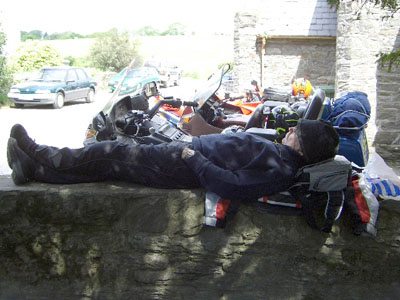 Notes, Quotes and Observations
The ferry terminal at Liverpool is located behind the Liver building.  The security guards let you in to the café if you tell them you are waiting for the ferry and they do a great breakfast.
The toilets at the campsite were interesting – graffiti in a 'normal' blokes toilet would be about physical characteristics of the opposite sex amongst other things.  The graffiti in this toilet ran along the lines of "GSX R1100" or, "1936 Vincent" etc.
Charlie telling the story of fellow Kiwi bike builder John Britten who started off his career by building prosthetics and artificial limbs: …"John Britten's legs were widely used in the Paralympics"… Cue hysterical laughter from brother Dave and I and a quizzical "what did I say?" from Charlie.
Charlie again with a tale of a bike tinkerer: Fiddle, Fettle, BANG. "Bugger"
A particularly good Barbeque, which included Jambalaya cooked by the 'pink mohican' and which was accompanied by lashings of drink ranging from red wine, beer of allsorts and German 'Old Jamaican' rum (yes, really).  Next day, the sounds of the early-morning orchestra had to be heard to be believed.  The wind section played with particular gusto and included some notable Bass and alto solos including one which sounded particularly difficult (and dangerous).  However, they did experience some difficulty in maintaining the syncopated rhythms of the snoring section.  Cue more hysterical laughter from us early risers.
At 'Jurby Junk', I lay on the grass outside and waited whilst Charlie and Dave went in to buy stuff.  Parked next to me was an old Triumph (late 1950's) and a 55+-year-old woman in leathers wearing a '59 Club' T-shirt.  She told me she had owned the bike from new and was on her second time round the clock (the bike, not her).  She had been coming to the TT for the past 25 years. I finally managed to drag the two Kiwi's away from 'Jurby Junk' following their bout of serial badge-buying, (and an incident which involved a fox fur and a feather boa which I will discreetly draw a veil over for the sake of those of a nervous disposition who may read this), and we followed her out of the car park towards Ramsey, the old lass giving the Triumph some welly through the bends.
Some drunken idiot revving his bike on the campsite at about 02:00 in the morning along the lines of chuff, chuff, scream.  He would wind it up, hit the rev limiter, let the revs die then do it all over again, the engine howling like a banshee.  He finally stopped, and in the absolute silence, a laconic voice came from a nearby tent: "so you don't like your bike then?"
Returning from riding the circuit, seeing blue flashing lights near Barregarrow, which turned out to be Police and an Ambulance.  We were doing about 60 – 70 mph and what I first thought was a body on the road turned out to be a guys leathers.  He was stood in the hedge in his shorts checking his legs (counting them maybe?)
In the fantastic biking museum on the mountain section near The Bungalow.  I actually touched both Bill Lomas and Joey Dunlops leathers.  Gob smacking stuff.  Chunks of biking history on coat hangers.
Over a mug of tea in the café at the same museum listening to an old Geordie biker recounting some problems he had just had when doing a lap of the course.  He said that it had got "pretty interesting" when he tried to change up a gear on a fast bend.  It was just that he forgot it was one down and three up nowadays.  Oh, and by the way, he had also forgot that the gear lever was on the left side(!).
The couple that arrived one night each riding their own bikes.  The smallest couple on the site, they had the tallest tent.  They got it erected and went inside.  Thence followed rhythmic noises about 40 beats to the minute accompanied by grunts from him and muffled noises from her.  Eyebrows rose – surely not? we thought.  They emerged from the tent carrying an air mattress and foot pump and continued to inflate it outside to the same soundtrack of grunts and muffled noises.
General smug laughter from the Brits when the French guys in the next 'row' bought coal rather than charcoal.  The area looked and smelt like a steam engine rally.  Last laugh on them as a) they smoked everyone out that evening when the wind changed and b) the next morning our tents and bikes were covered with a coating of ash that looked like fallout from Chernobyl.
Returning to the campsite after sunset as the beautifully clear sky deepened into a dark blue and the first evening star put in an appearance, the red glow of various fires and barbeques could be seen dotted around the site amongst the tents.  Absolutely still with no wind, the smoke drifting straight up.  This was how it must have looked amongst the army lines the night before the battles of Crecy, Agincourt, Shiloh or Antietam.
Warm, clear evening. Manx radio playing great music, which drifted across the campsite in the still air.  'Sweet Home Alabama' belted out.  One of the greatest songs ever recorded by the way.  Ever.  Followed by 'Midnight Cowboy' and some Thin Lizzy.  Suddenly, the music was interspersed with the howl of racing engines as the practice started and 30 or 40 bikes screamed past hitting 150+mph on the road right next to Glenlough Farm campsite.  Orgasmic soundtrack.  Biker bliss, we sat around a fire with drink in hand and thought we had died and gone to heaven.
Mad Sunday.  Roads closed and no speed limits around the course.  Guys riding like lunatics pretending they are racing Gods.  Sat at Hillberry watching an MV Augusta F4 'Tambourini' pull in.  Rider got off, had a smoke and then howled off to do another lap. (The extremely rare 'Tambourini' of which only 300 will be made world-wide, with a total UK allocation of 18 machines, costs a mere £30,000, all of which have been sold).  Gorgeous machine.  Lickable.  To drop one must be like shooting your horse.  Or maybe not, if you are affluent enough.
Mad Sunday.  Going over the mountain, one eye on the mirror as riders come past doing 140+mph to my 80 mph. Mad, bad, scary, but oh so exciting.  At 60 years old, I realise that am no longer 10ft tall and bullet-proof (as I was when at 20) however, it's hard not to feel the fire and it is so easy to get sucked in to it all as the scenery blurs on either side.  Excitement, fear and adrenalin pumping, I drift really wide on a left-hander and offer a silent prayer for a clear road.  Too old to die young anymore.
Returning to the campsite and seeing two policewomen talking to a French guy whose mate had just been killed doing 140 mph when he hit a car head-on at the end of the long straight at Hillberry.  The guy was sitting outside his tent with head in hands and appeared totally devastated as the policewomen gathered up his mate's belongings.  He left the next morning for an early return home.  Sad tale.
The final act of the TT (after the Senior TT race) is the Lap of Honour / Classic Parade.  Agostini was first through followed by Redman, Williams, Rutter, Grant and so many other famous riders.  Some are 65+ years old.  One old fart fell off at the start line.  It is supposed to be a parade, but some of the mad old buggers start racing each other from the off and come past at race speeds.  Fantastic stuff, and the sounds of these vintage racing bikes….. I've died and gone to heaven again.  Unfortunately, the V8 Guzzi didn't show.
One final story, which to me, encapsulates it all:
On the way back from the TT, I meet a lassie on the ferry that was returning home from the island.  She and her sisters had been over to IOM to scatter their dad's ashes up by the museum on the mountain and they had thought it fitting to do it during TT week.  Apart from missing 3 years (one of them due to foot and mouth when the TT was cancelled), the old boy had been to every TT for the previous 50 years.  Amazing stuff.  And only now do I fully understand why he went every year.
End Bit
Now for the hard part.  How to come down and face reality again?  The TT week is beginning to feel a long time ago in a galaxy far away.  Almost surreal.  But, I sit and think for a minute and all the feelings come rushing back and if I closed my eyes I could be back there again.  Next TT can't come too soon and it will definitely not be my last.
Go there at least once in your lifetime if you possibly can.  Do it.  If you love biking, make the pilgrimage.  It can be a life-changing experience and is something totally unique in the biking world.  The greatest road race in the world?  Oh yes.
Isle of Man TT Websites
Other WebBikeWorld Motorcycle News
 

Posts