The MegaShark
So let's get this article's engine revved by talking about the company that puts helmets on your heads to make sure your head stays happy, comfy, safe and secure. And when you go tumbling down like an oil slick Jenga tower, you not only look stylish but your head is protected. Stay safe though. The company is Shark and they make amazing helmets.
The Sharknado
So this monster of a helmet along with its buddies comes from the line of Shark Pulse Discovery. They are the Racers. When you crank it up to Eleven, the engine roars and you blitz down the race track or some other place that is like totally legal and stuff, you get one of these guys. And today we are gonna talk about the Speed-R Series 2.
The Sharktopus
Man, what is with me and all these B-movie references. I need to get out more. Anyhow, the helmet is a monster of a helmet. It's awesome. It's a Sharktopus cause it is an all-purpose monster. It is made for speed and racing. The fast and ferocious aggressive predator, that comes with high-safety features, a jet-engine of non-destruction and happy sweat-free scalp. But you can also wear it in other less aggressive positions cause it can do it all. So let's break this bad-boy down into why it's so beastly. And maybe I can stop blabbing about all these stupid movie references. Crocosauras — last one I promise… I think. Don't hate me; I have feelings too.
The Eye of the Beast
The front of the Beast has an amazing visor that is designed for impacts. You could totally pick a fight in this helmet and say to the guy, "Yes the face, yes the face". It is thick in the middle and thins out on the sides for some weight saving benefits. What makes this eye of the beast so special is that it is perfectly distortion free. Which means, no ripples, no eye strain and you can ride without pain or read the next Twilight book (if that is your thing; I don't judge).
Imagine, all sprawled out on the grass in your biker gear wondering which monster you should support: Edward or Jacob? Screw those pansies, this is the monster you support, no questions asked. The visor even comes off easy if you want to remove it and even slides into place like a tame monster. When you slide it down, it locks andforms a nice sealIt is the usual deal of UV protection, anti-fog and anti-glare and all that. Good stuff. You also have a little easy to find nub on the top left-side of the helmet to slide down the shades to say you mean business. Eye care. It's important stuff and this helmet gets it.
The Visor is alsoPinlock-Ready. What this means is you can add a pinlock anti-fog shield so when the anti-fog coating wears off you still have no fogging; your breath no matter how minty will not fog it up. Basically you put the silicone sealed piece and clip it inside the pinlocks. It holds some air inside like double-glazed windows. Fogging goes bye-bye. Good thing to have for your monster. Think of it like a contact lenses for better beast-vision.
The Belly of the Beast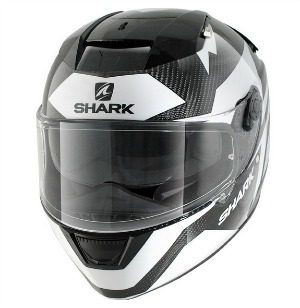 The Beast has a fiberglass body. It is made to take the hits and crumples so your brain-bubble stays bubbly. On the inside are layers of nice soft cushioning, so you feel like you are at a luxury spa more than in a helmet that seals things up pretty nice. Plenty of microfiber and soft clothy parts for your rough badass biker neck to treat the skin nice and gentle. Don't forget the moisturizer, big guy. Seriously, this has a lot of solid cushioning. And even has bits that you can remove if you wear glasses to fit them on the sides. There is a rear spoiler at the base to keep things sealed, comfy and aerodynamic.
The Jet EngineWhat? When did the monster get a jet engine. Buddy it didn't just get one, it mounted it on its back and became Mecha-Sharktopus. It is very aerodynamic. That is a great start right there but then they put in all these vent holes all over the place that not only look pretty cool but they also suck the sweat right out of your pores cooling off that melon. Adjustable vent on the front, one on the top, and dual vents in the back. Not just dual vents in the back but they have sections where these back-side jets let air in directly from the outside to mix and speed up the air being pulled from inside the helmet. So your head is like in a monsoon of cooling comfort. Sweet, no? Yeah totally sweet.
Growls and Pointy TeethIt has an area where you can shove the bluetooth sound gadget you get from the Shark people. They call it Sharktooth. Basically your sweet little communication and music listening headset device thing. Great stuff so you can communicate when you need to. Not that you want to talk much when your wheels are chewing through the asphalt like a pitbull through a sirloin steak. There is plenty of padding but the helmet may get a bit noisy on higher speeds but you know what, this is frickin' amazing so deal with it. Maybe you won't find it much noisy at all; it is pretty subjective anyhow. Overall, totally worth it.
Washing? Be nice and gentle to the washables. Snap the insides out gently, wash them in a net, mild and gentle. Cold wash. Dainty dainty. Tippy-toe.
Just the Facts
Here is a chunk of facts from the manufacturer website made readable (sort of):
Light weight: 1.450 kg
Constructed from Multiaxial fiberglass (it is solid and can take a knocking)
Optimal aerodynamics and ventilation for roadster motorcycles (aerodynamic and keeps you cool)
Optimal morphological adjustment: 2-Shell Sizes (seriously? Optimal morphological… really couldn't just say it comes in two shell sizes for different heads)
Double D-ring Strap (it stays on nice and secure)
Double blade spoiler for an effect that refreshes and prevents fogging (yeah what they said; stick with what I said above)
Pinlock Ready (You want this; read above)
New Interior (like a new car has a new interior)
New Lower Rubber Seal (it seals things)
New Sunvisor Mechanism (smooth slide and its on the top-left)
New Visor
Gripping Ability (removable visor sits nicely back in without finagling; locks in place when shut)
New Uppervent 
Shark
Easy Fit (Good with spectacle wearers)
Planned Location for Sharktooth (buy a Sharktooth bluetooth device and it will fit nicely)
Quick Release Visor System (Visor opens easily)
Removable Lining (wash on cold, in a wash net)
Sizes Available:  XS (53/54 cm), S (55/56 cm), M (57/58 cm), L (59/60 cm), XL (61/62 cm)
Did Someone Say Safety?
These guys are serious about safety. Period.
SHARK SERIES Helmet Reviews: