Shark Explore-R motorcycle helmet is so versatile you can use it for adventure riding, street fighting, touring, cruising, track days or riding in the pouring rain.
The French-made helmet features a lightweight carbon aramid fibre and multiaxial glass fibre shell, removable peak, drop-down sunglass visor, removable clear visor, clip-on tinted goggles and a "curtain" to keep your neck and the underside of the helmet dry in the rain. It really is the most versatile helmet I have ever seen. Now you only need one helmet – and all for $599 when it becomes available in Australia later this month.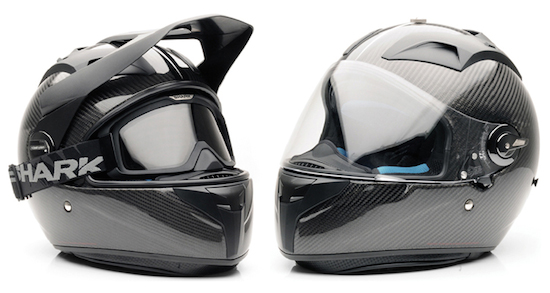 Imagine you go out for a short ride on your big adventure bike. You put on the helmet without any trimmings and flick the sunglass visor down for that jet pilot look, or you attach the goggles for a street fighter look. Either way, you're having so much fun you decide to hit the highway and expand your horizons. You pull over to quickly click the clear visor into position to reduce wind noise and now it's a quiet touring helmet, but still with plenty of venting in the three-position chin intake and two adjustable vents on top.
Then the temperature suddenly drops and the skies open up. You pull over and unzip the "curtain" which comes down and protects your neck and stops rain wetting the bottom of the helmet liner. You tuck the bottom of the curtain inside your jacket and away you go again.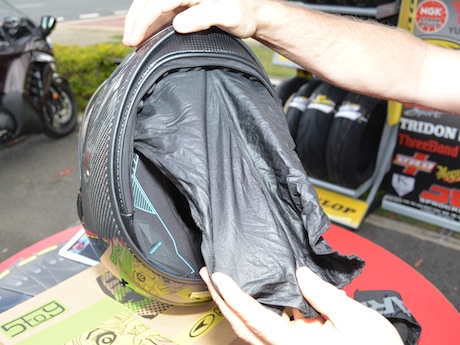 Suddenly it stops raining and you decide to hit some dirt roads because the rain will have dampened the dust. You pull over and zip the curtain away, quickly pull the clear visor off, flick the sunglass visor up and click the goggles into position. Now you're Charley Boorman on Long Way Round.
You're having so much fun that by the time you hit the highway again it's getting dark, so you unscrew the bolt on top with your fingers and quickly clip out the peak and remove the click-in goggles. Then you click the clear visor back in place and leave the sunglass visor up. That should take less about 15 seconds.
Randall Cash of importers Ficeda Motorcycles Accessories says he has worn the helmet in testing and found it light and very comfortable. We can only take his word for it, but I picked it up and it didn't feel super-light. However, it did have the goggles and peak attached. Take them off and it feels much lighter. They say it's 1.3kg which is probably in its bare state without any fittings.
The inner antibacterial padding feels comfortable and it can be easily removed and washed. It also has a lining that wicks away sweat. The pads have pre-cut speaker housings in the back so you can quickly slot in a Bluetooth speaker kit without having to hack away at the padding. Shark also makes their own Sharktooth kit for an even neater fit.
The tinted goggles have a thick foam and plenty of filtered ventilation so they shouldn't fog up or allow in any dust. Randall says if you prefer a certain brand of goggles, you can replace them with just about any brand either with similar quick-release straps or the conventional stretch band.
I like the supplied goggles because they fill the helmet opening and include a nose protector which means you won't get painful pinpricks of rain or get a sunburnt or dirty nose. You can't use the drop-down sunglass visor with the goggles, but they are tinted, anyway.
Like most Shark helmets there is a pop-up latch to prop the anti-scratch visor open a fraction to prevent misting, although it is an anti-mist visor anyway. If you prefer an aftermarket anti-fog insert,  it is also pinlock-ready. The visor can be clicked in and out of position in a second. It's the easiest and quickest system for removing visors on any helmet I've used. You won't need a tinted replacement visor because of the drop-down sunglass visor which works off a convenient latch on the right side. When the visor is removed, the side locking mechanism remains so it doesn't look ugly without a visor.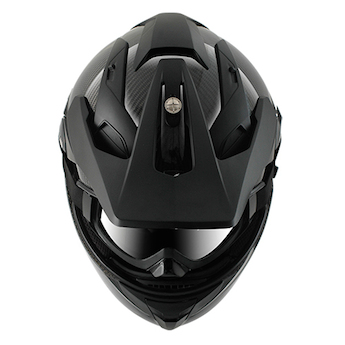 Shark helmets all have a special channel down the inside of the helmet which makes wearing prescription glasses or sunglasses more comfortable and easier to slot in. The chin strap uses an adjustable ratchet system which is quick to lock and unlock, and is quite secure.
I can see me wearing this on just about every bike I review. Ok, it isn't an open-faced or flip-up helmet, but even on a cruiser I could wear it without the peak and with the clear visor on or off. That would not only look the part, but would provide plenty of ventilation. Or for that menacing tough Darth Vader look I could wear it just with the tinted goggles.
The Shark Explore-R could be the only helmet you will ever need. Plus it comes with a five-year warranty.