SHAD SH37 – SHAD SH48 Top Case Image Gallery
The SHAD SH37 is a generously-sized top case that can be fitted to a variety of motorcycles and scooters.
It's good-looking and has a variety of accessories available, including snap-on color-matched top panels.
The new SHAD SH48 is an even larger, yet still light weight top case for maximum storage with minimal effect on aerodynamics and balance.
Both of these top cases are nicely designed and very easy to install with the clear SHAD instructions and quality hardware.
And the prices are very reasonable; a complete ready-to-go top case with the motorcycle-specific mounting bracket kit can be had for around $210.00.
SHAD also has many options available for these and their other selection of motorcycle luggage, including back rests, LED brake lights and more.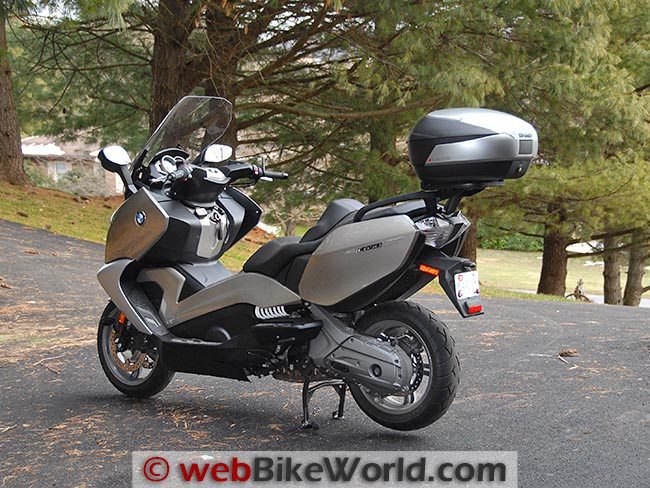 Introduction
SHAD was a newcomer to the North American market when we first reviewed a selection of their motorcycle luggage in 2009 (see the SHAD SH40, SH45, SH46 and SH50 Review).
The top cases were impressive, with excellent quality and a good selection of mounting kits and adapter plates for a variety of motorcycle brands and models.
And here's a secret:
The BMW scooter top box is made by SHAD for BMW! In fact, SHAD has a deep connection to BMW.
All of the cases for the BMW GS; all of the seats for the GS, GT, the C-series scooters and the back rest for the BMW 1600GT (report) are made by SHAD!
We decided to take another look at the latest SHAD product lineup and the timing was perfect, as it just so happened that I was in search of some luggage for the BMW C 650 GT scooter (blog).
The GT version of the scooter has an ample on-board storage capacity, which is one of the features that makes it so nice to use as a daily commuter.
Add a SHAD top case and the BMW tunnel bag (review coming soon) and you have some serious long-distance touring capacity — or at least more than I've ever experienced on a motorcycle.
But don't let the scooter issue throw you!
The SHAD top cases are designed for many different types of motorcycles and scooters, with mounting kits, adapter plates and all sorts of accessories available, including color-matched panels, LED brake lights and more.
The big surprise was how incredibly easy it is to install the brand-new SHAD top case mounting kit for the BMW scooter.
You can literally have your top box mounted and ready to go in less than 10 minutes, and anyone with a 10 mm socket and who can turn an Allen wrench can do it. Let's take a closer look…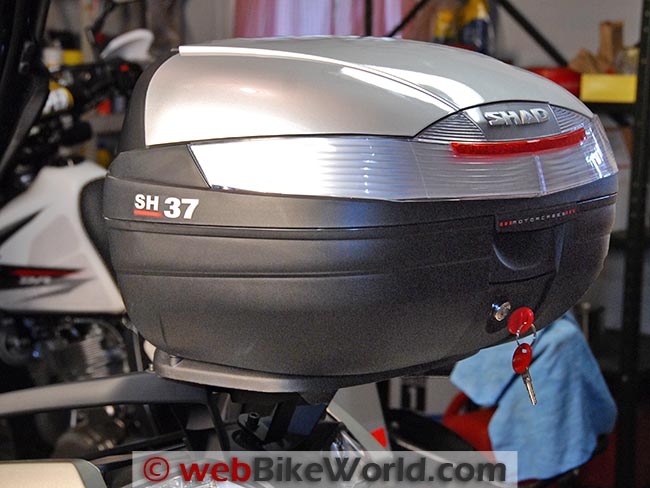 SHAD SH37 vs. SH48 Top Cases
I don't have much experience with motorcycle top cases and, after all, I was mounting it on a scooter.
So I didn't want to get something too big. SHAD recommended their brand-new SH48 with its 48 liter capacity, but I wondered if it would be too much for the C 650 GT — wouldn't it overwhelm the "scootercycle"?
I thought that perhaps the SHAD SH37 would be more appropriate for something like a scooter.
The SH37, with its 37 liter capacity (can you see the logic of the SHAD naming convention?) might be better.
As it turns out, both work really well and the new SH48, for all its capacity, doesn't look or feel that much bigger and it also doesn't seem out of place on the scooter. But, choosing a SHAD top case is probably the hardest part!
The SH48 also has a couple of added features: it includes a fold-out handle, which makes it easier to carry off the bike (or scooter). and it has a "Y" shaped adjustable strap inside.
The color choices are slightly limited though, with a mix-and-match titanium, black and dark gray schemes currently available.
A new carbon fiber cover has also recently been made available and it looks pretty cool…
The titanium and black version of the SH48 shown here has a semi-matte finish and it's actually pretty close to the silver bronze of the scooter.
On the other hand, the SH37 may be a bit smaller, but it has a  more formal appearance. It also has optional gloss-painted color-matched tops available that can be purchased and then snapped on the top cover.
The SH37 does not have the fold-out handle; the cover release has an indent and forms its own handle.
Both top boxes include installed locks and come with two keys. Both have back rests available as an option.
I have the back rest kit for the SH48 but I haven't installed it yet.
It looks like an easy project and I'm hoping to get to it this week — the weather is supposed to warm up a bit, making it easier to work in the garage.
Weights
The SH37 has a rated 3 kg capacity, while the SH48 has an 8 kg capacity.
Both will hold a couple of "Jet" styled helmets or, in our example, a full-face, size XL Arai RX-Q (review) helmet with room to spare.
Both also come with the mounting adapter plates included; the SH37 takes the D1B37PA and the SH48 takes the D1B50PA, a slightly larger adapter.
The SH37 weighs 3.6 kg (8 lbs.) with the adapter plate and the SH48 weighs 4.5 kg (10 lbs.).
The adapter plates are made from heavy-duty plastic and have slots and holes for a variety of mounting kit fitments.
The slots can also be used to hold bungee cords or tie-downs or the included plastic covers can be used to hide the slots and make a smooth top surface that looks good when the top cases aren't being used.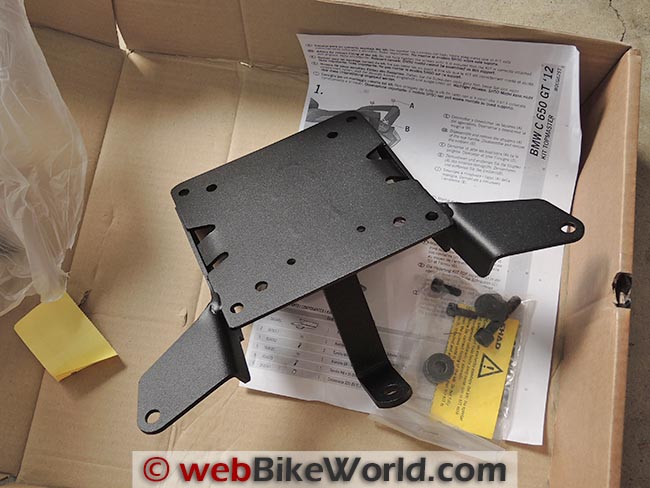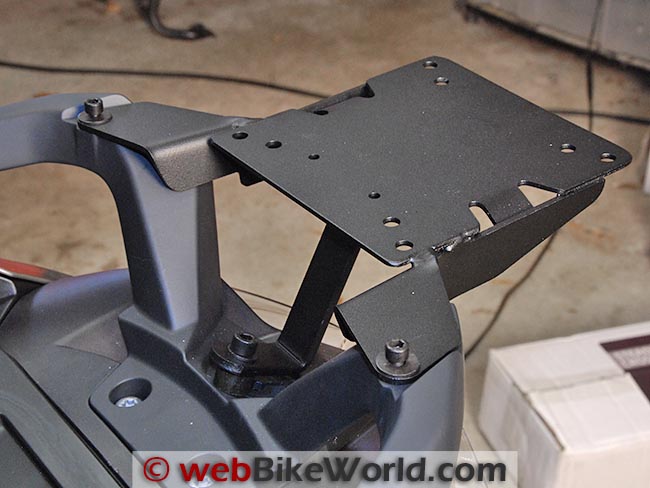 SHAD BMW Scooter Mounting Kit
I first contacted SHAD to see if they had any luggage available yet for the new BMW scooter (review).
It was then that they informed me that they were just working on a new mounting kit that would work with any of their top cases.
They quickly finished the design and sent one of the very first Shad Mounting Kits for BMW C650GT right from the HQ in Spain.
The BMW scooter mounting kit is now available (and will soon be listed on the SHAD website).
It is part number W0CG62ST and the list price is a reasonable $60.00.
This means that you can buy the mounting kit and, for example, the SHAD SH37 shown here and have a mounted top case on your BMW scooter or other brand of motorcycle for around $210.00!
That's pretty phenomenal actually, especially considering the 35 liter BMW top case alone (review coming soon) costs $260.87.
The BMW mounting rack kit (Luggage Grid) costs $125.09; the cover trim panels (left and right side sold separately!) list for $28.11 each.
Then you have to buy the lock cylinder for $43.96 if you want it keyed to your scooter (you don't have a choice). You also have to install the lock cylinder and the color-matched side panels yourself.
That's about $486.00, in case you're counting. In fairness, you get an exact color matched system and a key cylinder matched to your ignition key.
If that's worth the extra $275.00 or so, that's fine. I don't know yet how easy/difficult it is to mount the BMW top case.
But you'll know as soon as I do, probably within the next couple of weeks, as soon as we can get to it.
In the meantime, there's absolutely nothing wrong with the SHAD SH37 on the BMW scooter, or you can buy the SH48 instead at $285.00 and have even more capacity and still come out about $140.00 ahead.
That will buy you the back rest ($55.00) and the LED brake light kit (~$60.00) for the SHAD system with enough money for a fill-up or two.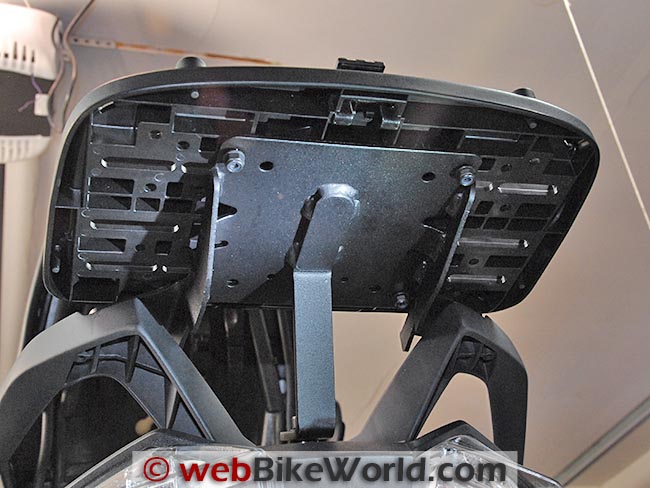 Installing the SHAD Mounting Kit for the BMW Scooter
One of the reasons it took me so long to break open the SHAD boxes and get to work on this project was the cold winter weather that has now set in.
I was envisioning a major project with the probability of disassembling the back half of the scooter to install the mounting kit; not a pleasant prospect in a 4 degree (40 F) garage.
But, I broke out the old Kero-Sun heater (unfortunately no longer sold in the U.S.A.) and fired it up and got the garage up to working temperature.
I laid out all the tools and pulled out the instructions and…wait a second — this looks too easy!
As it turned out, it is easy. Incredibly easy.
This is partly due to BMW's clever design, of course, designing in the threaded holes for the mounting bracket, which SHAD politely exploited.
Pop out the BMW roundel on the back of the scooter, then remove the two plastic caps covering the top case rack mounting holes on the grab handles. Don't lose them!
All it takes is three socket head cap screws and the SHAD rack installation is done. Don't over-tighten, because the BMW threaded receptacles appear to be brass or bronze.
The SHAD mounting plate is a solid welded piece, crinkle-black powder coated. It has holes drilled to mount several different SHAD top case adapter plates for the various-sized top boxes.
Each SHAD case comes with the correct plastic mounting adapter on the bottom.
Remove it and for this BMW scooter mounting kit, all you have to do is use four Philips-head screws, the square plastic hole fillers (red squares seen in the photo below) and the supplied washers and Nylock nuts.
Snap on the plastic covers if you want to tidy it up. You can literally finish this job in less than 10 minutes and you're ready to roll.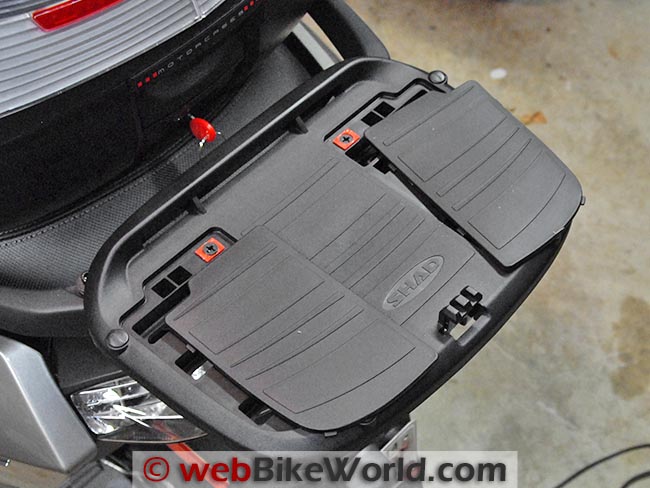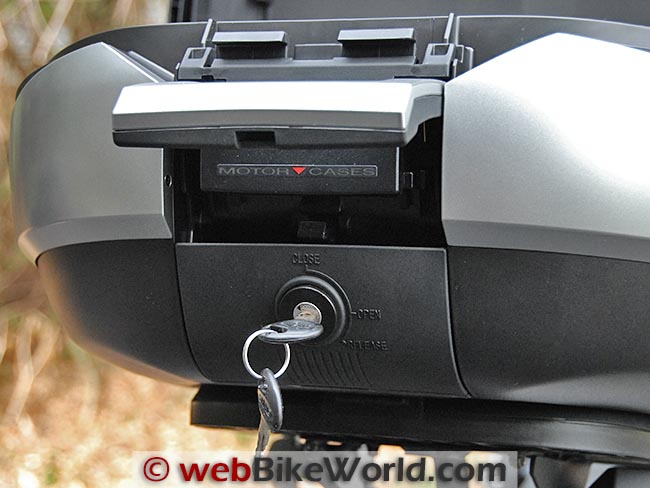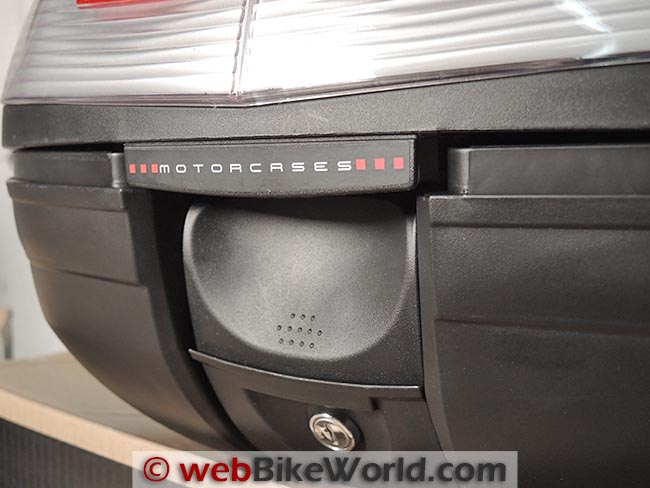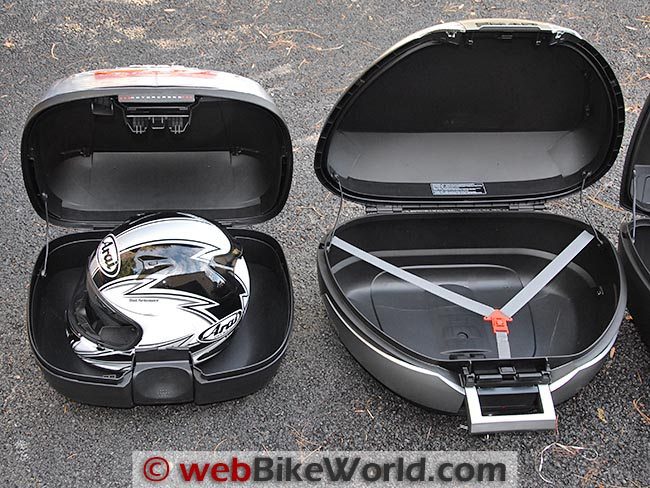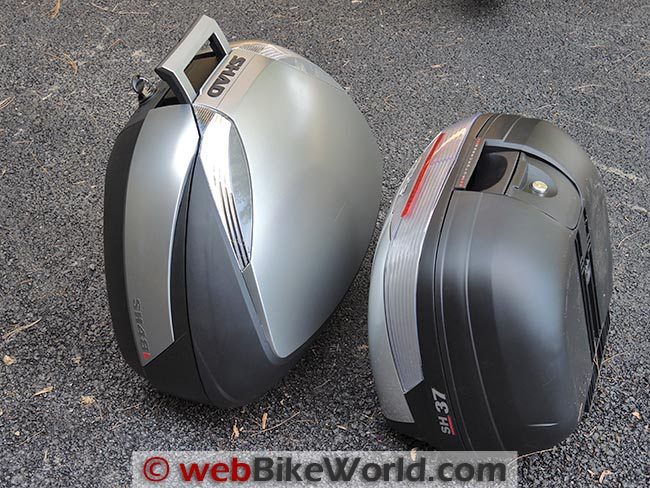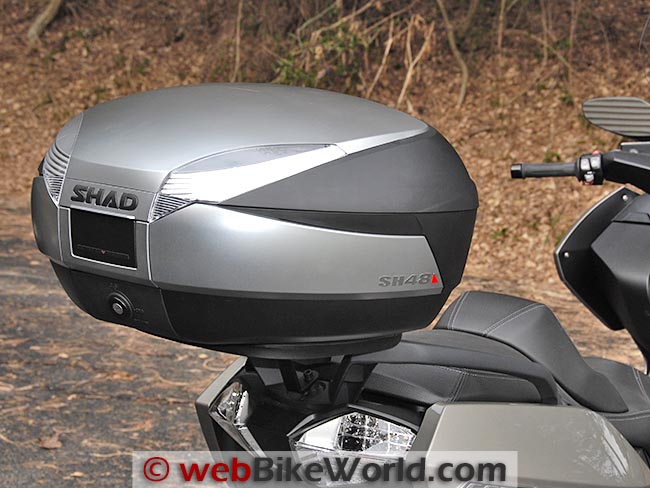 On the Road
I haven't noticed all that much difference with the SHAD top cases installed on the scooter.
The SH48 does seem to add some buffeting around the rear of the bike, more than the SH37, but it doesn't seem as noticeable as when I added the luggage to the Suzuki DR650 (Blog) Project Bike.
You do have to be careful not to overload a top case, however, as it does change the center of gravity and handling.
I think for the scooter, which is long and low and has a low center of gravity, the addition of a loaded top case isn't as noticeable as it might be on a motorcycle.
I'll have to wait for warmer weather to really load it up and go on an extended ride.
But so far, I've been pleasantly surprised that whatever differences in handling and "feel" that I have noticed have been minimal.
w

BW

 Video: SHAD SH37 and SH48 Top Cases
ADDENDUM: SHAD Backrest for the SH48 Top Box
The weather has "modulated" a bit, so I was able to get back into the garage to add the back rest kit to the SH48 top box.
SHAD molds drilling guides into the interior of the lid and bottom sections of their top cases (as I discovered).
They take the form of tiny dimples, so all you have to do is dig out the correct size drill bit as described in the instructions (5 mm for this one) and build up the courage to drill through your nice, new top case!
It's easy and a sharp drill goes through pretty quickly, so beware.
Slide the metal threaded clips on to the molded receivers in the back of the back rest, bolt it up (not too much torque) and you're done.
It's only very slightly more difficult than installing the SHAD top case on the scooter. Here's a photo: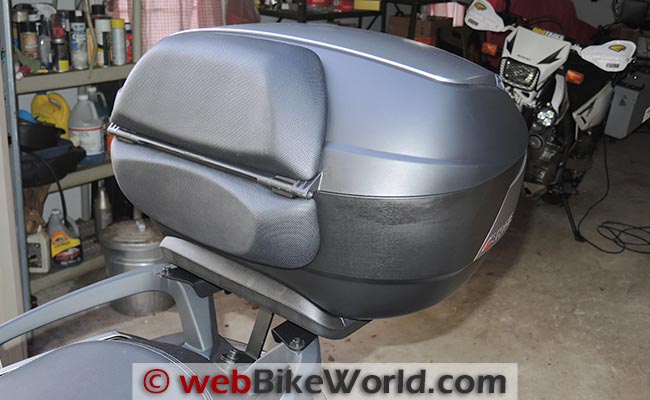 Conclusion
SHAD has many different top cases, motorcycle luggage and accessories available.
Based on our experience, they are excellent quality, nicely designed and come with clear mounting instructions and all the correct hardware.
The mounting kits are also available for a wide variety of motorcycles, including sportbikes, cruisers, adventure-touring bikes and more.
The installation on the BMW scooter was incredibly easy and a big surprise to me — I just assumed it would take a lot more effort.
You can buy a high-quality, made-in-Europe SHAD system for less than $210.00 installed. That's what I call a certified bargain!
See Also:
w

BW

 Review: SHAD SH37 and SH48 Top Case
Manufacturer:
SHAD
 (Spain)
List Price (2014):
 SHAD SH37: $149.00. SHAD SH48: $285.00. 
Shad Mounting Kit for BMW C650GT
 (W0CG62ST): $60.00
Made In: EC
Colors: Optional color-matched panels available.
Sizes: N/A
Review Date: January 2013
Note:
 For informational use only. All material and photographs are Copyright © webWorld International, LLC since 2000. All rights reserved. See the webBikeWorld® 
Site Info page
. Product specifications, features and details may change or differ from our descriptions. Always check before purchasing. Read the
Terms and Conditions
!
Owner Comments and Feedback
---
From "G.B." (April 2013): "Read your review of the Shad Top Cases and ordered the SH46 for my C650GT BMW scooter.
Your installation guide was right on!!! Installation could not have been easier.
The only different thing I did was use the smaller screws to assemble the mounting plate to the C650GT kit assembly, rather than the longer ones the Shad instructions showed using.
I did not care for the longer screws extending down as far once assembled. Even saved over $250 by buying from Shad vs BMW. Thanks."
---
From "D.B." (January 2013): "Great review, as always. Just wanted to ask if you knew that SHAD actually makes some of the OEM top cases for BMW? Same with Yamaha!
They're all over the place, and that's obviously a good sign re: quality of the product.
Check the SHAD ST38 aluminium cases, that's what you get on the Yamaha Tenere / Super Tenere.
I don't have the info about the exact BMW models, but I'm expecting a Yamaha specific and BMW specific SHAD catalogues to arrive later this month.
I've got SH50 mounted on my 300cc Kymco, and while it's a lot heavier then the SH48, it still works great on my scooter.
And very little noticeable difference in handling, while my Kawasaki 650R didn't like even the small(ish) 35L Kappa top case on the back. Keep up the good work!"
---
From "J.W." (January 2013): "Although it's hard to tell from the photos, but the best feature of the Shad top case appears to be its relatively shallow lid.
As a practical matter, you really can't load a top case much beyond the lip of the bottom part.
I have a Givi top case and about half of its advertised capacity goes unused because the clamshell top is almost a deep as the bottom."