Sena SMH10B Version 4.3 Firmware Update
The music sharing ability found in the Cardo Scala Rider Q1 and Q3 intercoms cannot be ignored, but it has been overtaken, by the music sharing feature now implemented for the top of the line Sena SMH10B.
Cardo threw down the gauntlet and Sena has responded by moving the yardstick forward significantly in one bound.
Not forgetting some of the early pioneering systems that offered rudimentary music sharing, but the Sena capability is, without a doubt, the best integrated music sharing capability available today.
SMH10B users can now enjoy rider-with-passenger or rider-to-rider A2DP stereo music sharing without resorting to companion devices such as the Sena SM10 (review) or UClear WT300 (review).
And Sena provides a feature allowing an unmatched level of control by either user. Let the next round begin…
Introduction
So here we are, just a few weeks after our very positive review of the new and extremely capableCardo Scala Rider Q1 and Q3 intercoms (review) was published, which announced the hot news for the summer: music sharing, which prominently figured into our glowing assessment.
With the first firmware update completed, the Cardo Q1 and Q3 intercoms reliably stream A2DP stereo between two paired systems, although there are some limitations and it seems to be very much an initial release of a work in progress. But nevertheless it is installed and it works.
But — stop the presses! This Bluetooth music sharing "claim to fame" has been laudable but short-lived. Why? Well Sena, with their release of firmware version 4.3 Beta (4.3rc1) for the SMH10B, has just moved the music sharing yardsticks a mile or two ahead.
A somewhat quiet announcement to be sure, but like other previous firmware releases that had some real progress packaged into the builds, firmware version 4.3rc1 Beta for the SMH10B model is focused on provision of the music sharing capability while also adding speed-dialing.
What's Included in the Sena Version 4.3 Firmware Update
The SMH10 v4.3 beta firmware update features a rider/passenger and rider-to-rider music sharing capability, along with a new "Speed Dialing" system for a paired cell phone.
"Every SMH10 owner may evaluate the beta version 4.3 firmware", according to Sena. "The firmware is beta but the test criteria uses the same strict levels as the official version. So owners don't have to worry about incomplete functions."
Sena may add more capabilities to the SMH10B firmware update in the official release.
Future SMH10 firmware updates are planned as follows; Sena said they are always working on continuous improvement for their intercoms and devices. Coming soon will be Advanced Noise Cancellation, which will reduce wind noise considerably, according to Sena.
Big Surprise Coming Soon!
Sena told us that they are currently working on a "Universal Intercom Enable" feature which will allow SMH10B owners to communicate with other brands of intercoms or headsets! This is something that motorcycle Bluetooth intercom owners have been requesting since the very beginning of Bluetooth motorcycle intercoms. We'll have an update on this as soon as possible.
Other minor enhancements will include updates to other Sena products. The company is working on new firmware updates for the other other products. They will have same additional new features reflected in v4.3 beta of SMH10.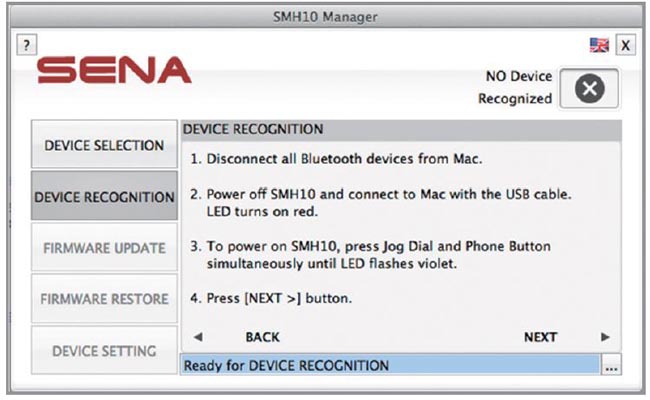 Firmware Updating
The email announcement from Sena popped into my mailbox on Wednesday, 10 September 2013 and after reading it once, then again, the smile really started to build.
I can't say that this announcement was unexpected, particularly in light of the music-sharing capabilities of the Cardo Scala Rider Q1 and Q3 systems which threw down the gauntlet.
The Sena 4.3 update is not yet visible or posted under the normal Sena update page, but registered users should have or will receive an advisory with the needed links, along with a link to the SMH10 v4.3 Beta Firmware Notes (.pdf).
As with other firmware updates, once the process is completed, the intercoms should be shut down and restarted, which typically completes the update process. It is also recommended (and I live by this rule) that you reset the systems after the update and that all previous pairings on peripheral devices are cleared (important!).
It is also a good rule, once the older Bluetooth profiles have been deleted from the peripheral, to turn the Bluetooth off and then on again to truly expel everything.  I know many users don't believe that these steps are necessary, but trust me — in troubleshooting it comes up as a major factor, one that is easily dealt with.
And as always, it's a good idea to be running the latest version of the Sena Bluetooth Device Manager (v1.4.2 for MS Windows; not sure about the Apple version) before starting the firmware v4.3rc1 (Release Candidate) Beta update.
New Feature: Music Sharing
This new 4.3 firmware update feature provides the ability for two paired systems to share music to and from both intercoms with some unique control aspects provided, all of which makes the laudable Cardo Scala Rider Q1 and Q3 music sharing implementation seem limited in comparison.
The host for this feature is the SMH10B intercom capability and in use it truly is utterly simple to use and utterly reliable. Once the update is completed and one or both of the intercoms are paired with a Bluetooth music device, turn on the two intercoms and wait for the spoken status announcement connectivity confirmations: "Phone Connected" and/or "Media Connected".
Now just tap the Sena Jog Dial to initiate an intercom session. With the intercom open, press and hold the Jog Dial for one second. A single beep, a 1-2 second wait followed by a double beep announces that music streaming has started.
Switching from shared music streaming back to the intercom is a simple as another single tap on the Jog Dial; the intercom will be there almost instantly.
And while the ease of which the music sharing is initiated or switched out is remarkable, either user can also employ AVRCP to move the music forward or backward by the usual press and turn clockwise or counter-clockwise of the Jog Dial (although this does take some practise).
Stopping the music sharing just takes another one second push of the Jog Dial by either party. A double beep will be heard, indicating that the feature is terminated, whereupon an intercom conversation can now continue.
New Feature: Speed Dialing
The ability, or need, to call or "dial" out from a Bluetooth helmet system is always debatable, but no matter your take, Sena has now provided an enabler to make calling a little easier, especially when using peripheral devices that don't have voice activated services.
Again, this feature is only available by upgrading to the v4.3rc1 firmware. Cardo has also introduced this feature with their "G" model intercoms, although it is limited to one primary number as configured via the on-line Cardo Community.
Sena has taken another step — well actually two — by providing storage for up to three phone numbers, accessed by the Speed Dial feature. Adding the numbers can be done directly using the Configuration Menu or via the Sena Bluetooth Device Manager interface.
Configuration Manager Setup
With a phone connected, hold the Jog Dial for 12 seconds to activate the Configuration Menu (announced by "Configuration Menu"). Rotate the Jog Dial either way until you get the "Speed Dial" voice prompt; now tap the Phone Button.
Two sequential voice prompts — "Speed Dial One" and "Phone Connected" will be heard; rotate the Jog Dial to select one of the three Speed Dial bins as identified by the "Speed Dial Number" voice prompt. Call the phone number you want to assign to this bin.
A voice prompt "Save Speed Dial Number" will be heard and the number is then automatically assigned to the selected bin; the phone call will hang up before a connection is made. Repeat as desired for the other two numbers.
Sena Bluetooth Device Manager Setup
Start the application, select the SMH10 icon and click "Next". Go through the device recognition steps until the main Manager screen is presented.
Presuming the firmware update has already been completed, you will see new option tabs on the Device Setting bar: Basic and Speed Dial.
Clicking on "Speed Dial" will bring up the three (empty) bin listings, clicking on one of them activates a small menu above the Device Settings bar allowing direct entry of the first number; no spaces are needed. Click on "OK" (or Cancel) and either go to the next entry line or click "Save" to add the information to the intercom's profile. Exiting the application and restarting the system will complete the update.
Using Speed Dial
Double-tap the Phone Button, wait for a (mid-tone) beep and the "Speed Dial" voice prompt. If redialing the last number that was called or received, rotate the Jog Dial either way to select "Last Number Redial". If accessing a number in the Speed Dial memory assignments, rotate the Jog Dial to select "Speed Dial Number". Tap the Phone Button or the Jog Dial to initiate the call.
Performance
With two Sena SMH10B units paired up and one user initiating their music player, followed by the intercom, a one second push brings a single tone, a short wait and then a double-beep tone, with music sharing initiated — no issues, no delays and totally reliable.
With Sena's implementation allowing for a very interactive environment, once started by one user, either party can control the active player — one second tap to pause and switch back to intercom, or vice versa, push and spin the Jog Dial for AVRCP track control and the one second/double beep process to activate or stop the music sharing session.
As noted in the Cardo Scala Rider Q1 and Q3 intercom review, some AVRCP management could be coaxed out of the devices, but it was limited and not totally reliable, something we expect will get addressed for a future Cardo firmware release.
On the other hand, the Sena capability provides an interactive environment for both users and, if said users both have media players paired up, both can be used for music sharing; it just takes a bit of management.
To do this, one player (A) is stopped using the one second Jog Dial push (double-tone) step, then waiting a few seconds and then the other user activates music sharing from their player (B) with another one second (double-beep) step. So with two sequences swapping between players with music sharing is accomplished — let the "Battle of the Bands" begin…
But while working through these permutations, it becomes evident that if two intercoms are configured for use, then an exit strategy from the whole music sharing cycle is not specifically documented; deactivating one sharing session then allows the other one to start up.
A specific query about this situation has been sent to Sena. For now, it is a simple matter of shutting one system off for a few seconds to break the dual media player and purpose-built configuration.
Audio shared between the two systems is excellent, appreciating that the Sena speakers are not the best in the business… Listening to the same track through the standard SMH10B headset and then the SMH10B with the stereo output jack and the Tork XPro X2 (review) or iAsus XS2 (review)speakers is like…Wow! Concert hall in a motorcycle helmet.
Whereas the Q1 and Q3 devices have a nominal music sharing range of 10 meters (33 ft) or slightly better, a Sena music sharing link is good out 150 to 200 meters (492 to 650 ft). So with the Sena SMH10B intercoms, rider-to-rider music sharing is now a reality.
Regarding the speed dialing feature…it won't be for everyone, but again, it is there. I have three numbers set, using both the device interface menu and the PC application to program them in. A tap and slight twist brings up the options…great for mobile devices that don't have solid voice command capabilities.
Conclusion
To be succinct, Cardo with the Q1 and Q3 might have been first to make on-board music sharing a reality, but Sena has shown how it should be done.
Music sharing, among other goodies, will become a de facto standard with everyone getting onto the band wagon (pun intended) and well it should.
And between continued evolution of mobile devices and moving towards voice command capabilities for the headsets (started by Cardo), features like device-based speed dialing may or may not remain relevant. Both additions, particularly music sharing, are very much worthwhile and both are smart timely moves on Sena's part.
Not that Sena doesn't have some work to do, as audio output and speaker quality issues resonate with many owners. And admittedly these issues impact Sena's long standing reputation for being at the capability forefront and supporting users.
But for the here and now, Sena SMH10B owners have the means to put away their Sena SM10 or UClear WT300 music sharing devices or whatever else has been utilized in an attempt to provide a common music stream; just update the Sena SMH10B intercoms with the 4.3 firmware and enjoy what truly is an industry-leading capability.
Who gets to control the music is up to you! And for those using other Sena intercom systems, such as the Sena SMH10R (review), the Sena SMH5 (review), the Sena SMH5-FM (review) and theSena SPH10 (review) and others, the new functions will be provided "in the near future", according to Sena. For those who aren't, well, you don't know what you're missing!
Publication Date: September 23, 2013
More wBW: Motorcycle Intercom Reviews  |  wBW Reviews Home
Note:
 For informational use only. All material and photographs are Copyright © webWorld International, LLC since 2000. All rights reserved. See the webBikeWorld® 
Site Info page
. Product specifications, features and details may change or differ from our descriptions. Always check before purchasing. Read the
Terms and Conditions
!
Owner Comments and Feedback
Other WebBikeWorld Intercom Posts