The Sena SMH-10: A Rider-to-Passenger Intercom
Just to spice things up a bit, I added some photos of the Sena SMH10R, the newest Sena intercom that trades the "Jog Dial" for a new low-profile shape.
We'll have a review coming soon.
A Long-Distance Trip
I wrote two previous reviews of the Sena SMH10 intercom ("Sena SMH10 on the Trans-America Trail" and "Sena SMH10 Owner Report").
During those rides, the SMH10 pair was used only for rider-to-rider communication, which revealed some shortcomings mostly dealing with range (line of sight and overall distance).
Used in this capacity I found the SMH10 to be a little bit of a disappointment. But, how would the system perform as strictly a rider-to-passenger intercom?
Experiencing yet another cord failure on my overpriced, German made, hard-wired intercom, I was forced to consider a replacement.
But what type and which brand?
Although webBikeWorld has a tremendous amount of information and reviews on all types of intercoms, the choices can also be a little bit overwhelming. Should I go for a wired intercom system or wireless?
Our current Baehr intercom system (review) had a few things going for it — it was paid for; it had plenty of volume (we always wear earplugs) which varied dependent on ambient noise (although it was not easily adjusted manually); it had clear, distortion free sound regardless of speed; and it was integrated with the audio system on my 2000 BMW K1200LTC.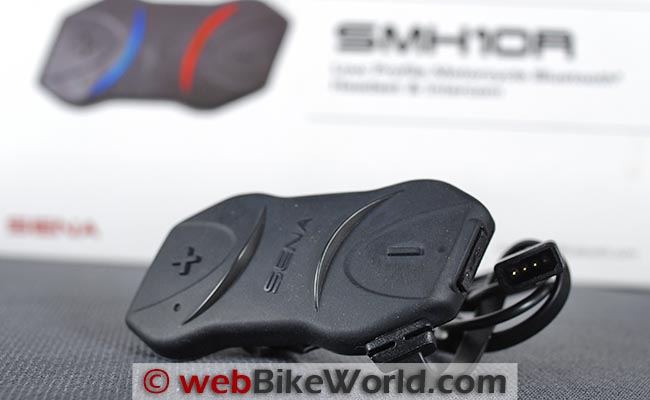 Wired Intercom System Woes
But the Baehr wired intercoms had some "cons". For example, my spouse had to do a little twirl before getting on the bike so the intercom cord wouldn't end up wrapped around her torso; if she wasn't careful she would snag the cord and disconnect the cable with her foot while stepping over the pillion seat.
Also, the coil-type cords that connect the helmet to the on-board intercom system are so thick that they cause excessive strain on the wiring inside the helmets, resulting in repeated breakage of the tiny wires used in the headsets. It became so bad that I took to carrying a soldering pen and solder in my tool kit for repairs while on long road trips!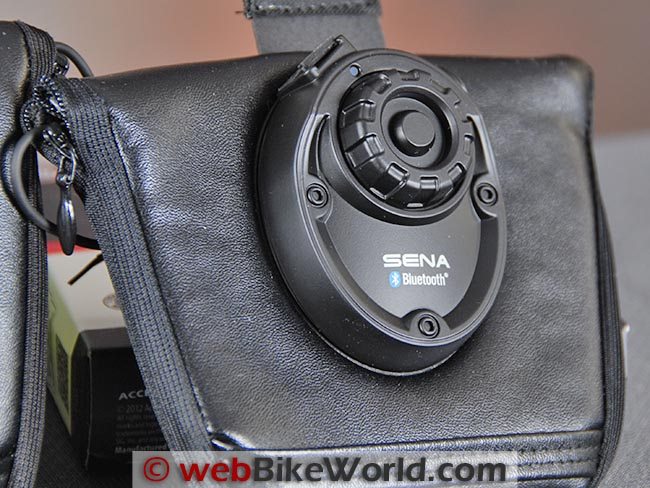 The Sena SMH10 for Rider-to-Passenger Use
Fortunately, for me, Rick still had the Sena SMH10 intercoms that Glen and I used on our Trans-America Trail ride. Once again, Rick was kind enough to loan them to me to try as a replacement for our current intercom.
For a full review of their operation be sure to read the original Sena SMH-10 reviews. Since I had already installed the SMH10 intercoms in a couple of helmets, it was a fairly simple operation. The latest intercom modules had already been updated to the most recent firmware prior to the Trans-America Trail ride, so it was just a matter of ensuring they were fully charged and briefing my wife on their operation.
Now, I have to say that my wife and electronic devices don't always play well together, but since there's a limited number of buttons on the SMH10, I figured she couldn't get too confused…or could she? Patience my dear, patience!
With the units switched on and paired, we prepared to head out for an "autumn colors" ride. Oh, let us cast off the shackles of wires! Getting on the bike required no prior thought about the location of the intercom wires. It was liberating!
As I had mentioned in my previous reviews, the Sena SMH10 intercoms have plenty of volume and this was still true. Regardless of ambient noise, the sound is always clear. Although we left the intercom "open" there was no annoying background noise unless my wife had raised the chin bar on her Nolan N102 modular helmet (review).
Plus, the ability to be able to adjust the volume individually was a new found liberty for us. With our wired system, if we were only moving about a town (i.e., sightseeing) and left our earplugs out, we had to disconnect the intercom and yell at one another, otherwise the volume was overwhelming.

What Are They?
But, as in life, not all is perfect. Too frequently, after donning her helmet or moving her chin bar back down, I would be treated to a lot of wind noise and she sounded far away. I had the same problem with Glen while on our Trans-America Trail ride.
I finally traced this problem to the microphone boom in my wife's helmet, which had a twist to it so that every time the boom was moved aside to remove or don the helmet it would rotate the microphone 90 to 180 degrees. This would then turn the side that held the mic forward, away from the mouth and facing the wind.
There's a little tab molded onto the SMH10 mic boom that you can barely feel with a gloved hand that has to point away from the mouth. If the user doesn't ensure it's in the right position every time, the communication is compromised.
Yes, I tried twisting it the opposite direction, hoping it would counter the twisting, but to no avail. This is something I always make sure is correctly positioned on my unit, but — how should I say — not everyone else is as diligent!
Another small nit to pick is that if either of us raise our left arm or shoulder high enough, the SMH10 "Jog Wheel" can be pressed inadvertently, which terminates the intercom connection. Not a big deal, as long as you know who did it so you both don't start pushing buttons and end up in "Menu Purgatory". (Editor's Note: The new Sena SMH10R shown in the photos trades the "Jog Dial" for a low profile to eliminate this problem).
Conclusion
And those are my only real complaints about the Sena SMH-10 when used as a rider-to-passenger intercom. Not sure how we'll get the BMW's audio system connected to it, but we rarely use that anyway.
Viva la Bluetooth!! I have become a believer.
More: wBW Motorcycle Intercom Reviews
Note:
 For informational use only. All material and photographs are Copyright © webWorld International, LLC since 2000. All rights reserved. See the webBikeWorld® 
Site Info page
. Product specifications, features and details may change or differ from our descriptions. Always check before purchasing. Read the
Terms and Conditions
!
Owner Comments and Feedback
Other WebBikeWorld Intercom Posts