Sedici Strada II Helmet Review Summary
Review Summary
The Sedici Strada II MIPS is quite possibly the best helmet I've ever worn. It is lightweight, is ridiculously quiet, is extremely comfortable, and has simple but extremely effective ventilation. It is let down only by the fact that the drop down sun visor has no anti-fog treatment and fogs up the moment air is not moving through the helmet, as well as that a PinLock insert is not included and is a $25 extra that should definitely be purchased alongside the helmet. Fully DOT and ECE 22.05 certified, it is an absolute steal at $290 and simply one of the best value for money helmets I've experienced to date.
Materials & Build Quality:
Pros
Premium fiberglass and genuine DuPont Kevlar shell
Unbelievably quiet
Lightweight and very comfortable
Integrated sun visor
Mildly adjustable fit
Excellent ventilation
PinLock ready visor
DOT and ECE 22.05 certified
Cons
No anti-fog coating on sun visor
PinLock insert not included
Sun visor slide control on left jaw interferes with common comms unit placement
Visor detents between fully closed and fully open are somewhat vague
Sedici Strada II MIPS Image Gallery
For those that are not familiar with Calgary, Alberta, Canada, there is a common saying around here: "If you don't like the weather, wait five minutes." After a mild Winter (mild for Calgary, at least), Spring and Summer so far have been nearly psychotic in the ranges of weather that has been thrown down. We've had days where the temperature has crested over 30 C (86 F), to a full on storm cell and EF4 tornado touching down 100 KM North of the city, to it almost snowing one night in late May! 
I explain this to lay the foundation of this review, as riding here means you never know what each day is going to dish out in terms of conditions. You almost need at least two sets of gear, one for cooler and moderate temperatures which usually has some form of waterproofing, and another for the summer days when it gets truly hot at over 30 C (86F). Well, hot at least for a Canadian!
It is because of these varying conditions, as well as my interest in the MIPS safety device, that when I was offered the chance to review the Sedici Strada II MIPS helmet, I accepted without a second thought. 
About Sedici
The Sedici brand was started in 2009, making it a relative newcomer in the motorcycle gear field. It was started by CycleGear as their in-house brand to provide budget-friendly, Italian-inspired options for the American rider that didn't have the budget, or couldn't find gear that fit, for more premium labels like Dainese, Alpinestars, and the like.
Comoto Holdings recently bought both CycleGear and our affiliate partner RevZilla, and blended both Sedici (CycleGear) and REAX (RevZilla) into two parts of the in-house brand for both retailers. The Sedici branding is exclusively for helmets now, and REAX is for everything other than helmets. 
About webBikeWorld's Review Policy
This product was provided at no cost by RevZilla/Sedici for this review. Despite our affiliate relationship with RevZilla, we do not allow brands to influence review scores or content. Please see our review policies for more information.
We here at webBikeWorld believe that you can't just try something out once and give an honest opinion of it. Any product we test is actually used by our testers, and as such, I have used the Strada II MIPS as my primary helmet for 6 weeks, from the start of June through the first half of July, 2023.
Sedici Strada II MIPS Helmet Features, Fitment, Ventilation, & Comfort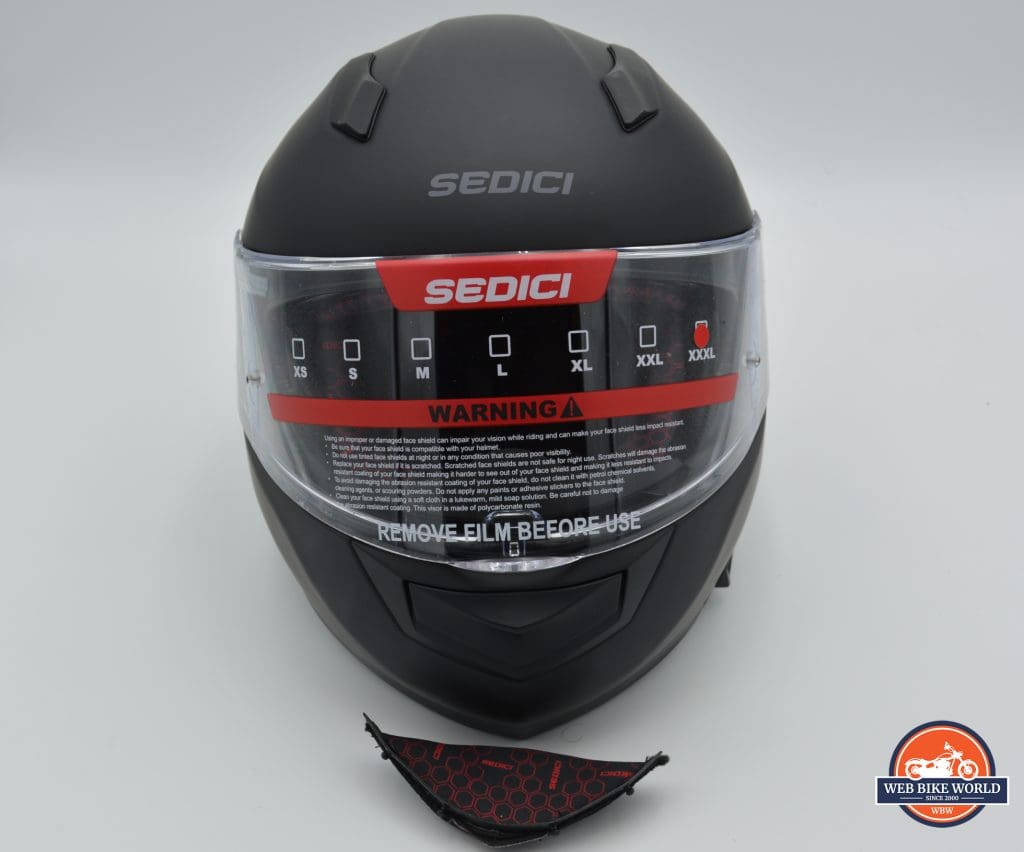 Features
The big selling point of the Sedici Strada II MIPS is in the very last part of its name. The Multidirectional Impact Protection System (MIPS) is a special layer between the padding and the EPS liner of a helmet that absorbs the initial rotational energy of an impact. By removing that initial force, as well as gradually accelerating the head inside the helmet over a few fractions of a second, it decreases the inertial load on your brain, preventing it from smashing into the inside of your skull and causing a traumatic brain injury.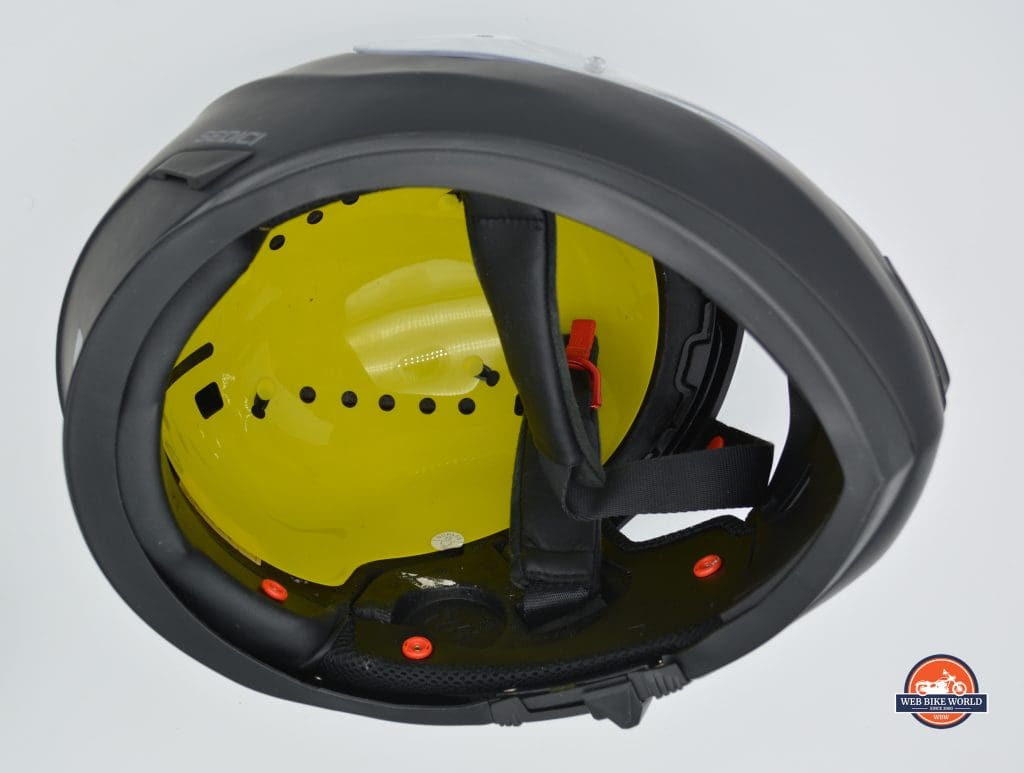 What surprised me about the helmet when I first took it out of the box was just how light it was. With all the padding removed, the fiberglass and DuPont Kevlar shell and EPS foam come in at a respectable 1,355 grams (~2.9 lbs), and when all the padding is installed, it comes out to 1,534 grams (~3.4 lbs).
On the subject of padding, the Strada II MIPS features fully removable cheek pads and top lining, which are appreciably thick. The top liner also features small areas of extra padding at the temples that can be removed to customize the fit by about 5 mm. 
As expected for the mid-range price point, a chin curtain is included, which is well padded and really fastened down tight. In fact, to remove it, I had to give it a proper bit of yanking, meaning it won't come loose while you're riding.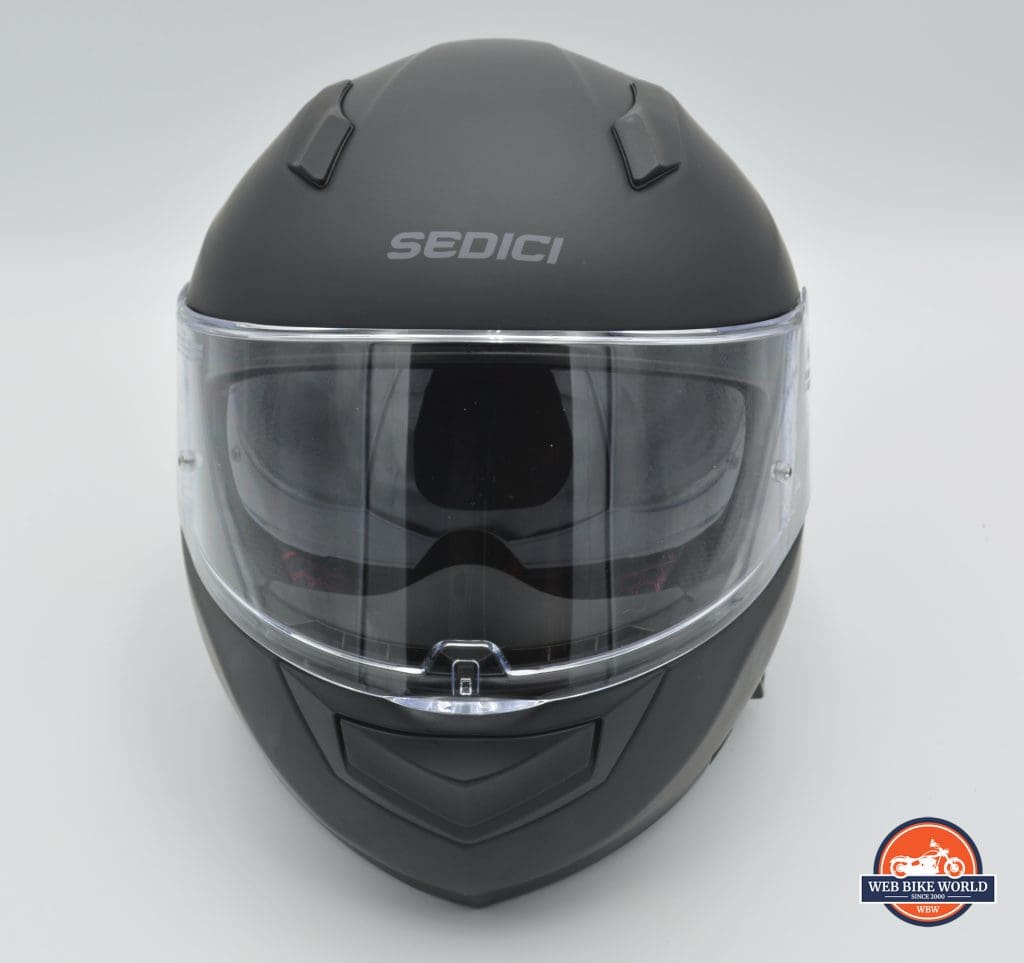 The Strada II MIPS also features an integrated sun visor operated by a slide on the lower left cheek area. This placement is a major issue, in that it sits precisely where you would want to mount a Bluetooth comms unit such as a Cardo PackTalk.
The main visor has a quick-release system that actually is properly quick release, and is PinLock compatible, although it does not come with a PinLock insert in the box. There is a pressure lock that has a positive feel when the visor is fully closed as it ratchets back against the visor seal, and the detent when it is fully open is quite strong, but the detents in between can be a bit difficult to find.
The Sedici Strada II MIPS comes in three shell sizes and four EPS liner sizes, and is certified DOT and ECE 22.05 compliant. 
Fitment
I have a very difficult head to find a helmet for. I am between 2XL and 3XL for most helmets (63 cm or 24.8 inches), I am between intermediate oval and long oval, and I have a prominent cranial ridge that starts precisely in the middle of my forehead.
I list all of these issues with fitment because when I took the Strada II MIPS out of its helmet bag, my first thoughts were uh oh, that looks rather tight. The neck roll is very thick, and it makes the helmet opening look a lot smaller than it actually is.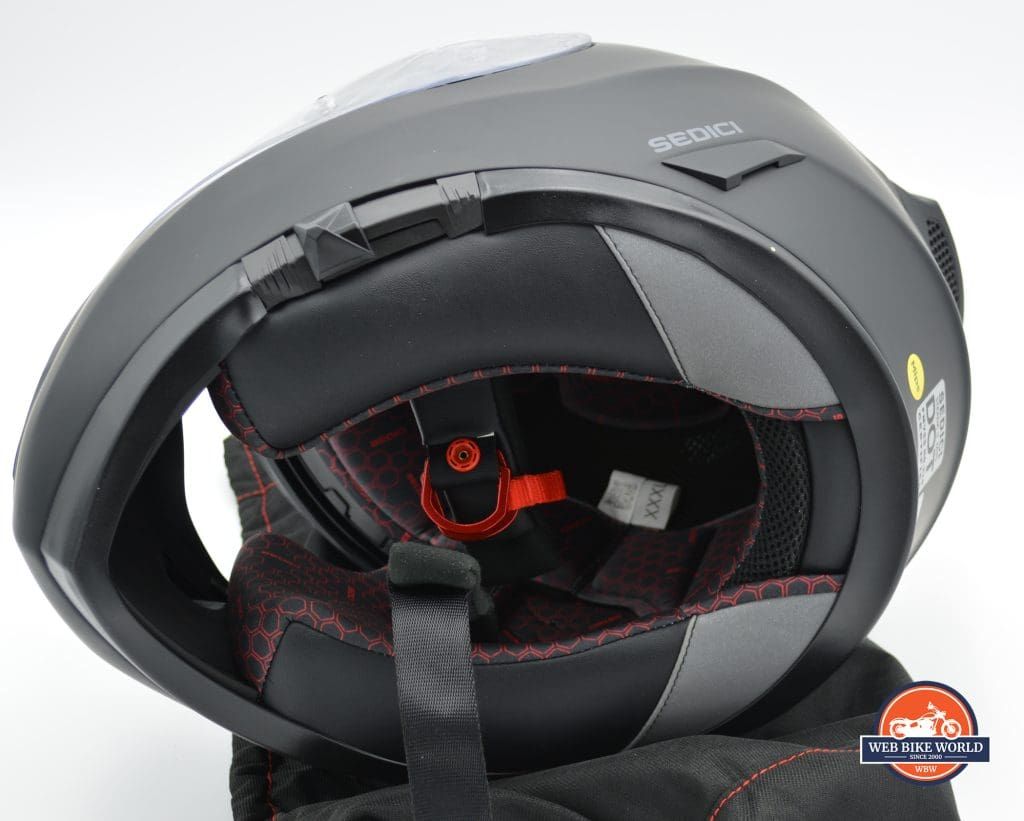 The first time I put the helmet on was a surprise, as I was thinking it wasn't going to fit at all. My head slipped in quite easily, with the only real issue being that when fully seated, there was some pressure at my temples and forehead.
After I removed the helmet, I pulled the liner out and investigated the adjustments that Sedici mentions. Two small foam tabs are placed at the temples, and are easily removed after you break the weak bit of glue holding them in place. 
The second time I put the helmet on, I cannot state how well it fit. In my entire time riding, I have never found a helmet that has fit 100% right… until now. Just 5 mm of foam from each temple, and suddenly the Strada II MIPS is on my head with no pressure points and with the padding holding it snug.
In other words: The Sedici Strada II MIPS is perhaps the best fitting helmet I've ever placed on my weirdly shaped brainbox.
Ventilation
The Sedici Strada II MIPS features a rather simple ventilation structure. Three front intakes, three exhausts, fairly standard fare in the mid-range price point.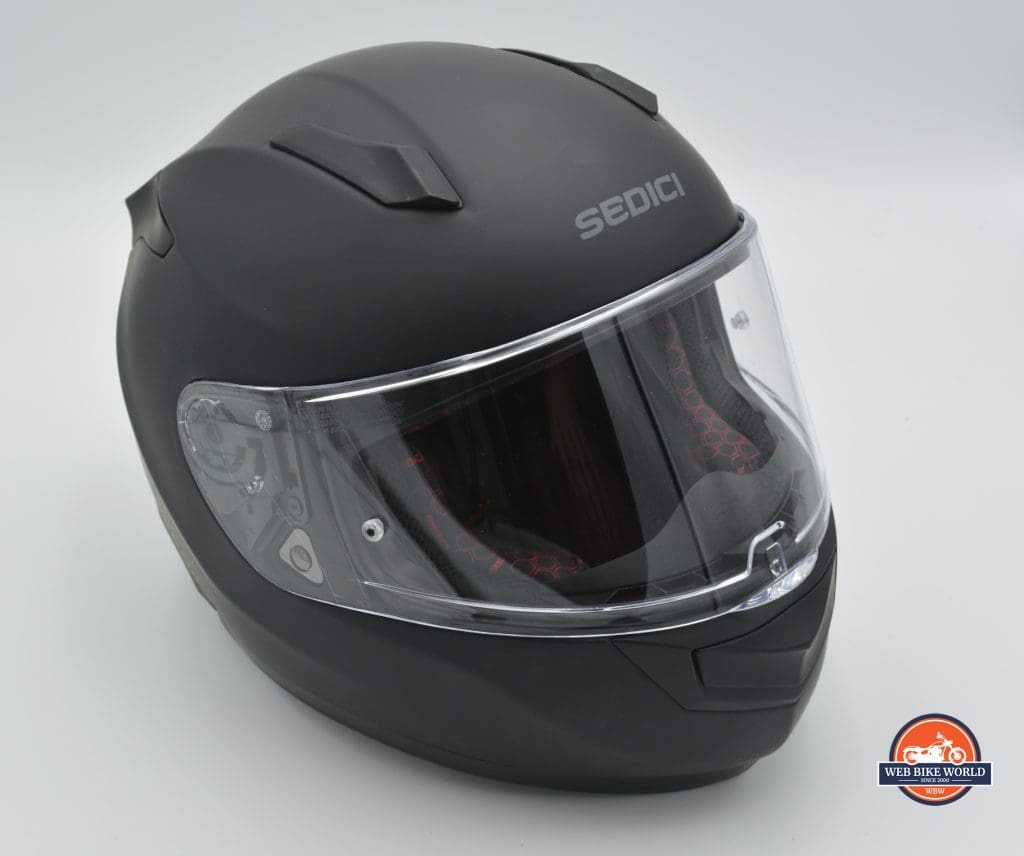 The chin vent splits into two channels inside the helmet, one aimed up at the visor, the other passing through two small but significant holes to keep your mouth and nose fed with cool air. The lower vents on either side of the helmet pull that chin vent air along the gaps in the padding at the temples and down out the rear.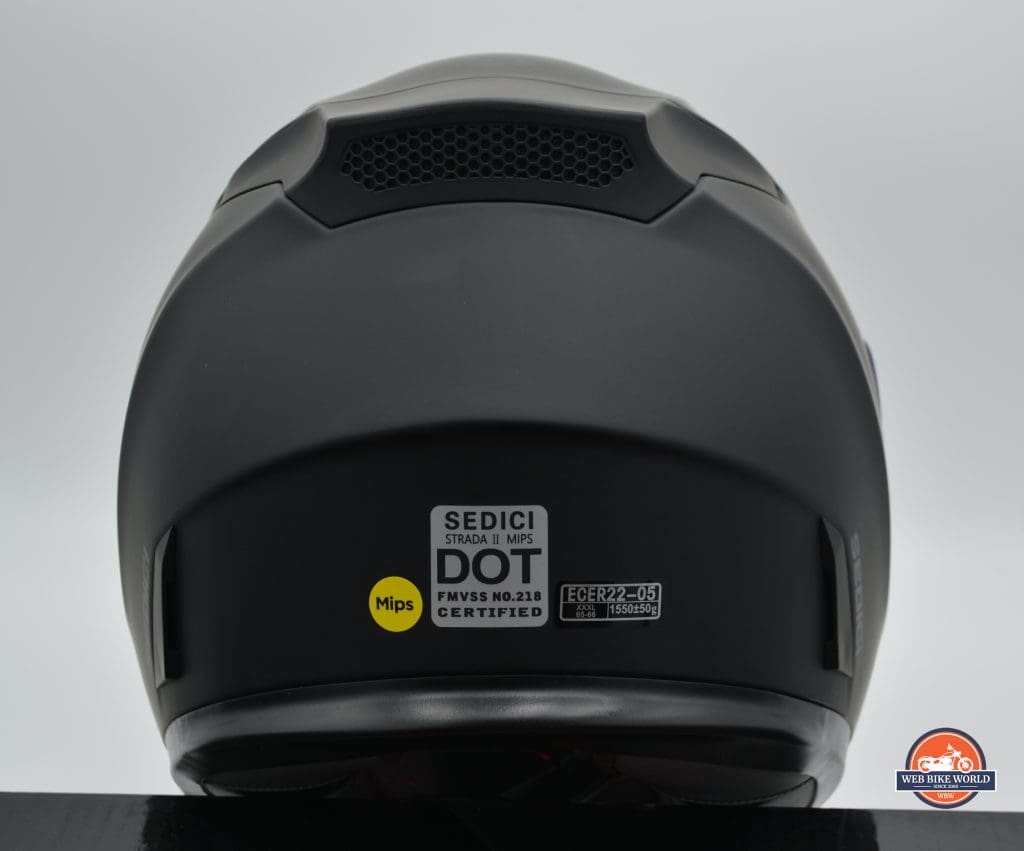 The crown vents feed into cooling channels that have a few holes to pass through the MIPS layer to get to your head. The spoiler exhaust is rather large, and takes proper advantage of the Venturi effect to quite literally vacuum the air out of the top of the helmet.
The crown vents are also placed slightly higher up than on most sports helmets, speaking to the touring nature of the helmet. This placement helps drive more air into the intakes, and between this helmet and my HJC i10, which has a forehead intake and two crown intakes, the Strada II MIPS flows more air, more consistently.
Comfort
Those that know me, know that I rarely use the word "perfect" to describe anything, so understand that when I say the Strada II MIPS is the helmet I've ever worn to being perfect for me, I mean it. 
Once the padding settles in after a few rides, it is still tight to your cheeks, but also seals nicely around the neck. The top liner, with the adjustable fit, is just thick enough to pad against my cranial ridge without pushing on it.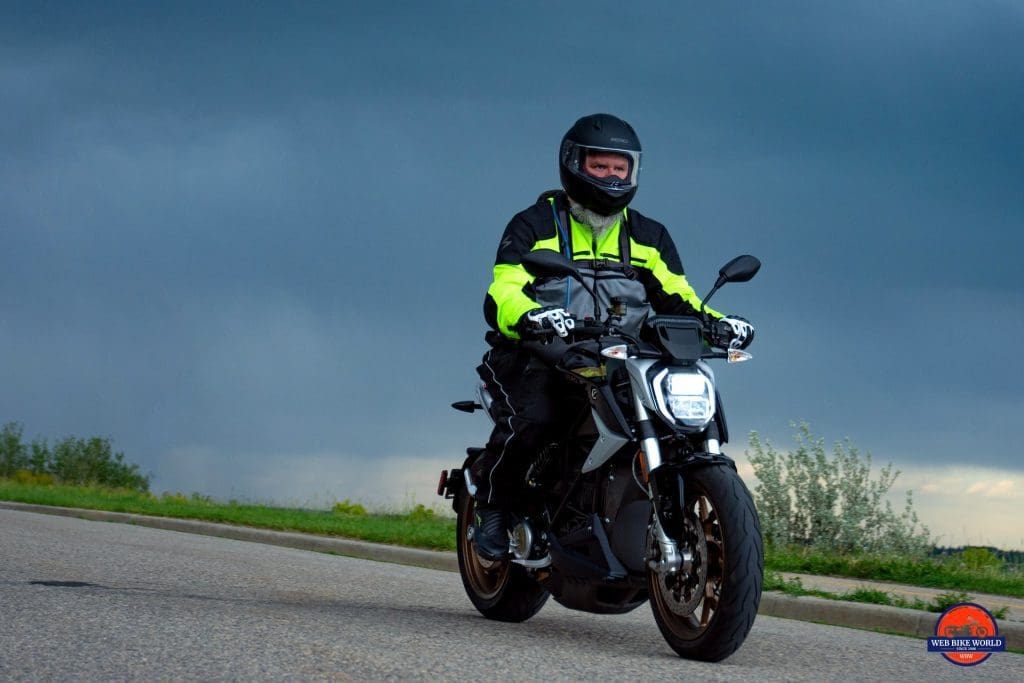 The chin strap is also padded just enough so that when done up, there is full side-to-side padding under the jaw. It also sits just far enough forwards that it doesn't dig into the front of my neck, one of those mild annoyances I live with with my other helmets.
Simply put, the most comfortable helmet I've ever worn, and full marks for that.
The Sedici Strada II MIPS In The Real World
It's not a webBikeWorld review until one takes the helmet out and rides with it on. I was lucky in my testing, as mentioned in the introduction, in that I got to test the helmet out in pretty much every type of weather except snow!
The very first thing I noticed was just how quiet the helmet is. With most helmets, you get that light roar of the wind flowing around the sides and under the neck roll, but with the Strada II MIPS, it was more like listening to the air a large fan blows over you. Think of it as more of a dull white noise sound than an actual roar.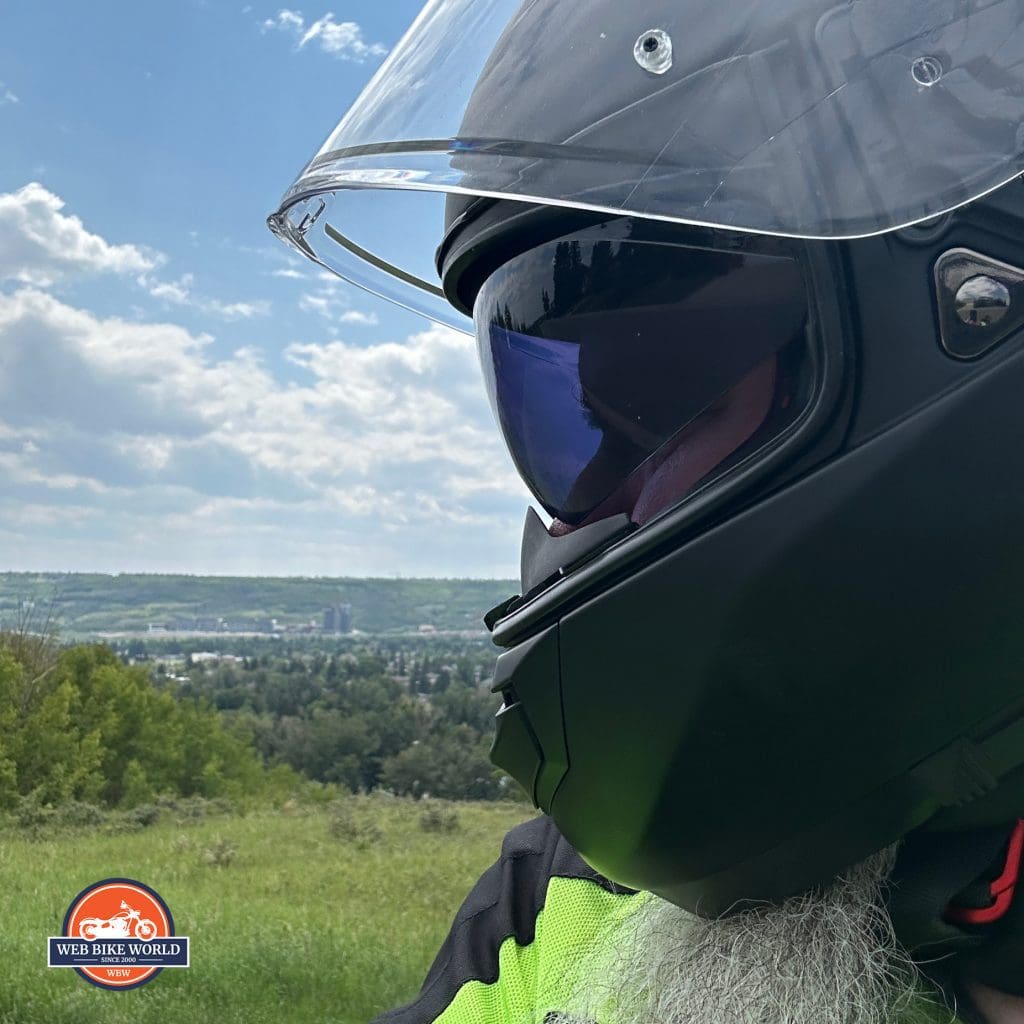 I actually did what you're not supposed to do, and halfway through my first ride with the helmet, I took my earplugs out. I only rode like that for about five minutes, but in all truth, my Ninja 650's engine was louder than the wind noise at 60 KPH (37 MPH). I put this down to some really smart engineering and testing by Sedici.
That testing and design was reinforced when I got onto a faster road, which has a speed limit of 110 KPH (~70 MPH, or freeway speed). With most of my other helmets I've either owned or reviewed, with the exception of the Scorpion EXO-R1 Air Carbon, I've felt some kind of lift. Not so with the Strada II. It is aerodynamically neutral, helping reduce the wind noise, and even when riding into a howling headwind, it simply didn't move at all on my head. 
After the first week, I was still impressed by how uniformly snug the helmet was. It moved with me at all times, and never once felt loose. Those pads are also moisture wicking, so even on the days I did sweat inside the lid, when I got home, it was a simple job to pull the liner and pads out and let them air dry.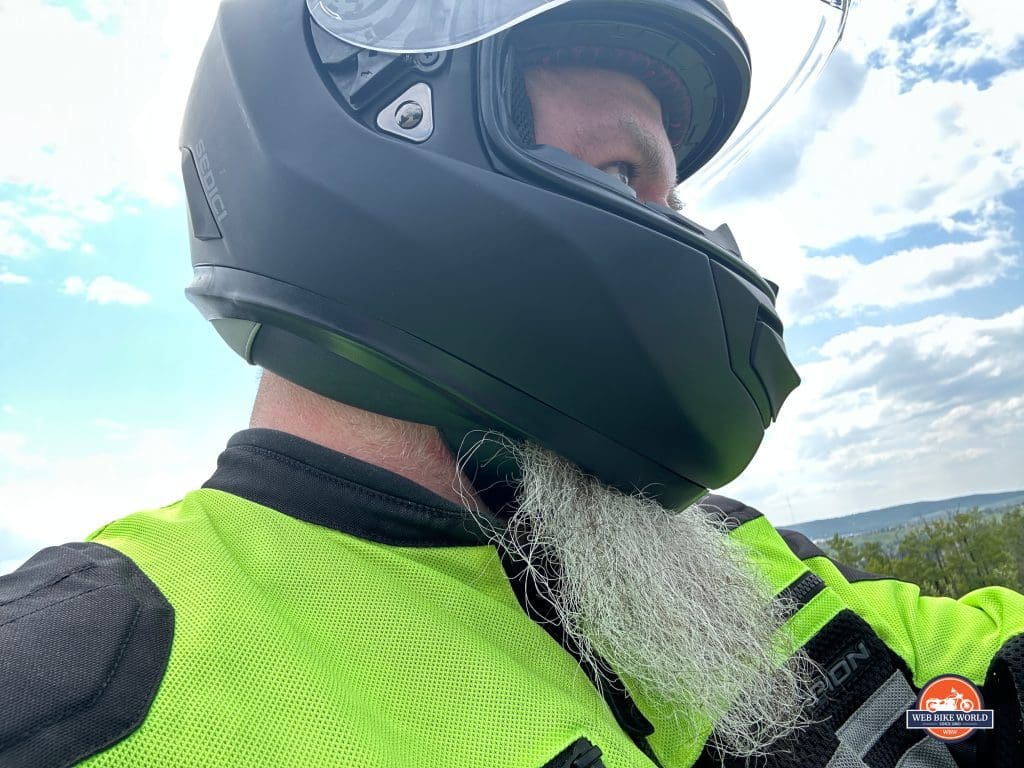 Another point about how well the Strada II MIPS fit me, as I have a rather large olfactory sensing device, is that the breath guard hovers about a half millimeter above the tip of my nose. The only thing that is slightly uncomfortable is if I jut my chin out, it does touch the chin bar, so that is a tad closer than I would prefer, but it's not a deal breaker.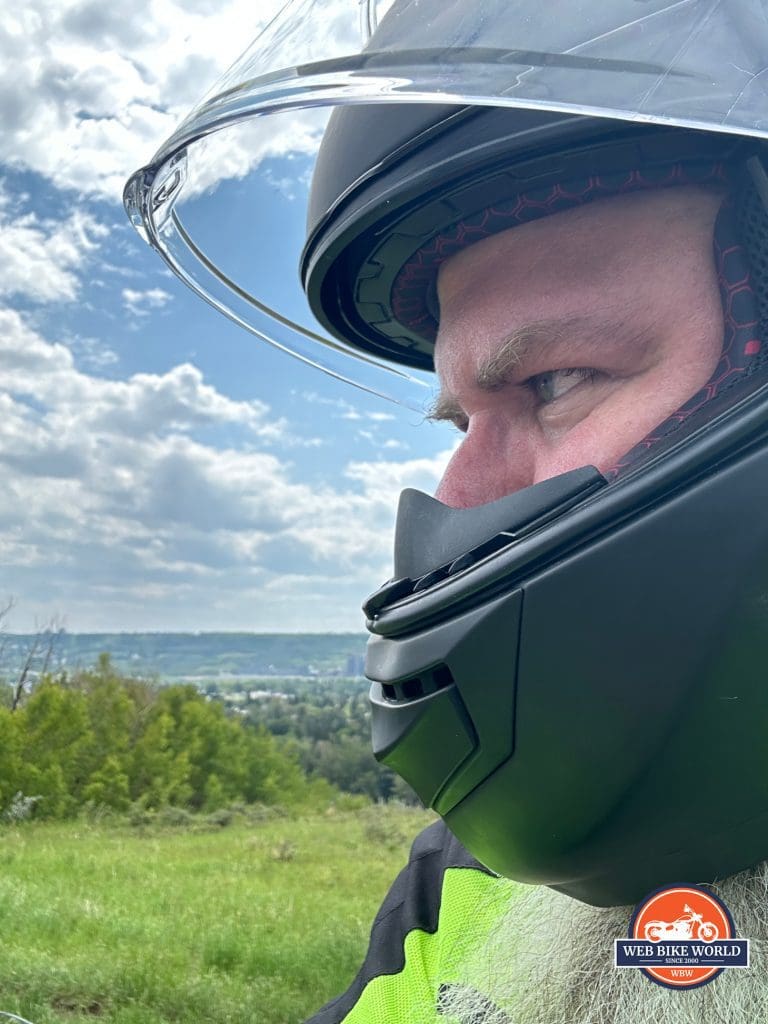 The single most impressive thing about the Strada II MIPS is that after that first week of things settling in, I started to forget I was wearing a helmet. It is seriously that comfortable.
Also impressive was how much air moved through it. While my initial thought was that the MIPS device was going to impede airflow, I actually now think that it helps improve airflow. Because it has intake, channel, and exhaust holes in the system, it focuses the air much more than a simple channel would. Also, the top liner holds the head and the MIPS apart by a millimeter or two, so it also allows that exhaust vent to suck up all the hot air and eject it out the back of the spoiler.
The only thing that reminded me I was wearing a helmet was probably also the biggest issue with the Strada II MIPS.
That issue is that both the main visor and the sun visor have not had any anti-fog treatment. I understand that the main visor is PinLock compatible, so you're expected to use a PinLock for anti-fog, but at $290 for a helmet, you'd expect the sun visor to have something done.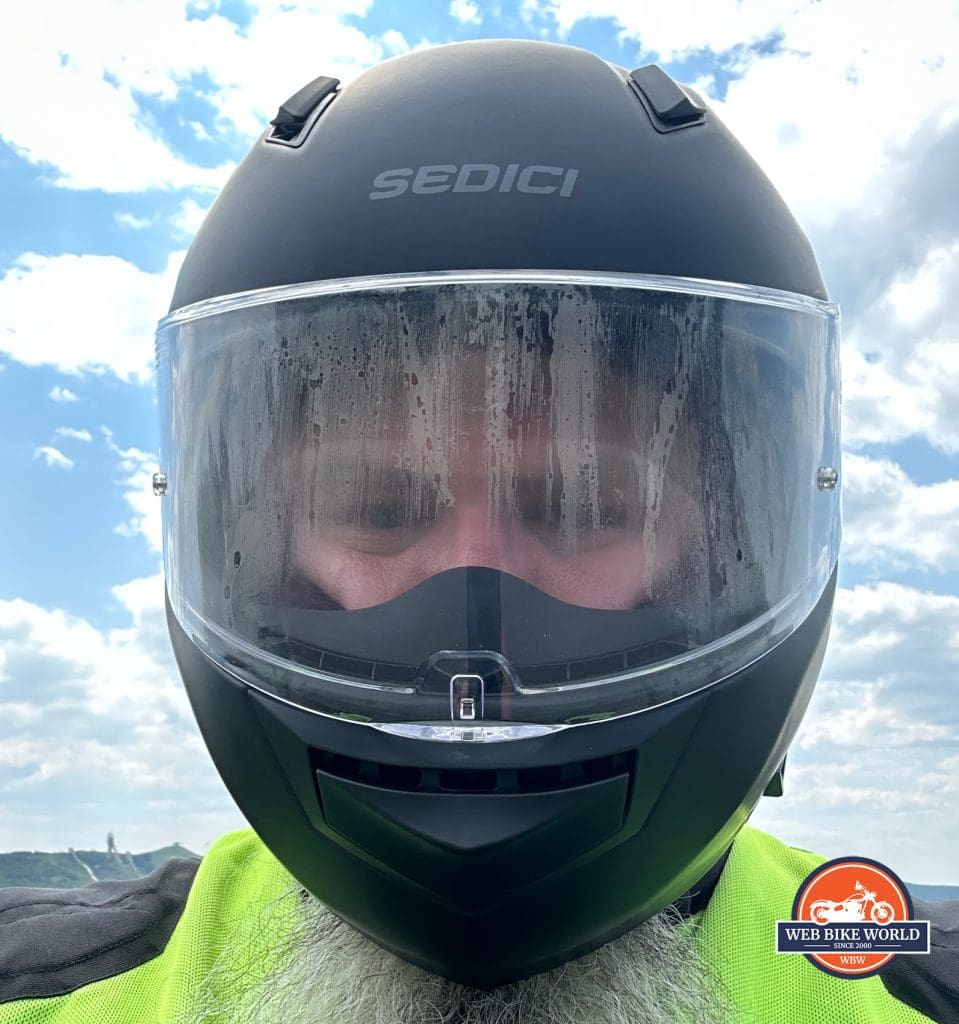 When there is no air flowing through the chin vent, exhaling through your mouth will cause both visors to fog up instantly. Breathing out your nose isn't as bad, but if you don't crack the visor at all when you come to a stop, three breaths through your nose and you can't see anything.
However, once you're moving again, the fog does dissipate quite quickly. On the colder days, I had to leave the visor open a crack until I shifted to second or third before locking it down so that the fog cleared faster. While I am not aggrieved about the main visor fogging up, it's the sun visor not being treated with an anti-fog coating that loses the Strada II MIPS some big points in the design field.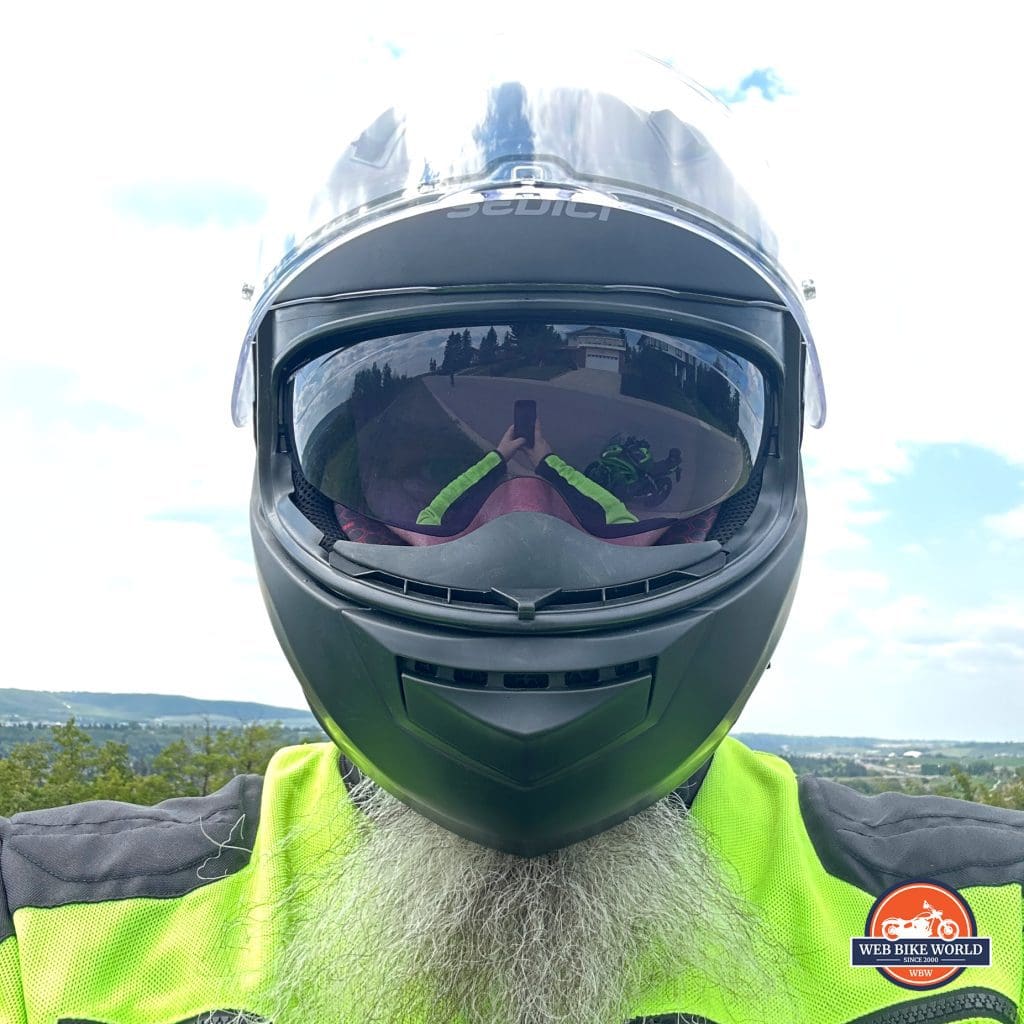 Speaking of moisture, I was wearing the Strada II MIPS both times I got caught in a sudden downpour. I am seriously impressed with the integrity of the visor seal, as in both rain showers, not a single drop made it through.
As well, the shell finish just screams premium. A couple of helmets I've had, if you even look at them sideways they get a scratch on them. I try to be as careful and gentle as possible while handling my helmets, but the truth is that real life will still happen. 
The Sedici's finish? Even after a month and a half of use, including being hit with a barrage of pea sized hail during the second rain storm, it still looks like the day I took it out of the helmet bag.
Final Thoughts: Probably One Of The Best Helmets I've Ever Worn
In my short riding career, I've already put in tens of thousands of kilometers riding in a variety of gear, including helmets. I've worn helmets that come in under the $200 mark, and I've worn helmets that easily clear $800+. Out of all of them, the Sedici Strada II MIPS has climbed to the top of the hill and solidly planted its flag.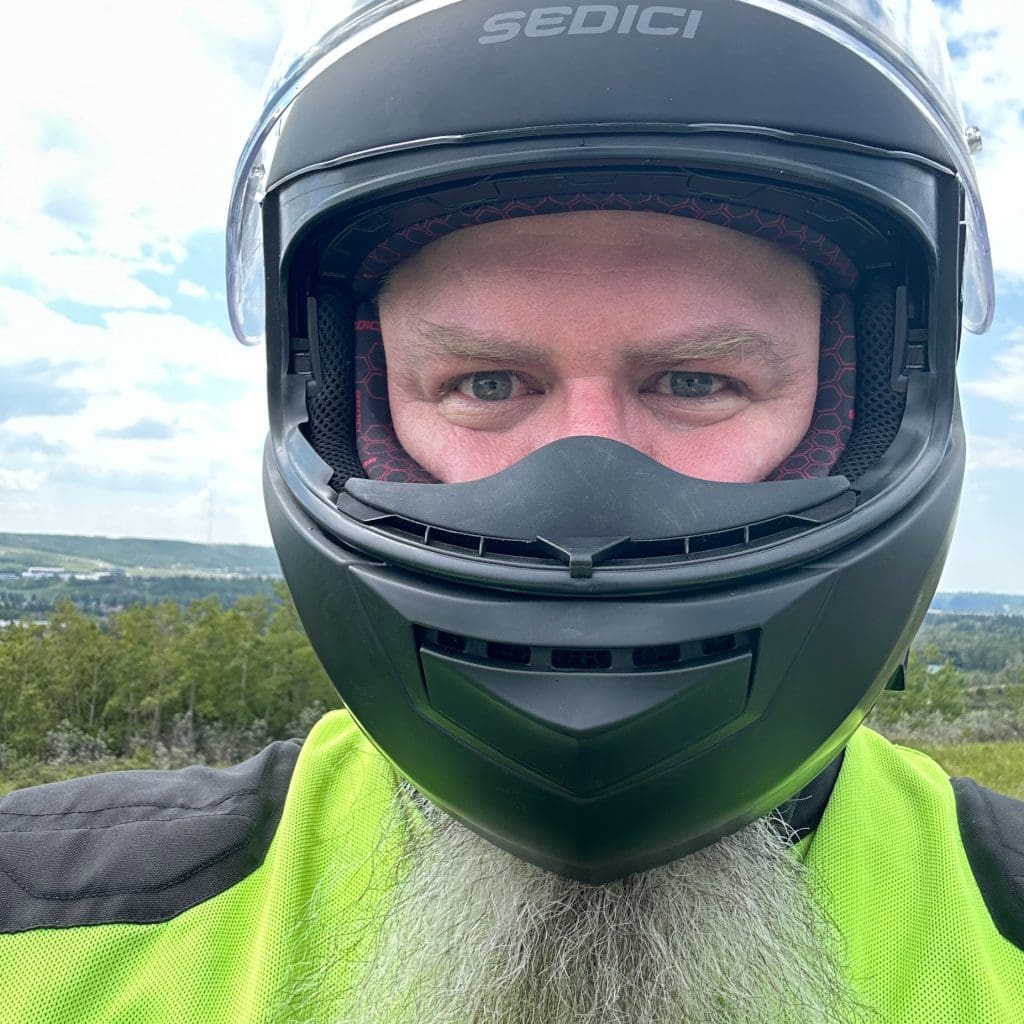 That statement is honestly one that surprised me to make. Most in-house brands are either very well designed and ridiculously expensive, or "cheap-n-cheerful" budget offerings that do the bare minimum to meet DOT certification standards. The Sedici Strada II MIPS takes the best parts of both types, in that it is a premium helmet at a lower mid-range budget price.
I think that the sentiment I professed throughout the real world testing section above is the best summary I could give for this helmet: The Sedici Strada II MIPS fits so well, is so comfortable, and flows so much air, that I forget that I'm wearing it. 
Once I get the PinLock lens for the visor, I am 99% sure that this will become my primary riding helmet, and my HJC i10 will be regaled to the times I need to use the helmet camera to film things for reviews.