Scorpion XDR "Commander" Jacket Review
The Scorpion XDR Commander has a feature list as long as your arm. It also has slick styling and an expanded size range all at a reasonable price. This makes the Scorpion XDR Commander a top choice in a 3/4-length jacket. 2008 will go down as the Year of the 3/4-length Jacket. Suddenly, motorcycle clothing manufacturers have re-discovered the market for jackets of this type.
Could this be a possible side effect of the continuing popularity of dual-purpose motorcycles? It's kind of funny how development seems to come in fits and starts. It's sort of like water finding its own level — as soon as a new technology or manufacturing technique is developed, it spreads through the industry and jumps evolution a notch or two and drives competition. That's good news for motorcyclists, right?  The old-timers out there will remember that it wasn't very long ago at all when the only choice for cold weather riding was a surplus parka or my favorite, a snowmobile suit.
Back when webBikeWorld was started — it will be 9 years old this coming January — there were only a handful of companies making half-way decent 3/4-length jackets. If you got a few patch pockets, a zip-in liner and maybe a windproof outer shell, you considered yourself lucky.
The outer shells mostly served as the waterproof barrier, but the problem was that the waterproof treatment made the jacket impervious to air flow. Each year has brought new technology and improvements; indeed, I'd say that new fabric technologies and garment construction techniques show up in motorcycle clothing about as quickly as any other outdoor sport I can think of.
The clothing and jackets of today are pretty incredible, with soft outer shells and breathable yet waterproof liners. I guess I'm a born geek, but thinking about how we're bending technology to make life more comfortable and safe for motorcycling really gets me excited. I appreciate it because I remember only too clearly how tough it was back when I first started riding.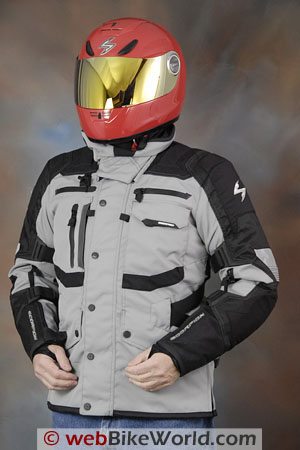 The Scorpion XDR Commander Jacket
This Scorpion XDR Commander jacket is a good example. It's hard to believe that Scorpion has come so far so fast.
I'll be the first one to admit that when they first hit the market selling helmets back in — 2005 I think it was — I thought they'd be just a flash in the pan.
After all, who did they think they were, a startup company with the gall to muscle the Old Boy existing motorcycle clothing network with such an outrageously bold marketing message?
But it wasn't long after that I realized what a revolutionary thing this was for the entire motorcycle marketplace. It forced the Old Boys to quickly return to their stuffy drawing boards, and motorcyclists have been reaping the rewards.
Now here we are, only a couple of years later, and Scorpion just announced the XDR "Xtreme Distance Rider" lineup, featuring high-tech fabrics and construction techniques with jackets, pants, gloves and even vests and shells for men and women.
If you thought Scorpion was only a helmet company, think again.
The long-distance riding market is one of the toughest in all of motorcycling to crack, because the customers for this type of gear are very fussy, demanding, knowledgeable and not afraid to do what it takes to obtain products that work.
Long distance, all-weather riders, 'round the world adventure-touring types, Iron Butt riders and even couriers and year-round commuters know the value of the good stuff.
Can the Scorpion XDR Commander jacket satisfy this sharp crowd?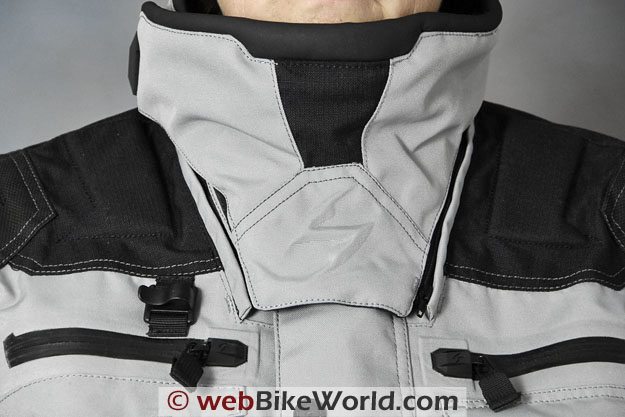 ---
Where to Buy Scorpion XDR Commander Jacket
Check Reviews & Prices on Amazon
Check Reviews & Prices On RevZilla
Also: Motorcycle Jackets, Motorcycle Gloves, Motorcycle Boots, Motorcycle Pants
---
Jacket Outer Shell
It goes without saying that modern 3/4-length jackets are feature-rich, and the XDR Commander doesn't disappoint. We've been riding with it for several weeks, and it seems like every day brings another surprise feature I didn't know was there.
Let's start with the outer shell, which is made from a soft version of the DuPont Cordura that motorcyclists have come to depend on. The jacket is available in Black, Bray (shown here) and Neon, to match the Scorpion EXO-700 Neon helmet.
The jacket shell exhibits excellent quality in the construction and fabric materials.
Scorpion uses their "Exo-Stitch" Safety Seam process for stitching many of the panels together, which is apparently a process where the top layer is folded over to form a hem, then one of the rows of double stitches goes through three layers of fabric while the second row of stitches on the outer edge is covered by the fold and stitches the bottom layer to the folded-over lower section of the hem.
Got that?
Large sections of the shoulders and arms are covered in thicker (black) Cordura fabric, and the shoulders, elbows, lower rear and upper back and chest also have sections of Schoeller Keprotec for added abrasion resistance.
This is high-tech stuff used on some of the best — and most expensive — motorcycle garments in the world. But, as you'll see, the XDR Commander is priced down where the proletariat like us can still afford it.
The shell material is very comfortable, and even the extra Cordura and Keprotec doesn't make it feel stiff. Reflective panels and logos are blended here and there into the design, and we created an animated image (see below) to show the results.
Also, this is one 3/4-length jacket shell that feels comfortable and works well when the liners are removed.
This is partly due to the sizing but also due to the cut and the materials (see "A Word About Sizing" section below). The full-length attached mesh lining also helps in this regard.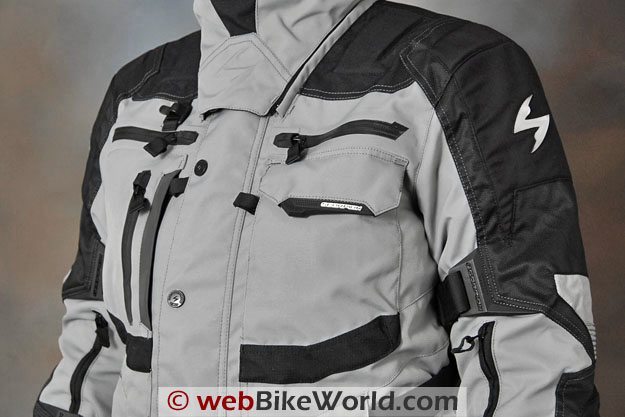 Removable Neck Warmer
Neck warmers seem to be all the rage this year. We hadn't noticed them before, but this is the second 3/4-length jacket we've seen this year with this welcome feature.
The neck warmer wind block on the XDR Commander attaches with a full-length zipper around the neck. It's very comfortable, being fully padded and lined with a fabric that feels like a cross between micro-fleece and chamois.
It's slightly difficult to find the hook-and-loop sections along the top when you're battening down the hatches, and nigh impossible when wearing gloves.
So I get everything secured before I put on the rest of my gear — a small price to pay for ultimate warmth.
The neck warmer can be removed and stowed in the back cargo pocket or elsewhere. The neck underneath has a single snap with no adjustment. It fits my 17.5″ neck with no problems.
Here's an interesting twist and attention to detail: all of the snaps on the XDR Commander jacket are metal, but the upper three snaps have hard plastic external covers.
Everything below that, including the lower pockets and bottom three snaps, have soft rubber covers to help prevent paint scratches.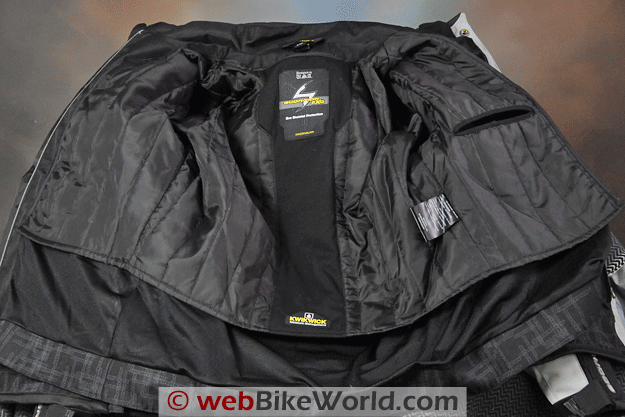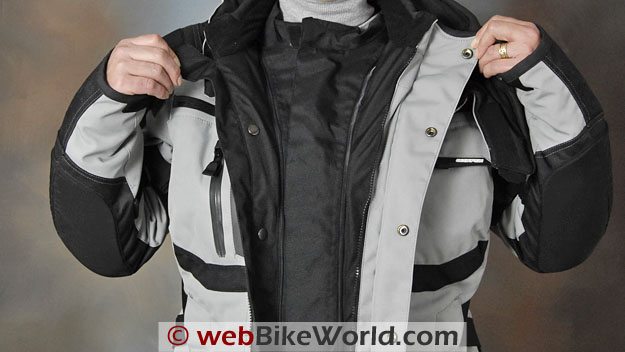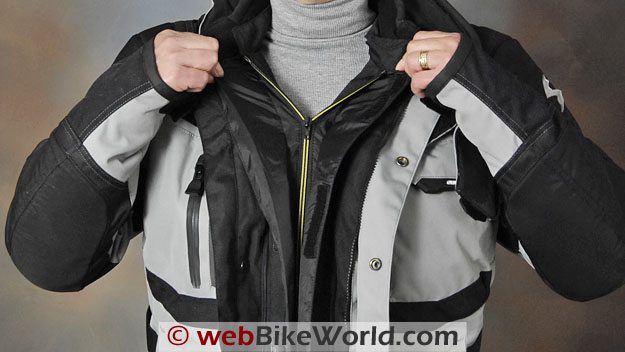 ---
Where to Buy Scorpion XDR Commander Jacket
Check Reviews & Prices on Amazon
Check Reviews & Prices On RevZilla
Also: Motorcycle Jackets, Motorcycle Gloves, Motorcycle Boots, Motorcycle Pants
---
Zippers, Adjustments and Attachments
The XDR Commander uses a variant of the multi-layered zipper approach to sealing the front of the jacket, as illustrated in the photos above.
The jacket has a removable full length insulating liner that attaches with a one-piece zipper that goes up one side, around the neck and back down.
Looking down at the plackets, about 50 mm outboard of the insulating liner zipper are thin YKK zippers on either side that seal a separate, removable waterproof/windproof liner.
These zippers must have been custom made for Scorpion because they're double stitched with a yellow stripe, the Scorpion colors!
Zip up that liner, and a large fabric flap is exposed that then seals over the top of the liner zipper and attaches left to right with hook-and-loop.
Next comes the outer shell zipper, a hefty nylon-toothed unit. The zipper pull is nice and large and it's covered with a semi-hard plastic and the Scorpion logo.
Zip that up and the final external flap of the jacket covers everything from left to right and snaps shut with the combination metal/plastic/rubber snaps described above.
Combined with the neck warmer/wind block, all of this does a great job at keeping out the cold.
After riding with this jacket on several cold mornings in the low 40's (F), I think the XDR Commander does a better job at keeping any cold air from leaking in than probably any other 3/4-length jacket I own.
The jacket has two very large web and hook/loop adjusters on each sleeve, located at the bicep and forearm.
These are very hefty units and they loop around wide and strong pieces of plastic-like material that are sewn directly into the sleeve, making them heftier and more heavy-duty than any other sleeve adjusters I've seen.
One of the unique features of the XDR Commander is the "zig zag" side waist adjuster. This is a wide webbed strap that goes back and forth along each side and attaches in the back of the jacket with hook-and-loop.
Here are two photos; the top photo is a close-up of the massive upper arm adjuster sewn under the shoulder Cordura and Schoeller section. The second photo shows the unique waist adjustment system: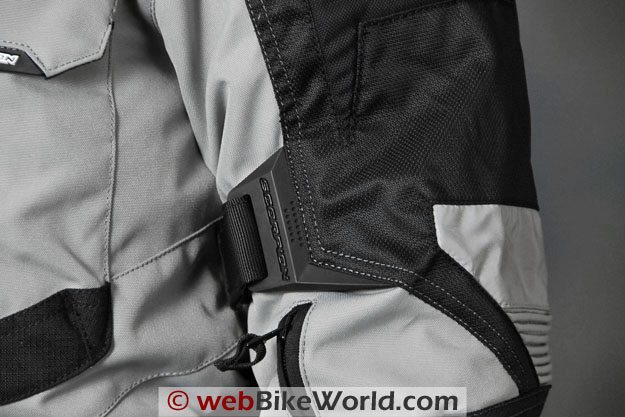 The jacket also has a section of elastic sewn into the rear, just above the cargo pocket (photo above), and vertical zippers are located above the lower hem under each arm on the sides.
A section of this zipper can be seen in the photo above, located between the "e" and "b" of the "web" in the webBikeWorld logo.
The sleeves have a vent zipper that starts just below the upper arm adjuster and continues to just under the lower arm adjuster. Below that is a zipper at the sleeve cuff, and the cuff is also sealed with a hook-and-loop flap.
It's interesting to note that the sleeve cuff zipper opening does not have a gusset sewn in underneath, but I'm not sure how this might affect the waterproof integrity of the jacket. I assume the inner waterproof liner will keep out the moisture.
The jacket also has waterproof (or water resistant, according to Scorpion) zippers covering the two horizontal vents on the upper chest. The upper back of the jacket has a large horizontal zippered vent with zippers that open from either side.
It's been too cold to wear only the shell sans liners.
But I'm expecting the vents to work better than most because when the liners are removed, there's only a mesh attached lining underneath the shell and in back of the vents, which should allow air to readily flow through.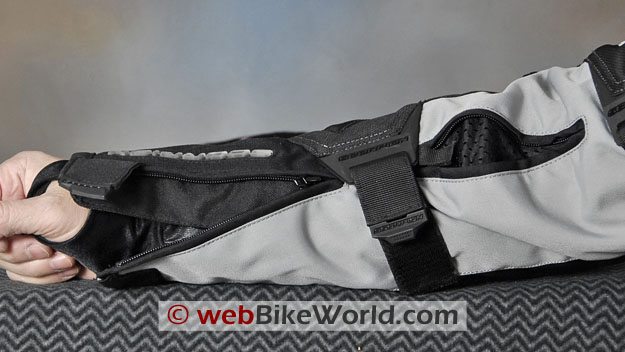 A Word About Sizing
As you can see, the Scorpion XDR Commander jacket can be sealed up nice and tight to minimize cold air pockets and also to help keep the CE-approved armor from shifting around.
The straps and seals also help minimize any extra bulk when the insulating and/or waterproof liners are removed.
I'd much rather have a jacket shell that's a bit snug rather than too large to minimize the size differences when the liners are removed for warmer weather.
The XDR Commander shown here is a size large, and I usually take a U.S. men's 43 or 44 jacket with a shirt sleeve length of 34″. Scorpion's sizing chart lists a size large as a 42-44 with a 34″ sleeve, and the XL as a 44-46 with a 35″ sleeve.
As you can see, I'm right on the borderline, but I think I'd have been better off in the size XL.
I need the extra arm length for reaching to the handlebars, and the body of the jacket and the sleeves on this one seem tight, even with the sleeve and waist adjusters let all the way out (that's not me in the photos).
If I take out the liners, it's a perfect fit — just a touch too tight though with everything installed.
I'll have to assume this holds true for the other size ranges, so you may want to keep that in mind. I think that if you plan on keeping the liners installed, this size large would be a good fit for a 42-43″ chest and a 33″ sleeve length.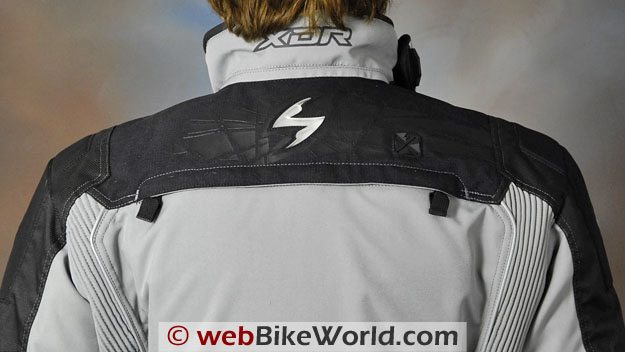 Back to the Liners
Scorpion calls the insulating liner their "Everheat Thermoliner". I'm not sure what makes it different, because it looks similar to other insulating liners I've seen, but it does seem to do a good job.
It's also a higher quality garment than usually found in a motorcycle jacket. As you can see from the photo below, it has a strip of "KwickWick" fabric up the back, which is different from the rest of the material.
This strip is covered with a thin section of a type of material that feels like taffeta on the outside back of the liner.
The KwickWick liner's sleeves are attached inside the sleeve cuffs of the waterproof liner with twin loops and straps, and here's a "why don't they all do this" invention from Scorpion: one of the loops is colored yellow, so you can match the correct snap with the correct loop!
This may seem like a tiny detail, but as you probably can guess, this eliminates the fussing around trying to match the sleeve loop to the snap when you're re-inserting the liner. Thanks Scorpion!
The waterproof and windproof liner has a luxurious looking outer coating; ditto inside, where it's lined with permanently attached mesh and a really nice fabric along the hem, printed with the Scorpion logo.
This is major detailing here — detailing that probably no one would notice if it wasn't there, but it really adds to the impression that this is one serious jacket and worth twice the list price Scorpion has set.
And that's not all, because the imprinted fabric at the hem of the waterproof liner is matched with the same imprinting on the inside hem of the jacket shell!  Very cool stuff, especially for folks like me who notice and appreciate these details.
The waterproof liner has another interesting feature; you may have noticed in these photos that the sleeve ends have a thumb hole, much like mountain climbing or ski gear.
Sticking your thumb through the hole keeps the sleeve from pulling up and the soft elastic material keeps some of the air from seeping into the sleeve.
It's optional — you don't have to stick your thumb in there if you don't want, so don't worry. If you don't, it just acts as an elastic sleeve cuff.
---
Where to Buy Scorpion XDR Commander Jacket
Check Reviews & Prices on Amazon
Check Reviews & Prices On RevZilla
Also: Motorcycle Jackets, Motorcycle Gloves, Motorcycle Boots, Motorcycle Pants
---
Pockets
Pockets have become a competitive factor and seeming advantage in 3/4-length motorcycle jackets. I have one question:  Who the heck uses all these pockets anyway?
The pocket count keeps going up — I have a feeling it's a "you never know when you might need it" psychology going on here, like the person who rides 5k miles per year buying a BMW R1200GS Adventure and outfitting it with every long-distance accoutrement known to man.
But, no problem there — we're all a little guilty of that, right?
Sportbike owners buy carbon fiber bits and knee pucks; on/off roaders buy engine guards and touring bikes are outfitted with enough luggage to carry the in-laws. Whether we use it or not is besides the point…
In any case, The XDR Commander has its share of pockets. Four in the front in the usually up/down places; two up top that appear to be waterproof and are sewn on as "patch" pockets.
The right side has a vertical zipper for access behind the patch pocket and a waterproof zipper on top to access the pocket itself. The underside pocket is a great place for stowing a wallet.
The upper left side has a horizontal hook-and-loop flap access on top and the same vertical zipper for access to the pocket underneath the patch.
By the way, most of the flaps that use hook-and-loop on the XDR Commander also have a sewn-on rubber grab nub, which is yet another nice detail touch that gives a professional look while aiding the "grabability" of the flap itself.
The lower front includes two horizontal pockets covered by a large flap with two snaps each, and the snaps are covered with rubber.
In addition to the snaps, these flaps also seal with hook-and-loop and underneath is a zipper that opens into the pocket itself.
A nice styling touch here is that these pockets are not patch pockets, but are instead sewn to the inside of the jacket shell, giving the lower portion of the jacket a smoother look.
In back lives one of those big horizontal cargo pockets; this one is covered by a wide flap with the rubber grip. Underneath is a swath of hook-and-loop and the flap covers a horizontal zipper.
This is the place to store the neck wind block when it's removed so that it doesn't get lost.
Inside the shell there's a horizontal zipper pocket in the insulating liner, covering the same in the waterproof liner, covering the same in the outer shell.
I'm sure I've probably missed one or two more, but if this isn't enough pockets for ya', buy a tank bag!
Reflective Material and Piping
The XDR Commander has a few sections of reflective material on the front, back and sides and the "Scorpion" logos on the bottom of the sleeves are also reflective, which is kind of cool. This can be seen in the photo above.
Padding and Armor
The XDR Commander uses their "Exo-Tec" CE-approved semi-hard armor in the shoulders and elbows and a soft pad in the back of the shell.
The back pad is contained in a zippered pocket, which is unusual, so it can be replaced with something more substantial if desired.
The shell also has a connection zipper and Scorpion makes the XDR Invasion pants which would make a nice match with the XDR Commander jacket.
Miscellaneous
I've been wearing the jacket for about a month but I'm sure I've missed something! Our tall friends will also be pleased to learn that the XDR Commander is available in a wide range of sizes, including tall.
The sizes range from S to XXXL, and the jacket is available in Tall sizing (1.5″ to 2″ longer in body and sleeve length) in sizes from L to XXXL.
The XDR Commander is available in Black, Gray (shown here) and Neon. Also, the jacket has a rear pass-through for a hydration hose, along with a clip on the upper right to hold the tip of the hose in front.
Conclusion
The competition for your hard-earned dollars has never been hotter, and this is fantastic news for motorcyclists!
I'll be the first to admit that I mistakenly did not take them seriously at first, but Scorpion has proven to me that they are very serious indeed at providing excellent motorcycle clothing and helmets at very competitive price points.
They've also raised the bar with the XDR series, and the Commander jacket I think is a winner.
They must have done their homework on this one — it's not just another 3/4-length jacket thrown out there just to say they have one; this is indeed a serious "Xtreme Distance Rider" jacket worthy of the name.
w

BW

 Review: Scorpion XDR Commander Jacket
Manufacturer: Scorpion USA
List Price (2008): $339.00-$355.00
Colors: Black, Gray, Neon
Made In: Indonesia
Sizes: S-3XL, L&T
Review Date: November 2008
Note: Item provided by a retailer, distributor or manufacturer with these Terms and Conditions.
Note:
 For informational use only. All material and photographs are Copyright © webWorld International, LLC since 2000. All rights reserved. See the webBikeWorld® 
Site Info page
. Product specifications, features and details may change or differ from our descriptions. Always check before purchasing. Read the
Terms and Conditions
!
---
Where to Buy Scorpion XDR Commander Jacket
Check Reviews & Prices on Amazon
Check Reviews & Prices On RevZilla
Also: Motorcycle Jackets, Motorcycle Gloves, Motorcycle Boots, Motorcycle Pants
---
Owner Comments and Feedback
---
From "R.S." (12/10): "I've worn what I've always considered good gear, made by Fieldsheer, Olympia, and others "whose names you know" and you do get what you pay for.
But, in looking over the XDR features there seemed to be everything I'd been looking for in wet-and-cold-weather gear…and then some.
A 3/4 jacket with protective, road-rash resistant outer materials, "armor padding", warm and water-resistant liners, a little venting, e-z snap buttons, lots of pockets, good fit in various body places…the usual things to look for.
Then, I saw that the zippers for the different liners were actually color-coded! If that wasn't enough, the piece that forms a buffer against wind (and keeping warmth in) between the bottom of the front part of the helmet and the neck of the jacket…wow!
If that still wasn't enough, the jacket's liner could be worn as a stand-alone (yes, others have that, too); well it actually had sleeve fittings for your hands so that it was easier to put on the jacket with the liner!
Now for the pants…color coded liners; 1 for keeping water out and one for warmth!  Great materials, design, and the leg liner fits into your boot!  Even a hi-viz (for those who want to be seen safely) color option for the jacket.
This is gear that a lot of thought came through in the design and production. Just buy it and be happy, warm, and safe!"
---
From "S.K." (7/09):  "Love the jacket overall, although I have only used it for two months and not in heavy rain.
One tip that I wanted to pass on was that Knox Forcefield Back Armor insert "003" was a perfect fit to substitute for the cheapo foam back pad (although in fairness to Scorpion everyone seems to use the same cheapo foam pads!)."
---
From "J.D." (1/09): "While I do indeed like my Scorpion XDR, I think the author failed to note a very important point: During even moderate rail, water will run down the internal waterproof liner directly into your gloves, thoroughly soaking them in very little time.
This because those big zippers on the outside of the sleeves collect the water and send it directly to that internal liner.
The effect is that everything above the writes stay nice and dry, but the design of the jacket serves to completely defeat my waterproof gloves & the separate glove-shells (also water proof).
This is a pretty critical design flaw for anyone that rides in all weather conditions, such as myself. I love every other aspect of this jacket, but having to always ensure I have spare gloves and frequently needing to put both pairs in the dryer at the end of the day takes a toll on ones enthusiasm."
Editor's Note:  Some manufacturers and riders recommend wearing the gloves inside the sleeves when it rains, perhaps that will help?
---
From "P.C." (12/08): "I've had this jacket for about a month and completely agree with the review, particularly related to quality, sizing and the plethora of pockets. I am a size 42″ w/ 32" sleeves and the Large fits well.
One feature I did not see mentioned is a design that allows the incorporation of a Camelback hydration system (review), with a storage pocket accessed through the rear vent zipper, a rubber grommet to allow the tube through the jacket fabric and a clip on the chest that holds the tube.
Great review – great jacket. Thanks."
---
From "J.R." (11/08): "Your review was very good for this jacket (as usual) but I am returning my jacket because of a flaw in its design.
You failed to mention, or possibly didn't notice that the bicep vent zipper and the arm adjustment plastic things will pinch your bicep when you put on a helmet or open your visor.
I have only had the jacket for a few days but I cannot bear this minor and constant irritation. It is possible that not all users will experience this but I cannot get over it.
It seems that they were adding a bit too much "style" on the jacket with the big plastic adjusters to the detriment of the jacket's function.
It is very warm and fits great and seems to be very high quality but I believe that they need to take care of this problem. I am looking forward to seeing if any other users experience this same problem or if it is just me.
Thanks for all your hard work and keep up the great reviews."
---
From "M.S." (11/08): "I just received my jacket, and woow, what a jacket. The limited pics of this jacket do no do it justice.
I bought the neon and it sure is a true neon green jacket, very bright (blinding). I was surprised how heavy it is w/ all the liners.
YYour review was spot on, including how it tight it fits w/ the liners on; I don't think I will wearing the liners (I leave in So. Ca). The quality is outstanding, In my opinion this jacket is more flexible than the (Aerostich) Roadcrafter.
This "adventure" jacket should make others take notice, Scorpion is on it!  I am also considering the new Scorpion EXO-700 Neon (review). Your review sealed the deal for me (I am a mark for your site).
I definitely recommend this jacket, I have the AWE pants on order. Keep up the awesome job, your reviews are spot on."
---
From "K.M." (11/08):" Thank you for finally posting a review of Scorpion Gear!  Yay!  I use a Scorpion EXO-700 helmet (which I love), and the Scorpion Deuce pants (which I ALSO love). I plan on adding some Scorpion XDR gloves to the list as well.
In my opinion, Scorpion is the best bang-per-buck motorcycle product out there!  Quality, tough, and functional gear at very reasonable prices. Now if Scorpion would just make some boots…..hmm 🙂
Keep up the great work. Great, unbiased, and informative reviews. Thank you."
Other WebBikeWorld Jacket Posts