Scorpion Savannah Pants Image Gallery
Flattering riding pants with attitude, armor and plenty of style. What more could a woman want?
How about:
1) Versatility – a removable windproof liner takes these textile and mesh pants from cool mornings to hot afternoons.
2) Options – Scorpion's Savannah Pants are available in three colors.
3) Value – excellent quality and a suggested retail price of $159.95 to $189.95, depending on color and size.
Women's Gear…
Let's talk about women's riding gear. Yeah, I know, roll your eyes and sigh with me. There are a lot of choices for jackets — but pants?  Not so much.
Well, maybe I should clarify. There are dozens of styles of riding pants available for women, but few offer both protection and a flattering fit.
I can't tell you how many pairs of pants I tried on that made me look like the Stay Puft Marshmallow Man. If you're not sure what that is, let me assure you, it's not a good thing.
Yes, riding gear is designed to be protective; we don't wear it to make a fashion statement. Wait a minute – why not?  Why can't women's gear be both protective and sexy?  The truth is – it can!
Scorpion has hit the mark with women's wear that is feminine, has ample protection, and shows off the curves. That's right, boys, we want our own gear and we want to look good wearing it!
Scorpion "ExoWear" Savannah Pants successfully combine fit, function, and fashion. When I tried them on, the clouds parted and the angels sang. Dare I admit I did a little celebratory dance in the middle of the motorcycle shop?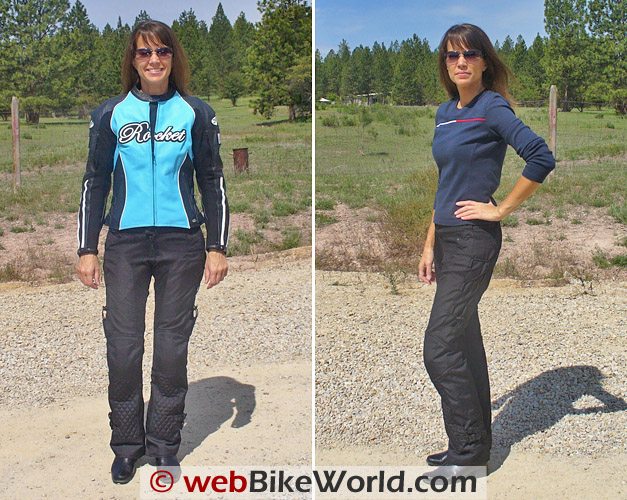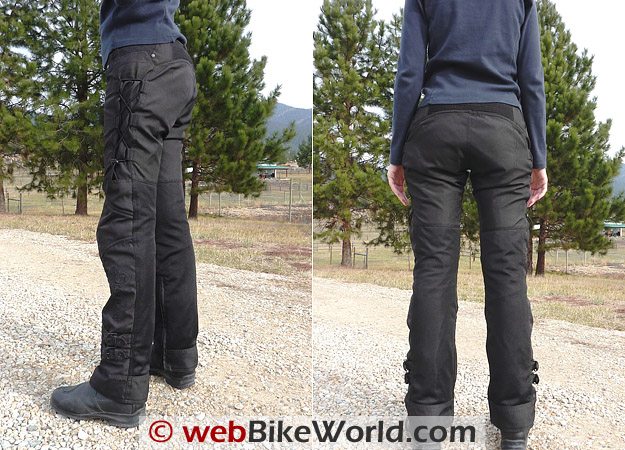 Finding the Right Pants
Motorcycle apparel is cut differently than everyday wear; riding pants usually have a high waist to keep the elements out and the leg length is longer than street pants so the pants will be long enough when the rider's feet are on foot pegs. Here's where sizing gets tricky for designers.
Women vary greatly in size and height; for instance, some women with a 30" (76.2 cm) waist are very petite, while  others are quite tall. Clearly, this creates issues for women at either end of the spectrum. For some, pants will always be too long, for others, pants will usually be too short.
Perhaps there is not enough demand, but manufacturers would be ahead of the competition by offering tall sizes in jackets and pants. And for the vertically challenged, an option to use snaps to change the length (such as in the Joe Rocket Alter Ego Pants) would be praised as well.
My inseam is 32" (81.3 cm) and I usually have to buy jeans in long lengths. So I knew finding motorcycle riding pants with enough length would be a challenge.
Numerous boot-cut pairs of riding pants don't even reach my ankle while I'm standing — sort of like the Marshmallow Man waiting for a flood!  You can laugh, I don't mind; I laughed hysterically when I saw myself in the mirror – it's much cheaper than therapy!
Scorpion Savannah Pants
Since we're discussing fit, let's continue…normally, I wear a small, but after reviewing Scorpion's sizing chart I ordered a medium.
With the windproof liner attached, the Scorpion Savannah Pants can fit over jeans; this feels somewhat restricting though and there is not much wiggle room. With no jeans underneath, they fit perfectly. Removing the windproof liner makes them roomier to a point where they feel slightly loose on me.
A favorite feature is the adjustable strap arrangement on the outer thighs; cinch in the legs for a custom, aerodynamic fit. When I'm wearing boots and standing, the length of the Scorpion Savannah Pants is decent for me (in the pictures, I'm wearing a fashion boot – the riding boots I ordered have a lower heel). The knee is also pre-curved in both the shell and the removable liner.
Side note: I just received my riding boots – yea!  Pair my 32″ (81.3 cm) inseam with the TCX Women's Sunray Gore-Tex Boots and the Savannah pants need at least one more inch (2.5 cm) in length; I'd love to see two more inches (5.1 cm). Luckily, they don't look like high-waters, but they are still shorter on me than they should be.
Of course, when straddling a bike, the hem rises. With my feet on the pegs, the pants are much shorter than I would like, rising several inches above my ankles; I'll need a tall boot – watch for an upcoming review on those TCX Women's Sunray Gore-Tex Boots.
Scorpion Savannah Pants sit low on the waist like a low-rise jean; the mediums have a mere 8" (20.3 cm) rise from the crotch seam to the top of the waistband in front. The waist closes with a zipper and a Scorpion logo button. All of the zippers on the pants are YKK brand.
Sizing note: Scorpion's measurement chart lists waist measurements, which is what I referenced when purchasing. My waist – at the belly button – is 29" (73.7 cm); my low waist – where the pants' waistband sits – measures 32" (81.3 cm).
If I had used with my low waist measurement, I would have gotten a large which would have been too big. This may not be the case for others – again, the whole varying shapes and sizes thing.
While not for everyone, the low waist was exactly what I was looking for. I ride a Ninja 500 and am bent forward in riding position.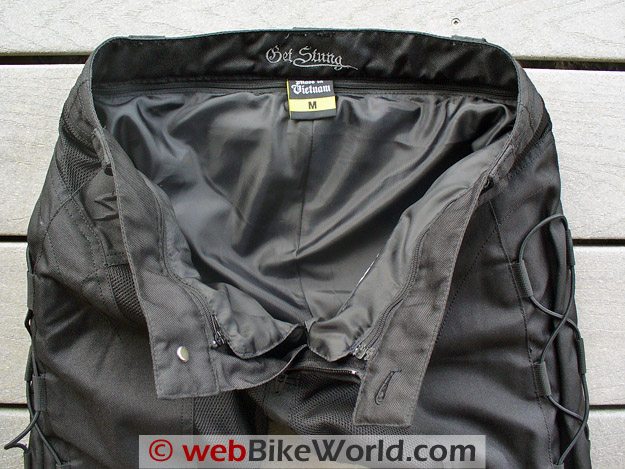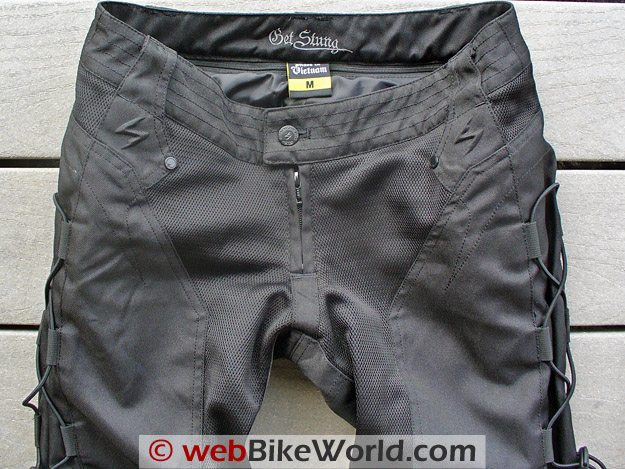 Most riding pants have high-rise waists and when leaning over a sport bike, the waistband may dig into one's stomach — that could be distracting and painful. Personally, after so many years of wearing low-rise jeans, pants that reach my waist drive me crazy.
By the way, I'm not knocking high-waist pants, many love them. They can be comfortable for riding cruisers, touring bikes, and standards; and I know sport bike riders wear them, too. Many high-waist pants offer outstanding waterproofing and protection from the cold. Everyone's likes and dislikes vary, and my preference is low-rise. But I digress…
The Scorpion Savannah Pants have a stretch accordion panel in the back of the waist which prevents the pants from pulling down and keeps them snug when riding. These pants are sexy, but showing crack isn't!
When sitting up straight on my bike, the waistband gapped out a few inches from my back. However, in the riding position, the waistband was closer to my back and gapped only slightly, not enough to be a problem.
The waistband also has belt loops to attach a jacket to, or for the obvious – using a belt, which would eliminate any gaps.
Scorpion Savannah Pants are rated for use in temperatures from 80 to 110 degrees (26 to 43 Celsius). Mesh in the front pelvis area, inner leg, upper hip, and back from the knee down allow plenty of air flow.
The weather in northwestern Montana has been on the cool side; with temperatures in the mid 50s (12-14 Celsius). I stayed warm wearing long johns under the Scorpion Savannah Pants with the windproof liner attached. Only during strong wind gusts did I feel a little on the cool side, but never cold.
The windproof liner is easily removed and reattached with a zipper and snaps. In riding position on a sport bike, the outer shell rises above the liner which hangs out the bottom of the pants. I'm not sure if this would be an issue on a bike with lower or forward pegs.
I finally got to wear the Savannah's in 80 degrees (27 Celsius) over a pair of shorts with the windproof liner removed and stayed cool.
For comfort when the liner is removed, a nylon permanent mesh lining extends all the way to the hem. However, no skin is visible through the mesh, thanks to the fine mesh exterior.
Impact areas consist of ballistic nylon and an additional layer of nylon in the seat and knees. Scorpion's "Exo-Stitching" provides added strength to seams through a process of stitching the seam, folding it over, and stitching it a second time.
The Scorpion Savannah Pants also have removable C.E. approved hip and knee armor. At first, the knee armor felt a little stiff when in riding position but it seems to be getting more flexible.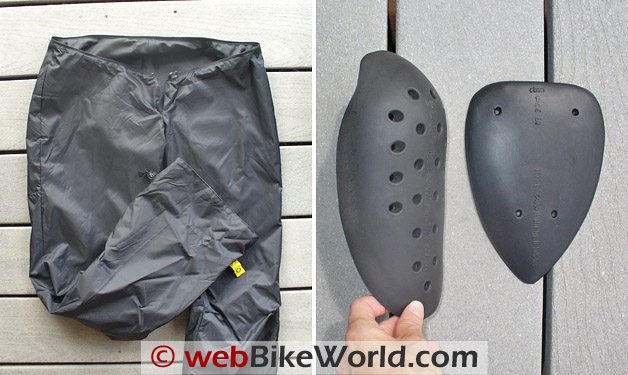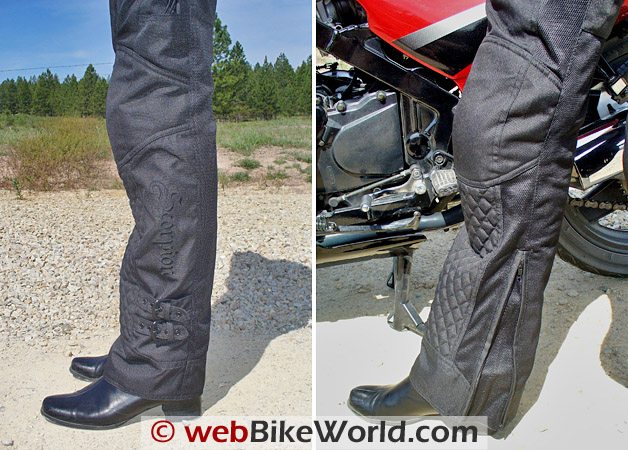 An 11 ½" (29.2 cm) zipper at the hem unzips providing more width to fit over boots if needed. Buckled boot straps can be tightened for a close, aerodynamic fit; plus they just look good.
A quilted design on the front lower legs and an embroidered Scorpion logo on the left leg add flair. There are no pockets on the Scorpion Savannah Pant; even one small coin pocket to hold a key or lip balm would be nice.
Now, how about riding to your favorite hangout or stopping in a restaurant while touring the countryside?  Scorpion Savannah Pants are sleek and chic enough to get attention but for all the right reasons (i.e. looking sassy, rather than sticking out like a sore thumb in biker gear).
Scorpion carries an entire women's line of coordinating jackets, pants, gloves, and helmets that all mix and match. The Scorpion Savannah Pants come in three colors and pair beautifully with the textile and mesh "Nip Tuck" Jacket available in seven colors. How's that for options?
By the way, if you insist on the protection and look that only leather can offer, check out Scorpion's "Haley" pants; they have the same style and cut as the Savannah pants, but they are made from leather and perforated leather and they are available in either black and a combination of black and off-white.
Be sure to check the size chart, because the size chart for the Haley pants is different than the chart for the Scorpion Savannah Pants. By the way, Scorpion also has beautiful leather jackets that are dynamite with the Haley Pants…
Summary
Scorpion gets props for designing women's specific gear that is as attractive as it is protective. Scorpion Savannah Pants are versatile, adjustable, hug the figure, scream style, and include C.E. approved armor, all at a reasonable price.
One word of caution: wearing Scorpion Savannah Pants will turn some heads!
w

BW

 Review: Scorpion Savannah Women's Motorcycle Pants
Manufacturer: Scorpion Sports
List Price (2009): $159.95 – $189.95
Colors: Black/Black, Black/White/Gold
Made In: Vietnam
Sizes: XS – XXL
Review Date: June 2009
Note:
 For informational use only. All material and photographs are Copyright © webWorld International, LLC since 2000. All rights reserved. See the webBikeWorld® 
Site Info page
. Product specifications, features and details may change or differ from our descriptions. Always check before purchasing. Read the
Terms and Conditions
!
Owner Comments and Feedback
---
From "T.R." (July 2012): "I read the review on the Savannah pant and could not find a pair to try on so had to just bite the bullet and order online.
I am 5'6 and 137 pounds so based on their measurements etc., I ordered a large. I am wondering if anyone can tell me just how snug these are supposed to be.
There is no way I am getting the pants on over jeans or anything and I can sit but the leg area is tight. Looking at the picture of the model/review writer, my pants look about the same as hers but I am thinking she has a little more room in the thigh area. Is anyone able to comment on whether or not the pants should fit on the tighter side, and if anyone has had them for awhile, does the material give at all?
I think an XL would be too big but if I gain any weight, there is no way I am able to use these pants. If I lose 5 pounds, they will be perfect. Any comments would be greatly appreciated!"
"Smalls" Reply: "The Savannah Pants are made with a woven textile and mesh. They will not give or stretch at all. If a rider wants to layer these over pants, then they will want to order a size larger.
The Savannah Pants are designed for hot weather and are not designed to go over pants. When the weather is cooler, and I want to layer so I can start riding when it's cool in the mornings and hot in the afternoon, I will layer these over some thin long johns (not the bulky waffle weave type (I use Under Armour Cold Weather Gear long johns). Then as the day warms, I can remove my base layer, and then the waterproof/windproof liner of the Savannah Pants.
As far as the legs being tight, the draw strings/straps on the legs can be let out all the way or cinched in to accommodate many shapes and sizes. However, it is impossible to accommodate every shape and size.
It is possible that some riders will not be able to use the Savannah Pants. I believe they are designed to fit somewhat snugly when compared to other riding pants or overpants. I know I gained a few pounds since I did the review, and the waist is now a little tight when I have the windproof/waterproof liner installed. I hope this helps!
---
From "A.G." (12/09):  "This is in response to the very nice review of the Scorpion Savannah pants.
I am 5'9", 145 lbs. I ordered these pants in an XL since I read the reviews on the Motorcycle-Superstore site & most of the women said they run small. Well, they were right.
Here's the thing. I have a long torso so finding pants can be difficult, especially with the LOW-RISE feature. The model in your review looks like the Savannah pants fit her well. On me, however, when I tried to actually sit on my bike, the back waistband went BELOW MY BUTT CRACK by about 3 inches!!  And most women riders don't want that!  The front waistband, on the other hand, rode so high up my stomach that it was then digging into my rib cage…very uncomfortable.
The review said "The Scorpion Savannah Pants have a stretch accordion panel in the back of the waist which prevents the pants from pulling down and keeps them snug when riding. These pants are sexy, but showing crack isn't!".
No, crack isn't sexy but the accordion panel sure didn't keep them from pulling way down my backside. Your model must have a short torso!!
I then ordered a 2XL & the same thing…even with putting a belt on. Had to return them. And I really wanted those pants.
The knee armor also rode up above my knee which isn't protective at that point…I guess I have really long legs or at least long upper-leg length.
I don't know if I just have a weird body shape or what but I have this problem with a lot of pants. I tried the Joe Rocket Ballistic pants – loved them too – but same thing…although these did not ride as low in the back as the Savannah pant. The knee armor in these can be adjusted which I really liked.
Why can't women's motorcycle pants be made w/ this consideration?  I'm having a heck of a time finding something. I've tried men's pants but then I get a huge bulky section in the crotch…not cool.
I'm jealous of the model being able to wear the Savannah pants – I wish I could. I just wish more women's pants had more consideration for the many, many varieties of women's bodies. Just my two cents worth.
Your website & all the reviews are very helpful, by the way!!"