Scorpion EXO-500 Review Summary
Scorpion EXO-500 Image Gallery
The new Scorpion EXO-500 helmet introduces an impressive new level of build quality for motorcycle helmets.
Even more impressive, the helmet is chocked full of EXO-1000 style features, yet carries a sub-$200 price tag.
With modern styling and beautiful, close-tolerance cut lines and creases, the EXO-500 is the new star of the Scorpion helmet lineup.
Is Scorpion mellowing in middle age?
The company's over-the-top motorcycle clothing ads seem to have disappeared and Scorpion was noticed by its absence at the 2011 Powersports Dealer Expo (report).
Scorpion distributors were tasked with displaying the goods, and the huge Scorpion display that traditionally anchored the midsection of the show in previous years was nowhere to be found.
The motorcycle clothing sector, having been inundated with multiple and seemingly instantaneous overnight brands popping up like dandelions over the last few years, is retrenching. Several well-known brand names are no longer.
While this may not help to keep prices low for motorcyclists, hopefully the strong will survive and a niche market is evolving, with specific task-oriented clothing types coming to the fore.
So perhaps Scorpion has decided to focus the majority of its efforts on the helmet business? We don't know this for a fact, but it would seem reasonable.
Scorpion helmets slammed on the scene only a few years ago, with good impressions.
The general consensus — based on webBikeWorld visitor emails and a general ear-to-the-ground — is that Scorpion helmets are very well made and represent a good value for the money.
And that's supremely important in the current and continuing worldwide economic conditions.
So what better than a brand-new-for-2011 helmet, chock full of every modern feature you can think of and then some, all for less than $200.00?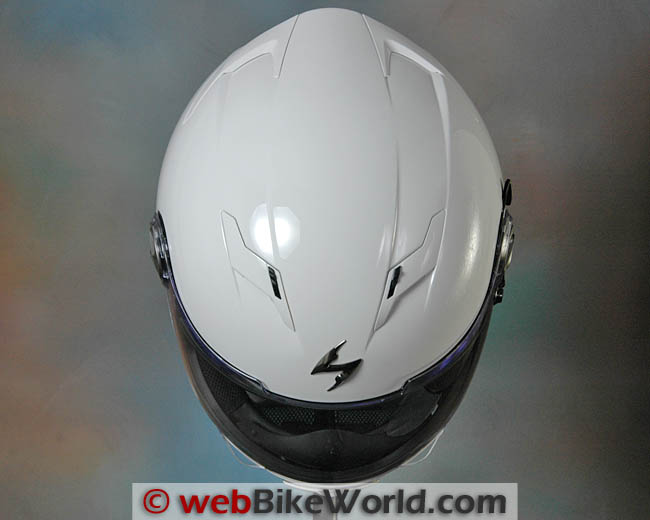 The Scorpion EXO-500: Paint, Graphics and Overall Quality
Pull the bag off the EXO-500 and you'll be impressed — very impressed. The solid colors show off the very close tolerances in this helmet, with just tiny gaps tracing the bits and pieces fitted into the polycarbonate shell.
The overall design and the styling adds to the presence. It's very modern, yet subtle, with a few angular creases along the sides and matching angles forming shallow channels holding the top vents.
Everyone who sees the helmet does the same thing — hold it at arm's length, turning it around in the hands, admiring the lines. Scorpion gets an A+ for that.
These first impressions are important in setting up expectations and, for the most part, they are met.
The paint and parts and the liner are all first-rate and the overall build quality and assembly of the EXO-500 really does seem to bring a new level of build quality to motorcycle helmet construction.
There's one exception though — the face shield lift lever on this example is loose and has a less-than-accurate feel.
We'll chalk it up to the "early production syndrome", but because the rest of the helmet is so nearly perfect, and the lift lever is something the owner will use daily, this is an issue. It would pay to make sure yours works correctly before you fork over those shillings.
I had a brief opportunity to see the EXO-500 in some of the available graphics, but my feeling is that the solid colors are the way to go with this one. The white color just seems to nicely compliment the sharp styling, while the graphics hide the beauty within.
In fact, I'd even go so far as saying the graphic designs are a bit…boring.
For my tastes anyway. I just don't think they're very inspired, nor do they compliment this helmet. Too bad Scorpion isn't making the EXO-500 in a nice Ferrari red or lemon yellow or lime green or California orange…
Score: I'll give the Scorpion EXO-500 an "Outstanding" rating for design, paint and overall quality. See the Summary Table at the bottom of the page for a description of our rating system.
Scorpion EXO-500 Helmet Fit, Internal Shape and Liner
My experience with the EXO-400 (review), the EXO-700 (review) and the EXO-1000 (review) tells me that Scorpion helmets have a particular fit.
It's characterized as slightly narrow; perhaps not quite like a Nolan-type fit, but I'd say it's slightly narrower even than the new Arai Vector 2 (review) or the Shoei RF-1100 (review).
Describing the way helmets fit seems to be getting more difficult lately for some reason, with internal shape changes and a general harmonization of internal shapes, trending towards neutral.
The EXO-500 has a round-ish top, because there isn't much space at all when I stick a finger between my forehead and the liner. But the sides are a bit narrow; too much so for my "earth" shaped head.
I can wear the size large EXO-500 but it's not quite as comfortable for my head shape as other helmets.
But anyone needing a slightly narrower fit on the sides should be perfectly happy, and the helmet liner is both comfortable and nicely padded.
Compared to the Bell RS-1 (review) we also recently reviewed, the EXO-500 has a more rounded upper section, while the Bell is noticeably more oval shaped, even though both helmets are classified as "Slightly Narrow" in the webBikeWorld helmet fit hierarchy.
The EXO-500 shell size does seem more reasonable and "tailored" than the RS-1 however, and I'd guess that the EXO-500 comes in three shell sizes across its XS to 3XL size range, which may make the difference.
However, it does seem slightly short in the front-to-back dimension, and my chin touches the red air pump used to inflate the cheek pads.
The slightly narrow sides of the EXO-500 also mean that the ear pockets are a bit shallow. They also seem smaller than average in diameter, so fitting speakers may not be as easy as it is on other helmets.
There is a slight depression in the EPS at the bottom of the ear pocket that is too small for a Sena speaker, so maybe Scorpion is planning on OE system.
Another effect of the narrower sides — at least for round head shapes — is a difficulty in fitting eyeglasses or sunglasses. The padding at the sides of the eye port is very thin, so the harder EPS rides close to the face, especially on round-headed owners, making it difficult to squeeze even my cut-down eyeglasses inside.
Again, this isn't necessarily a problem for head shapes that match the helmet, but it demonstrates once again how important it is to find a helmet that correctly matches your head shape.
The size large fit a 59-60 cm head, according to Scorpion, and I think that's correct, although the fit does seem slightly snug. So anything over a 60 cm circumference may need to jump to the XL size.
The Scorpion "AirFit" Inflatable Cheek Pad System
To be honest, I'm still not sure how useful this feature is, especially on a helmet that starts out with a slightly narrow shape to begin with.
I, for one, have never found a need to inflate the cheek pads on either an EXO-1000 or on the EXO-500, but perhaps some face shapes will find it necessary.
My solution instead would be to simply buy a thicker set of cheek pads, because it's not like your cheek width is going to change. Once you settle in on a fit, you shouldn't really have to be pumping the bladder up and adjusting it back down.
That's my take on this feature anyway; I'm sure others have different opinions. I can say that the availability of an air bladder adjustment system is not a selling feature for me and, in fact, it's probably a bit of a turnoff because I'd see it as something that adds weight and not much usefulness.

More information on helmet fit can be found in the webBikeWorld Motorcycle Helmet FAQ page, along with the chart that lists the helmet weights of webBikeWorld reviewed helmets and also by shape on the webBikeWorld Motorcycle Helmet Shapes page.
Score:  I'll give the Scorpion EXO-500 an "Outstanding" rating for comfort and liner materials and padding. Check the fit to make sure it works for you before buying; round heads may not fit.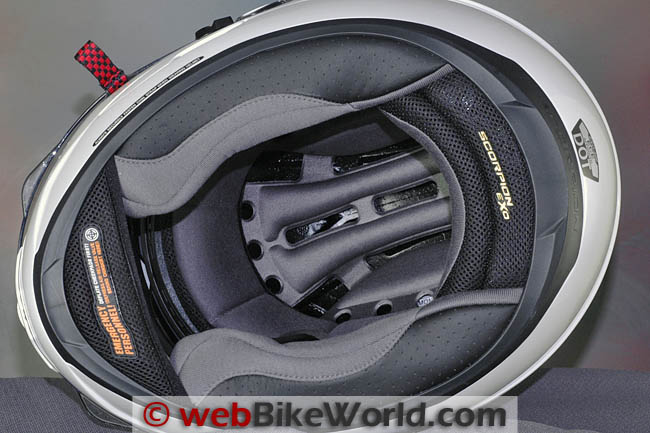 Scorpion EXO-500 Face Shield, Eye Port and Visibility
 The one area that lets down the overall impression of quality on the EXO-500 involves the operation of the face shield.
The shield has two lift tabs, one on each side, which is a definite plus.
And, it's coated with the Scorpion "EverClear" anti-fog treatment, which is one of the better OE anti-fog technologies available (although it does seem to slightly degrade the optical quality, noticed on this helmet).
The face shield operation is a bit dodgy though; when the lever on the lower left is in the center position, the face shield opens first about half-way, then through three more detents to the top.
When the lever is pushed (pulled) forward, the face shield pops open just a smidge to allow some fresh air for defogging. The lower position of the lever locks the shield to prevent it from opening at high speeds.
The problem is two-fold. First, the face shield has some twist when it's lifted, most likely due to the Scorpion "SpeedShift" release mechanism with its round side knobs.
The round release dials also have some give and they are spring-loaded, to allow the face shield to move forward slightly when the defogging position is engaged by the lever. The movement looks and feels unusual and subtracts from the solid countenance offered by the rest of the helmet.
Also, the detents in the face shield lifting mechanism feel a bit vague and muted, and compared to the best-in-class Bell system, the Scorpion rotating mechanism and removal system now seems dated, even though it was state-of-the-art not long ago.
The lever on our helmet is very sloppy and loose-feeling. It's difficult to tell which position it's in, especially when riding and wearing gloves. It also slips into one position or another by itself, locking the face shield just when I need to open it.
So the combination of the moving round SpeedShift release mechanism and the too-loose locking lever are disappointing and the only faults in the otherwise high-quality build.
It may be a problem isolated to this early production example, so we'll give it a bit of a pass in the overall ratings.
The EXO-500 includes an internal sun visor, operated with a lever located at the rear of the face shield on the left-hand side. The system works well and the sun visor rotates down far enough to remain mostly out of the rider's line of sight.
But like most of these sun visors, the amount of light transmitted is governed by law, so it's not as dark as a good pair of sunglasses.
The visor is pretty much an on-or-off proposition, although some fiddling with the lever allows the visor to be positioned at an intermediate setting.
Visibility out the eye port is good; I'd rate it as average to slightly better than average, both in the horizontal and vertical planes, when compared to other helmets.
The face shield on this helmet does not seal completely against the eye port gasket, with a slight leak noticeable in the rain.

Score:  I'll give the Scorpion EXO-500 a "Very Good" rating for the overall quality and operation of the face shield, which could be better. The locking lever on this example is questionable.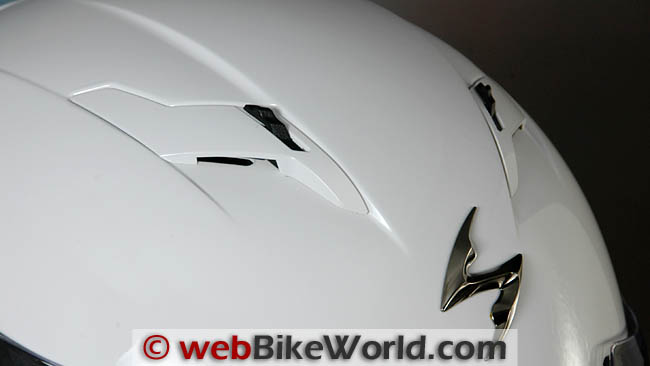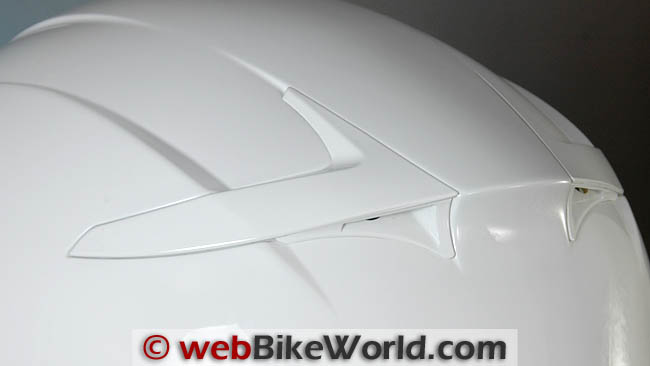 Scorpion EXO-500 Ventilation and Air Flow
Overall, I'd rate the EXO-500 ventilation system as slightly better than average, although "average" is a moving target these days.
I'm not a big fan of dual top vents; I'd rather move one slider to open the vents instead of having to mess with two. But these are fairly easy to find, even when wearing gloves.
The top vents are quiet when closed but whistle when open if the rider is in the upright position. Lean forward slightly and the sound becomes diminished.
It's difficult to tell whether the top vents are working or not, but overall, I'd say they're adequate.
The chin vent does flow more air than average. The air can be felt flowing up behind the small breath guard and up along the back of the face shield, which should also help with defogging. The chin bar includes two large vent passages for air to flow on either side of the lower jaw, which is also a plus.
The helmet liner material does seem to work as advertised, and even on the warm days we've had so far I haven't noticed any sweat buildup, and that's a big plus.
The EXO-500 also includes a chin curtain, but some air seems to sneak by it and flows up underneath the chin bar if I'm riding an unfaired motorcycle.
The exhaust vents are always open and are nicely integrated into the styling with a small spoiler at the upper rear.
Overall, I'll rate the ventilation system on the EXO-500 as above average.

Score:  I'll give the EXO-500 an "Excellent" rating for the chin vent and a "Very Good" for the top vents. An extra "Outstanding" goes to the moisture-wicking ability of the liner material.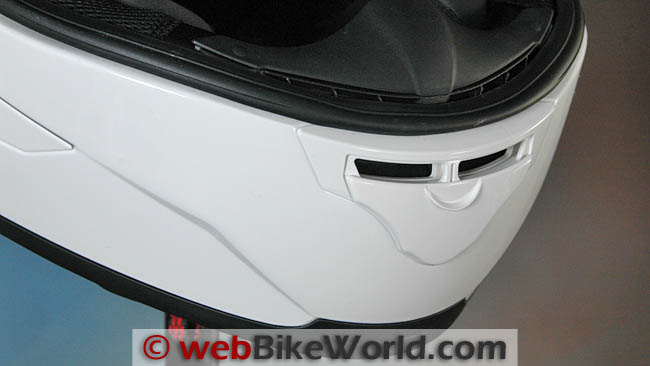 Scorpion EXO-500 Noise Levels
If the top vents of a motorcycle helmet are pointed forward and perpendicular to the direction of travel, you can usually count on a certain amount of noise. This is the case with the EXO-500, where the air pressure in the vent opening causes a slight whistling noise when the vents are open.
Closing the vents eliminates the noise and a slight forward-leaning riding position will also decrease the whistling sound as the air hits the vents at a shallower angle.
Otherwise, the EXO-500 is relatively quiet, with low noise levels from the bottom half of the helmet and the tapered shell shape and padding around the bottom of the helmet, along with the sleek styling, help control buffeting noises that can be caused by windshield turbulence.
The overall shape of the helmet does an excellent job at slicing through the air and I notice no problems with lift or buffeting, also unusual considering the size issue.

Note that our helmet evaluations are a combined effort of several riders over time on different types of motorcycles with and without windscreens.
Evaluators wear correctly fitted, high quality ear plugs (even when evaluating motorcycle intercom systems).
Always protect your hearing when riding a motorcycle. See the wBW Earplug Reviews for more information on choosing and wearing earplugs.
Note also that perceived noise levels will vary, depending on the individual.
Noise can be caused by many factors, including helmet fit, the type of motorcycle and windscreen, wind speed and direction and even the rider's clothing.
For more information on helmet noise, visit the wBW Motorcycle Helmet Noise page.
Score:  I'll give the Scorpion EXO-500 an "Excellent" rating for better than average noise control.
wBW Video: Scorpion EXO-500 Helmet
The Scorpion "AirFit" bladder and the internal sun visor add a few ounces to the helmet, bringing the EXO-500 in size large to 1662 grams (3 lbs., 10-5/8 oz.).
This puts it around the mid-point in the range of the 166 helmets we have weighed to date; not too bad actually, considering all of the features jammed into the EXO-500.
The polycarbonate shell probably weighs a bit more than a more expensive composite type, but a composite shell might not balance out the weight of the added features.
In comparison, the Bell RS-1 (review) in size large weighs 1644 grams, and doesn't have an internal sun visor or the bladder…but meets the DOT standard and is Snell 2010 approved.
Other helmets in the weight range include the Shoei Qwest (review) in size large at 1648 grams and the AGV Miglia (review) flip-up in size XL at 1666 grams.
Also the GMAX GM68S (review) in size XL at 1677 grams and the SCHUBERTH C3 With SRC (review) in size L with the SCHUBERTH SRC intercom system at 1692 grams.
Note also that all of the helmets reviewed on webBikeWorld have been weighed and the weights are available on the wBW Motorcycle Helmet Weights page, along with a chart that lists the helmets by weight and shape on the wBW Motorcycle Helmet Shapes page.
The EXO-500 feels nicely balanced when riding, although I do notice just a slight push on either side in cross-winds or when turning my head.
Score:  I'll give the Scorpion EXO-500 a "Very Good" rating for its reasonable weight and its good balance.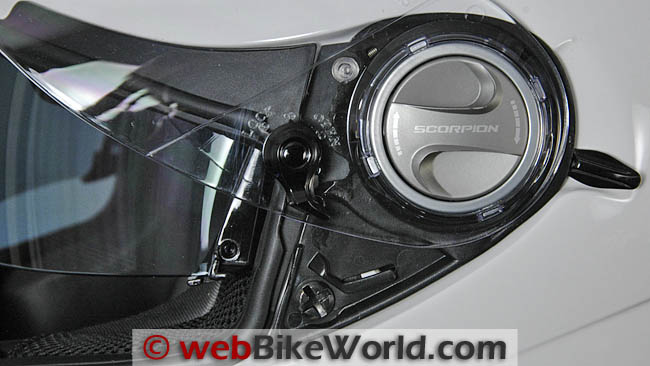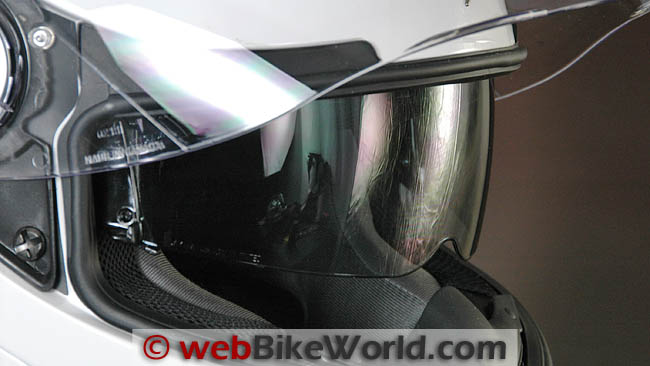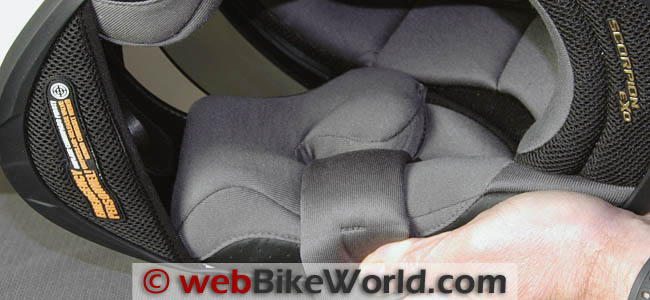 Miscellaneous
The Scorpion EXO-500 has a double D-ring retainer system and a plastic snap for the chin strap retainer. The padding under the chin strap is comfortable.
Scorpion helmets have a three year warranty on defects in materials and workmanship and 1 year for the face shield (from original date of purchase).
The helmet is labeled as meeting the DOT safety standard and the helmet is sold in Europe, meeting the ECE 22.05 safety standard.

Conclusion
The Scorpion EXO-500 features an outstanding build quality, with beautiful-looking cut lines and gaps that have some of the tightest tolerances to be found on a motorcycle helmet.
It's also loaded with features and the only real sticking point is the loose face shield locking lever on ours, which mars an otherwise superlative effort.
Considering the helmet retails for $199.95 ($219.95 for graphics), the EXO-500 brings a new level of quality to motorcycle helmets in general and certainly for this price range.
More webBikeWorld:
wBW Review:  Scorpion EXO-500 Helmet
Available From: Scorpion USA
List Price (2011): $199.95-$219.95
Colors: Solids and graphics.
Made In: China
Sizes: XS-3XL Shell Sizes: 3 (Unconfirmed)
Review Date: May 2011

Rating Scale is subjective: Unacceptable, Poor, Neutral, Very Good, Excellent, Outstanding.
 Note: For informational use only. All material and photographs are Copyright © webWorld International, LLC since 2000. All rights reserved. See the webBikeWorld® 
Site Info page
. Product specifications, features and details may change or differ from our descriptions. Always check before purchasing. Read the
Terms and Conditions
!
Owner Comments and Feedback
---
From "A.P." (June 2014): "I wanted to add my comments to the EXO500 review, and vent my spleen a little.
I used to love the 500, and Scorpion, but when I bought a second EXO-500 to to replace my aging RF1000, (my first 500 was destroyed in a face-first collision with a turkey(!)) I was extremely disappointed, as the sun visor didn't sit firmly in the up position and would "droop" a 1/4″ or so into my peripheral vision.
I sent the helmet back to Scorpion twice, once on my dime, and once, to their credit, on theirs, but neither trip fixed the issue and the rep, who had otherwise been courteous and professional, claimed this was "normal".
If it's normal, then every other 500, 900, 1000, and 1100 I've owned or handled in shops is abnormal, because none of them have had this problem.
I was saddened by Scorpions lack of action on this issue, it seems they went way out of their way to blow me off."
---
From "J.T." (May 2012): "I just bought an EXO-500 and I thought I send some feedback for others. I recently bought an EXO-500 and did my first longish ride with it today, riding in early summer, warm and humid weather, with a few downpours to add excitement.
The helmet fits well (I found that a large fit me best, as opposed to the previous 3 medium Shoeis I've had) and, as the review states, the finish and design is very nice.
One of the reasons I went for the 500 was the built-in tinted visor. While it is lighter than the smoked visor I had on my Shoei it does the job, and the convenience is great. I'm fine with its limited settings, too.
The clear visor, on the other hand, is lacking one or two detents that would allow the visor to be open just a bit — it's either open just a crack using the lever (which seems kinda flimsy), or open nearly halfway, which puts the lower edge in my line of site.
The chin vents could flow more air, too. Between not being able to open the visor "just a bit" and the lack of air flow, I get feeling kinda claustrophobic. I'm not used to the breath guard and chin screen, either.
Frankly, I'm tempted to "customize" the helmet by removing the dam and screen, and adding another detent in the visor mechanism if possible. That's my feedback. I hope it's of some use.
---
From "O" (April 2012): "I just purchased and went on a 150 mile ride with an Ardent Exo-500 helmet. I agree with many points in your review but have some things I'd like to add.
First of all, the exterior of the shell on my XL sized helmet is much larger than my EXO-400 (review) or my HJC IS-16 (review) of the same size, though the interior is pretty much the same fit.
I base this on simply putting them side by side and it's obvious. This thing is a big bubble!!!
I felt the helmet was noisier than either of those two models when riding and after I set them next to each other and saw the size difference I couldn't help but think that might be a factor.
Second, the finish on the helmet was marginal. The graphic's decals have a 1/4″ clear border around them that ends with a bump down to the main black finish — I have 3 other helmets and none have a border around the graphics like that.
To me it looks cheesy and half-(baked). I also have some bumps under the decals that look like they were caused by dust particles when they were applied.
I too have the loose feeling visor lock knob that you had. I love the sunshade though, and I also like the inflatable cheek pads and the overall design of the helmet.
I just think they didn't hit a home run with this helmet and made some quality compromises in a couple of areas to keep it affordable.
I think they are to be commended for making a helmet like this at it's price point, but for those like me who loved their EXO-400 helmets (built solid as a rock) and think this will be of similar quality in all of it's greatly expanded feature set, I got news. It ain't."
---
From "N.D." (April 2012):  "How different the same helmet can be for two different riders! Just bought a new Scorpion EXO-500 online with a deep discount and took it for my first ride.
First off, your review says, "The slightly narrow sides of the EXO-500 also mean that the ear pockets are a bit shallow. They also seem smaller than average in diameter, so fitting speakers may not be as easy as it is on other helmets."
But for me, as soon as I pulled it on my head I said to myself, "Oooh! These ear pockets are huge! Super comfortable!"
In comparison, my other two regular helmets are a Shark RSI and a Nolan Trilogy and for both of them I have to struggle a bit to get my ears unfolded and lying flat against my head.
With the EXO-500, I didn't have to do anything other than pull it on and connect the chin strap.
Then I grabbed my sunglasses to see if they would fit. Your review had warned me that, "Another effect of the narrower sides — at least for round head shapes — is a difficulty in fitting eyeglasses or sunglasses.
The padding at the sides of the eye port is very thin, so the harder EPS rides close to the face, especially on round-headed owners, making it difficult to squeeze even my cut-down eyeglasses inside."
My sunglasses slid on easily and were not pressed against my head at all. Again, I said "Oooh! " Way better for sunglasses than my other two lids.
That's two "Oooh's" in the first minute.
Your review also said, "The face shield on this helmet does not seal completely against the eye port gasket, with a slight leak noticeable in the rain."
I don't know if that's true with mine or not because I'm one of those guys who never wears a face shield closed all the way.
On all my helmets, I install a little piece of car door edge molding along the bottom side of the face shield so that the face shield CAN'T close all the way!
As for the distortion complaints in the other comments, mine is distortion-free. After a couple of hours riding, I discovered that by some miracle I've finally found a helmet shape that fits my sledgehammer head perfectly.
As for the heaviness mentioned in the review, since the fit is so good for me, the helmet actually feels better than lighter helmets I own simply because the weight is evenly distributed.
BTW, mine's an XL and my usual size in most helmets is an XL even though I'm a 59. (Weird-shaped head.) I'm stoked. Maybe I should just go ahead and buy a 2nd one right now!"
Editor's Note: I'm glad to hear yours fits well and you like it! Couple of things: first, if everyone agreed with the reviewer, it would be pretty boring!
Second, specifications can and do change over time. We reviewed the EXO-500 some time ago, when it first came out. We sometimes get samples from the first production runs, which occasionally are different from later versions.
Also, suppliers and production methods and even parts designs change over time.
Then, depending on head shapes and the match to the helmet fit, opinions will vary widely. Our reviewer has a round head; your head shape may be more suited to this helmet.
Also, we compare helmets to hundreds of others, so there may be features and criteria we have that are different from someone who doesn't have access to the same number of helmets for comparison.
So, bottom line, it's not uncommon for there to be several different opinions of a helmet, jacket, gloves, boots…."
---
From "M.G." (July 2011):  "I recently received the EXO-500 from Scorpion, after trying, unsuccessfully, the EXO-1000. I eagerly awaited the release of the 500. I looked for an internal sun visor helmet early on before many of the myriad that are now available became, available….
The EXO-1000 stood out. I scanned the reviews and read of its large size and heavier weight. Because these can so often be subjective in nature I thought I'd give it a try anyway.
I was, sadly, not pleasantly surprised when I received it. It was in fact heavy and large; noticeably so.
Because the only feature I then sought that set it apart from others I looked at, and owned, was the internal sun visor, I returned it and ran an EXO-700 in the mean time while I searched for the perfect internal sun visor model.
When the 500 was introduced I read its specs and was actually excited that a model with Scorpion's quality and pricing would come in at exactly where I needed it. EXO-1000 features but without its weight, mass or cost!
I pre-ordered and when It came in early April here in New York, I rode in the cold just to test it.
The helmet is high quality and packs a ton of features into an amazing weight and price point. But, the front to back fit I find is in fact short.
The crown fits well but the space required for the air fit system in the chin bar makes my lips and teeth too close to the chin bar for comfort. With no effort my chin rests on the air ball, sometimes contacting it accidentally.
When leaning forward into an aggressive crotch the inherent change in posture causes my chin and mouth to make full contact with the chin bar. Its not a reassuring feeling, something I'd think any helmet should instill at any price point. I'm a large, I tried the XL because I wanted to be able to use this helmet.
It has a shield crack notch for venting with a solid stop built into the lever, It has a shield closed lock on the same lever and an internal visor, It was light and hi-quality…. but the fit just isn't there.
I'm begging, pleading with Scorpion to offer an HJC IS-16 style helmet in an EXO-450-ish model.
Give us the internal sun visor, all of the excellent shield locks and stops at this weight, but minus the air system and its inherently questionable usefulness, all at an even lower price point than the EXO-500!!! You'd have an instant hit.
Of course you'd have to discontinue your EXO-700. It would become superfluous."
---
From "J.D." (06/2011):  "I bought my EXO-500 about 2 months ago. My previous helmet was an EXO-700 which I loved and hated to retire.
I found I had to get a size larger than my EXO-700 to get a good fit. The liner feels great and fits good and snug. It feels as though it wicks sweat better than the EXO-700's liner did but the EXO-700 seemed to have a softer liner.
The Air Pump cheek pads seem to lose pressure after about an hour requiring another pump or two. But usually I don't bother to air them up as it fits fine without them pumped up, but may be a problem if it didn't fit as well.
The visor on mine is clear and did not have the distortion that was talked about on previous reviews. The flip down sunshade is VERY nice to have especially when touring as I don't have to waste time to pull over and change out my main visor.
I do wish it came with a darker sun visor as the one that is in there just needs a little more tint to it for me. I did order the "dark smoke" internal visor and will see if it's any darker when it comes in.
I rode for approx. an hour in a heavy rain with this helmet and didn't experience any water leakage through the vents or thought the visor. The helmet stayed watertight though the storm.
The speaker pockets inside are a nice touch and fit my SENA SMH10 speakers perfectly. There is no noticeable wind noise generated by the air holes in the chin bar when speaking though the SENA's microphone.
I would definately recommend this helmet to anyone in the market for a new one."
---
From "C.M." (06/2011):  "I too had a bad visor on my EXO-500. There was a very noticeable warp in the plastic directly in front of my right eye that made it almost impossible to focus clearly with the shield down.
I didn't notice it until my first ride and it was quite unnerving. My LBS replaced the shield with an EXO-1000 shield and that solved the problem.
If you're buying one of these, pull off the sticker and examine the shield before you put down any money.
It's interesting you mention the small ear pockets. One of the reasons I bought this helmet was so that I could fit in the speakers for my SENA Bluetooth system (review) that I could not fit comfortably inside my Shoei RF-1000. The recesses in the Scorpion were almost a perfect fit and the speakers don't constantly push into my ears like they did on the Shoei.
I've owned an EXO-400 (review) and EXO-700 (review) and this is really a much better helmet."
---
From "M.R." (05/11):  "I bought this helmet as soon as it came out and immediately there was issues with the shield. There was some distortion that was giving me headaches.
Scorpion acknowledged there being issues with the shields and sent a replacement. I just had eye surgery so I can't attest to whether the shield is optically correct now, but it seems like it so far.
Aside from that the helmet is excellent.
PROS:
Top vent airflow is INCREDIBLE – don't know how you didn't feel it.
Fit and overall quality features for the price.
Pump system keeps the helmet even tighter to my head.
CONS:
Initial shield issues.
Some wind noise around the ears and light whistling at certain angles (NO WHERE near as bad as my old Shark RSF-3).
Mediocre eye port visibility Tight space for glasses (kinda lifts them up).
---
From "J.M." (05/11):  "As a Scorpion EXO-400 and 700 owner I bought my sister an EXO-500 as a first helmet and ordered myself one too as my 700 is pretty beat.
I went to my helmet dealer today to check on my order and the owner told me that Scorpion realized that early 500 helmets have bad visors and there is a hold on the delivery of helmets as all visors are changed.
She told me that Scorpion told her current owners of 500's can come in and swap an EXO-1000 visor on or return the helmet until the new ones arrive. She said 1-2 weeks."
---
From "J.L.W." (05/11):  "To me, a face shield that doesn't seal tightly is a deal killer. There is nothing worse (well ok, slight exaggeration) than being on a trip in an all day rain that is dripping down the inside of the face shield.
Why can't the helmet manufacturers devote some of their technology to making face shields that fit?"
wBW Reviews
---
wBW Helmet Info
---
---
---
Helmet Safety Standards