I'm signed up for Revzilla's sales alerts, and today I noticed that the motorcycle gear retailer is offering Schuberth helmets with some serious discounts. Some Schuberth helmets are marked down by as much as 65 percent. Seeing as how the company makes some of the best helmets in the entire industry, I thought it best to tell the world.
Here's a look at which helmets have the big markdowns at Revzilla right now.
Note: Some readers have pointed out that many of the helmets profiled here are only available in a limited number of sizes. Schuberth has other helmets at heavy discounts in various sizes. If you click here to see the full list of helmets currently discounted you can then filter by size.
Schuberth C4 Legacy Helmet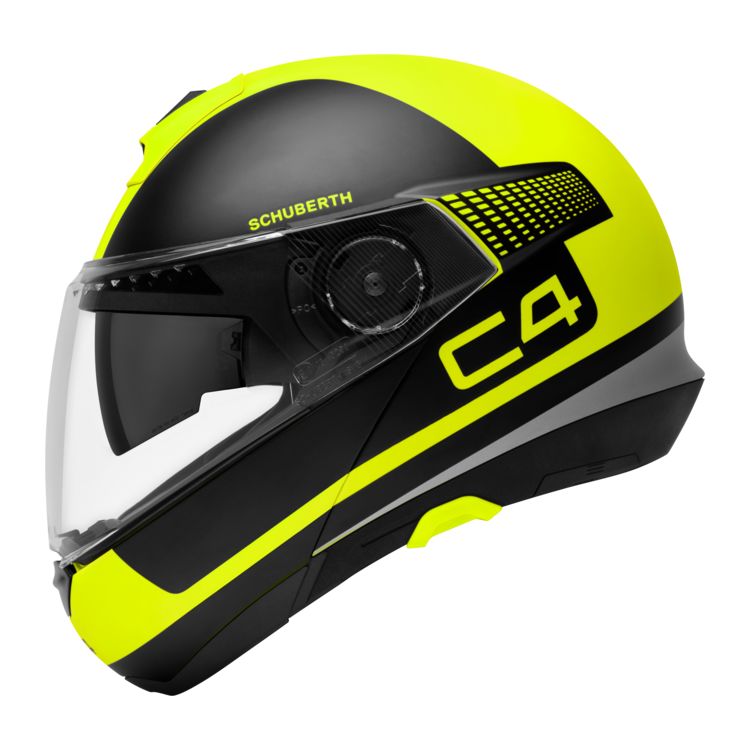 Regular Price: $849.00, Sale Price: $299.99 (65% off)
The Schuberth C4 helmet is one of the company's best models. It's a modular helmet design with an aerodynamically designed shell and a lightweight that you can comfortably wear for hours. The helmet offers a one-touch sun visor, ShinyTex interior, a multi-channel ventilation system, integrated antenna, pre-installed speakers and microphone for the SC1 communication system, DFP glass fiber shell, and a specially-optimized EPS to keep you safe. The fact that Revzilla is offering it for nearly $550 off the original list price is wild.
Check it out at Revzilla
Schuberth E1 Crossfire Helmet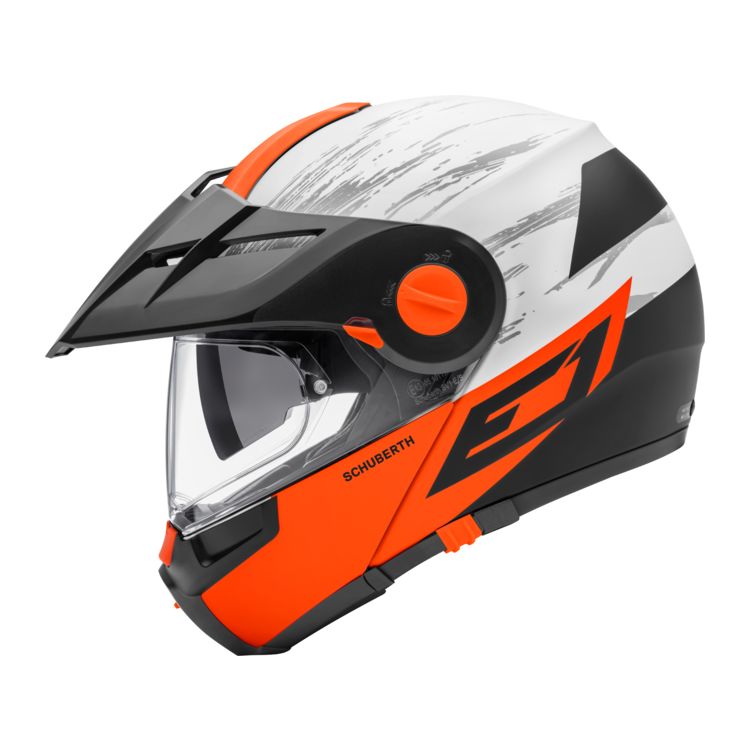 Regular Price: $849.00, Sale Price: $299.99 (65% off)
The Schuberth E1 Crossfire helmet is a premium adventure modular helmet that's designed to work flawlessly both on the road and off. The company took great pains to make the helmet slip through the air with ease and be as quiet as possible. The Schuberth E1 Crossfire features an improved EPS, glass fiber and special resin shell, is SRC-system-ready, offers a COOLMAX interior liner, and top-quality ventilation. The fact that this helmet is 65 percent off right now is crazy. That's about $550 off the original listing price.
Check it out at Revzilla
Schuberth M1 Flux Helmet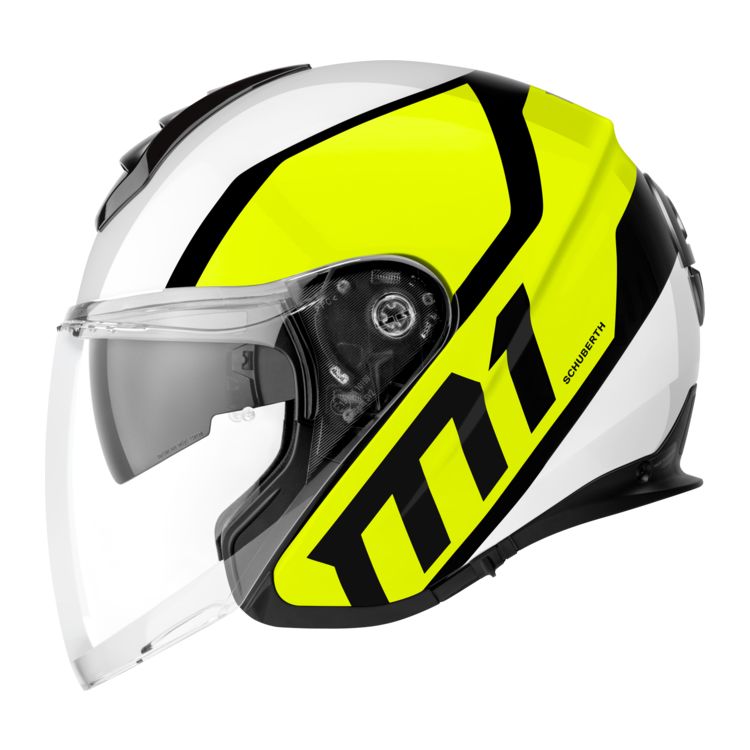 Regular Price: $599.00, Sale Price: $299.99 (50% off)
If you're looking for a premium open face helmet, know that you don't have to spend a ton. Right now, the Schuberth M1 Flux Helmet is on sale. Revzilla marked it down by 50 percent saving you roughly $300. What do you get? You get one of the best open-face lids on the market today. The M1 Flux helmet from Schuberth comes with an aerodynamic shell and face shield, breathable and moisture-wicking interior liner, quality ventilation, an integrated sun visor, and pre-installed microphone and speakers for the SRC system.
Check it out at Revzilla
Schuberth R2 Renegade Helmet

Regular Price: $569.00, Sale Price: $369.99 (35% off)
The Schuberth R2 Renegade helmet was engineered to deliver a safe and comfortable riding experience without ruining that experience in any way at all. This helmet comes with an aerodynamically crafted outer shell, pre-installed speaker and microphone for the SC-1 communication system, a large face shield with a wide field of vision, and variable venting for improved comfort and performance. Revzilla has taken a whopping $199 off the original price. That means now is the time to buy the R2 from Schuberth.
Check it out at Revzilla
Schuberth S2 Sport Elite Helmet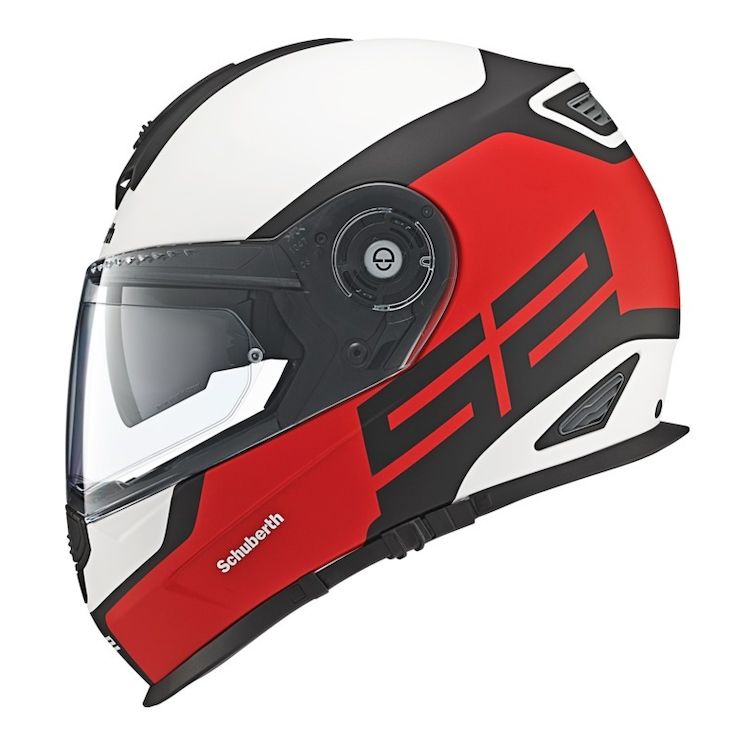 Regular Price: $649.00, Sale Price: $399.99 (38% off)
The biggest plus of the Schuberth S2 is that it's a quiet helmet, but its merits don't end there. This helmet has a whole lot to offer. Its features include a triple matrix shell, special EPS foam, an integrated drop-down sun visor, the patented anti-roll-off system, and a Pinlock-ready face shield. Pair all that with the fact that you can get a cool 38 percent off right now, and you have a fantastic full face lid that you shouldn't overlook.
Check it out at Revzilla
It's important to note that Revzilla has several other Schuberth helmets that offer different graphics for similar prices. The discounts vary but they're all heavily marked down. If you don't see the graphic you like here, you might be able to find it discounted at Revzilla.