Schott Leather Jacket Review Summary
Schott has a place in motorcycle heritage.
It has been built upon years of greatly respected American-made products, the most storied of all being the Perfecto jacket.
There have been many styles of Perfectos over the years, but one of the most popular jackets in their current line is the 141 Café Racer, the nostalgic 6141H horsehide version which is reviewed here.
The Schott Café Racer is is a classic 26" motorcycle racer style jacket with a stand-up collar, Polytwill (Polyester Twill) lining throughout and a sleeveless zip-out pile liner.
The clean look with its center-oriented zip and no gun pocket will likely appeal to those wanting an authentic Schott but who also prefer to keep a more conservative appearance.
Note that the horsehide version of the Café Racer shown here is a summer 2005 release.
Schott makes many limited releases of jackets (announced through various methods, but almost never in their main catalog) for their biggest resellers.
This model is still available in limited numbers and is called either 641HH or 6141H, depending on the market, although both numbers were used in the American pre-production announcement.
Schott used several numbers in their pre-production announcement (I was on the waiting list) of the horsehide version of the Café Racer jacket, including 141H, 641HH and 6141H.
After checking the serial number label inside the jacket pocket and also my receipt, I can confirm that the official model designation of this jacket is 6141H.
The wide availability of horsehide as a byproduct of the agricultural industry led to its widespread use in jackets up until the 1950s, when cowhide began to be used as a substitute.
This historical attachment is the reason that horsehide is often attributed with possessing an aura of the yesteryear.
Nostalgia is not, however, the only reason manufacturers charge a premium for horsehide; it also has several unique properties that set it apart from other leathers.
Compared to cowhide, it has a very stiff hand and takes many weeks to fully break in.
Strength is said to be similar to, or better than, full-grain cowhide; and some sources suggest that situational testing proves it to be tougher, at least under lab conditions.
Horsehide has a glossier shine than finished leathers of other hides due to the smaller hair follicle size of horses.
This gives the leather a smooth appearance and also imparts the hide its naturally water-resistant characteristic. It also wears differently and will develop a rich patina over time.
Horsehide pieces are, however, notoriously hard to match for consistency (one reason why this leather is almost always dyed black).
But Schott has done so impeccably in this instance, with the use of costly front-quarter horsehide allowing the jacket to be made with a one-piece back.
Schott uses 1.4mm thick 3 oz. horsehide – which is a heavyweight leather that is expected for motorcycle applications.
The leather is pieced together using hidden stitching, which is reinforced with a top stitch on most seams.
The seams on the Polytwill lining and the pile liner are sewn with a serger ("a sewing machine that overcasts the raw edges of a fabric with a V-shaped stitch").
The build quality of the Schott Café Racer is excellent overall; but after three months of daily use, the zip-out pile liner has some fraying after repeated scuffing against the belt loops of jeans.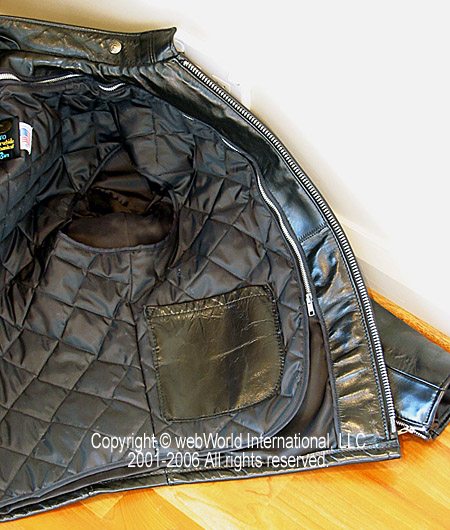 Zippers
Schott was the first company to place a zip on a jacket, although they no longer use the much-vaunted Talon zip.
The 6141H jacket nevertheless exudes toughness with the use of metal-teethed zips all-around.
There are seven in total; one for each of the three outside pockets, one on the cuff of each sleeve, one to attach the pile liner, and the fat main zip (seven big teeth per inch) that closes the jacket.
The zips on this particular sample were sourced from Chicago-based Lenzip Manufacturing and New York City-based IDEAL Fastener.
The main zip in particular feels solid, needing more than just a light tug to close.
The only complaint is that the size of the teeth on that zip makes it prone to snagging long hair.
Zipper Runner on the Right?
A point of curiosity is that Schott places the slider of their zips on the right side ("female" side) of the jacket.
While it is true that the sliders on men's zippers are nominally placed on the left side for cultural reasons (women were always dressed with the help of a servant, thus the zippers in women's clothing were made to face the servants), it does not appear that there was a conscious decision on the part of Schott as to how their zippers were oriented.
Having the slider on the right side would, however, make it easier to do up a jacket with only the left hand, thus allowing the right hand to remain on the throttle.
This seems logical since almost all motorcycles are right hand throttle — with a prominent exception being Indian motorcycles, which had left-hand throttles until 1950 when they were switched to the right hand.
After that, a few batches of police-spec Indians were the exception and were also made left-hand throttle.
The 26" length of this jacket will rest the hem just below the belt-line for a mesomorphic 5' 10" male.
The stiffness of this jacket makes it awkward and a touch unpleasant to wear while in a driving position. It can thus be concluded that the 6141H is not for those who suffer from "parked motorcycle syndrome" and mothball their rides in winter.
Pockets
The Schott Café Racer has three external, one internal. The outside pockets consist of a left-breast pocket (where the Schott serial number tag is placed) and two flannel-lined "handwarmer" pockets.
These two pockets zip downwards to close, so gravity will not result in randomly-opened pockets spewing valuables down the highway.
There is also a map pocket (simply a patch of sewn-on horsehide) on the pile liner, which you lose out on if you take the liner out.
Sizing and Fit
These jackets run very true to size (a person with a 40" chest will take a size 40 jacket).
Accurate measurement assures a snug fit around the chest although there is enough room in the arms that movement will not be restrictive for those wearing long-sleeved thermals in deep winter.
The diameter of the sleeve opening in the sampled size 40 when fully zipped is about 3¼ inches.
This size of opening works a fair compromise between riders who prefer to wear the cuff of their sleeves over their gloves and for those who wear gauntlet type gloves. A size 40 weighs about 5 lbs.
Comfort
This jacket has a bi-swing back and vented underarm gussets that permit a liberal range of movement without compromising the snug fit of a motorcycle-specific jacket.
The sleeves also appear to be rather gently pre-curved with a bias that subtly favors a near-upright riding position, such as a sports-tourer rather than a bona fide low-handlebar café racer.
The pile liner can be removed to allow for use in summer.
A large main zip with a snap-button strap on the collar, and smaller zips that run about six inches up each wrist. Cinching side buckles complete the package.
In use, the side buckles seemed to serve more form than function and a good guess is that only a slim rider will ever need to adjust them.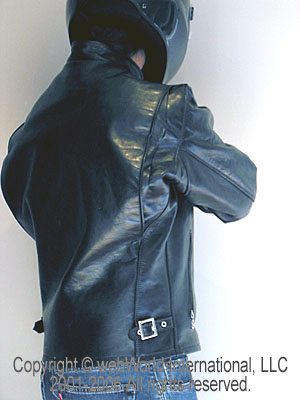 Schott Variants
The Café Racer series of jackets is also available in naked cowhide (141), naked cowhide in a ladies' cut (141W), finished steerhide (641) and finished steerhide with red/white/blue Easy Rider stripes (671).
Black is the sole color except for the standard 141, which is also available in brown and mocha (lighter brown).
Conclusion
It's hard to be objective about a product that has such a strong appeal on brand name alone. But it isn't difficult to understand why Schott has a reputation for producing first-class products.
The 6141H is a quality no-armor, no-nonsense jacket that conveniently happens to pull at the heartstrings.
If you're already yearning for a timeless classic, nothing else will do. And guess what? It's Union Made in The United States of America by UNITE HERE local 169.
w

BW

 Review: Schott Café Racer Leather Motorcycle Jacket
Manufacturer: Schott N.Y.C.
List Price (2006): $449.95
Colors: Black, Brown, Easy Rider.
Made In: U.S.A.
Review Date: May 2006
Note:
 For informational use only. All material and photographs are Copyright © webWorld International, LLC since 2000. All rights reserved. See the webBikeWorld® 
Site Info page
. Product specifications, features and details may change or differ from our descriptions. Always check before purchasing. Read the
Terms and Conditions
!
Owner Comments and Feedback
---
Editor's Note: Corrections/clarifications were made to the pricing and jacket model designation information since this article was first published. Kevin sent this note:
"Just thought you might like to know that this year's batch has just been released.
It's in Schott's main catalog as well (as the Legendary USA catalog). The price is now $540.00 and the liner is sewn-in instead of zip-out.
It also has a more generic label ("Genuine horsehide by Schott") rather than the Perfecto label from the previous run. A message on the Schott forum said that this year's run was to be limited to 100 pieces.
I don't know if this has changed, because at the time that message was posted, Schott hadn't yet decided what to place in their main catalog.