American Bluetooth communications company Cardo has integrated its new group communication technology into a small group with range of up to 1.6km, Smartphone remote operation and "unbreakable" communication.
Cardo introduced their auto-adaptive Dynamic Meshwork Communications (DMC) technology in the Scala Rider Packtalk which allows three to 10 riders to communicate without worrying that one rider will take a wrong turn, fall too far behind or scorch out too far in front and break the link.
Traditional Bluetooth systems use 'daisy-chain' intercom connection which means that it can break down when one connection leaves.
Now DMC technology has been integrated into Scala SmartPack for a group of up to four riders/pillions that ensures communication remains uninterrupted at all times even if a member leaves or joins the group.
Members can also listen to their own or shared music (via A2DP), get GPS instructions, or take and make phone calls without compromising the conversation for the rest of the group.
Cardo also has a SmartSet app with remote control feature that allows you to use your smartphone or tablet to control the system.
It allows you to change the settings on the run without having to plug into a computer.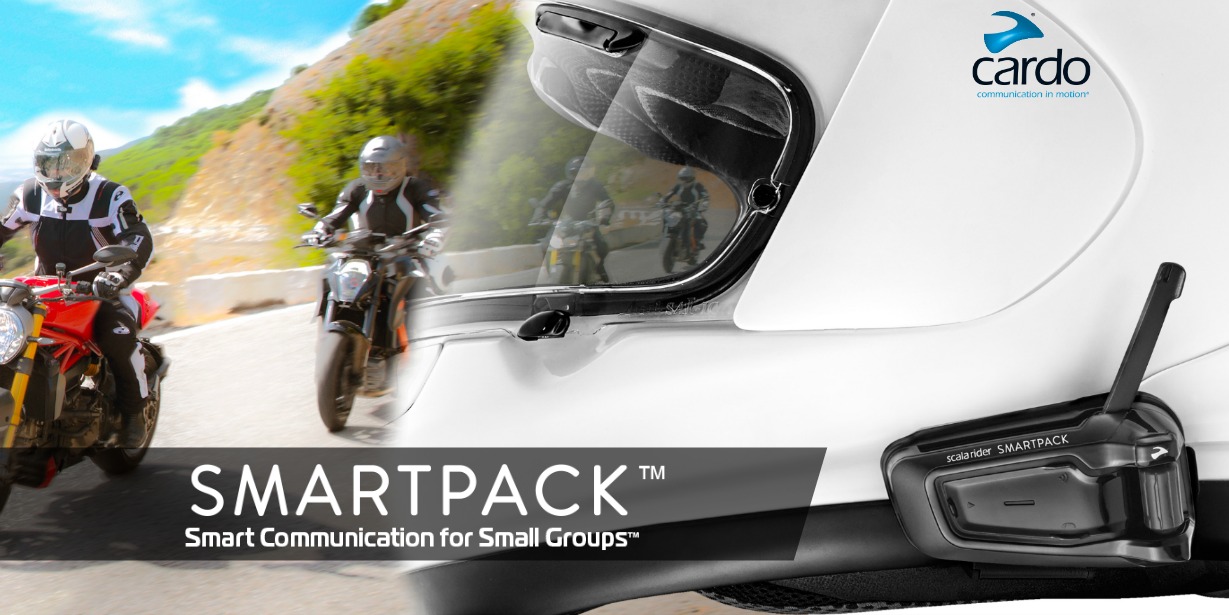 Range is now 1.6km between riders which means up to 5km for a group of four.
You can talk in conference with four riders or toggle to talk to up to eight other riders individually.
Other features include voice recognition for hands-free operation, built-in FM radio, speed and ambient noise auto volume adjustment, 13 hours talk time and dual replaceable speakers in case you want to improve the sound quality.
Scala has also moved away form the button-only operation on the unit to a roller and buttons which is a little easier, but not as easy as the Sena jog dial.
Importer Cassons now has the units available in Australia at $439 for a single unit or $729 for a dual kit. The Packtalk dual kit costs $$499/$829. Buy Scala Packtalk now