February 18, 2008 – Other than some interesting new colors and graphics, there wasn't much in the way of new clothing technology at the Indy Dealer Expo that I found — with two exceptions.
Rev'it had their usual lineup of interesting, evolved and advanced motorcycle clothing, and I'll devote an entire page to their new lineup, probably tomorrow.
I'm always amazed at how passionate, focused and thoughtful they are about their gear — there's no question in my mind that every person at Rev'it is driven — almost to a point of obsession — to continuously improve.  The attention to detail and the technology they incorporate is mind-boggling, as you'll see…
But there was another company that struck me as having something out of the ordinary.  Rynus is combining style with function in a way that I haven't seen elsewhere.  I can only describe their clothing as "jewel-like" — for some reason, I see jewels in my mind when I look at the cut and styling of the clothing.
Their signature is the artistic attention they pay to tiny details.  A good example is the the arm cinch shown in the photo below.  To anyone else, an arm cinch is an arm cinch — a functional item that doesn't get much thought; it's a strap that holds the sleeve.
But to Rynus, it's a chance for expression.  I looked at that cinch and the way it's connected to the jacket and thought how plain all the others now seem; who would have thought of spending time designing such a minor detail?  But that's what makes this clothing different, from the cut of the leather to the stitching to the overall design.  I definitely want to see more.
The clothing also seems reminiscent of Japanese anime, with a hint of Blade Runner?  I can't quite put my finger on it exactly, but it definitely looks different.  The attention to detail gives the clothing line a rich look also.
One caution is that the Dealer Expo is all about dealers finding products to sell in their shops, and I have a hard time trying to figure out how Mom 'n' Pop's Honda is going to explain this line to their customers.
If I may generalize, most shops seem to pay little attention to the good stuff, instead taking the easy way out by stocking their shelves with junk helmets and 4th-tier clothing.  Cheap is all that matters, because it takes too much time to explain and sell quality to your customers.  I don't know how Rynus will fare in that environment…  Available from Rynus.
UPDATE:  See our review of the Rynus Ruah Jacket, the Rynus Charisma Jacket and the Ryuns Exodus Gloves.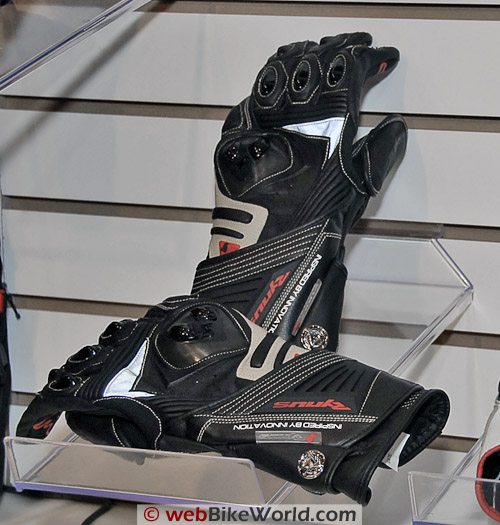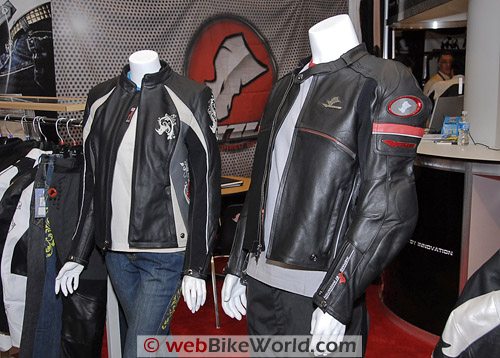 Note:  For informational use only.  All material and photographs are Copyright © webWorld International, LLC – 2000-2011.  All rights reserved.  See the webBikeWorld® Site Info page.  NOTE:  Product specifications, features and details may change or differ from our descriptions.  Always check before purchasing.  Read the Terms and Conditions!