Series Adventure 3 Textile Jacket Review Summary
Textile Jacket Image Gallery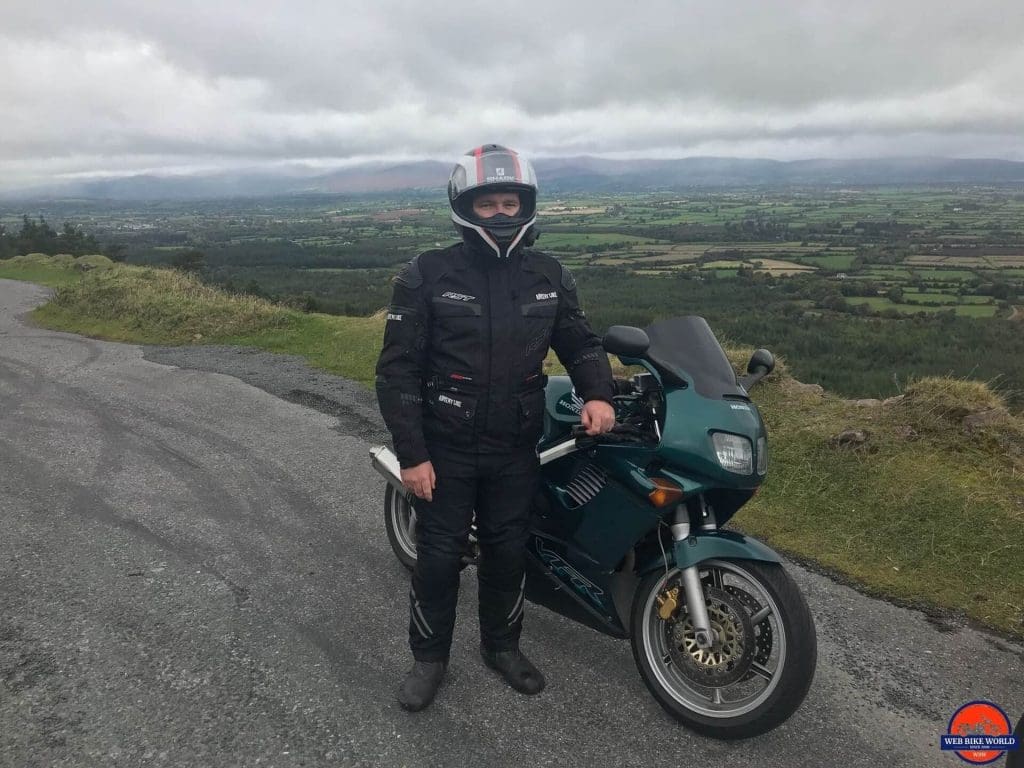 In some ways, motorcycling is all about appealing to your inner dream.
Think about it – adventure-style bikes now dominate the sales charts with the promise (made largely to an aging motorcyclist population in Europe and the US) that these bikes can cross the Sahara, plow paths through thick jungle, and take on the roughest mountains – all in spite of the fact that the person in the saddle has never even been on a gravel trail.
In reality, the promise manifests itself as a dream while you use that same machine to battle through morning commuters on your way to work. These bikes, most of which actually can do all of that dreamy stuff, are also extremely good at doing everyday tasks such as the morning commute through a city.
And, just as the market for adventure bikes has grown in order to assuage dreams and yet still be immensely practical, the market for adventure bike jackets has also grown. Indeed, the promise of them is the same too.
These jackets could also, if required, see you kept dry during an Amazonian downpour, keep you warm as you race a train alongside a French Autoroute on a winter night, or keep you cool under the desert sun.
The RST Pro Series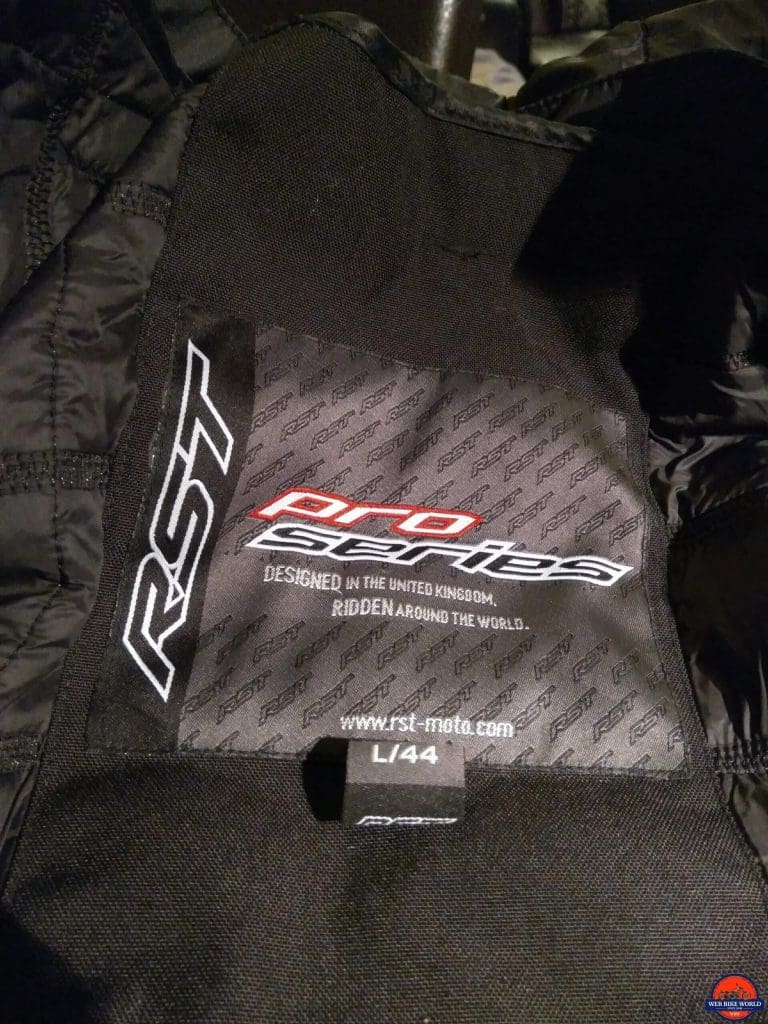 The RST Pro Series Adventure 3 Textile jacket, with its flagship specifications, promises to be a premier motorcycle jacket that can do all of that and still be a dab hand at keeping you warm, dry and comfortable on more mundane journeys.
The jacket, now fully CE-certified for 2019, is modular with its waterproof liner and thermal liner both being detachable from the outer protective layer so you can mix and match depending on the weather.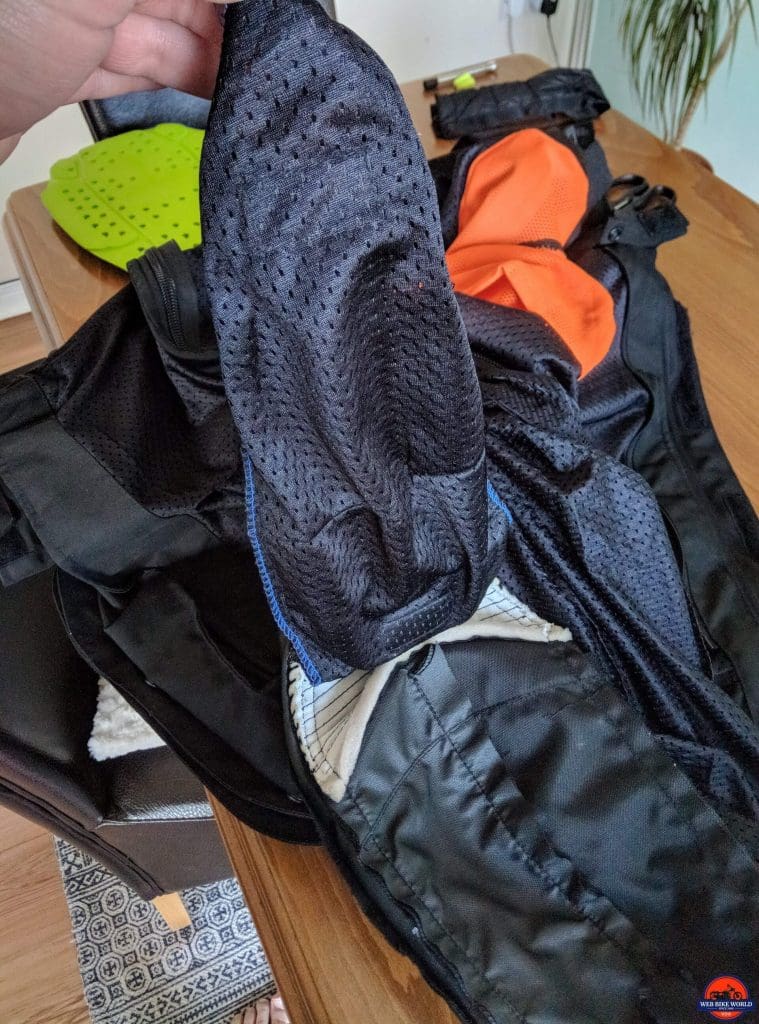 But is there more to it than just detachable layers? Going by what Stuart Millington, RST Senior Brand Manager explained to me, there is.
"Real adventure riding places the most diverse set of requirements on a garment, from the Arctic to the Sahara so the Adventure 3 jacket and jean must be able to cope with the harshest of conditions at either end of the climatic spectrum. 
We spent about 18 months developing the jacket and the features we built-in are all about the projected end-use which is adventure riding".
So what are the features that put this jacket at the pinnacle of RST's range? Let's break the jacket down into its components to find out more.
Fabric & Overall Fit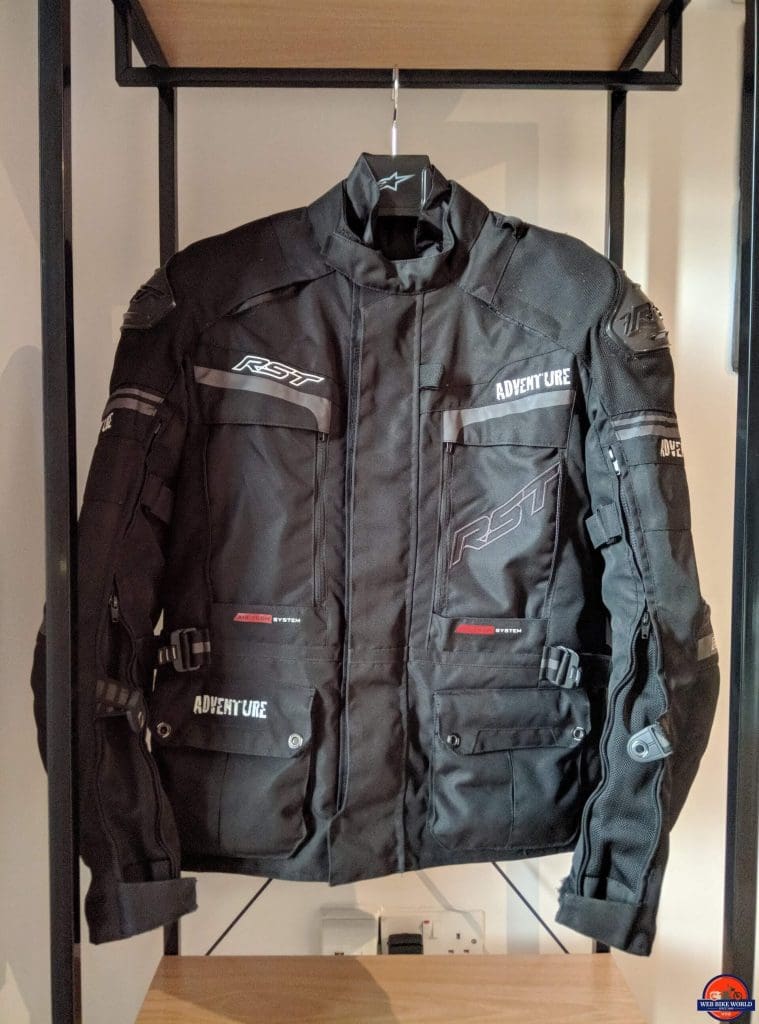 Take a look at the shape of this jacket. It looks like it means business. It's square shoulders and straight sides ensure this jacket makes no bones about its bulk. From the TPU shoulder moldings to the steel waist belt adjuster buckles and pop fasteners, it screams "heavy-duty". This is no "slim fit" garment!
On-Bike Comfort
The textile jacket is all the better for that too because that shape allows it to have a standard adventure fit.
Unlike some jackets, it's not too long at the waist so it doesn't bunch up at the front causing miniature lakes to form within folds. It's not cut as short as a sports jacket though, so it's perfect for riders who sit up relatively straight and who aren't very tall (I'm 5″7 and wear an XL).
It's also the right length for people who genuinely stand up when riding the bike, probably whilst using it as a real adventure jacket for escaping the clutches of cheetahs with a race across a safari plain.
I can't say I tested it in those conditions but it felt perfectly comfortable when I stood upon the pegs on quiet tarmac roads. Part of the reason for that is because this jacket has a unique "parachute strap".
This is an elasticated strap that runs from a rear interior pocket, where it tucks away neatly, to a couple of poppet fasteners at the front of the jacket to stop the jacket riding up your back as you stand up.
Off-Bike Comfort
The cut and shape also means that this jacket works well off the bike too (although tuck the parachute strap away before walking around, it'll look like you have a tail otherwise!).
Leaving aside its bulk and weight, it's easy to walk around in and the length means you can easily sit on a bench outside a petrol station without worrying about sitting on it. RST certainly got this bang on the money.
Of course, it's all very well being the perfect length if it's too baggy around the belly, or too airy on the arms (OK, I'll stop with the alliteration there). There's a good deal of adjustment to counteract this.
Fit Adjustment
The waist adjuster is not a simple hook and loop setup but rather it uses steel buckles, like on some high-end hiking backpacks, to manage the adjustment. It's an interesting concept but, despite the provision of a small tab on each side, it's hard to grip when the jacket is on, and you've already put your gloves on.
I've tried to use it a few times but have never been entirely successful and have been left with the impression that RST was trying too hard to be different. Thankfully the midriff suits me perfectly so adjusting wouldn't do much good anyway.
The designers at RST have another novel way of adjusting the very bottom of the jacket at the hip. There are zips on either side of the jacket, about 4 inches long, which you can open or close to tighten or loosen the jacket's grip on your hips. This is far easier to use than the waist adjuster and it actually works.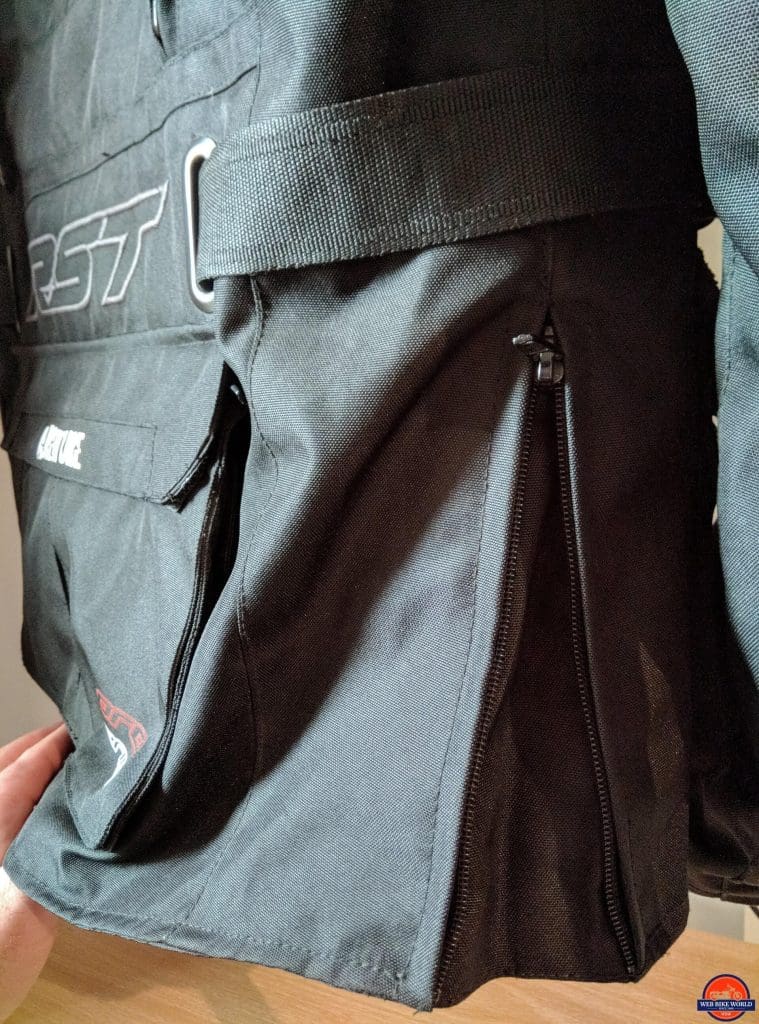 There's a standard hook and loop strap near the top of each arm which adjusts arm width. As with any hook and loop strap like this, you set it once and then forget about it, unless you've got a penchant for arms getting bigger and smaller depending on the month.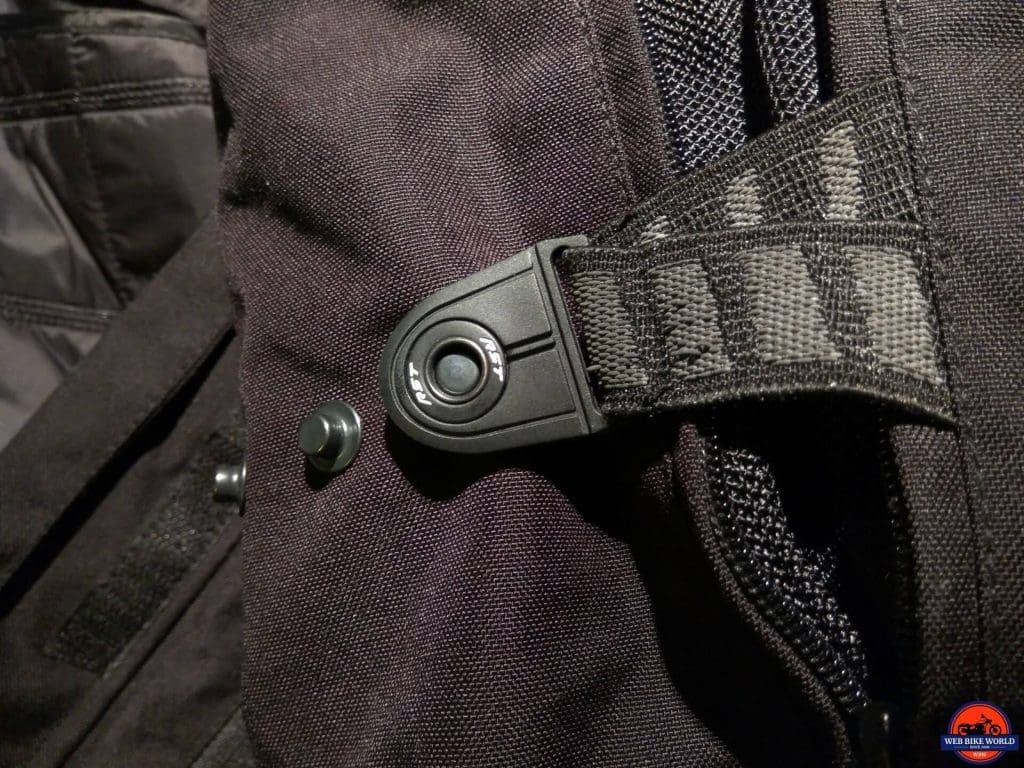 On the lower half of the arm lies an elasticated pop fastener strap to taper the lower arm a little. It looks the part and is far easier to continually adjust than a hook and loop strap as, with this being the half of the arm where a long zip is used, you don't want a strap getting in the way of the zipper.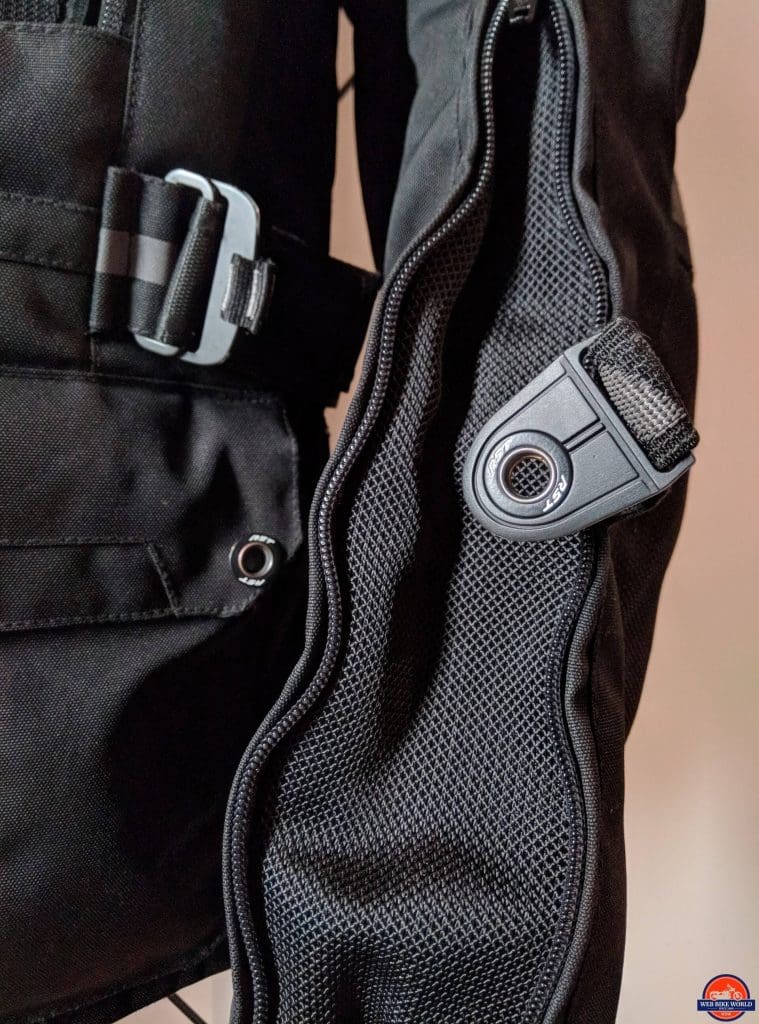 That's decent attention to detail although a pop button somewhere behind the zip would've been useful should you wish to keep the strap from flapping about when not in use.
Pockets & Storage
On the practicality front, the jacket is loaded with pockets. There are two main front pockets on the exterior of the jacket which close using velcro and pop buttons and do a decent job at keeping things fairly dry despite not being behind a waterproof barrier.
There's a chest height phone pocket tucked inside the zipper, there's a rear map pocket that can be detached from the jacket and used as a small bag, and there are more pockets inside the jacket as well (although I never use inside pockets).
Exterior Layer
One of the most interesting features of this jacket is the outer layer of protective fabric. On the non-CE version of this jacket, which is no longer for sale, abrasion-resistant Cordura was used as the main fabric with ballistic fabric layered on high abrasion areas like the elbows.
The CE-certified version actually doesn't use Cordura like other motorcycle jackets such as the Olympia X Moto 2 which sounds like a step backwards. Stuart Millington, RST Senior Brand Manager had some enlightening information on this change: 
"Each fabric and each stitch had to be individually tested for CE certification. We weren't using that Cordura fabric in any other jacket we have and it was cost-prohibitive to test it just for one jacket. Instead, we're using 600D polyester and ballistic, both are CE-certified and very hard-wearing". 
600D polyester is actually woven in the same way as Cordura, branded as Maxtex, and is the main material used throughout the outer of the jacket.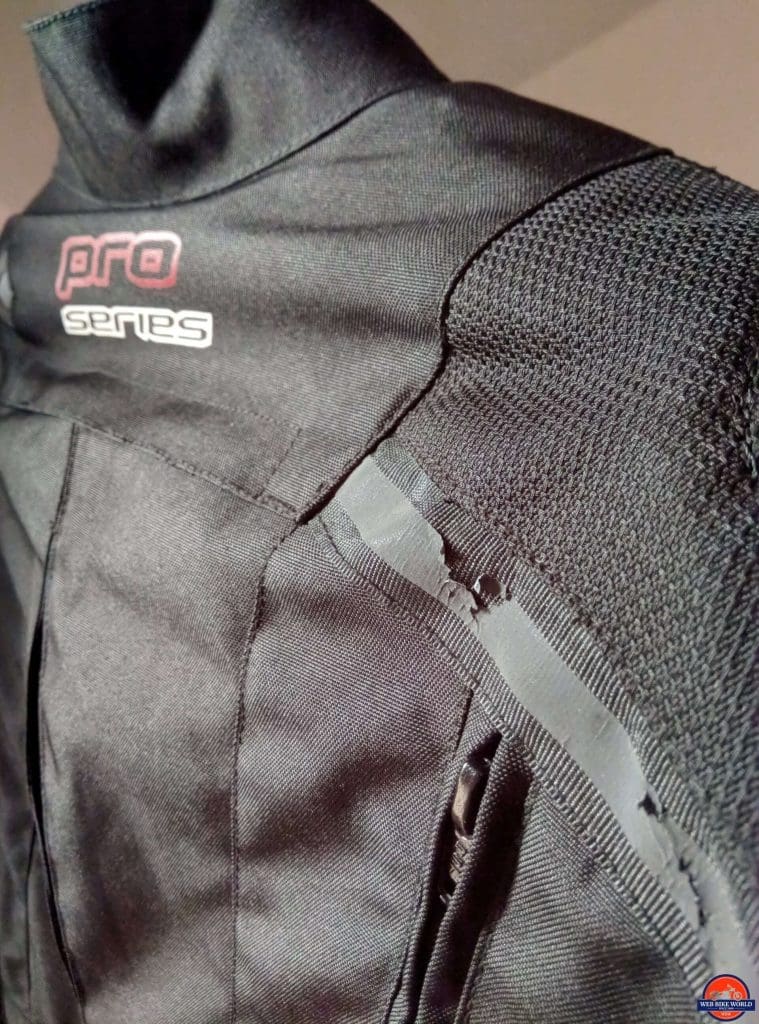 In Zone 1 impact areas, such as the elbows and shoulders – basically, areas of the jacket that are likely to impact the ground first in a fall, are reinforced with ballistic fabric (picture below). This fabric was developed for flak jackets in World War Two but was more successful as a ripstop fabric with great abrasion resistance so it is ideal for those areas.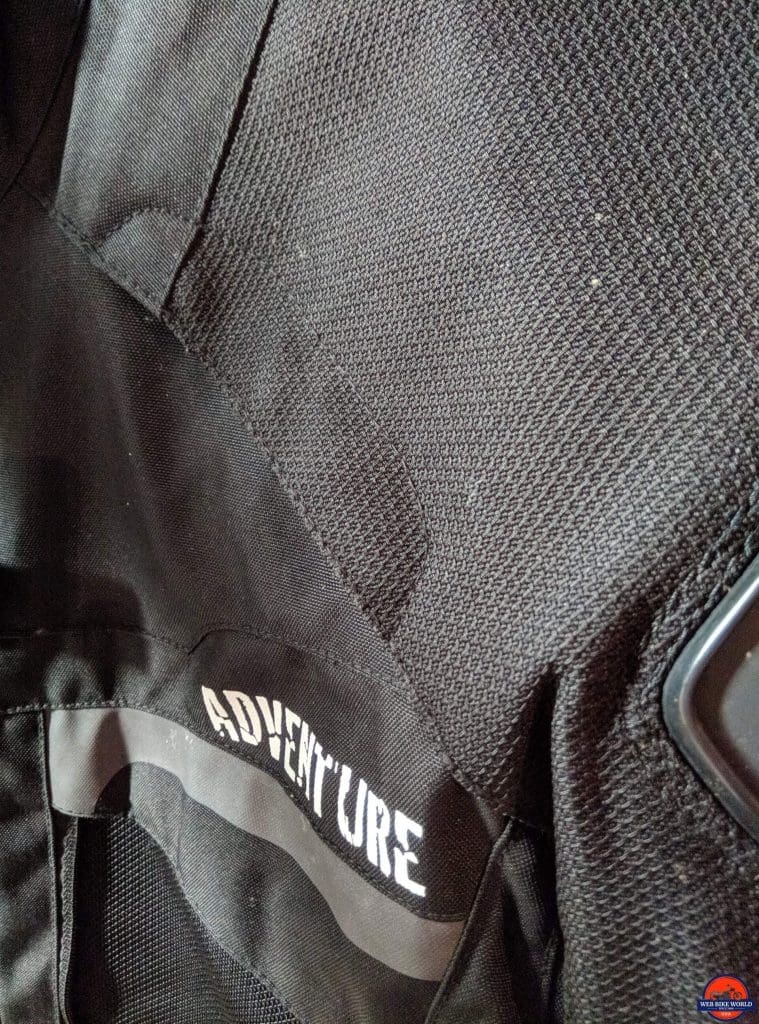 A very different weave is used behind the full-length arm zips (which double as vents) and on two chest panels. This is a K400 mesh that is strong enough to pass Level 3 CE abrasion tests on its own but yet still manages to allow a fair amount of fresh air to come through when the panels or zips are opened.
Ultimately, the way these fabrics are used has created a jacket which feels extremely hard wearing and tough. Whenever I put it on I feel as though I could run through a wall completely unscathed.
Protectors & CE Testing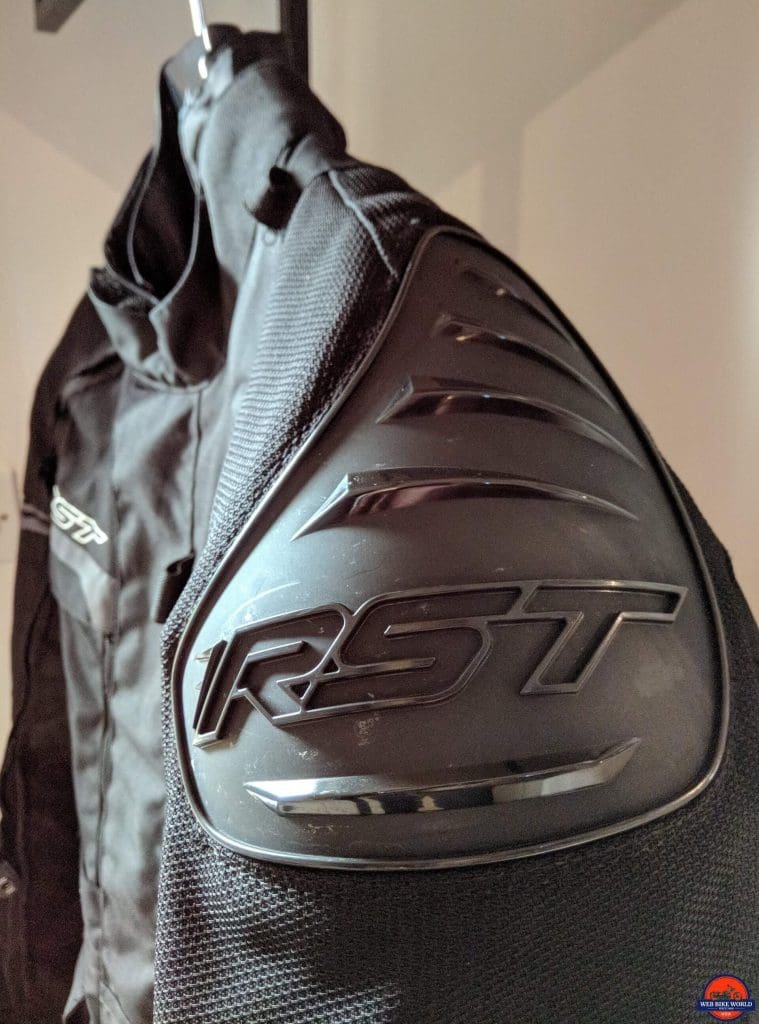 The CE level 2 elbow, shoulder, and back armor play a big role in that feeling of protection. I have seen plenty of other jackets in this price range, and above, which contain level 1 armor and a foam insert for the "optional" back protector.
When you're spending over $400 (€300) on a jacket should you then be expected to pay out another $80 (€70) for a real back protector shaped for that particular jacket? And is CE level 1 protection acceptable when paying that sort of money?
RST has obviously decided that neither of those scenarios is acceptable and has put a massive emphasis on the safety features of the jacket. That starts with the outer construction which uses a combination of fabrics, as written about earlier, to produce a jacket which easily passes Level A CE certification.
Abrasion Protection Level A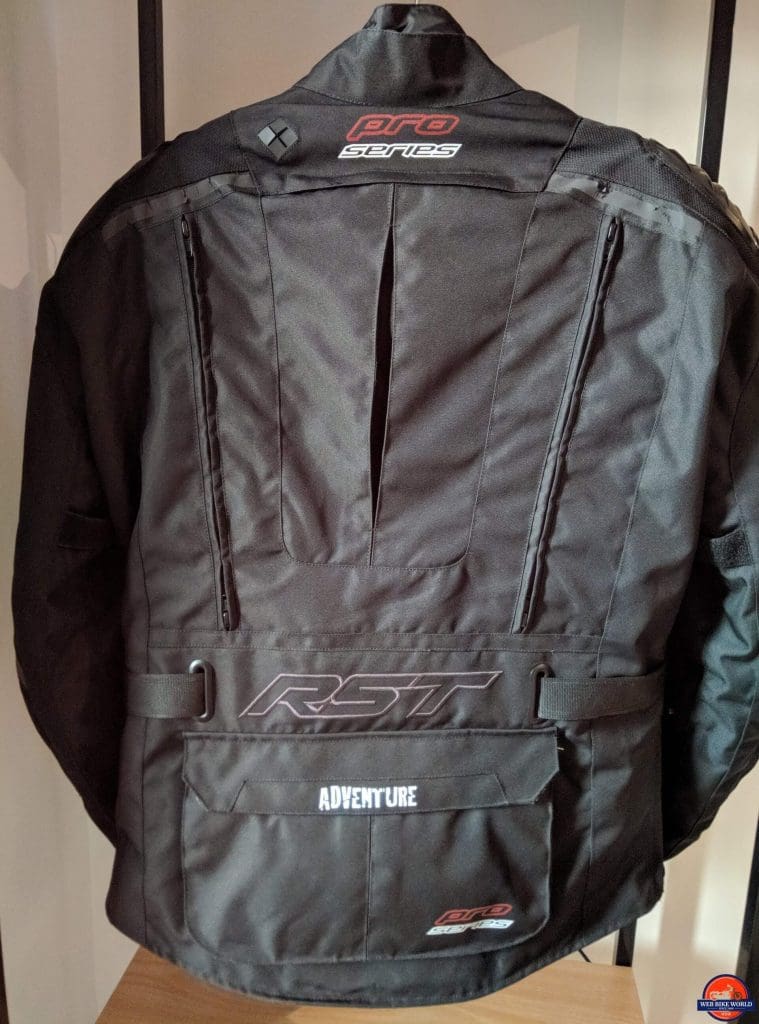 Level A means that the fabric must withstand 1 second of abrasion at 265.3rpm in Zone 1 areas. Zone 1 areas are the shoulders, elbows, hips, and knees, basically any parts of you which are likely to hit the ground first in an accident. Zone 2 areas must withstand half a second at 147rpm.
A set of racing leathers will usually hit Level AA or AAA abrasion protection baselines so although Level A might seem weak you should also remember that the abrasion machine used in the tests can't replicate how a road surface will abrade the fabric. Not to mention that if a fabric jacket were to hit Level AAA guidelines it's possible you'd barely be able to move in it!
It's also unlikely that you will slide cleanly in a road accident, and instead will tumble and roll so no one part of the fabric is being abraded for more than a second at a time.
Burst Strength at the Seams
Indeed, in this case the burst strength of the fabric and its stitching is possibly more important because if you roll along a road in a jacket with fantastic abrasion resistance but low burst strength there's a strong chance the jacket could open at a seam and allow your skin to contact the road which would be quite uncomfortable.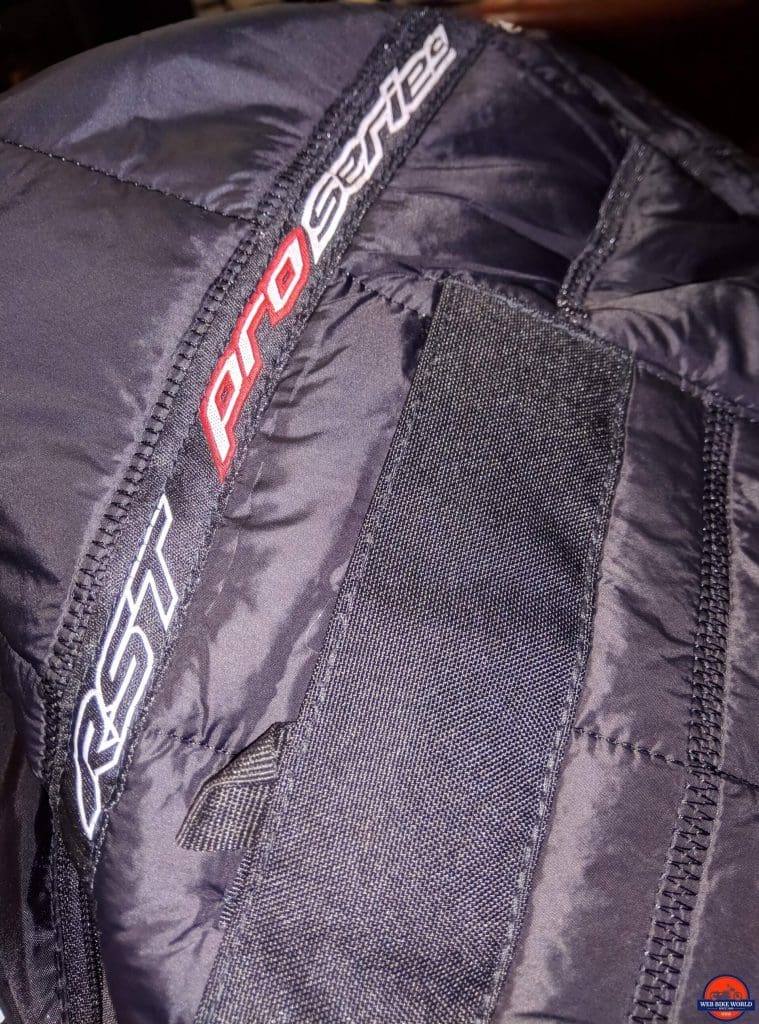 RST uses triple nylon stitching throughout the jacket to counteract this with many of the stitches not visible from the outside which means the outer fabric can better protect them. The stitching itself is also CE approved.
Armor Protectors CE Level 2
Behind those stitches lie a full suite of CE Level 2 armor. Level 2 absorbs a good deal more energy than Level 1 protectors so it's welcome to see that higher standard adhered to on this jacket. The protectors are housed in the usual fabric pockets within the jacket and are, contrary to first glances, removable.
Comfort Liner
The jacket's comfort liner covers the pockets leaving the impression that the armor is sewn in behind a layer of the jacket but RST included a zipper opening near the base of the back armor.
This enables you to reach in to remove or adjust the positioning of the elbow and shoulder armor, even if it is slightly more awkward than armor pockets which can be directly accessed without reaching in behind a liner.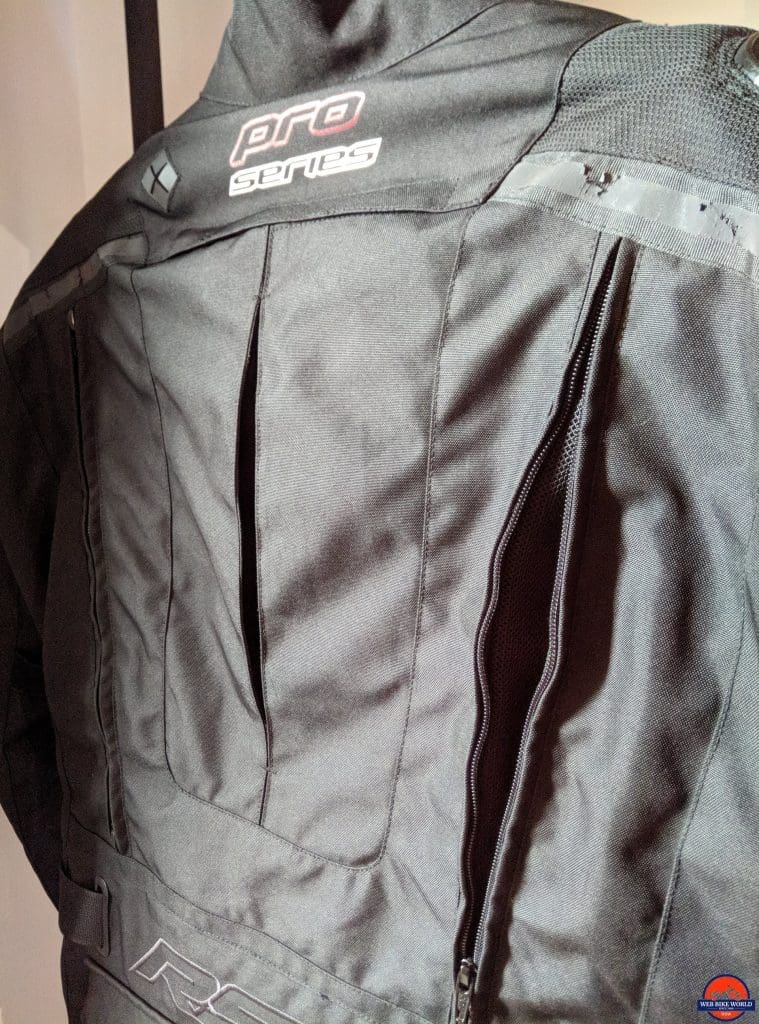 External Collarbone Protector
The positioning of the armor on the body is spot on – the elbow armor extends to cover most of the forearm, and its lateral position can be adjusted, while the shoulder armor is perfectly placed on my shoulders and is complemented by the solid external collarbone protectors.
Thinking these to be a gimmick, I asked Stuart Millington from RST about how they actually work.
"They deflect energy in that area in a crash so it helps protect the vulnerable collarbone. It saved me a nasty shoulder injury a while back when I came off on the road one day. 
Ultimately our racers have the best equipment and we try to filter that knowledge down to our other product lines. This being an adventure jacket, we designed it to help you withstand a fall from a higher height than usual so this helps." 
Maybe, rather than suspecting it to be a gimmick, I should be wondering why other such jackets don't have these external protectors.
Ventilation/Breathability & Waterproofing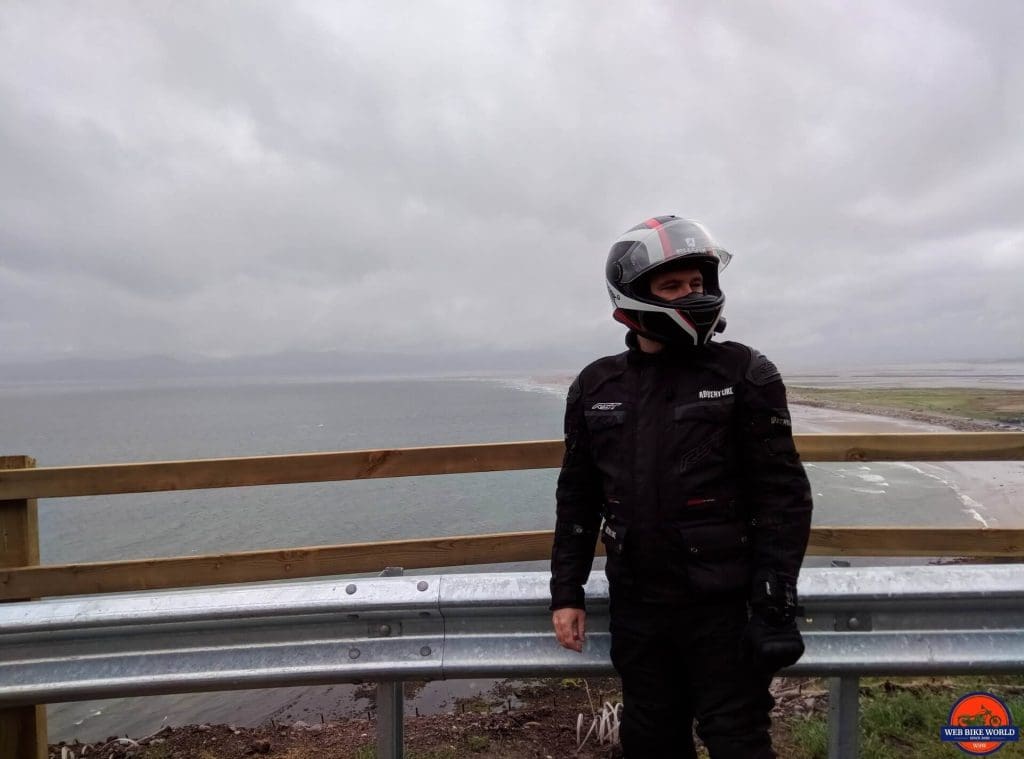 I've always been a big believer that a good kit should contain as many passive safety features as active ones. This Adventure 3 jacket clearly has plenty of active safety features, such as the Level 2 armor, collarbone protectors, and the strength of the fabrics used, but what about passive safety encompassing areas such as venting and waterproofing? 
If a jacket can keep you dry and at the right temperature, you'll be less distracted, lessening the risk of you testing out the active safety features in a crash. Once again the Adventure 3 comes up trumps.
SinAqua Waterproof Membrane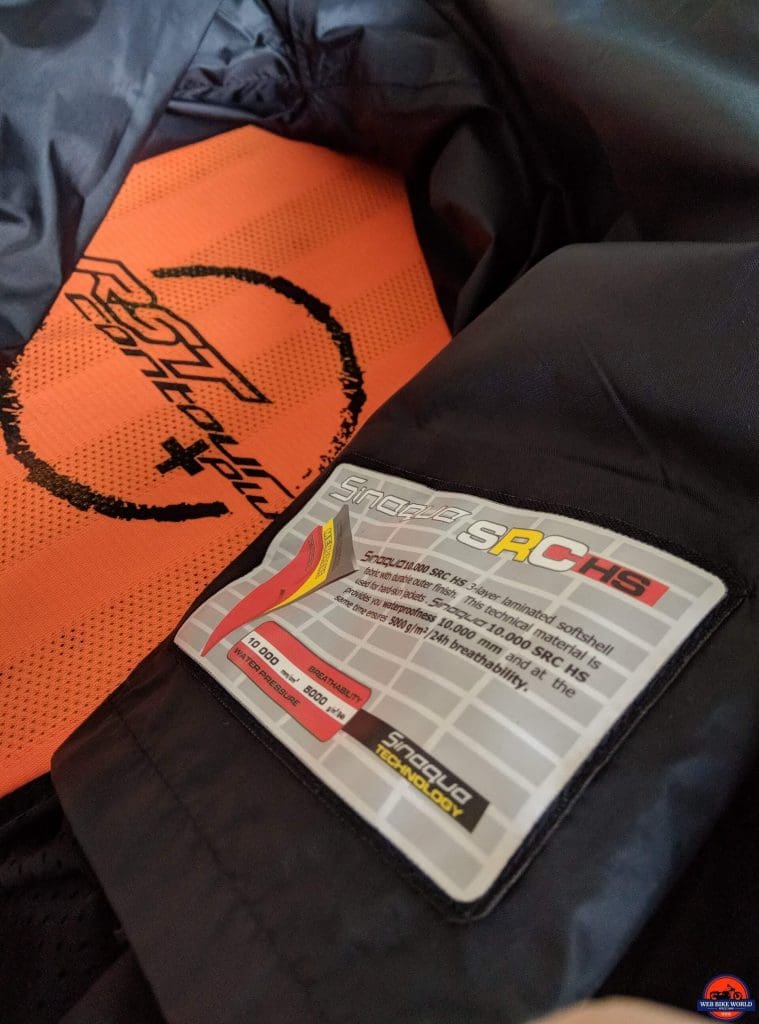 The Adventure 3 has kept me dry through many miles of nasty rain at various speeds, from city traffic to motorway riding courtesy of its SinAqua waterproof membrane.
SinAqua is a waterproof and breathable membrane developed by Korean textile firm LXTR exclusively for RST with impressive waterproofing specs – it is claimed to be waterproof to 10,000mm3 and breathable to 5,000mm3.
10,000mm3 is about the same as a decent tent groundsheet, and although some weaves of Goretex have waterproofing specs of up to 20,000mm3, you're unlikely to need that level on a motorbike unless you plan on riding, literally, underwater.
The membrane itself is extremely thin and is held within a protective outer fabric so that you don't inadvertently tear it over time.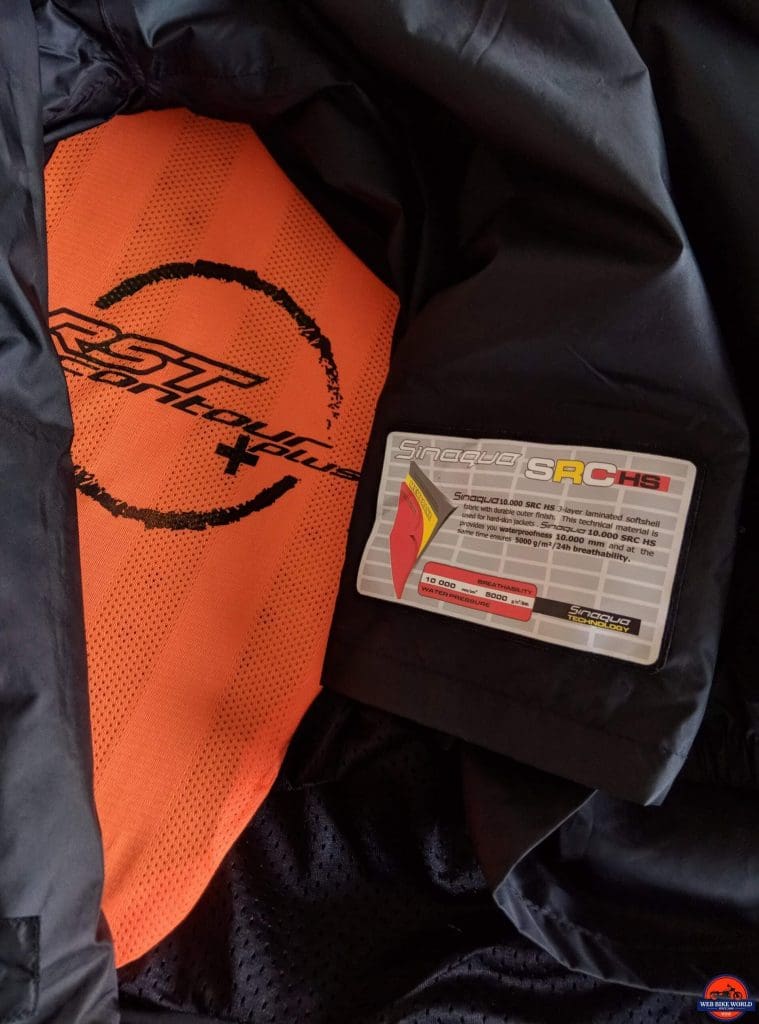 While this may affect breathability depending on the ambient temperature in your part of the world, it makes for a durable membrane which is a clip-on and off of the outer protective fabric. Two zips and a few pop buttons hold it to the protective outer fabric but one complaint is that the buttons on the end of each arm should be color-coded.
While it's a good quality liner, featuring its own central zip which is color-coded to help prevent you mixing it up with the main jacket zip and has never let rain through, there is one small issue. If you have come through heavy rain and then let the jacket sit at room temperature for a few hours you might notice a couple of damp patches when putting the jacket on again.
If you apply heat to the outside of any membrane, including Goretex, you can actually force water through the pores of the membrane. When wearing the jacket, you're the heat source, so it won't allow water to come through from outside, but if you take the jacket off and it sits at room temperature the outer becomes warmer than the inner resulting in it feeling damp.
Strangely, the application of Nikwax TX-Direct seems to solve this problem, probably because it prevents the membrane's protective outer from holding any water.
Warmer/Dryer Weather
It's not all about rainy days though. Sometimes the sun comes out and motorbike jackets can turn into small ovens but the Adventure 3 is equipped for this.
It has a novel pocket on the back with room for RST's own hydration pouch and straw which feeds through the jacket to the front, so you can think you're competing in the Paris-Dakar Rally when charging home from work on a warm evening. I've asked if you can fill it with coffee for the morning commute but it's only suitable for cold drinks. Orange juice, anyone?
Ventilation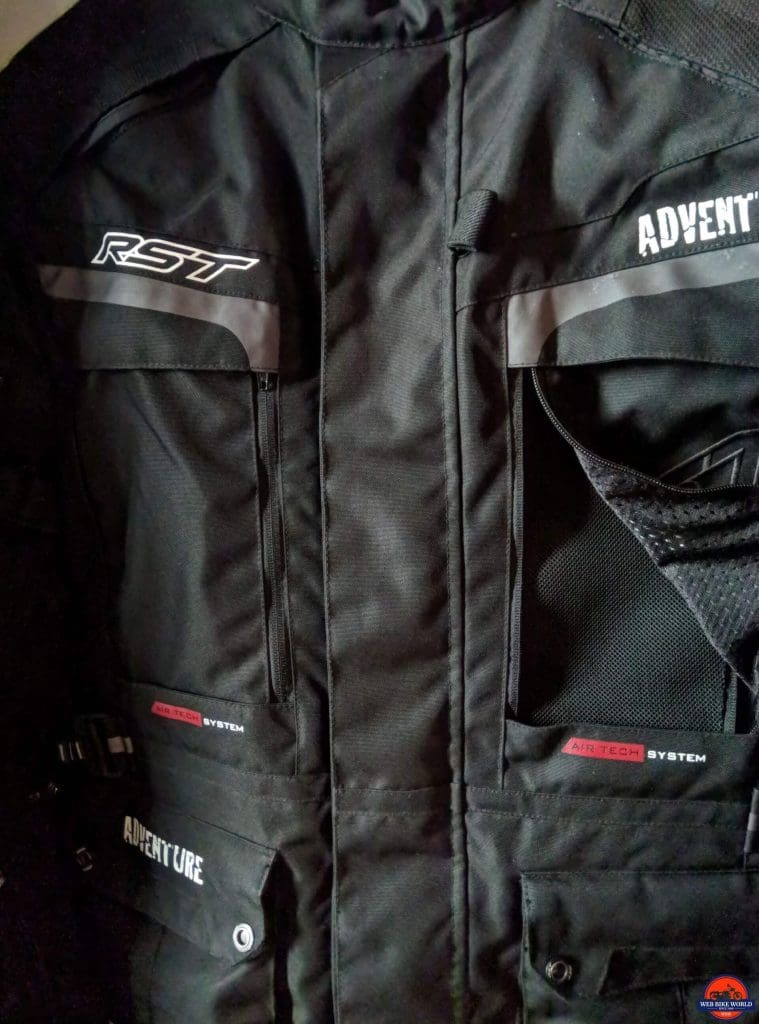 On the more conventional side of things, the jacket also comes with a plethora of vents that actually work, especially when you take out the thermal liner and waterproof liner to allow air to flow more freely. There are two large chest vents, two exit vents on the back, along with two smaller shoulder vents and two full-length vents on the sleeves.
With all vents fully open, and with the thermal and waterproof liners removed, this jacket isn't far off being a full mesh jacket! The vents on the jacket sleeves work particularly well when fully opened. The double-ended zipper, running from the wrist right up to the shoulder is clever because you can adjust just how much of the vent you want to keep open.
Fully faired bikes, such as my Honda Deauville, tend to block much of the air you're rushing through, depleting the effectiveness of many vents. But the sleeves will almost always hit some air and because the vent is located at the top of the arm while sitting on the bike it tends to scoop air up the sleeve and out along the back vents.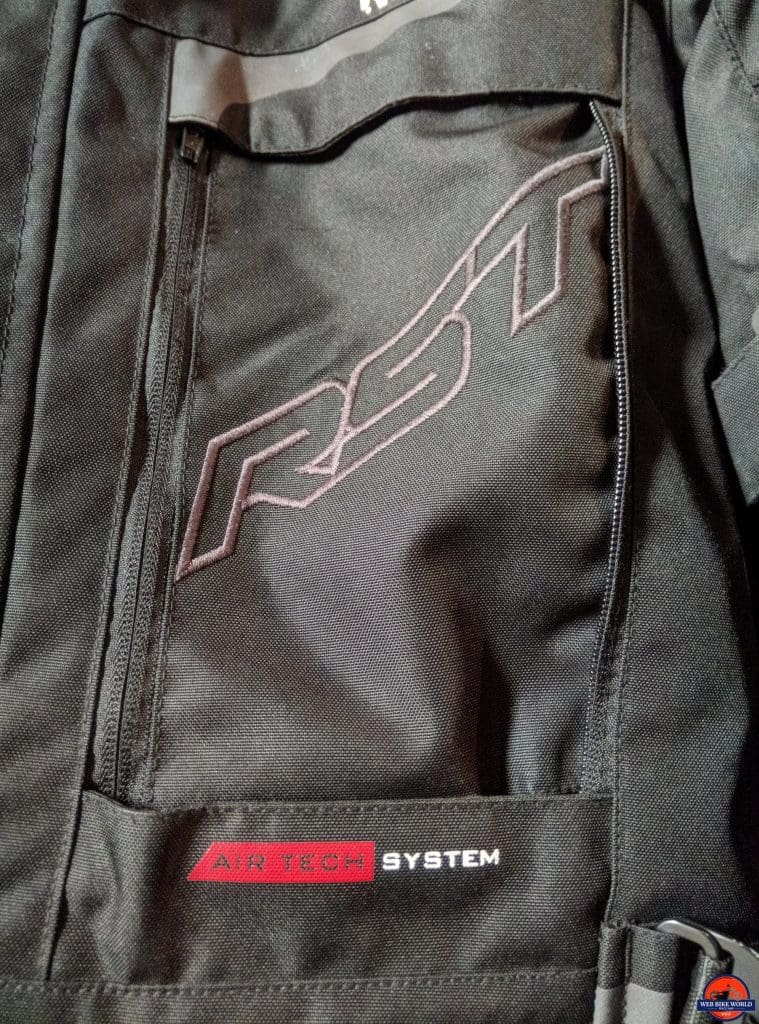 The chest vents are substantial but, unlike the sleeve vents, are fiddly to use. The cover must be unzipped, then two pieces of velcro must be separated, before tucking the cover away into a pocket on the side and zipping that closed. 
It's not an easy system and cannot be used while on the bike, or indeed with any gloves on, and I would hope RST might come up with a better design if they bring out an updated Adventure 4.
Jackets from Alpinestars have a clever zip and button system which, although opens a far smaller vent area, is substantially easier to use. On the other side of things, Richa's Touareg jacket has vent covers which zip off completely so you know you'll lose them at some stage, at least with the Adventure 3 that can't happen.
The Adventure 3 was designed to stand up to all conditions, in all climates. The jacket features real-world performance in the areas of waterproofness, breathability, and venting. It has even stood up to RST's claims, even if, sometimes, the jacket feels like a portable zipper festival.
Conclusion
RST set out to make a flagship jacket when they refined the Adventure series and brought it bang up-to-date with the Adventure 3. However, there are a couple of niggles that are worth bearing in mind.
While the overall quality of the jacket cannot be questioned, I have concerns about the longevity of some of the velcro used throughout the jacket.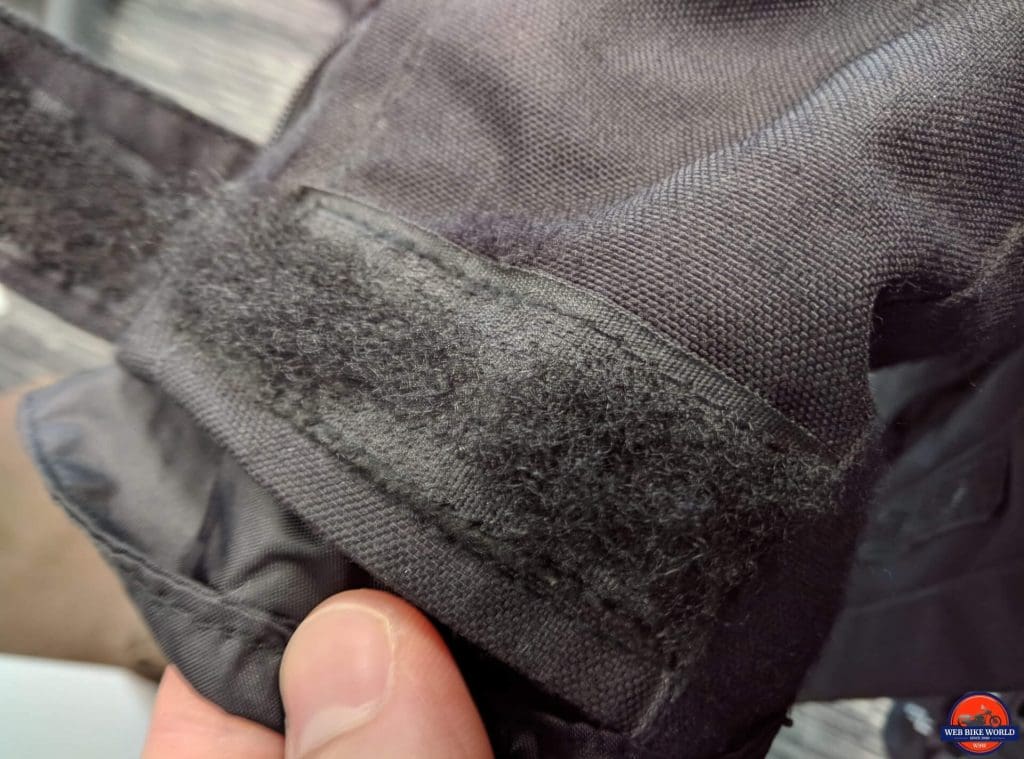 The velcro on the front storm flap, the wrists, and the collar, is starting to wear a little thin after 6 months of intense usage. Strangely, the velcro used on the waterproof lining, which I use just as often as the storm flap and other areas, looks as new as the day I bought it.
RST give a 3-year warranty with their Pro-Series range and a previous Adventure 3 jacket (non-CE certified) had to be returned to RST due to the velcro in these areas failing to stick after about 12 months of constant usage.
It looks like I'm facing the same issues with this replacement, which is disappointing because this is RST's flagship textile jacket and I've never seen velcro fail twice on any piece of motorbike kit. As such, if you decide to buy one, keep this in mind and keep a close eye on how it wears.
Perhaps I was unlucky, twice! On the flip side, you have the peace of mind from that 3-year warranty to back you up should you also be a little unlucky. This warranty period is one of the longest among bike gear manufacturers so RST obviously believes they have a good product on their hands, and aside from the velcro, I agree.
In the opening of this article, I stated that: "these jackets could also, if required, see you kept dry during an Amazonian downpour, keep you warm as you race a train alongside a French Autoroute on a winter night, or keep you cool under the desert sun".
Having kept me dry during Irish downpours, kept me warm as snow coated my visor (never a good idea), and kept me cool when the sun was at its strongest – I'm fairly sure the RST Adventure 3 would stand up to that initial claim.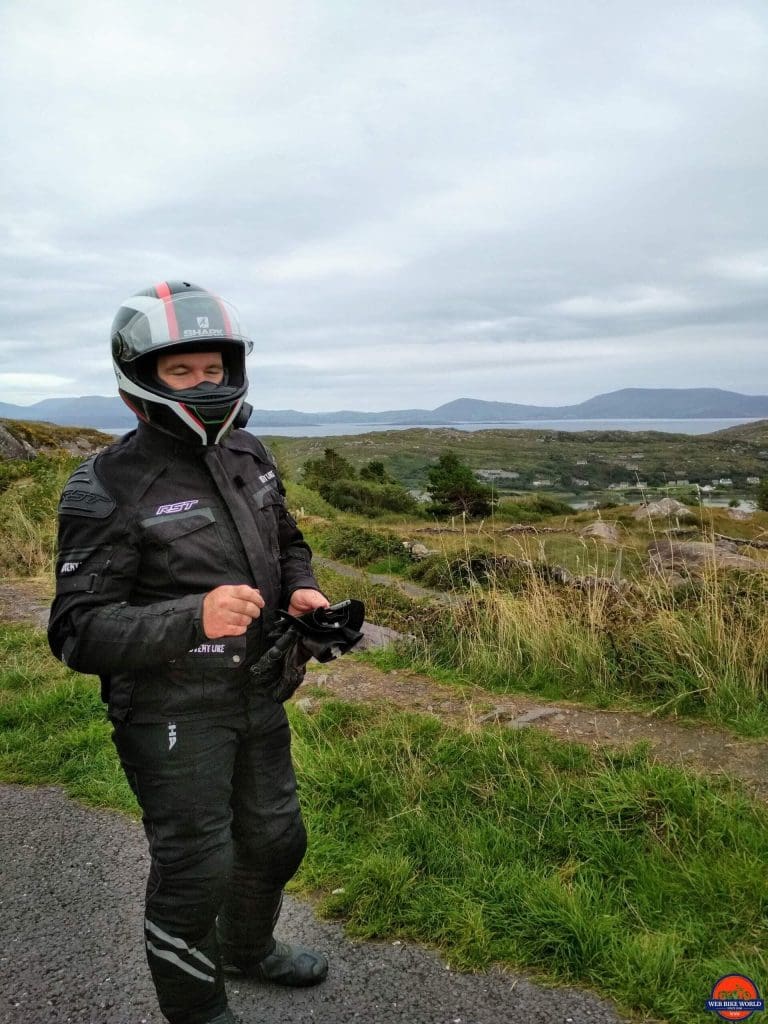 Pros
Heavy-duty fit
Comfortable on & off-bike
Membrane is both waterproof & breathable
Multiple vents that actually work as intended
Modularity & fit adjustment
3-Year Warranty
Cons
Poor quality velcro
Chest vents could use better usability
Specs
Manufacturer: RST
Price (When Tested): $432 / €300
Made In: Pakistan (designed in UK)
Alternative models & colors: Black/Black, Silver/Black, Ice/Blue/Red, Blue/Sand
Sizes: S-XXL
Review Date: July 2019