Roland Sands Design (RSD) has released a video showing their Hooligan Indian Scout going through some stunts on dirt, on the back wheel and surprisingly in the air! 
The Hooligan bike is a custom based on the Indian FTR750 that the company is now racing in the Pro AMA Flat Track against the Harley-Davidson GX750R.
the LA custom house built several Hooligan bikes to race in the Super Hooligan Race in Las Vegas last year and at various flat track events this year.
Embarrassing intro
It didn't have an auspicious introduction when Roland rode it on stage at the Buffalo Chip at the Sturgis Rally in August.
In fact, it was embarrassingly ridden straight off the stage as this video shows.
The Meade County Sheriff's Office said four people received minor injuries in the crash.
As a flat tracker, it doesn't have a front brake, which may be why it went straight off the stage.
That wasn't a stunt, but the latest video shows it can be called on for some serious stunt work.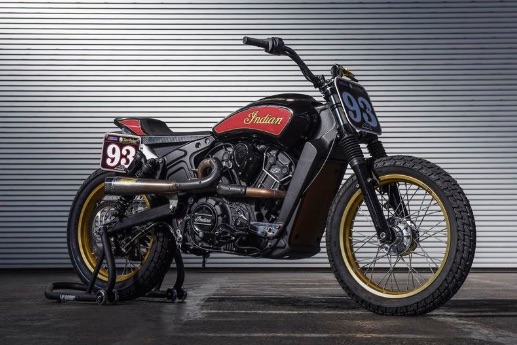 The landing after the jump, though, looks a little uncomfortable on the rider's arms.
Fortunately, he has the good sense to stay standing for the jump so he doesn't do himself an injury on the tank!