The Royal Enfield Himalayan adventure bike is nearing production with test mules seen out on the mountain trails of India.
It looks more like a Suzuki DR650 than the traditional style of motorcycle the Indian company has produced.
Autocar India photos show a bike that is near production featuring knobby tyres, high front guard, pannier racks, Dakar-style windshield, crash protection bars and even a GPS mount.
It's unlikely that the pannier racks, GPS mount and crash protection are standard. They may be accessories.
It will be powered by either a 750cc twin-cylinder or a 410cc single. These bikes look like they might be the single as there is only one manifold visible.
The high, lockable fuel tank looks like it would hold about 20 litres which should be good for around 400km.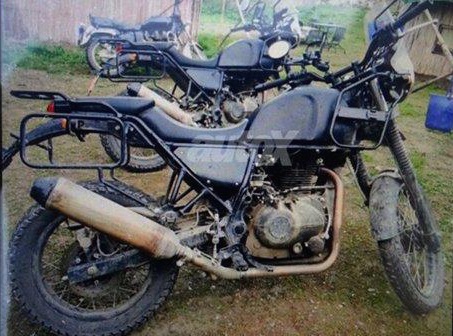 It sports a single front disc and there is no sign of ABS, the footpads are rubber and it has a dual seat.
Instrumentation consists of two circular gauges, one big and one small, so there is probably a tachometer. There is also a smaller rectangular screen which is most likely an LCD display for information.
The suspension appears to be non adjustable telescopic forks and a rear monoshock.
In all, it's a fairly basic bike and no doubt robust like the other models in the range.
The Himalayan could be at the forefront of a new niche for light adventure bikes with KTM failing to stem rumours about an adventurer based on the every popular 390 Duke and Kawasaki rumoured to be working on an Versys 250 based on its Ninja 250R and the Z250 with about 24kW of power.
Royal Enfield is currently booming. In 2013, it was second behind harley-Davidson by about 100,000 vehicles.
Last year, Royal Enfield sold just over 300,000 motorcycles compared with Harley's 267,999 and this year the big Indian plans to manufacture 450,000 motorcycles, mostly their trusted Bullet model.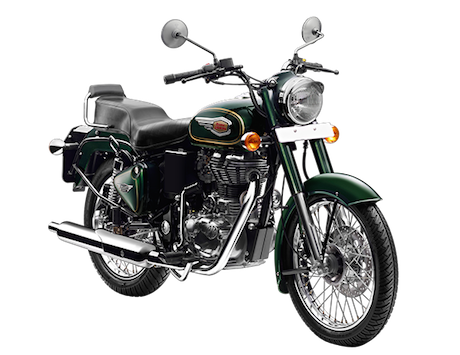 The company is investing $US80 million in two more factories and a technology centre in Leicestershire in England.
Chief executive Siddhartha Lal says the company plans to become "the leader in the global mid-sized motorcycling".
Enfield of India began assembling Bullet motorcycles under licence from the British company in 1956 and complete bikes by 1962. The British company went bust in 1971 and Enfield of India was bought by heavy vehicle and bus maker Eicher in 1995.
Royal Enfield is the oldest motorcycle brand in the world still in production while the Bullet model is the longest motorcycle production run of all time.