Royal Enfield's Continental GT 650 is a big hit with the Brisbane Cafe Racers who I went cafe racing with on Sunday.
Last week I reviewed the Interceptor 650 which is the sit-up-and-beg version of the new 650 parallel twins from India.
You can read my full review which is tagged to the end.
The Interceptor and Continental GT were on the Brisbane Cafe Racers ride to the Mt Nee gantry and both seemed to attract plenty of attention.
The only differences are that the GT has a sports riding position and does not have a hefty 4kg centre stand.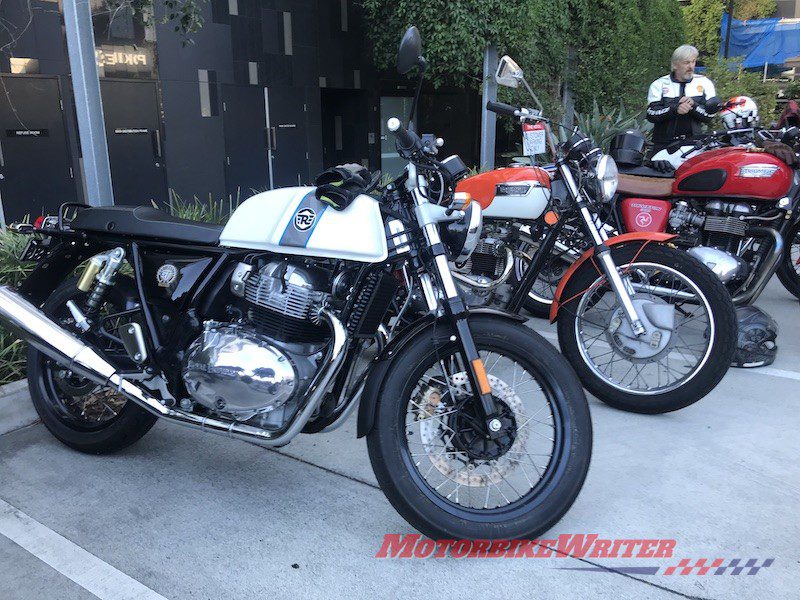 Maybe it's the sporty riding position, but the Continental GT feels more responsive down low, although it is still not great off the line.
Both bikes really show their best performance results when revved through the midrange. The Continental GT certainly stayed in touch with all the racers in Sunday's ride.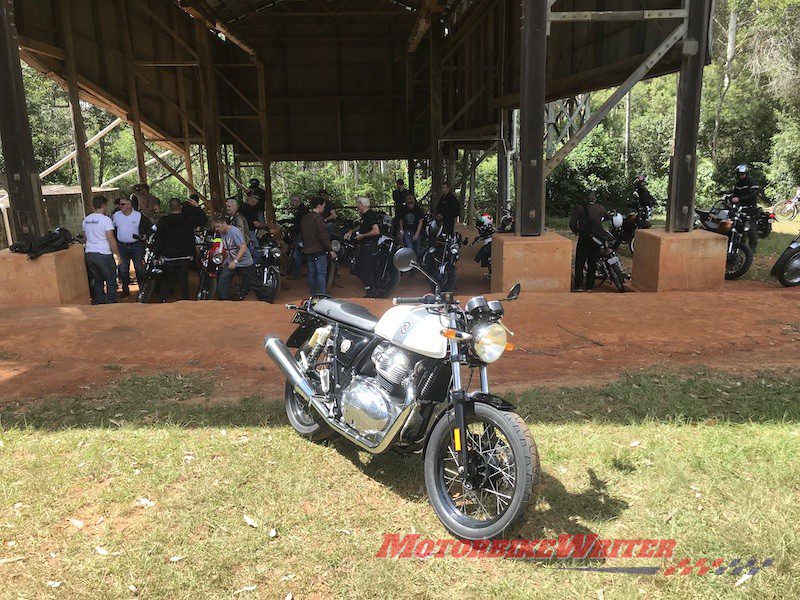 The Continental GT is hardly a bum-up-head-down racing position, though.
I picked up the bike with the clip-on bars set at their highest position which is slightly above the instruments. At that height there is only a slight reach forward to the bars.
However, you can easily drop the bars as much as 45mm lower. That would make it a very aggressive position and may appeal even more to the Brisbane Cafe Racers!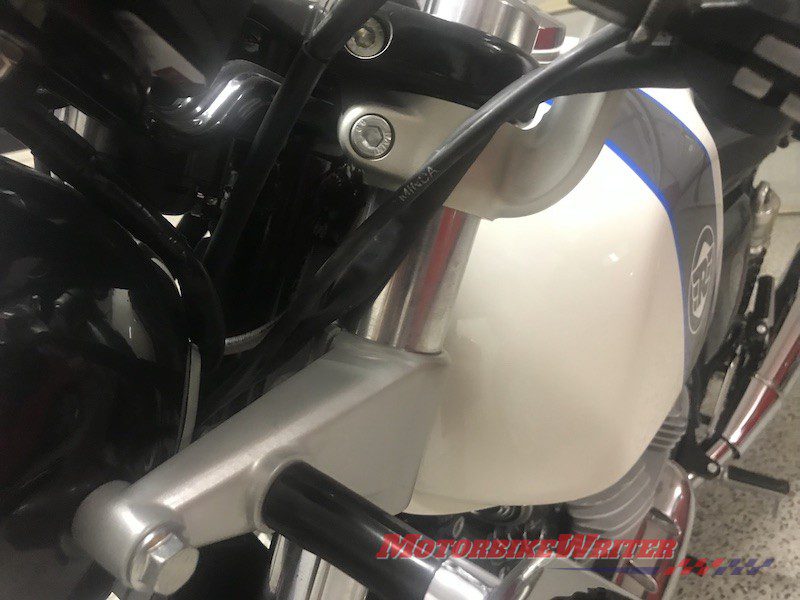 Either way, your knees will now be sitting on the metal protectors on the cooling fins to stop your knees getting scorched.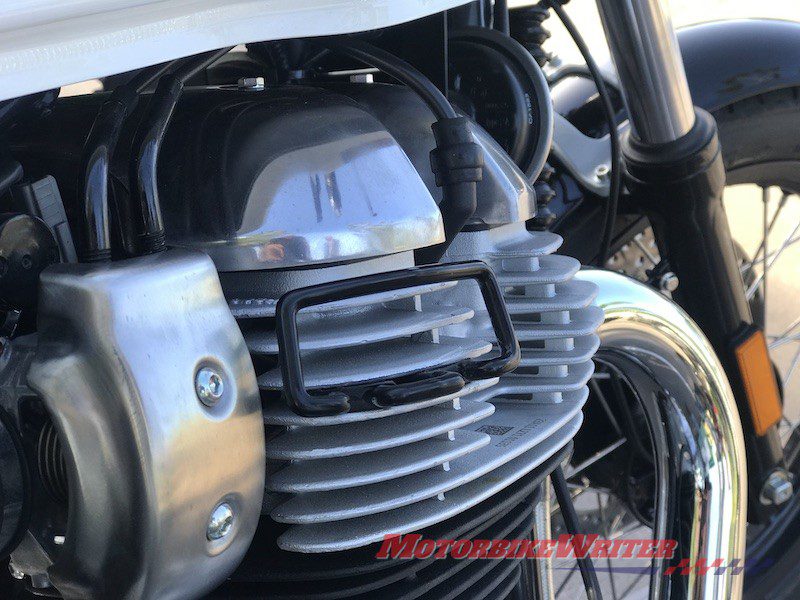 The pegs are also slightly rearset which doesn't make a huge difference to the riding position.
However, it does have a shorter and more direct gearshift linkage which makes the already slick shifts a little more precise.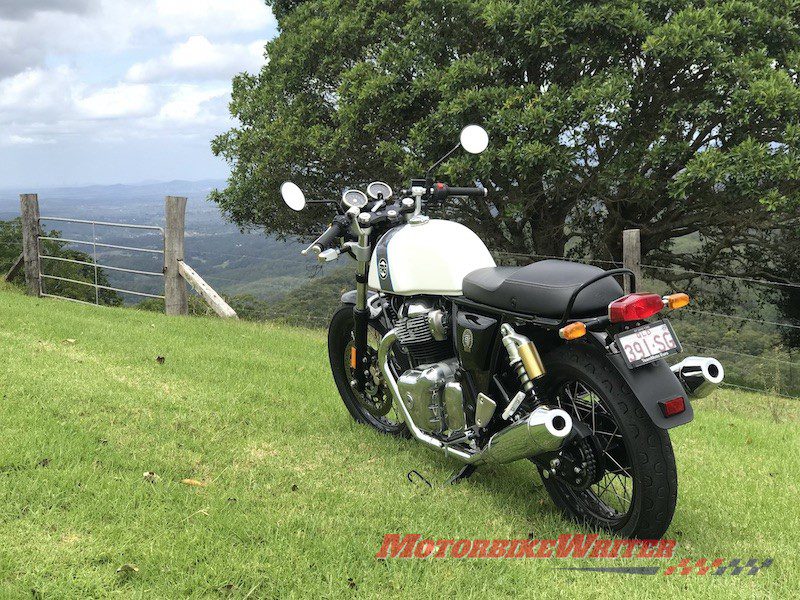 The only other difference is the humped seat which actually feels more comfortable than the bench seat of the Interceptor 650. You can also fit a solo seat and rear cowl.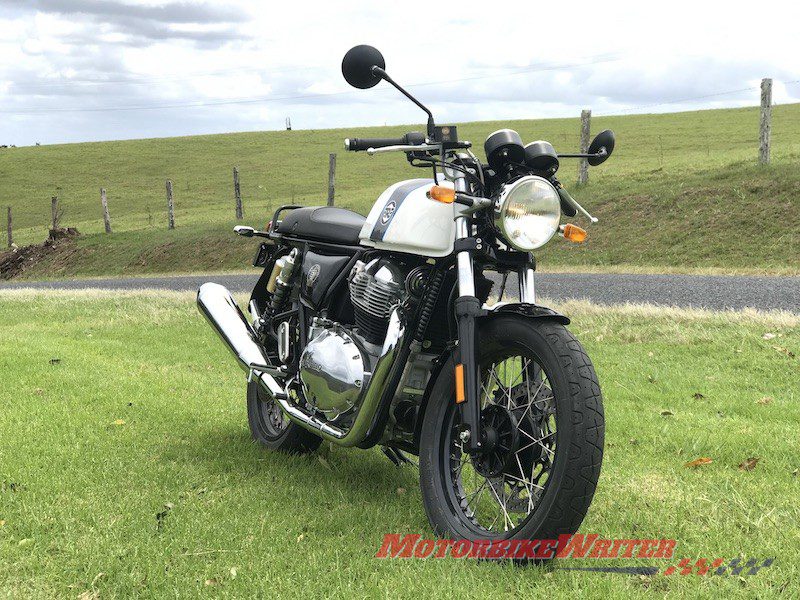 Here is my review of the Interceptor:
The first twin-cylinder Royal Enfields in six decades have customers lining up for test rides.
Australian importer Urban Moto Imports organised demo bikes for me through TeamMoto Euro in Slacks Creek.
However, the high demand for demo rides meant I only had a couple of days with each bike.
I'm happy to report that after thrashing both bikes through traffic, down highways and over mountain ranges, the 650s live up to most of the hype. 
Retro styling
Richard says the previous problems with Royal Enfield chrome tanks have been resolved.
A close inspection at the demo models substantiates a vast improvement in paint and chrome finish.
In fact, the overall quality is a substantial improvement. I pulled the locked seat off the Interceptor and was pleased to find the paint extends right down the tank where you can't see it and the welds are neat.
Even the initials of the bike builder responsible are hand painted on the end of the tank under the seat.
That's pride of workmanship, with good reason.
Wiring and cabling is tidy, plastics are smooth, the vinyl seat is good quality and even the footpegs are nice rubber and alloy units.
The only build fault I could find was a slightly gummy weld joint where the headers leave the cylinder on both the Interceptor and GT.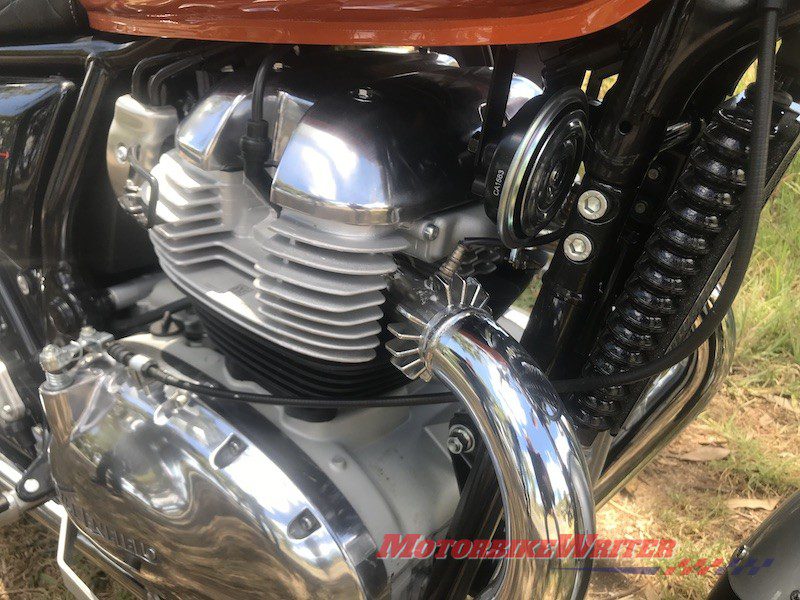 Those who love the retro look will appreciate that Royal Enfield didn't go to town on the chrome which the original '50s/'60s cafe racers didn't have.
Instead of acres of chrome, the engine casings and wheel rims are brushed alloy (black rims on some models) which looks understatedly stunning. (Now there's an oxymoron for you!)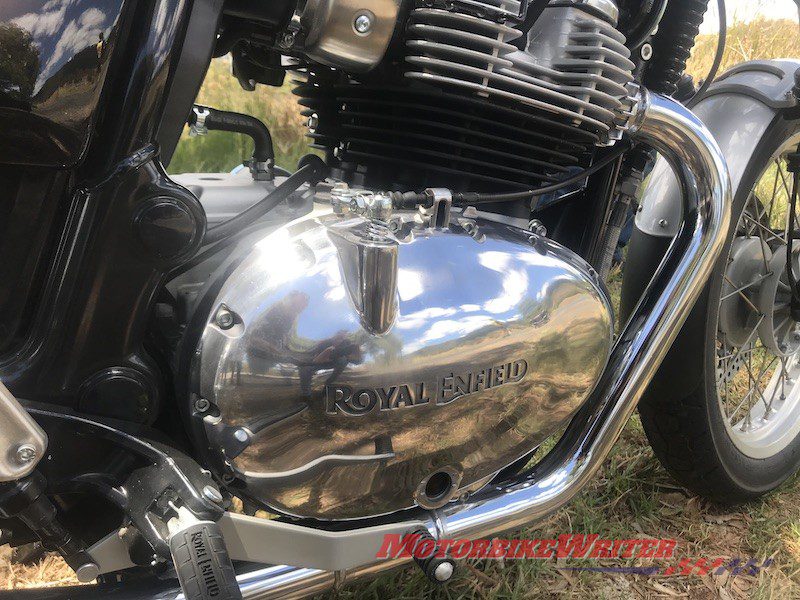 For a $10,000 bike there are quite a few niceties and extras such as twin instrument pods with a tachometer, comprehensive toolkit and lockable fuel cap.
It also sits on retro-style Pirelli Phantom tyres originally made for the Ducati GT1000 and used on the new Triumph Bonneville.
And how many $10,000 bikes come with a centre stand as standard these days, let alone a toolkit? In fact, how many bikes twice the price have a centre stand and toolkit! (Note that the GT does not come with a centre stand.)
The toolkit is in a side panel which is locked with the ignition key. It also has a latch inside that unlocks the seat.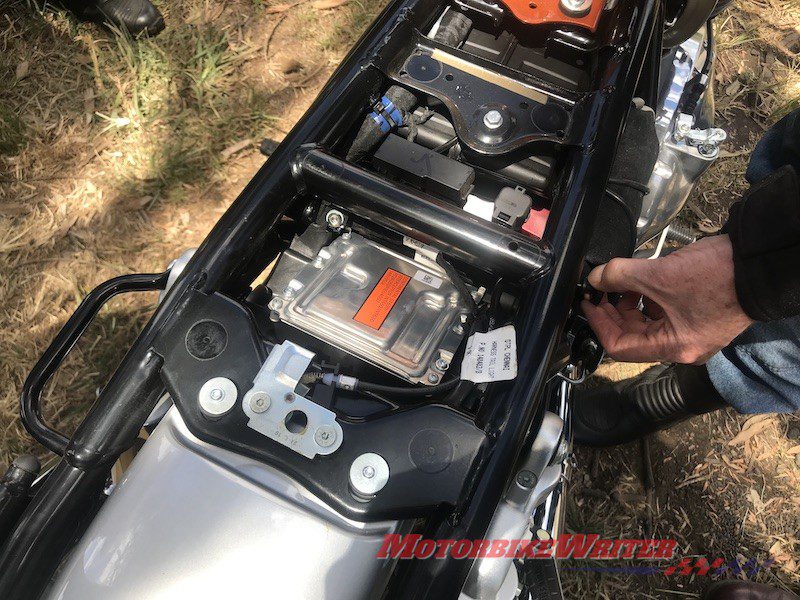 The Interceptor's seat is soft and quite comfortable, but after two hours in the neutral riding position you sink down into the seat and you can feel the supports underneath.
The seat is 804mm high, but it's very narrow, so at 183mm tall I could easily get my flat feet on the ground with knees bent.
Pillions will enjoy the thick padding and the substantial grab handle at the back.
Royal Enfield has kept the price down by making this a lo-fi bike. No fancy traction controls and electronic wizardry, although it does have ABS, of course.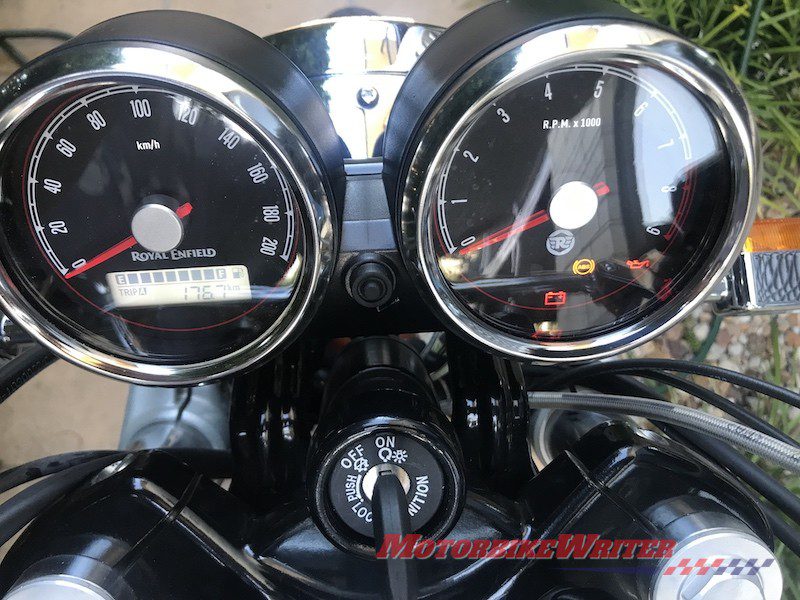 The instruments are basic with just two analogue pods (speedo and tacho) and a small LCD screen with readouts for odometer, trip A and B and a voltmeter when running. No clock, ambient temperature, weather forecast or stock market readouts!
And you have to reach over and touch a mode button between the two dials.
The indicators and taillight are also basic and the mirrors are cheap units that come loose over rough roads and blur at highway speed.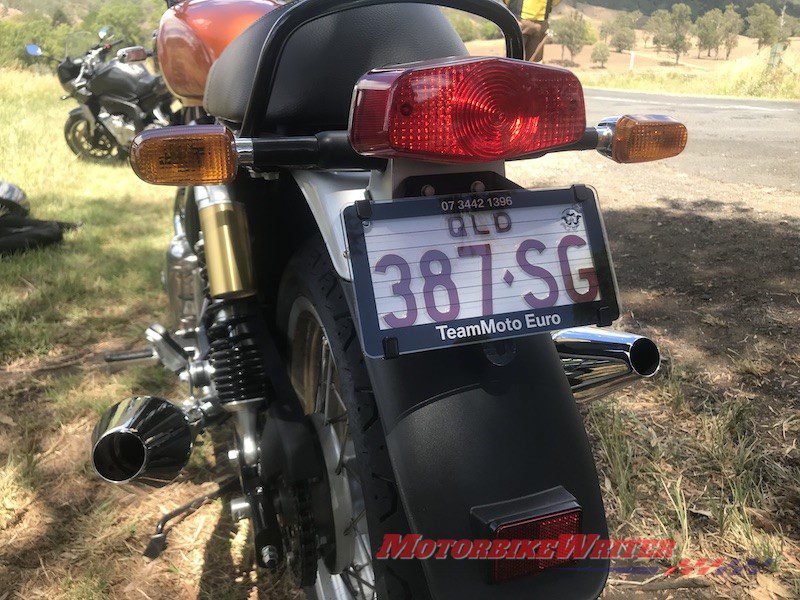 The front and rear fender feature cheap and ugly rubber extenders that can easily be unscrewed and discarded for a neater, bobbed look.
Heartbeat
Many Royal Enfield enthusiasts are attracted by the slow and methodical pulse of the single-cylinder engine.
These parallel twins have a 270-degree crank like the new liquid-cooled Triumph Bonnevilles, so they are a totally different heartbeat.
And unlike the the 500 singles, you don't need to schedule a slot in your diary to reach 100km/h. It will reach 100km/h in about six seconds.
Some say it will top 170km/h, but I managed 140 — under controlled conditions, of course!
It will certainly cruise at legal highway speeds in a relaxed manner with very little vibration or hand/feet tingle.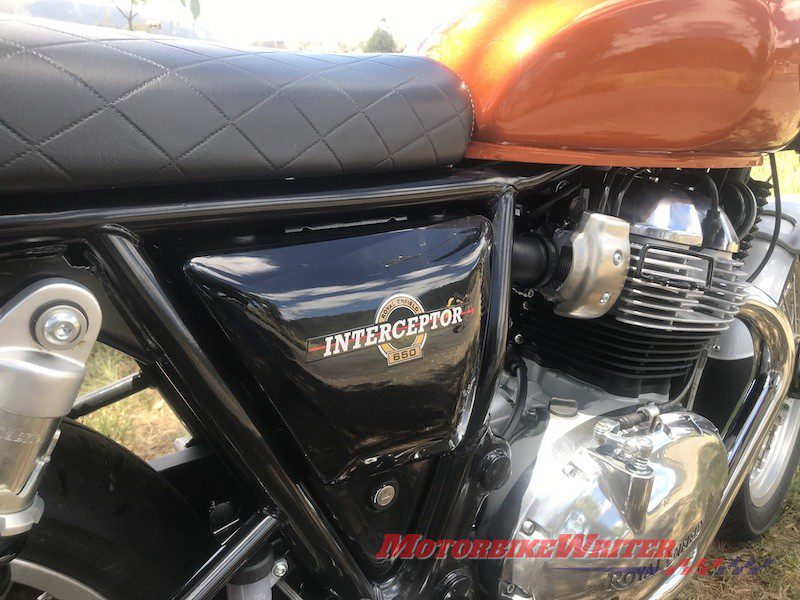 Riders in hot climates will also appreciate the fact that they do not run near as hot as the new scorching Bonnes. The cylinder heads still get quite hot, as you would expect, but there are coated metal protectors so you don't burn your knees.
The 648cc twin is oil and air cooled with a modest 47 horsepower or 35kW at 7100rpm and 52Nm of torque at 4000rpm.
It doesn't sound like much, but the midrange is smooth and meaty.
The engine is mated to a super-slick, six-speed gearbox and clutch with a moderate pull so it is easy to use in traffic.
You will need to feed the bike some revs in the first couple of gears for rapid acceleration from the front of the queue at the traffic lights.
If you continue to rev the bike to the limiter and dance on the gearshift you will get maximum results, but you may also hit a few false neutrals. (I didn't hit any on the GT which has a more direct shifter lever.)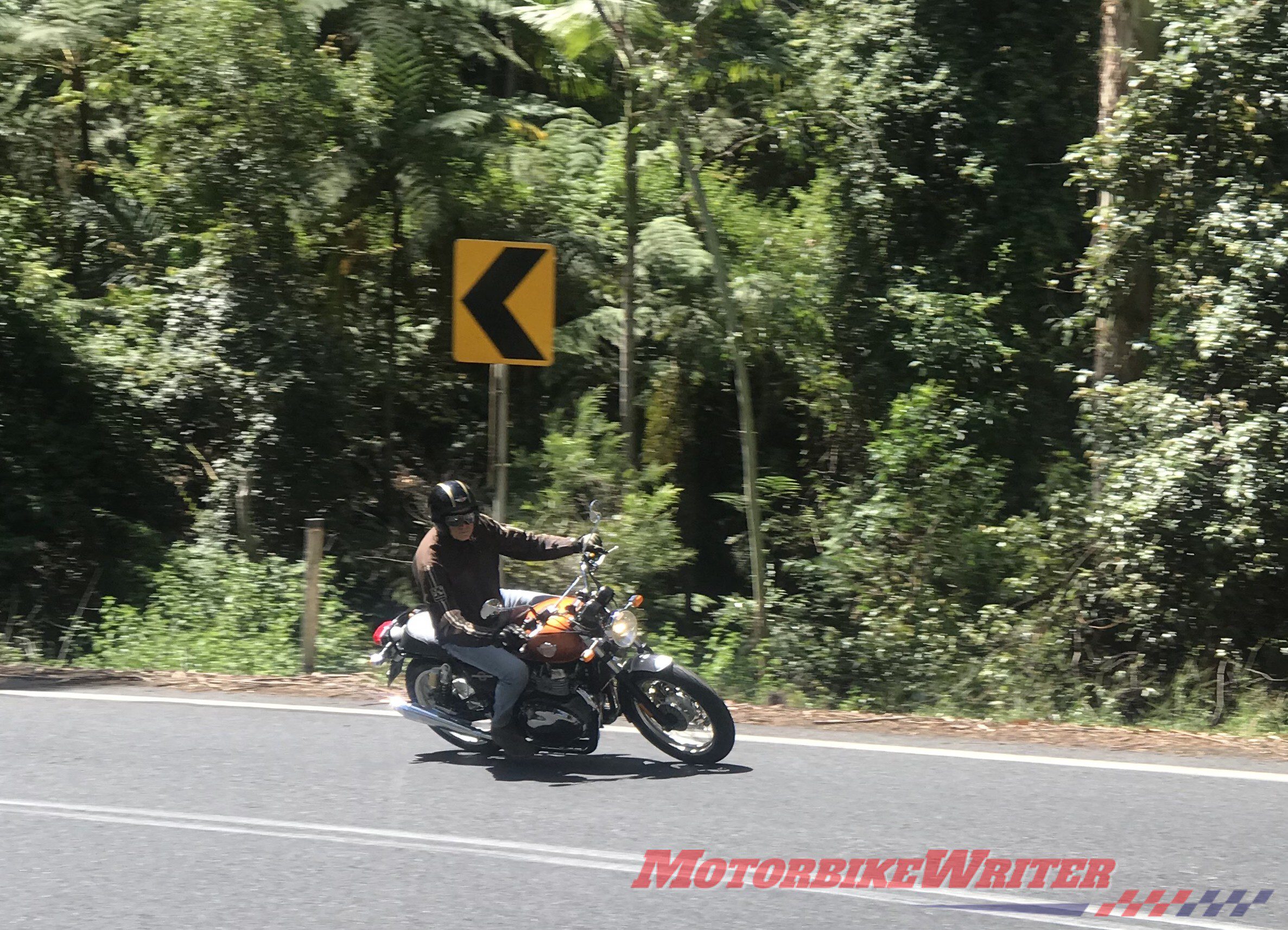 With such moderate horsepower there is not a lot of point in spinning it out to the red line every shift.
I found these bikes yield satisfactory results if you short-shift through the gears and ride around town in fourth or fifth at 4000rpm.
Out on the highway, they cruise without stress at 4000 revs in sixth. Since the engine pulls lustily from 3000 revs, you can roll on the throttle without having to drop a cog.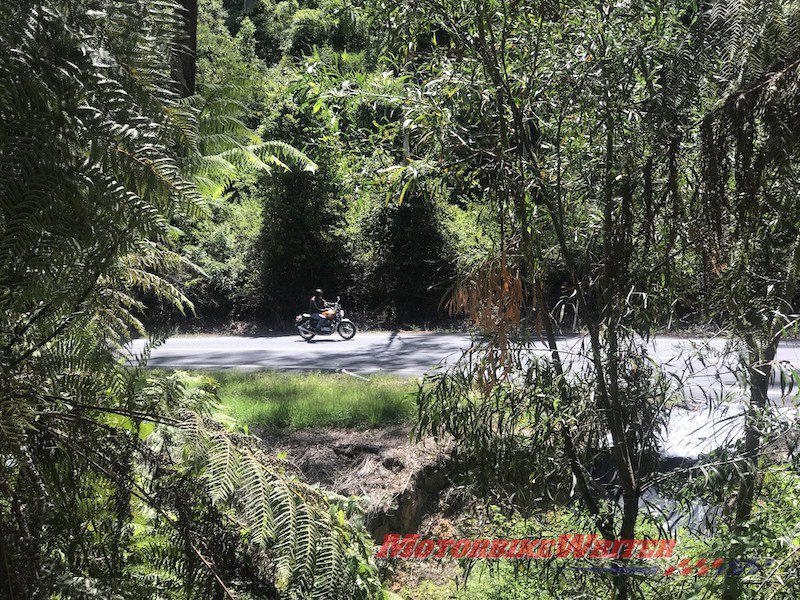 I pushed moderately hard through traffic and winding hills, yet the Interceptor yielded impressive economy figures over about 500km of 3.6L/100km.
That means range of almost 350km from the 12.5-litre tank.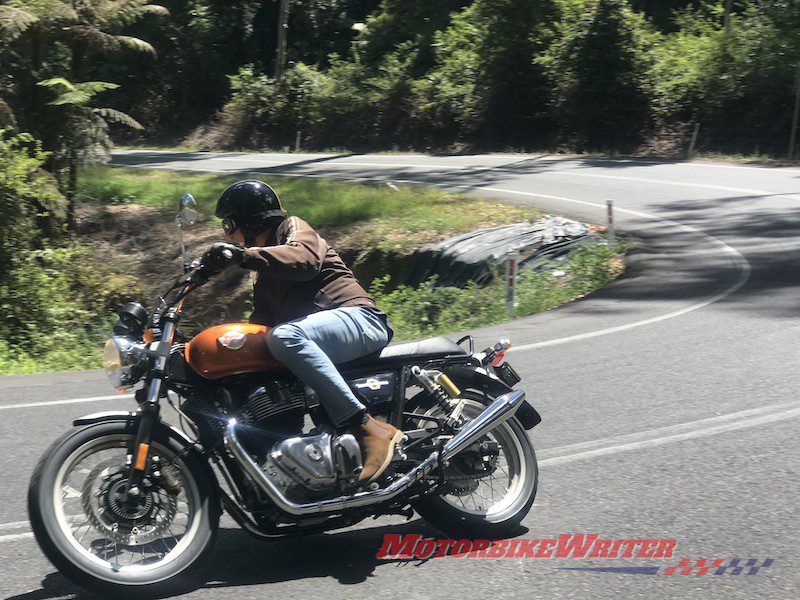 The Interceptor 650 I rode was fitted with aftermarket slip-on Emgo mufflers for an extra $300.
Richard regrets fitting them to the Interceptor, saying they don't suit its more sedate image.
He says they should have gone on the more racey-looking Continental GT cafe racer.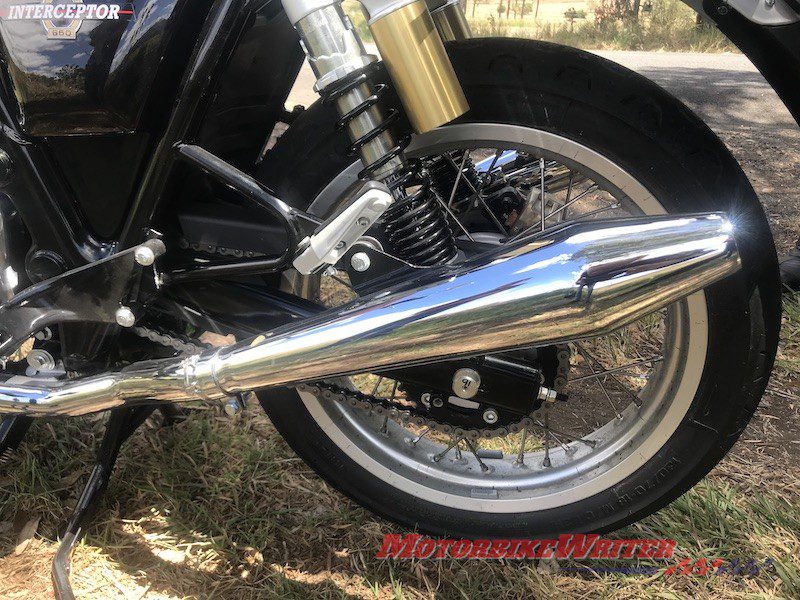 They also sound a little nasty and anti-social when revved hard, although they do give the throttle improved response, he says.
There are S&S Cycle mufflers coming in about six months that promise a better sound.
Ride and handling
The twin cradle frame and twin-shock suspension set-up is as traditional as it gets, but it works.
It's not the lightest 650 out there at 202kg dry, but the frame and suspension combine to provide a light-steering, agile bike.
I found the American-made Grabriel shocks a little on the soft side for my 80kg frame, even after pumping up the rear preload to the fourth of five settings.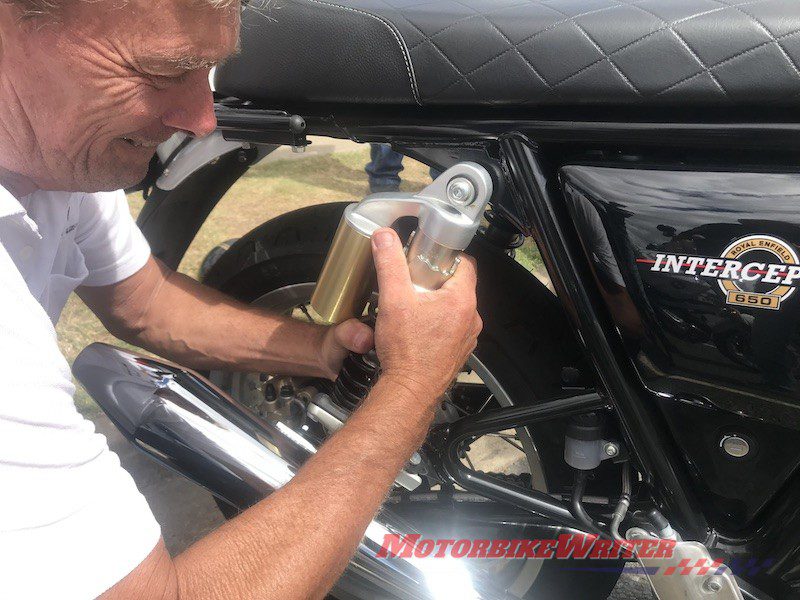 You can adjust them by hand if you're strong and put the bike on its centre stand, although there is a C spanner included in the toolkit.
It still managed to bottom out over some big bumps, bounced around at the rear and wobbled a little over mid-corner irregularities.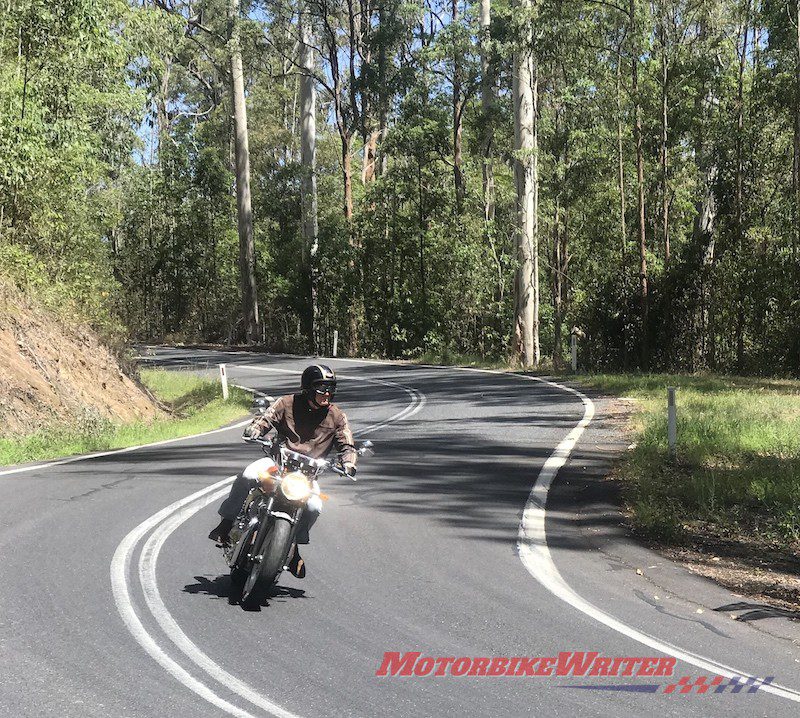 However, that was when it was pushed hard. If you trot along at legal pace, it's all quite controllable with those wide, braced handlebars.
I believe Ohlins is working on suspension upgrades, but that could be overkill on a $10k bike.
The Interceptor turns in quite quickly and holds its line well on its narrow, 18-inch front and rear Pirelli Phantom tyres.
They have good corner and braking grip, although the front was found lacking on emergency stops with the bike's single disc and hefty weight.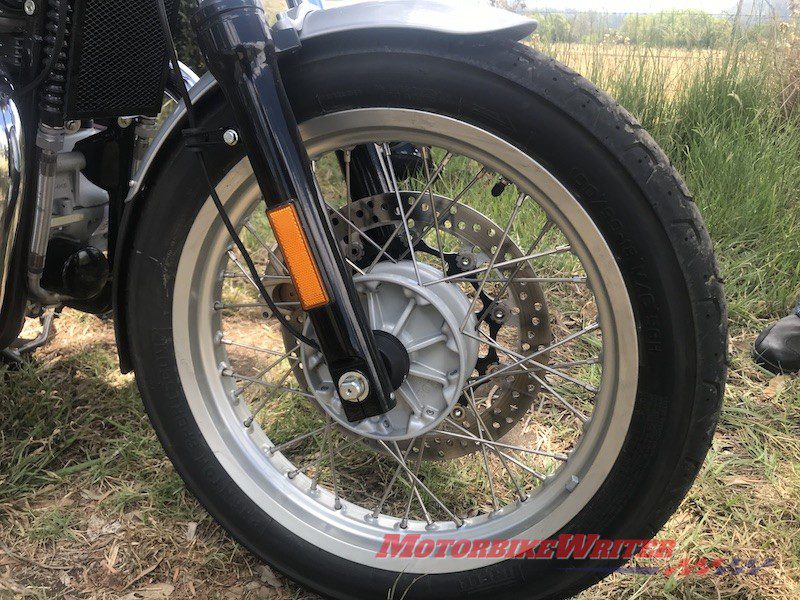 The brakes are Bybre which is a discount Brembo offshoot and they have braided steel lines for good feel. Still, a second front disc would be welcome.
Despite the heft, the bike is easy to lift onto the centre stand with a convenient handle beside the seat like on old bikes.
Conclusion
There has been a lot of pent-up demand for these bikes since they were announced almost two years ago.
Thankfully the excitement and hype is justified.
Royal Enfield has done a good job of bringing top-value bikes to the market.
We also expect more model variants soon such as a scrambler.
Ride-away pricing
Interceptor 650
$9790 (solid colours — orange, black and silver);

$9990 two-tone (orange, white and gold pinstripe; red, black and white pinstripe);

$10,290 chrome tank.
Continental GT
$9990 (pale blue, black with gold GT stripes);

$10,190 (two-tone black/silver with yellow pinstripe, white with silver and blue stripe);

$10,490 (chrome).
Royal Enfield 650 tech specs
Engine: 4 stroke, single overhead cam, air-oil cooled, 8-valve, 648cc parallel twin

Bore x stroke: 78 x 67.8mm

Compression: 9.5:1

Power: 35kW @ 7100rpm

Torque: 52Nm @ 4000rpm

Transmission: 6-speed, wet clutch

Fuel tank: 12.5 litres

Economy: 3.6L/1000km (tested)

Chassis: twin cradle tubular steel

Suspension: conventional forks, twin Gabriel shocks

Wheels: 18-inch, 36-spoke alloys

Tyres: Pirelli Phantom Sportcomp, 100/90-18 front, 130/70-18 rear

Brakes: Bybre 320mm single front disc, 240mm rear disc, ABS

Length: 2122mm

Width: 789mm/744mm (Interceptor/Continental GT)

Seat: 809mm (Interceptor), 790mm single, 793mm dual (Continental GT)

Height: 1165mm (Interceptor), 1024mm (Continental GT) 

Clearance: 174mm

Kerb weight: 202kg (Interceptor), 198kg (Continental GT)